With so many Canadian vacation destinations easily accessible by road or water, it's worth bearing in mind that not every international trip requires a long flight.
When the time is right, creative travel planners might consider crafting a tour that sashays across America's border with Canada. Within striking distance of U.S. gateways lie many tourist-friendly cities and natural areas in our neighbor to the north. Of course, make your travelers aware that they will need a passport or passport card to participate.
URBAN BORDER CROSSING
A great Michigan-Ontario tour combo with a big-city slant pairs Detroit with Windsor, its Canadian neighbor across the Detroit River. Though Canada is called America's neighbor to the north, Windsor, in the southernmost part of Canada, actually lies south of the Motor City. The city pair, linked by the Detroit-Windsor Tunnel and Ambassador Bridge, constitute the busiest border crossing between the two countries.
Situated in southwestern Ontario, Windsor has a population or 217, 000, compared to Detroit's 672,000. Walkerville, Windsor's hip and historic riverfront district, draws tourists with specialty shops, eateries and breweries. Developed as a model town in the mid-1800s by Hiram Walker, who made a fortune producing Canadian Club whisky, the neighborhood is home to Hiram Walker & Sons Distillery, the largest distillery in North America. Besides many brands of Canadian whiskies, it makes gin, vodka, rum and liqueurs. Its J.P. Weiser's Experience distillery tour focuses on the Weiser's brand and includes tastings. Also in Windsor, duty-free shops offer bargains on booze, tobacco, jewelry and perfume.
For a good overview of Detroit, groups may opt for a two-hour cruise offered by Diamond Jack's River Tours. It goes under the Ambassador Bridge, passes downtown Windsor and goes around Belle Isle. Baby boomers revel in memorabilia at the Motown Historical Museum, which celebrates the Motown music made famous by stars like Diana Ross, Smokey Robinson, Stevie Wonder, Gladys Knight and Marvin Gaye. The Detroit Institute of Arts and Charles H. Wright Museum of African American History also enhance Detroit itineraries.
In the Detroit suburb of Dearborn, take the Ford Rouge Factory Tour to see the assembly line that rolls outs the F-150 pickup truck. Adjacent is The Henry Ford, a museum showcasing vintage automobiles and other pieces of Americana. Artifacts include the limousine that carried President John F. Kennedy on November 22, 1963, and the Montgomery bus on which defiant passenger Rosa Parks took a stand in 1955, thereby starting the civil rights movement. Neighboring 90-acre Greenfield Village preserves historically significant buildings that were purchased by Henry Ford and moved to the site. Examples: The Wright Brothers' bicycle shop and Thomas Edison's laboratories.
NIAGARA FALLS
Both the United States and Canada lay claim to one of the world's greatest natural wonders, a trio of waterfalls in the Niagara River between Ontario and western New York State. For generations, boats have taken poncho-clad tourists within spraying distance of Horseshoe Falls on the Canadian side and New York's American and Bridal Veil falls. Besides the classic wet 'n' wild rides on Maid of the Mist boats, visitors on the American side can view the thundering falls from wooden walkways on Goat Island in Niagara Falls State Park and from Prospect Point Observation Tower. In Ontario, they can take a Hornblower Niagara Cruises catamaran or the Whirlpool Aero Car, a cableway high above the Niagara Gorge.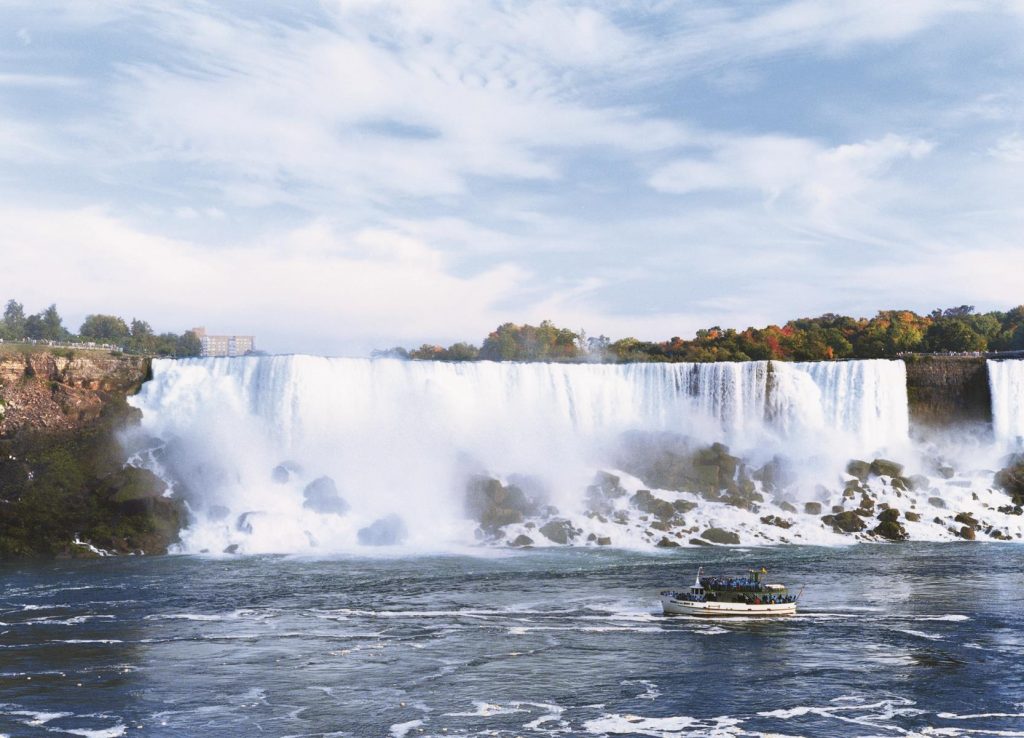 The twin towns of Niagara Falls in New York and Ontario offer diversions of their own. On the New York side, Seneca Niagara Casino dominates downtown, and Main Street abounds with souvenir shops. Aquarium of Niagara has sea lions, harbor seals, sharks, penguins and other aquatic animals from around the world. The state's Niagara region brims with agritourism opportunities, with many beautiful farms and vineyards along the Niagara Wine Trail.
In Niagara Falls, Ontario, groups enjoy a five-course meal and entertainment at the Oh Canada Eh? Dinner Show, staged in a rustic, 250-seat log cabin. Clifton Hill by the Falls entertainment complex offers game arcades, carnival rides, miniature golf, themed restaurants and Movieland Wax Museum of the Stars. Other attractions on the Ontario side include two casinos, Bird Kingdom (an indoor aviary with tropical birds), Guinness World Records Museum, Marineland (beluga whales, sea lions, dolphins), Ripley's Believe It or Not! Museum and Niagara Parks Botanical Gardens (with butterfly conservatory). Tour operators often package Niagara Falls with sightseeing in Buffalo and Toronto.
PACIFIC NORTHWEST
For an interesting Canadian vacation, consider a trip that combines the sights of Seattle and Washington State with Victoria and/or Vancouver, the most popular destinations on the coast of British Columbia. The 141-mile drive from Seattle to Vancouver, via Interstate 5, takes about 3½ hours.
Victoria is a high-speed ferry ride (two hours and 45 minutes) from downtown Seattle. Located on Vancouver Island, Victoria is known for its British colonial trappings and a genteel ambience reflected in lamppost flower baskets that brighten its Inner Harbor. Not to be missed are high tea at the stately Fairmont Empress Hotel and The Butchart Gardens, a dazzling 55-acre showplace of some 900 plant varieties.
Cosmopolitan and beautiful Vancouver, backed by verdant coastal mountains, boasts the second-largest Chinatown in North America and other inviting neighborhoods such as historic Gastown, with its many antiques shops, art galleries and souvenir emporiums. Granville Island Public Market is a magnet for shoppers and foodies. Stanley Park, a lush evergreen oasis right on downtown's doorstep, offers many attractions, including the Vancouver Aquarium Marine Science Centre, and places to commune with nature. One way to experience the wooded retreat is to walk the seawall promenade around its perimeter. Vancouver's magnificent setting also can be enjoyed on harbor cruises and from the Skyride aerial cable car at Grouse Mountain.
Seattle's downtown shoreline bustles with tourist activity. There are harbor cruises, seafood restaurants and amusements like the Great Seattle Wheel. Many would call Pike Place Market, the sprawling farmers' market extraordinaire, the waterfront's No. 1 must-see. And no trip to Seattle is complete without a visit to Seattle Center, a park that's home to the iconic Space Needle and blown-glass creations of Washington State native Dale Chihuly at Chihuly Garden and Glass.
---
by Randy Mink