From wilderness splendor to wineries and breweries, the hub-and-spoke options are many
Saying that Olympia is just the Washington State capital is a major understatement. There's plenty to see, do and experience outside the Capitol grounds. You can visit three national parks, tap into craft beer or enjoy a bountiful byway tour. Here are just a few options to get you started.
National Parks Tour
Olympic National Park, Mount Rainier and Mount St. Helens are all convenient to Olympia. Each has a unique story to tell. Choose one or visit all for an adventure to remember. Extend your stay with tours of Billy Frank Jr. Nisqually Wildlife Refuge and Wolf Haven International. The photo ops are endless at all stops. Dinners at Budd Bay Cafe and the Iron Rabbit and lunch at Forrey's Foza Cafe are sure to keep your group energized.
Tumwater Brewery Tour
Enjoy dinner at Three Magnets Brewing Co. with lunch the following day at Fish Brewing Company. You'll find more than just pub grub on the menus. Tour the historic home of the Olympia Beer founder, Leopold Schmidt. Nearby is magnificent Tumwater Falls. There's time for Percival Landing Park and dinner at Pizzeria La Gitana.
Bountiful Byway Tour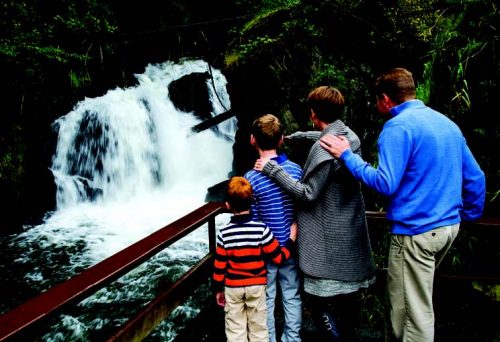 More than just a scenic drive, this trip gets you off the highway to experience uniquely Washington options. Stottle Winery will host your group for dinner and a tasting of its award-winning wines. Madsen Family Cellars is a boutique winery with a well-deserved reputation for quality wines; an afternoon tasting on day 2 will be a memorable experience. After breakfast on the second day, visit Lattin's Cider Mill, a family-owned farm that specializes in awesome apple cider and delicious apple fritters. Enjoy a box lunch at Evergreen Valley Lavender Farm. You'll be among 11 varieties of the organically grown, fragrant and comforting lavender.
For a truly unmatched experience available only to groups, how does a private tasting at the famous Ice Chip Candy headquarters sound? The two local "grannies" gained fame when they presented their sugar-free candy concept on the TV show Shark Tank.
Mix and match these tour options to best fit your group's interests. The team at Experience Olympia is ready to help.
---
December 2017 Digital Edition Sponsored By: