From sea kayaking to camel treks, active options add an exclamation point to travel Down Under.
A trip to Australia is an adventure in itself, but those who want to penetrate the surface can go beyond traditional sightseeing and get out into the bush—or under the ocean—for memories to last a lifetime. Here are just a few examples of outdoor opportunities that await intrepid travelers:
Diving and Snorkeling
With more than 22,000 miles of coast bordering two oceans and four seas, Australia is water sports heaven. The world-famous Great Barrier Reef on the Queensland coast in northeastern Australia, the prime magnet for divers and snorkelers, snakes along for more than 1,400 miles and is one of the few organic structures that can be seen from space without a telescope. It hosts the earth's most abundant collection of sea life, including more than 1,500 species of fish.
Day-trip outfitters based in Port Douglas, Cairns, Mission Beach, Townsville and the Whitsunday Islands carry guests to the reefs and resort islands on motorized catamarans and smaller boats. Green Island, less than an hour from the wharf in Cairns, makes a good half-day snorkel or dive trip if time is short. Multi-day outings visit prized destinations like Cod Hole, Cairns' most popular dive site, 13 miles off exclusive Lizard Island. Whether your group is interested in sharks, sea turtles, shipwrecks or spectacular coral formations, there is a trip for them.
Want to swim with whale sharks? Head to Ningaloo Reef, a national marine park on the Northwest Cape, 700 miles north of Perth, for a chance to get within 10 feet of the world's largest fish. Up to 60 feet long and weighing more than 15 tons, they come to the reef from April to July. You'll also mingle with greenback turtles and manta rays. These full-day snorkeling tours are offered by outfitters in Coral Bay and Exmouth. (For a list of operators, contact Exmouth Visitor Centre, exmouthwa.com.au.) Ningaloo Reef is more easily accessible than the Great Barrier Reef—never more than two miles out and sometimes only a few hundred yards.
Sea Kayaking
Perth-based Rivergods, Western Australia's leading paddle adventure company, offers a variety of kayak tours. The "Seal and Penguin Islands Sea Kayak" day trip is highlighted by playful sea lions who splash along your boat. The group then visits fairy penguins for their daily feeding before sitting down to a picnic lunch followed by free time for snorkeling and exploring the beach. A five-day outing to the Monkey Mia reserve on Western Australia's remote Peron Peninsula involves paddling in calm sheltered water and camping under the stars on the beach. (rivergods.com.au)
Sea kayaking opportunities, of course, abound on the Great Barrier Reef. For example, a rich array of marine life greets guests on Palm Cove Watersports' (palmcovewatersports.com) kayak tours from Palm Cove to Double Island, north of Cairns. Coral Sea Kayaking (coralseakayaking.com) of Mission Beach has half-day trips following the coast, while three-day camping trips go to the nearby Family Islands.
Freycinet National Park, on the eastern coast of Tasmania, is the island's premier sea kayaking destination. Freycinet Adventures (freycinetadventures.conm.au) offers a variety of day tours, while Trulyaustralia.com has multi-day adventures along the coast.
Camel Treks
In the 19th century camels were shipped from the Middle East to Australia for use in expeditions and construction projects, but set free with the advent of cars. Today more than 200,000 camels still roam the Outback and remote areas of Western Australia. But some camels are owned by outfitters that specialize in rides for tourists.
Pyndan Camel Tracks (cameltracks.com) offers one-hour and half-day rides from Alice Springs, the main town in the Outback, Australia's vast central desert region. Surrounded by the MacDonnell Ranges, you might see kangaroos, wallabies, lizards and birds of prey from atop your humped beast. From Ayers Rock Resort Hotels, Uluru Camel Tours (ulurucameltours.com.au) organizes one-hour treks to see Uluru, also known as Ayers Rock, the oft-photographed monolith rising from the plains of the Red Centre, named for the rich color of the sandy soil.
Multi-day walking experiences with pack camels in the Simpson Desert are offered by Outback Camel Company (cameltreks.com.au). Guests are expected to help saddle the camels and load equipment on these 5- to 28-day expeditions.
Four-Wheel-Drive Safaris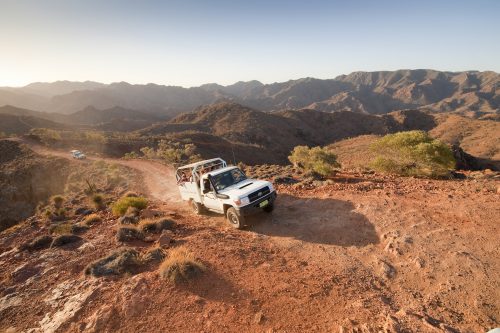 The best way to get a sweeping overview of the Australian bush is a 4WD safari that includes some off-road touring. These small-group eco-adventures, using campsites or hotels, take you over sand dunes, through creeks and rivers, to remote spots ideal for wildlife-watching and nature walks. From Alice Springs, Ossies Outback 4WD Tours offers 1-to 14-day trips through the McDonnell Ranges to Uluru, across the Simpson Desert and elsewhere. Wayoutback Australian Safaris (wayoutback.com. au) is another major operator in Alice Springs. Wilderness Challenge (wilderness-challenge. com.au), based in Cairns, leads treks to the Cape York Peninsula, a remote region of tropical rainforests and savannah grasslands at the very northeastern top of Australia and other northern areas.