Atlanta is a tourism hotspot, hosting approximately 42 million visitors each year. East Point, Georgia, just 10 minutes away from Atlanta, gives its visitors plenty to do in a cozy, small-town atmosphere. Don't let Atlanta overshadow all that East Point has to offer. How often do you get the chance to plan a trip with grand attractions—such as Atlanta's World of Coca-Cola and the Georgia Aquarium—plus intimate carnivals, farmer's markets and outdoor movies?
What to Consider When Planning a Trip that Spans Two Cities
Decide where you want to lodge: big or small city? (See advantages and disadvantages below)
Plan out what attractions and activities you want to include in your itinerary and when you want to see and do them. Also, remember that this trip is all about variety, so mix it up.

Short trip tip: If you can only afford one day in Atlanta or East Point, hit the highlights and make the day all about that city. Don't travel back and forth during the day; this will save time and allow your group to experience all that city has to offer.
Long trip tip: If you have time to spare—after your group has seen the must-sees in both cities—give your group the option of revisiting whichever city they'd prefer. Arrange for transportation to and from your hotel a few times throughout the day.

Timing may be an issue. For instance, say the only available group tour time for the Martin Luther King Jr. National Historic Site conflicts with the TP Productions Dinner Theatre show you wanted to see. The Atlanta CVB will help with your planning. It's a tricky task to plan activities in two cities, even if they are only 10 minutes apart. But don't be afraid ask for help! An exciting and memorable experience will come from a well-planned trip.
Provide an array of meals and dining options. To reiterate: this trip is all about variety. You'll want your group to be able to brag about dining on a city rooftop plus having a picnic in a beautiful park.
What to See and Do
Popular attractions in Atlanta include the CNN Studio tour, Six Flags amusement park and the Martin Luther King Jr. National Historic Site, the largest museum in the world solely dedicated to the famous civil rights leader. While you may be familiar with Atlanta, here's a taste of what East Point has to offer:
Downtown East Point is only 10 minutes from downtown Atlanta, offering a wide selection of shops, dining, services and areas simply for gathering and relaxing.
There are 214 acres of parks and green space, including the renowned Georgia Sports Park.
The Dick Lane Velodrome, a 1996 Olympic training facility built in 1974, is a 1/5-mile and 36°-banked concrete track used for bicycle racing and training. Dick Lane is the only velodrome in the world with green space that contains a large oak tree and a creek running through the infield.
TP Productions Dinner Theatre, located in downtown East Point, offers gourmet four-course meals and a full bar with live theatrical performances. Your group will appreciate the chance to sit back, dine and enjoy the entertainment.
Camp Creek Marketplace, located near the Atlanta airport, is East Point's newest dining, shopping, service and entertainment center, with more than 50 options including fast-food and chain restaurants, salons, department stores and specialty stores.
See if Your Trip Overlaps with East Point Events
East Point hosts more than 20 family-friendly events between April and December:
The 4th of July Celebration, taking place on July 5, features a professional carnival, watermelon- and pie-eating contests, musical performances, vendors and a food court. The highlight of the evening is a firework display synchronized to a musical score.
Destination East Point is an annual fall celebration complete with rides, games and food plus the Fall Farmers Market. It will take place Oct. 18 to 20 in downtown East Point. Event activities include a vendor/artists/community market and exhibition, chili cook-off, pie-baking contest, chicken strut and dog parade.
East Point Farmer's Market opens on the first Wednesday and third Saturday of every month from April to December, featuring special treats during the holidays.
Friday Night Flicks are shown in the downtown Commons area across from the East Point City Hall. Bring a blanket and folding chairs and enjoy a movie after dining at one of East Point's wonderful downtown restaurants. Light concessions are available for purchase.
Accommodations and Dining
Hotels in East Point give guests a home-base with easy access to all of East Point and Atlanta's best features. Hotels offer special price-points for groups, plenty of event space, customized menus and free airport shuttle services.

There are more than 350 dining options in East Point. Many restaurants offer private space for large groups, specialty group menus and cuisine that fits every taste and budget. Some restaurants offer catering for group events.
Deciding to Lodge in a Big vs. Small City
There are advantages and disadvantages to lodging in big and small cities. Staying in a big city puts your group right in the middle of all the action, but odds are you'll have to pay a pretty penny. In a small city accommodation, you'll save money and still have plenty of activities to do, but will have to travel some in order to experience the big city.
Want some peace and quiet? Try staying in affordable East Point and then visiting Atlanta for a day. Or, if you'd prefer the big-city-bright-lights environment, lodge in one of the many options in Atlanta and head over to East Point for some relaxation and home-town fun.
CVB Assistance
Atlanta Convention & Visitors Bureau provides a tour manual for tour operators, motorcoach operators and travel agents. The manual includes sample itineraries, and helpful travel information for group planners.
Atlanta CVB offers support in identifying space availability, gathering hotel bids, itinerary planning, welcome services and more. Group planners can submit an RFP or contact the CVB for more information or schedule a site visit.
Getting Here and Getting Around
East Point is conveniently located just four miles from Hartsfield-Jackson Atlanta International Airport and easily accessible on the Metropolitan Atlanta Rapid Transit Authority (MARTA: combined bus and rail service) or major interstates including I-75 and I-85. East Point is a short MARTA ride or 10-minute drive from Atlanta.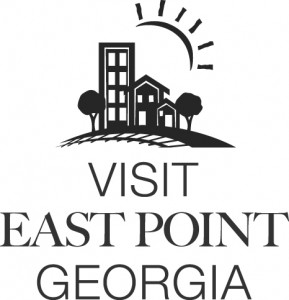 If you're traveling with a large group, Coast to Coast Tours offers quality charter bus accommodations at affordable prices.
Consider a group travel experience to Atlanta and East Point, where your group members will enjoy the best of both worlds in one getaway. Make sure to plan well ahead of time, with the resources and help from the Atlanta CVB, to fully experience these closely located but individually diverse destinations.