An architectural icon, the Milwaukee Art Museum offers tour groups an intriguing glimpse into decades of artistic magic through its ever-rotating exhibits.
Formed as an art gallery near Cathedral Square in 1888, the Milwaukee Art Museum has evolved into a world-class institution and is a treasured landmark on the shores of Lake Michigan. The 341,000-square-foot museum is the largest art museum in Wisconsin. It houses over 30,000 works and welcomes renowned international exhibitions every year.
Groups visiting the Milwaukee Art Museum can explore its four floors of over 40 galleries that rotate regularly with everything from antiquities to modern marvels. 2017 introduces visitors to a slew of new artists and exhibits to discover.
Nature and Opulence: The Art of Martin Johnson Heade
(November 18, 2016 – February 26, 2017)
Housed in the Bradley Family Gallery, this exhibition features the incredible work of famed American artist Martin Johnson Heade. He painted a variety of landscape, marine and still life pieces, including evocative marsh scenes, Victorian flower still lifes and South American hummingbirds. This exhibit showcases the artist's work as it evolved from early portraits to his late still lifes, offering guests a retrospective overview of the extraordinary range of his pieces.
Lawrence Weiner: Inherent Innate Tension
(January 20 – April 2, 2017)
Housed in Windhover Hall as part of the Currents Series, this special exhibition highlights the contemporary sculptures of Lawrence Weiner. The New York and Amsterdam artist's work became famous in the 1960s and 1970s. He challenged traditional notions of what constituted art, bringing in language as a means to present and explain his pieces. Weiner designed the two installations used in this exhibition, and was inspired by the architecture of the Hall. This exhibition marks the first time the walls of Windhover Hall have been used to present a work of art.
Helen Levitt: In the Street
(January 27 – April 16, 2017)
One of the best-known street photographers of the 20th century, Levitt told the story of everyday dramas in New York through her camera lens. She worked from the 1930s into the 1990s, capturing views of life in many neighborhoods. The exhibit features Levitt's insightful work through 30 of her most famed images, as well as a slide installation and her iconic film In the Street. The exhibit will be housed in the Herzfeld Center for Photography and Media Arts.
James Nares: In the City
(January 27 – April 16, 2017)
Similar to Levitt, Nares also drew inspiration from the streets of New York. A native of London, Nares created a hypnotic 61-minute video called Street that he described as his "love letter to my adopted home." He recorded 16 hours of mundane details of city life using a repurposed stationary high-speed camera, and each clip was only 6 seconds in length. After slowing down the source material, he edited it to 61 minutes of continuous motion film. His other work on display is the Super 8 short Pendulum, which follows the arc of a concrete sphere swinging in the streets of Tribeca. This film highlights Nares' fascination with movement, rhythm and repetition.
Eastman Johnson and a Nation Divided
(February 10 – May 21, 2017)
Named as the Annual Layton Art Collection Focus Exhibition, this exposition brings together Johnson's two masterpieces: his major antebellum painting Negro Life at the South and his post-Civil War The Old Stage Coach. Both of these paintings showcase an insightful look at America's slave-owning past and the impact it had on African-Americans, slave owners and the culture of the country at that time. The exhibition celebrates the artist's work and career, as well as the historical context each painting holds.
Milwaukee Collects
(March 10 – May 21, 2017)
A special exhibit celebrating the range of artistic treasures and styles found in the Greater Milwaukee area. The exhibition draws from well-known collections and recently discovered pieces. The artwork spans centuries, and includes a wide variety of media and artistic styles. Visitors will find early American paintings, contemporary sculpture, icons of modern photography, Art Deco design, impressionist canvases, and much more. Some of the many artists featured in this exhibit are Jules Cheret, Roy Lichtenstein, John Sloan, Thomas Sully, Ed Ruscha and Edward Winston, to name a few. The collection reflects Milwaukee's artistic landscape and is a true asset to the community.
How Posters Work
(March 31 – June 25, 2017)
As the title suggests, this exhibition touches on the history and social functions of the poster. It was—and still is—used as a medium of communication, selling products, promoting movies and voicing a cause. Visitors will see first-hand how designers pushed boundaries in two-dimensional design, mastered the art of storytelling in limited space and harnessed the mechanics and psychology of perception.  The exhibition features rarely-seen posters from the Cooper Hewitt, Smithsonian Design Museum's permanent collection, as well as works from prominent artists such as Lucian Bernhard, Herbert Bayer and Josef Muller-Brockman. The traveling exhibit is complemented by presentations of work from Milwaukee graphic designers.
Paul Druecke: A Social Event Archive
(May 12 – August 13, 2017)
A Milwaukee native, Druecke has examined how historical and social events are commemorated and interrogated. The 20th anniversary of A Social Event Archive will be celebrated in 2017. The inventive project invited friends, neighbors and his audience to donate a snapshot of what they considered to be a social event. Druecke collected the vernacular pictures to study habits and see how the presence of a camera affected behavior. The exhibition presents the archive of nearly 800 photos together for the first time. Druecke will organize events in conjunction with the exhibition to turn the showcase itself into a social experiment.
Rashid Johnson: Hail We Now Sing Joy+
(June 23 – September 17, 2017)
A large-scale exhibition filled with sculptures, paintings and a monumental installation, Hail We Now Sing Joy brings the works of Rashid Johnson to Milwaukee. The exhibit features some of Johnson's most famous pieces, including Anxious Audience, made of large panels of white ceramic tile covered with agitated faces scrawled in black soap and wax. Visitors will be able to appreciate his classics, as well as some of his newer works, such as Antoine's Organ. This is Johnson's newest installation and the largest of his architectural grid works ever shown in the U.S. The structure bursts with potted plants, videos and lights, engaging the audience with music, literature and film.
Frank Lloyd Wright: Buildings for the Prairie
(July 28 – October 15, 2017)
In honor of Wright's 150th birthday, the Milwaukee Art Museum will present this exhibition featuring a selection of the famed architect's designs from the Wasmuth Portfolio, as well as examples of his furniture, stained glass and textiles. The Wasmuth Portfolio is considered one of the most significant collections of Wright's early work. It introduced the architect's work to European contemporaries and is greatly credited with influencing the direction of 20th century architecture. The collection allows visitors to see the evolution of the Prairie School of architecture.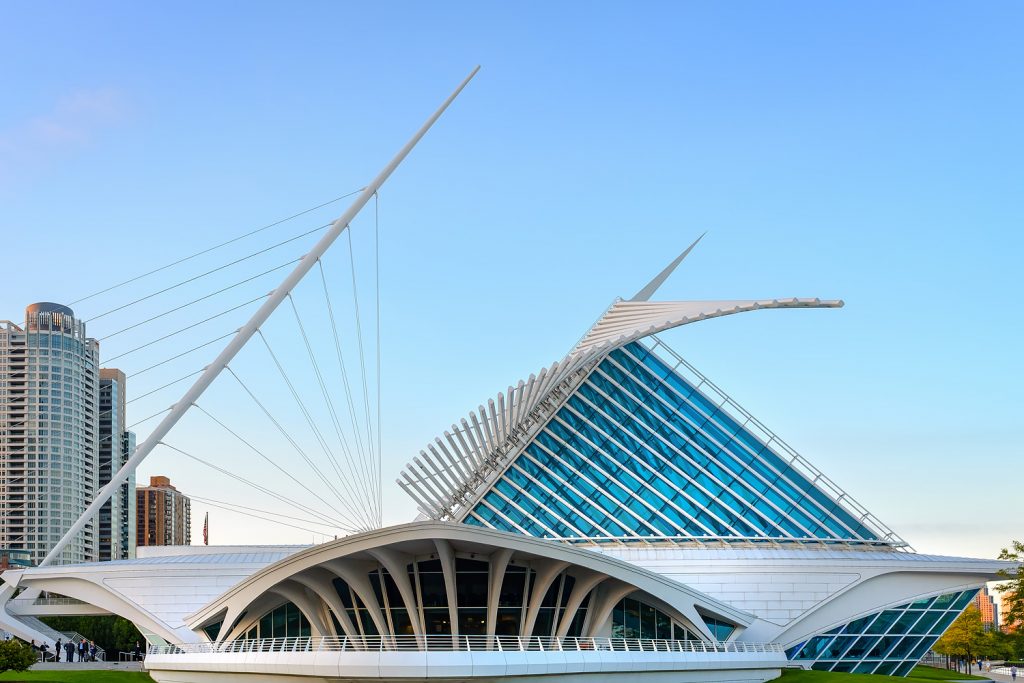 The Milwaukee Art Museum welcomes tour groups to visit these exciting exhibitions. Groups of 15-20 people can explore at their own pace. Larger groups can take part in a guided tour led by one of the museum's skilled docents.