American Queen Voyages is best known for its paddlewheel ships sailing on rivers within the United States. That's how the company began in 2012 when its first ship, the American Queen, was christened in Memphis by Priscilla Presley. 
Over the years they've added more river ships to the fleet, including the American Duchess, American Empress and American Countess, which was christened in 2020.  The line has continued to expand with other ships. The Ocean Voyager and Ocean Navigator offer lakes and ocean cruises, while the 186-guests Ocean Victory is an expedition ship. 
Ocean Victory and Alaska 
On May 6, the Ocean Victory did her inaugural Alaska voyage, a three-day sailing from Seattle to Vancouver, British Columbia. Since then, she has been offering 12-day "Authentic Alaska" cruises from Vancouver to Sitka, Alaska, and 13-day "Alaska Insider" cruises from Sitka to Vancouver.
Itineraries include Expedition Adventures led by a special expedition team. American Queen Voyages has teamed up with California Polytechnic State University, the Sound Science Research Collective and Sitka Science to bring on experts who help guests spot wildlife. A fleet of kayaks and Zodiacs makes it possible to explore places inaccessible to large ships. Each Zodiac launch carries a pilot and naturalist.
Expedition team members not only lead the outdoor adventures but mingle with guests throughout the cruise. Most of them have at least a decade of experience in Alaska.
More about the Ocean Victory 
The Ocean Victory accommodates its 186 guests in 93 staterooms and has 100 crew members. Extensive public spaces and the staterooms are decorated in white, gray and blue with photos and paintings of polar wildlife and expeditions. The feel of the ship mirrors a contemporary boutique hotel. She has a fitness center, small spa, two outdoor hot tubs and an infinity pool. 
The Ocean Victory features high-tech Zodiac landing decks for launching the expert-led expeditions and a dedicated Expedition Lecture Hall. The last Alaska sailing of the season departs Vancouver September 9. 
Lakes & Ocean Cruises 
The Ocean Navigator celebrated her maiden voyage when she arrived at Chicago's Navy Pier on May 18. A beautiful special celebration event took place. Key people there included Bill Annand, vice president vessel operations, American Queen Voyages; Captain Gary Kerr of the Ocean Navigator; Lynn Osmond, CEO of Choose Chicago; Marilynn Gardner, president & CEO of Navy Pier, Inc.; Kimberly Bares, president & CEO of The Magnificent Mile Association; and Dan Russell, co-chief operating officer, City Cruises.
Later that day, guests boarded the Ocean Navigator for an 11-day  "Great Lakes Voyages" cruise departing from Chicago's Navy Pier, with stops in Michigan, Ohio and Ontario, including Niagara Falls. They disembarked in Toronto. The Ocean Navigator's sister ship, the Ocean Voyager, departed from Navy Pier on June 8.
Accommodating 202 guests, the Ocean Navigator and Ocean Voyager have 84 crew members onboard. The Sun Deck, Observation Deck, Saloon Deck and Main Deck provide wonderful areas, while the Coastal Dining Room provides top-notch cuisine.
Great Lakes voyages range from 11 to 16 days, with overnight stops in ports such as Toronto and Mackinac Island. A pre-cruise hotel stay is included.
Starting this fall, the Ocean Navigator and Ocean Voyager will offer other itineraries. A few include:
"Canadian Crown Jewels," which sails from Montreal, Quebec to Boston, Massachusetts

"The Scenic St. Lawrence," which sails from Montreal to breathtaking areas of Ontario and back to Montreal

"Epic Eastern Seaboard,"  which sails from Boston to Nassau, the Bahamas

"Southern Coastal Charm," which departs from Jacksonville, Florida and visits Savannah and Brunswick, Georgia; Charleston, South Carolina;  Amelia Island, Florida; and Freeport, Grand Bahamas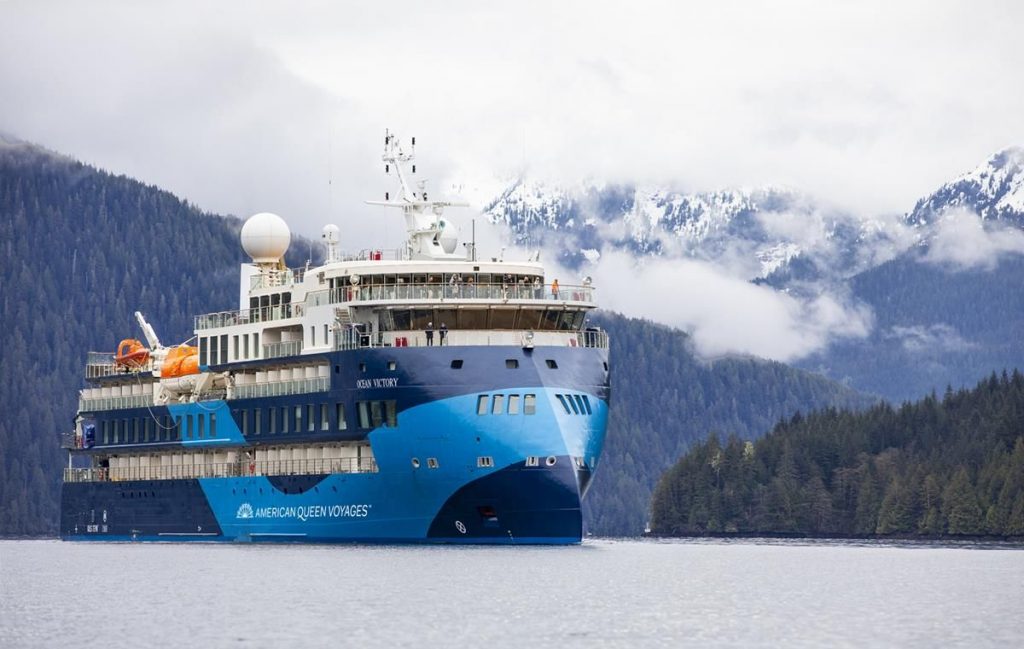 SafeCruise – Enhanced Health and Safety Protocols 
American Queen Voyages has implemented SafeCruise, a set of safety and health protocols. It's the line's commitment to guest safety and security throughout the entire cruise experience. A COVID-19 vaccination is required for all guests and crew on all sailings. 
All-Inclusive Fares
American Queen Voyages fares include a one-night pre-cruise hotel stay, transfers between the hotel and vessel, unlimited Wi-Fi, unlimited beverages and acclaimed cuisine in various different dining venues, plus all-day in room dining. Daily onboard entertainment and enrichment experiences are included as well. 
It's clear that American Queen Voyages offers diverse options to consider when planning your next group cruise.
By Cindy Bertram
Cindy Bertram has 15+ years of cruise industry expertise in marketing, content creation, sales and training as well as social media. Her MBA from Loyola University Chicago complements her high creative edge and liberal arts BA. She can be reached at cindy@ptmgroups.com.
Lead photo and Ocean Victory photo courtesy of American Queen Voyages