Quench your thirst and have some fun at award-winning Pennsylvania breweries
Gettysburg is not just known for its Civil War-era history, it's also home to some of the nation's best craft breweries. Inspired by the long tradition of German immigration to this area, Gettysburg's breweries feature a combination of exciting new brews crafted with time-honored traditions and unique culinary experiences. Walking through downtown, you can't go far without running into a plethora of award-winning breweries.
One can easily be overwhelmed with all the options, but Adams County, Pennsylvania has partnered with the area's most distinct breweries to present the Pour Tour: an interactive exploration into Gettysburg's local tastes.
After visiting the area's many battlefields on rolling green hills or following the footsteps of figures like Abraham Lincoln or General Robert E. Lee, group travelers are invited to embark on an exploration of their local breweries. This tour provides each guest with a passport that can be marked with a stamp for each brewery your group decides to visit.
Mason Dixon Distillery
Mason Dixon Distillery is housed in a beautifully restored, 100-year-old factory in the heart of downtown Gettysburg. All of its spirits are made on-site, crafted from local ingredients and bottled by hand. The grains used in a variety of the spirits are grown down the road in Gettysburg National Military Park. The distillery has its vodka, rum, whiskey and gin available by the bottle, served on the rocks, or in one of its many craft cocktails.
Just like the spirits, the distillery's menu is crafted with the same attention to historic tradition and local flavor. Dishes like the Hot Chicken Sandwich and Greek Lasagna are prepared with ingredients grown locally or in the restaurant's garden out back.
Thirsty Farmer Brew Works
Another notable stop on the Adams County Pour Tour takes you 20 minutes outside of Gettysburg to the farmlands of Biglerville, Pennsylvania. The brewery is located at its own family farm, kept by the Knouse family for four generations. Thirsty Farmer only features Pennsylvania-grown hops, either cultivated by their family farm or sourced from local growers. One notable mention the brewery has on tap is the Apple Graff, a unique combination of apple cider and craft beer. The apples used in this brew are sourced from the family's apple orchard. Thirsty Farmers also has the classics on tap for the traditionalists, like the Vienna Lager.
Just like the brews, the menu offers up a locally-sourced selection of plates. For group travelers, the Build Your Own menu is sure to be a sharable favorite. Or, pick up some fresh produce for the road, grown on-site. Seasonally offered produce at Thirsty Farmers includes apples, peaches, pears, nectarines and apricots. Your visit to Thirsty Farmers is sure to highlight the quality produce grown in rural Adams County.
Dawg Gone Bees
A unique stop on the Pour Tour, Dawg Gone Bees is a family owned and operated business producing homemade honey and bee products, including mead. The quaint shop is located an 18-minute drive away from Gettysburg in New Oxford, Pennsylvania. Dawg Gone Bees' mead is flavored with locally-sourced fruits and spices to create their range of semi-dry to sweet. Stop in to purchase the mead by the bottle or come in for a tasting.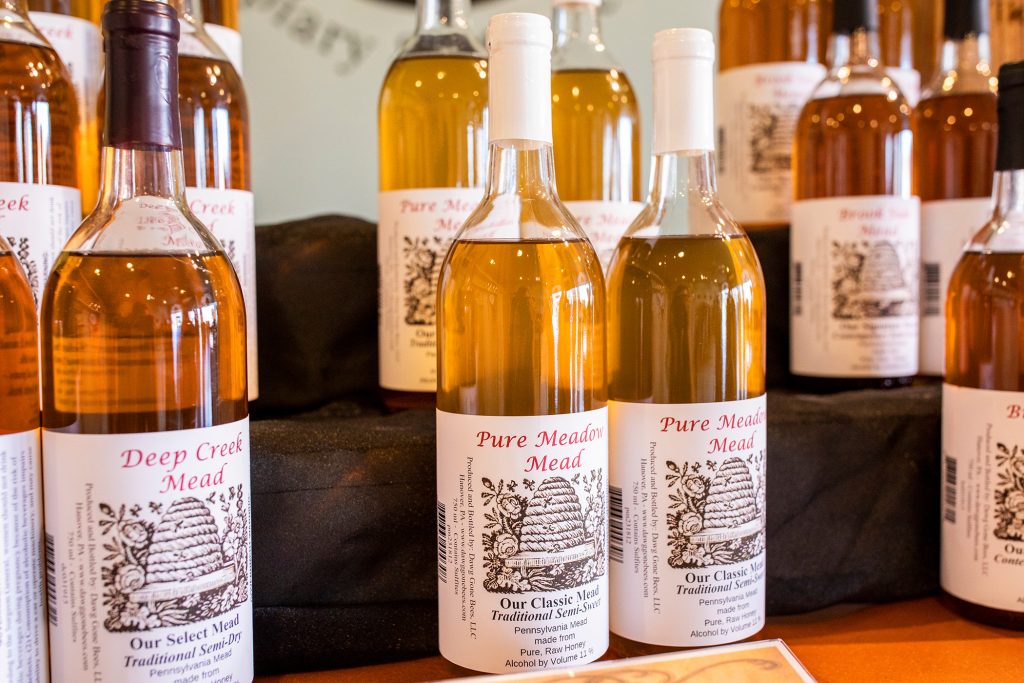 Jack's Hard Cider and Mela Kitchen
Across from Gettysburg National Military Park is Jack's Hard Cider and Mela Kitchen. Their dedication to showcasing locally grown ingredients is displayed in the slogan: "Eat Well, Drink Well, Be Well."
This new production facility for Jack's Hard Cider features multiple cider blends on tap, pressed on site. A group travel favorite is the cider flight, a sampling of four of these artistically crafted ciders. Jack's also features craft beer brewed in Pennsylvania, wines under the Atomic Dog label and a wide selection of cocktails.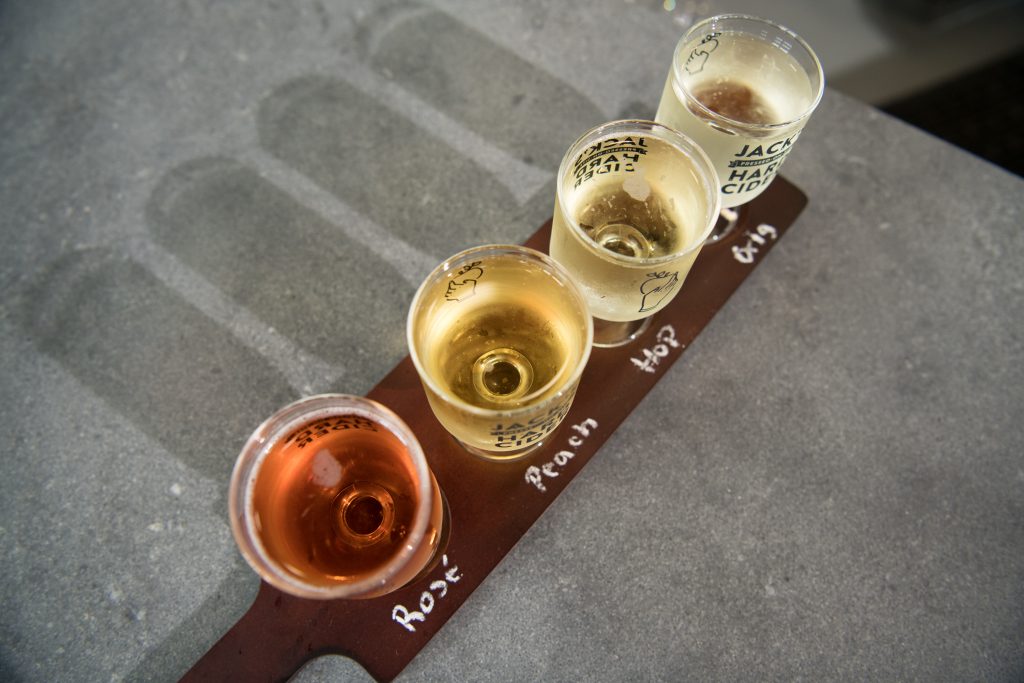 Mela Kitchen features a modern menu of clean, fresh and rustic culinary offerings. From the Skirt Steak and Grilled Branzino to the Roasted Vegetable Sub and gluten-free pizza cooked in a traditional Italian brick oven, Mela offers cuisine based on any dietary restrictions or preferences.
Fourscore Beer Co.
This brand-new brewery is located in the heart of downtown Gettysburg. Everything about Fourscore, from the menu of unique and trendy IPAs to the meme-filled Facebook page, caters to the trendy millennial looking for an out-of-the-box drinking experience.
These quirky drinks have the names to match: They See Me Rollin' is a cinnamon bun imperial stout and Noon as Dark as Midnight: Peanut Butter is a bourbon barrel aged stout with peanut butter, vanilla and coffee flavors. Fourscore often releases limited-edition craft beer, so before your visit, check out its Facebook page to see their latest creation available in-store or for pick-up.
Like many of the breweries featured on the Pour Tour, Fourscore Beer Co. sources the highest quality ingredients both locally and across the globe for its unique beers and dishes. The kitchen menu rotates with the seasons, featuring small plates that pair exceptionally well with their brews. Many of these plates even feature some brews as an ingredient.
With 31 brewing companies and restaurants on the Adams County Pour Tour, there is plenty of reason to explore the rich history of Pennsylvania beer brewing during your stay in historic Gettysburg. If the excitement of trying high quality, innovative craft spirits isn't enough, turn in your completed Passport with all 31 stamps to enter a competition for the chance to win an overnight getaway to Gettysburg.
---
By Isabella Wilkes