This historic home in North Little Rock, Arkansas will transport you to another time
It takes a special place to make someone stop in their tire tracks and take notice. But nestled at the edge of the Park Hill Historic District in North Little Rock, Arkansas, is a structure that is just that. The Edgemont House has been a gem of the neighborhood for almost a century, and when it caught the eye of local landscape designer Chris Olsen, it would soon become a whole lot more than just a beautiful historic home.
The history of Arkansas' Edgemont House
The Edgemont House was initially designed in 1927 by a well-known Little Rock architect named Max F. Mayer. Mayer often used traditional styles in his buildings like English Revival or French Eclectic. But he also enjoyed creating structures in the Spanish Colonial Revival style, and the Edgemont House was the perfect example of that type of design. With its white stucco exterior, terracotta shingles, small porches and wrought-iron railings, it was a site to behold.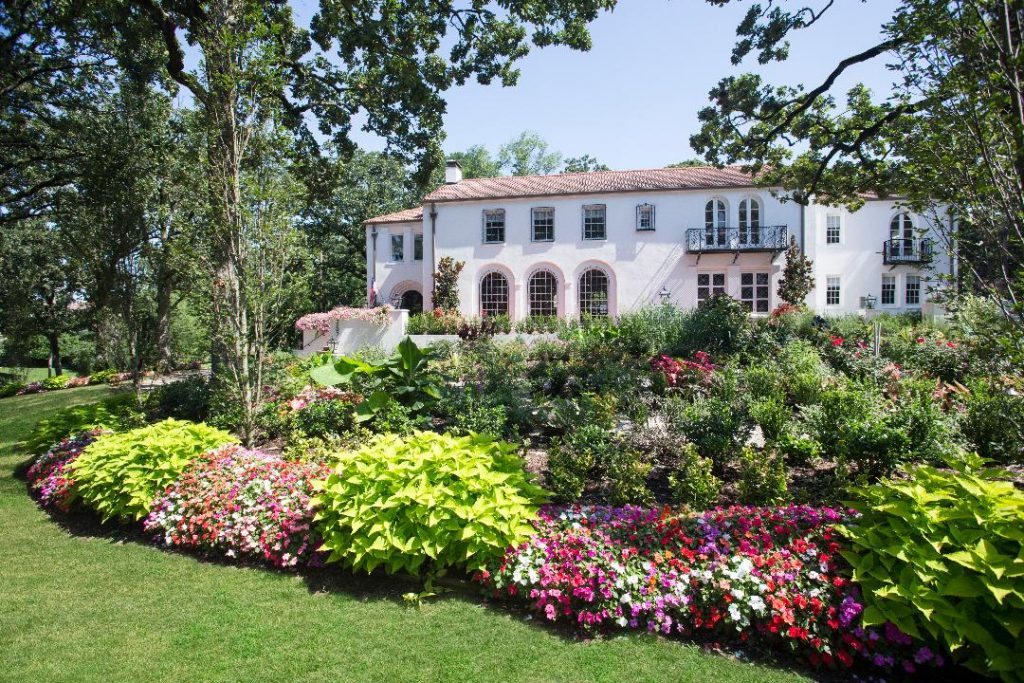 Several residents have occupied the house over the years. In the 1960s, the homeowner was a decorator who really played up the Spanish style. She placed awnings over the upstairs windows and shaded the front door with an awning held by wrought iron spears. The interior was tastefully decorated and well maintained, and the courtyard was a lovely, quiet place to entertain. But as the home changed ownership and years sped by, it began to lose a little of its luster.
When Chris Olsen stumbled upon the house a few years ago, it was clear it had seen better days. But potential was emanating from all corners, and Chris took on the challenge of reviving the Edgemont House in his own vision. He was not a stranger to big projects.
As the owner of Botanica Gardens in Little Rock and Plantopia Home & Garden Center, Chris has managed several large landscape developments. He's even been the recipient of the People's Choice Award and other honors at the Arkansas Garden Show for over 15 years. On top of his gardening skills, he is an acclaimed interior designer, with his work featured in many publications. To say Chris could handle a revival of this impressive home was an understatement.
Planning an event at Edgemont House in Arkansas
Renovations kicked off in July 2016, and over the next few months the house transformed into a stunning venue. Chris brought his distinctive style into every element of the home while maintaining its classic look and historic feel. While Chris calls this place home, he also opens it up to visitors all year round, inviting them to experience the unique energy he felt when he first discovered it.

Chris designed the home with entertaining in mind, and the Edgemont House has become a popular location to host all kinds of events, from intimate weddings and private brunches to large receptions and fancy dinners. Guests can even rent it out for a photo session, perfect for family portraits or senior pictures.
For groups visiting from other cities or states, the Edgemont House is open to bus tours (with a minimum of 30 people). Groups can spend two hours walking the interior and exterior of the estate, discovering all the little touches Chris considered during the renovation.
Wondering what time of year is best to visit? There's no bad time. Every season is celebrated at Edgemont House. From March to October, the gardens are brimming with lush plants and colorful flowers, offering a lovely oasis for groups to explore. In the fall (from October to mid-November), the crew decorates the home with over 700 pumpkins and tons of fall foliage. For something truly spectacular, book a tour around the holidays, when the entire house is dressed to the nines with twinkling lights, Christmas decorations, thousands of ornaments, and festive candles.
Touring Edgemont House in Arkansas
Tour groups interested in history and architecture will want to make a stop at the Edgemont House to admire the Spanish Colonial style and beautiful landscaping. And for a little extra history, they can mix in a visit to the Old Mill. Completed in 1933, the Mill was constructed to look like an old waterpowered grist mill. The concept, thought up by developer Justin Matthews, was a tribute to Arkansas's pioneers. The Mill was even featured in the opening scene of the film Gone with the Wind. Over the years, it has become a staple of the neighborhood and an important part of the system of recreational lakes and open spaces.
Groups of 10 or more people can take a 30-minute tour of the Old Mill. They'll learn about the initial design of the structure, how it was built and why it looks the way it does. In addition, they'll get to see some actual relics within the Mill, some dating back to the early 1800s.
Book a visit at Edgemont House
Edgemont House embodies the one-of-a-kind style and spirit of the Park Hill Historic District. It's an ideal venue for any group hosting a gathering. It doesn't matter the occasion, the Edgemont House provides a warm, welcoming environment for all guests. So, if your group is planning a trip to North Little Rock, Arkansas, consider reserving some time to explore this architectural jewel.
---
By Vanessa Day
For activity ideas on your next trip Subscribe for FREE to our newsletter.