Build an irresistible itinerary around the area's musical heritage, mountain lore, spectacular scenery, wonderful attractions and outdoor activities.
The Blue Ridge Parkway is the most visited unit in the entire National Park Service system, and there are obvious reasons why. The portion of the road that travels through Virginia's Blue Ridge Mountains provides some of the world's best mountain scenery, offering stunning views around every turn and scenic overlooks to enhance the experience. It's not unusual to see native wildlife.
In addition to admiring the parkway's absolute beauty, groups can choose from a variety of outdoor options. Whether you're looking for physical challenges or something mild that assures you will not get your new sneakers dirty, you'll find your answer along the Blue Ridge Parkway. (blueridgeparkway.org)
Humpback Rocks (Mileposts 5-9.3) is on the parkway's north end and a good spot to begin your adventure. The visitor center has exhibits on mountain life and a ranger ready to assist; a historic farm is just a short walk away. Three hiking trails of mild difficulty and varying lengths lead to Humpback Rocks, Humpback Mountain and a picnic area.
Mountain Farm Trail has a gravel path and is wheel chair-accessible. The summer concert schedule is worth checking out.  At an elevation of 3,950 feet, Apple Orchard Mountain (Milepost 76.5) overlook is the high point of the Blue Ridge Parkway in Virginia. Accessible from both the parkway and Appalachian Trail, the mountain is a good hiking destination. Apple Orchard Falls is one of the trail's most impressive features; keep watch for deer and black bears.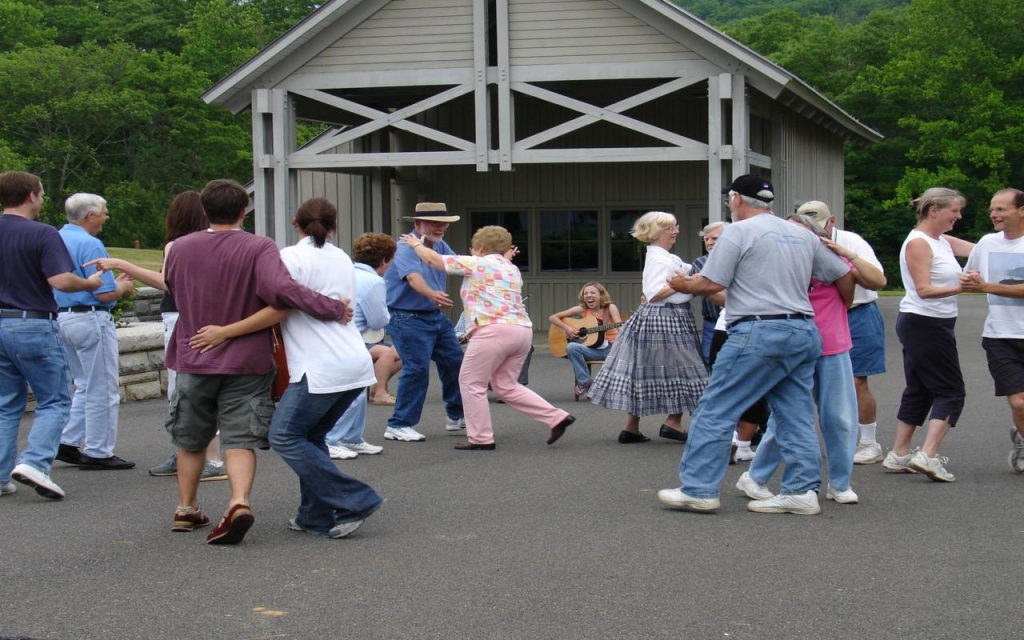 Peaks of Otter Lodge (Milepost 86), just off the parkway, is a favorite stop for lunch and shopping, with a variety of outdoor options for overnight guests. Five trails thread the area, while the "Peaks under the Stars" program is an evening option. To extend your stay, the group staff has itinerary options that include nearby Luray Caverns, Monticello and the National D-Day Memorial. (peaksofotter.com)
The Roanoke River Gorge (Milepost 114.9) stop requires parking at the Roanoke River Overlook and a short walk to the bridge that spans the gorge. The scene is well worth the stop as you look down to the flowing river 900 feet below. Just off the parkway, Explore Park (Milepost 115) offers hiking, biking, paddle boarding and canoeing. Part of the Virginia Birding and Wildlife Trail, the trails range from easy to moderately difficult. Roanoke River access is available to those travelers wanting to make a splash. The Blue Ridge Parkway Visitor Center at Explore Park features a museum and gift shop and serves as the gateway to the Roanoke area. (explorepark.org)
---
---
It's simply inexcusable to get within 10 miles of Roanoke and not stop for a visit to this lively community. Just three miles off the parkway is the Roanoke Star & Overlook (Milepost 120.4.) It's the largest, manmade illuminated star in the world and a great photo opportunity. You're just 10 minutes from downtown Roanoke and a wonderful assortment of attractions. Roanoke's history as a railroad hub is on display at the Virginia Museum of Transportation, which showcases vintage rail cars and steam, diesel and electric locomotives. The O. Winston Link Museum has rare photography that documents the last days of steam engines. Five new bike share stations in downtown Roanoke are part of the growing outdoor amenities in the region. Download the Zagster app to get started. (visitroanoke.com)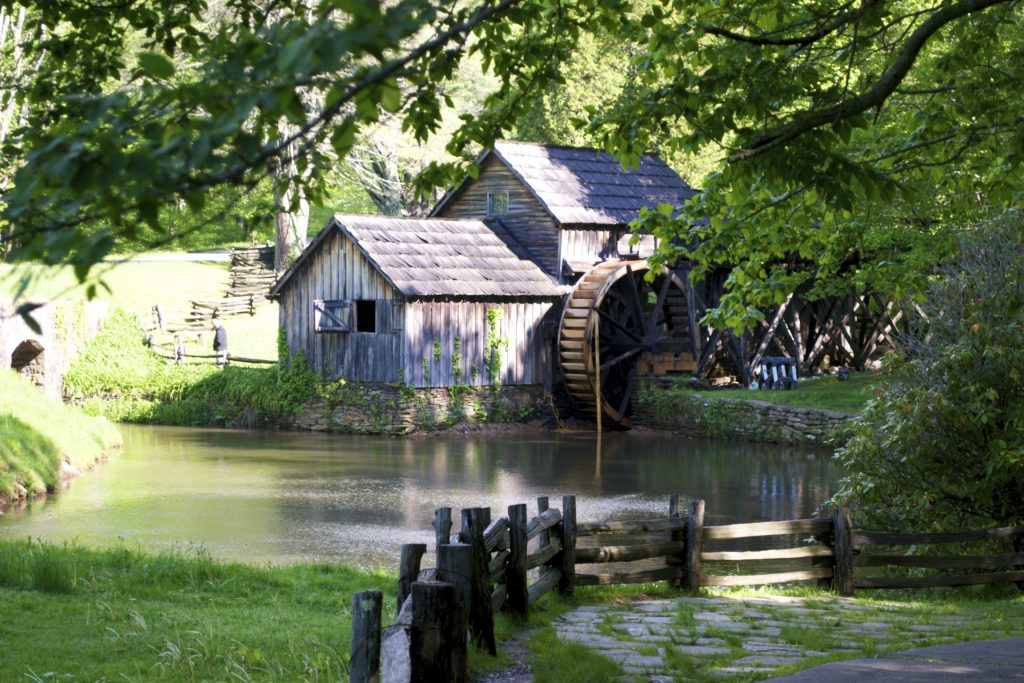 Be certain your camera batteries are fresh and the lens clean at Mabry Mill (Milepost 176,) the most photographed sight on the Virginia section of the parkway. The iconic gristmill has been making flour for more than 100 years. National Park Service staff in the nearby interpretive area demonstrate blacksmithing, spinning, basket making and other pioneer skills. Folk and mountain music performances take place in summer. Mabry Mill Restaurant features country-style favorites for breakfast, lunch and dinner. The gift shop sells Virginia crafts and Mabry Mill-inspired gifts. Bags of grits, cornmeal and buckwheat flour from the mill are available. (mabrymillrestaurant.com)
The last Virginia stop before crossing into North Carolina is the Blue Ridge Music Center (Milepost 213). It includes an outdoor amphitheater where regional music is performed live during the summer months. Complete your visit with time allowed for the interpretive center/theater and The Roots of American Music, an entertaining and educational interactive exhibition highlighting the region's music history and contributions to other genres. (blueridgemusiccenter.org)