There are a lot of things to see along the more than 2,000 miles of Route 66, and Southwest Missouri's portion of the highway should not be passed by.
Known as the Main Street of America, Route 66 was one of the original highways in the U.S. and one of the most famous roads in history. It runs through eight states (Illinois, Missouri, Kansas, Oklahoma, Texas, New Mexico, Arizona and California) and it has become a lifeblood for the communities it serves. As a result, there are an unbelievable number of sites and activities to experience on or near the old roadway. Every section offers something different. The last 20 miles of Joplin Missouri's Route 66 features some attractions that all road-tripping groups just have to see.
Tour a Historic Home in Murphysburg
The City of Joplin, Missouri designated a specific section of town as the Murphysburg Historic District, recently added to the National Register of Historic Places. It features nearly 40 homes, most of which are on Sergeant Avenue and Moffett Avenue, and each showcases unique architectural styles. As groups walk the streets, they will be transported back to the late 19th and early 20th century, when Joplin's wealthy and influential citizens built these homes. Tours inside these homes are available if booked through a Visit Joplin MO team member.
Visit the Joplin Museum Complex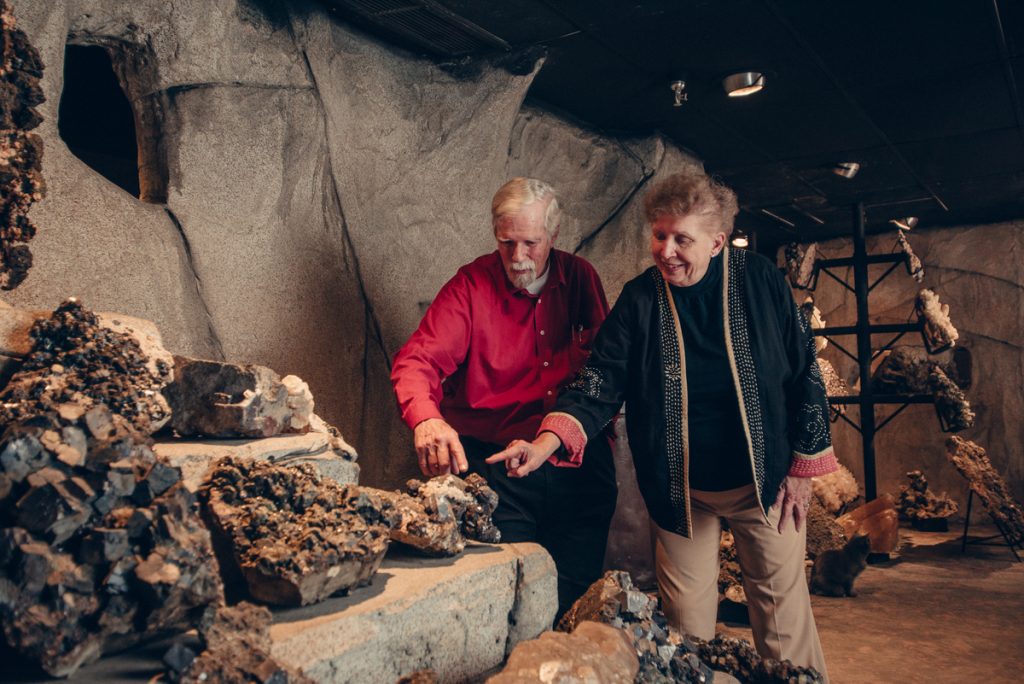 Hear the story of Joplin and the Tri-State Mining District with a visit to the Joplin Museum Complex. The complex is made up of two distinct museums: the Everett J. Ritchie Tri-State Mineral Museum and the Dorothea B. Hoover Historical Museum. When you enter the mineral museum you find yourself inside a replica of a mine shaft while discovering the origins of Joplin as a mining boomtown. It boasts a collection of lead and zinc ores and other minerals found in the area, as well as tools used by the miners. The Historical Museum tells the story of the city's growth and development. Exhibits include Historic Route 66, Bonnie and Clyde, the Joplin Sports Hall of Fame and National Historic Cookie Cutter exhibit.
Take a Photo at the Route 66 Mural Park
Document your adventures in Joplin with a photo at Route 66 Mural Park. Located on the south side of Pearl Brothers hardware store, the murals have been part of downtown Joplin since 2013. The park includes two large tile murals: Cruisin' into Joplin and The American Ribbon. You will also find a mock 1964 red Corvette at the park—a perfect spot to take a group photo.
See the Last Signed Mural From Thomas Hart Benton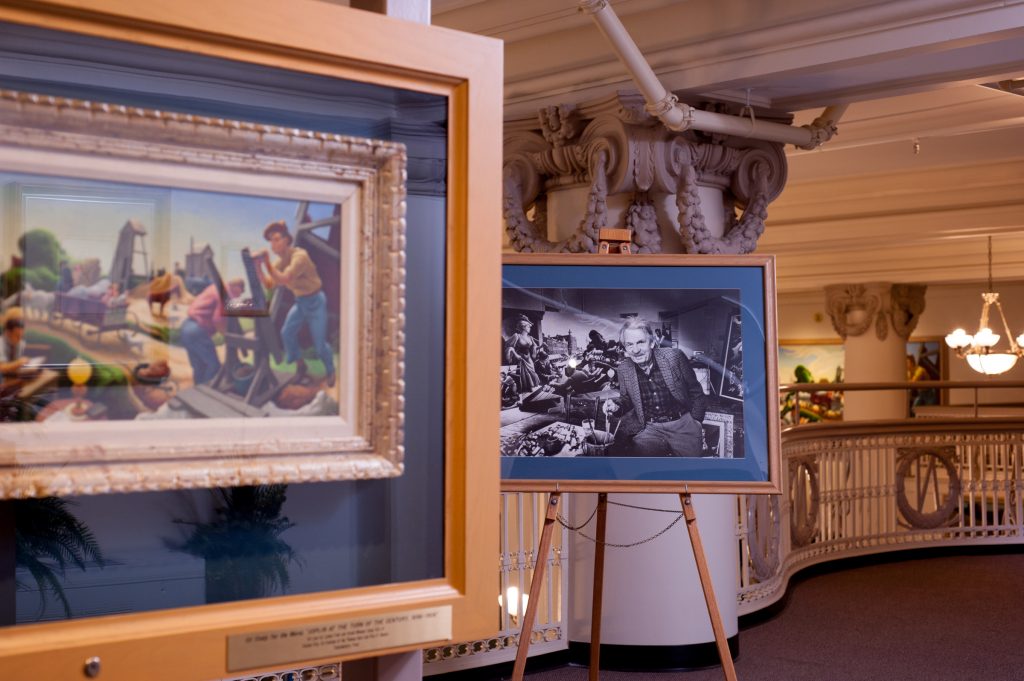 Joplin is filled with art, culture and history, and a true display of that is the Mural at City Hall. Titled "Joplin at the Turn of the Century, 1896-1906," it is the only autobiographical work by Thomas Hart Benton, an American painter and muralist. The piece was dedicated on Joplin's 100th birthday and is Benton's final signed mural. Groups visiting the mural can also check out the Evolution of a Mural exhibit on the mezzanine level of City Hall, showing Benton's rough sketches of his Joplin mural project. After you have captured your group photo at the mural, walk across original Route 66, Joplin's Downtown Main Street to Joplin City Hall.
Take a Guided Historic Building Tour in Downtown Joplin
For a truly special look at the city of Joplin, groups can sign up for exclusive tours of some of the town's most historic buildings. Take a private guided tour of old bordellos, also known as brothels, that existed throughout the city; and venture over to City Hall, once a former department store called the Newman Mercantile Store. Other notable historic stops on the tour are the Frisco Train Station, now a senior living facility, and Fox Theater, which was adapted into a church. Groups can sign up for the tour through a Visit Joplin MO team member. The history tour would be provided by Joplin's own historian, Brad Belk.
Step Back in Time at Red Oak II
Experience life as it was in the 1930s at Red Oak II, a restored town in Carthage reminiscent of the good old days. Founded by Lowell Davis, a native of the original town, Red Oak II features Grandpa Weber's Blacksmith Shop, the Feed and Seed Store, Old Phillips 66 Station and General Store. While here, your group can enjoy a catered lunch at the Red Oak II Cafe as they admire this town frozen in time.
Dine on Route 66
Original Route 66 runs through the heart of Joplin's downtown. Groups can choose to do a dine-around in one of the local downtown restaurants, experiencing unique cuisine from gourmet hot dogs, Mediterranean, BBQ, classic American cuisine or Memphis style hot wings. If dining downtown doesn't work for your group's schedule many other flavors are available along the original Route or catered option at one of the areas attractions is a popular option among visiting groups.
Don't Forget Ice Cream from SuperTAM in Carterville
A short drive from Carthage is Carterville, known for its superheroes. The SuperTAM on 66 Ice Cream Parlor features dozens of Superman items collected by owner Larry Tamminen for over 30 years. Admire the memorabilia while enjoying some delicious flavors, including chocolate chip cookie dough, moose tracks, black cherry, and, of course, Superman.
An abundance of quirky, fun and historical attractions awaits travelers on Southwest Missouri's strip of Route 66. Groups driving this famed road will definitely want to hit the brakes in Joplin. To be updated on Joplin, visit www.visitjoplinmo.com/blog .