Always popular as places for family vacations, reunions, youth outings and faith-based retreats, lake destinations appeal to traditional senior groups as well
Lake Martin, Louisiana
Convenient to Lafayette and Breaux Bridge accommodations and restaurants, Lake Martin offers a wealth of daytime options for both the outdoor enthusiast and laid-back traveler. For the adventurous, a kayaking experience is waiting.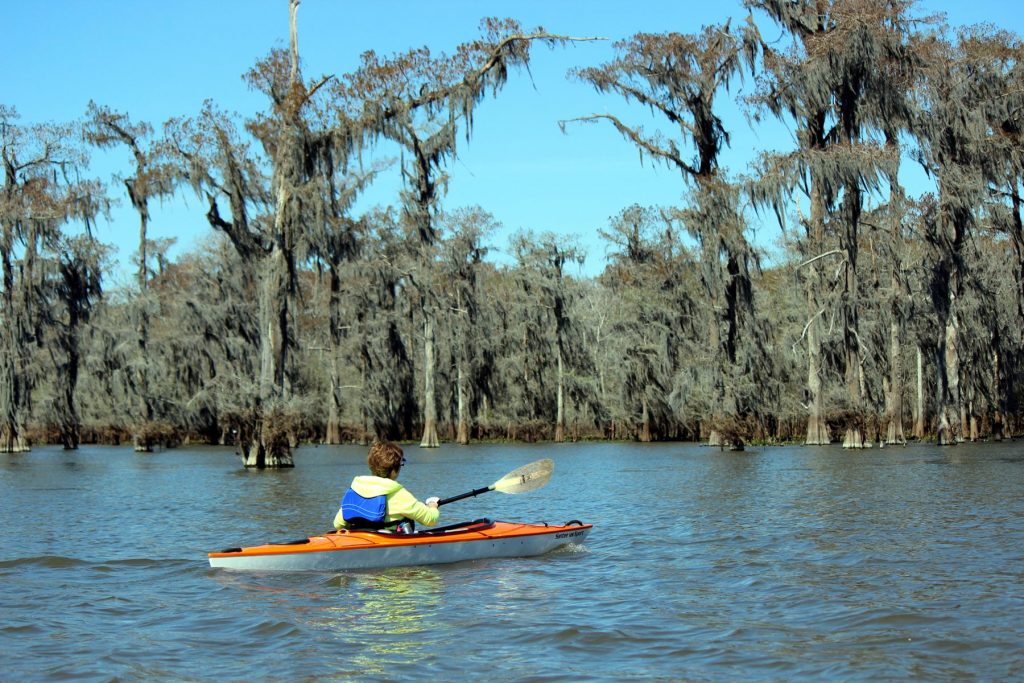 Local favorite Pack & Paddle will provide lessons for beginners and advanced paddlers. An early morning Lake Martin tour can be scheduled for groups. If you're more interested in the sights on land, a waterfall hike at Clark Creek can be organized. (packpaddle.com)
Leisurely, guided swamp tours are available on eco-friendly boats. Both Champagne's Cajun Swamp Tours and Cajun Country Swamp Tours specialize in tours that feature low-wake boats. (champagnesswamptours.com and cajuncountryswamptours.com) Nearby, the Cypress Island Visitor Center and boardwalk is a must for birding enthusiasts. The rookery view from March through June is remarkable. Along the 2.5-mile walking levee visitors can experience all types of wildlife viewing.
Lake Lanier, Georgia
Just 45 minutes north of Atlanta, it's as easy as a gentle lake breeze to build a Lake Lanier itinerary. It all begins on the water.
From stand-up paddleboards and kayaks to canoes and even pontoon boats, Fishtales Watersports provides rentals for every mode of lake exploration. The Lake Lanier Olympic Venue was home to the 1996 Olympic rowing, sprint canoe and kayaking competitions. Along with a boat ramp and beach, the 26-acre park has an amphitheater and picnic areas. Great fishing is found throughout the lake.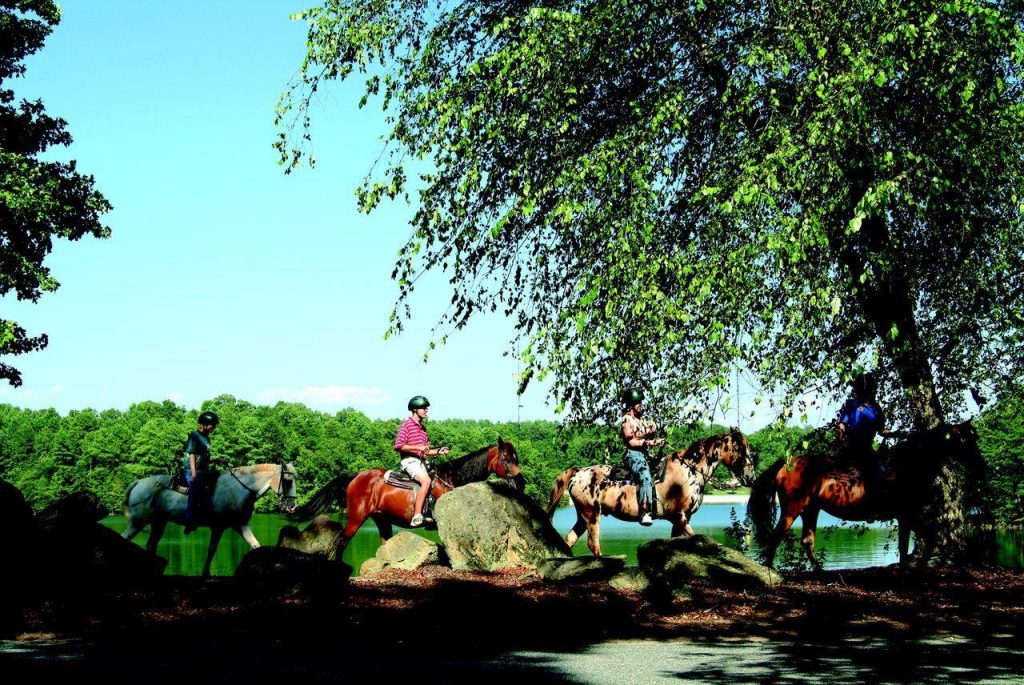 Off the water, the Lake Lanier area offers ziplines and canopy tours along with trails for hiking and biking. The Stables at Lanier Islands Resort features scenic trails for horseback riding along the lake.
More than a half dozen flag hotels, bed & breakfast inns and numerous lakeside cabins serve the area. Don Carter State Park, Georgia's newest and first on Lake Lanier, features well-equipped, comfortable cabins. The Legacy Lodge & Conference Center welcomes groups with lakefront accommodations and a full list of in-room and on-site amenities.
Fontana Lake, North Carolina
Hardly a North Carolina secret, the 230-mile shoreline of Fontana Lake is nestled in the Great Smoky Mountains. The lake is a popular destination for fishing, boating and swimming. The 480-foot Fontana Dam, the highest east of the Rockies, is crossed by hikers on the Appalachian Trail.
Fontana Guide Service Tours, the perfect place to begin exploring the options at Fontana Lake, offers half- and full-day tours that feature the waterfalls, rivers and wildlife. Fall leaf tours are a distinctive way to experience foliage. If sightseeing isn't your thing, try their guided fishing or swimming trips.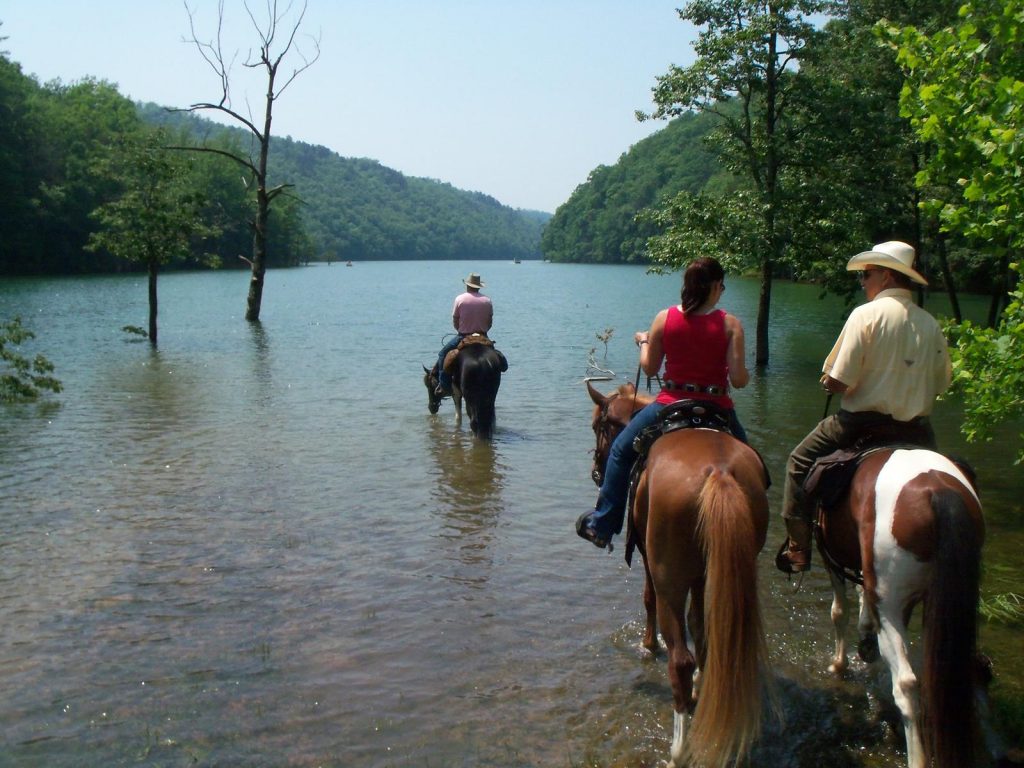 Bordering Great Smoky Mountains National Park, nearby Bryson City, North Carolina makes a good headquarters for your Fontana Lake experience. Great Smoky Mountains Railroad offers regular departures from Bryson City. The Nantahala Gorge trip crosses the historic Fontana Lake trestle. Gem mines, a heritage museum, biking, hiking, birding and nearby Cherokee will fill any Fontana Lake/Bryson City itinerary. Area restaurants serve family or buffet style; ambience ranges from sidewalk casual to white tablecloth.
Dale Hollow Lake, Tennessee
Located in Byrdstown-Pickett County, Tennessee's smallest populated county, it's a popular getaway for both Knoxville and Nashville vacationers. Trophy fishing and tournaments and boating options are certainly features of a lake with 620 miles of shoreline. But much more awaits groups on the lake and in the surrounding area.
Leisure groups, from family reunions to outdoor enthusiasts, will find exactly what they need on Dale Hollow, one of America's best lakes for houseboating. Houseboat rentals that sleep from eight on the 50-foot Family Cruiser to 12 on the 84-foot Bigfoot II are available. Pick your pleasure at houseboating.org/ dale-hollow-lake-houseboat-rentals.
Off the lake there are scenic trails for hiking, biking and horseback riding. If shopping is on your itinerary, the World's Largest Yard Sale on the 127 Corridor (Aug. 4-7) passes through Pickett County. If history is your interest, include the Cordell Hull Birthplace Museum and State Park. The Nobel Peace Prize recipient was the longestserving U.S. secretary of state and founder of the United Nations. The Borderline exhibit in the Welcome Center at Pickett CCC Memorial State Park is not to be missed.
[cta id="54018″ vid="0″]
Land Between the Lakes, Tennessee/Kentucky
When the Cumberland and Tennessee rivers were impounded, the ensuing lakes created the Land Between the Lakes (LBL).
The area became the largest inland peninsula in the United States. That useful piece of information is surpassed by everything that's available to the more than two million annual visitors.
For the fishermen in the group, if one lake is good fishing, two must be great. This has to be an angler's paradise. Everything that floats, from jon boats to pontoon boats, are available for rent at a half dozen LBL marinas. The fish might not stand a chance. When you have your limit, there's still plenty to explore. There are beaches, hiking, horseback riding and even an AVA track for the energetic.
For those desiring a more leisurely pace, a visit to the 3.5-mile loop at the Elk & Bison Prairie shows the native habitat of these magnificent creatures. There's a little astronomer in all of us and that comes out at Golden Pond Planetarium. Recreating a 19th century Tennessee farm, The Homeplace has living history throughout the property. There's an accommodation that's right for your group and plenty of other attractions to explore in the area.
Summerville Lake, West Virginia
This popular vacation lake has a lighthouse. Enough said! Convenient to Mt. Nebo, West Virginia via I-79 North, I-64 East or West and I-77 South, Summerville Lake has become a favorite of reunions and faith-based travelers. Regardless of the season you'll find the scenery spectacular.
Maybe the best way to enjoy the view is to kick back in a rented pontoon boat at Summerville Lake Retreat. These 10-passenger, family-friendly watercraft offer spacious, comfortable seating. Generous decks make swimming and diving and boarding effortless. You might even want to jump off and do a little hiking. Whitewater rafting is available year-round with scheduled dam releases.
Summerville Lake Retreat's A-Frame cabins, comfortable and fully equipped, are complete with satellite television and Wi-Fi. Camping areas are scattered throughout the lake area.
Lake Murray, South Carolina
Capital City Lake Murray Country encompasses four counties and South Carolina's capital, Columbia. Running through the region are four rivers great for tubing and rowing and Lake Murray with more than 600 miles of shoreline.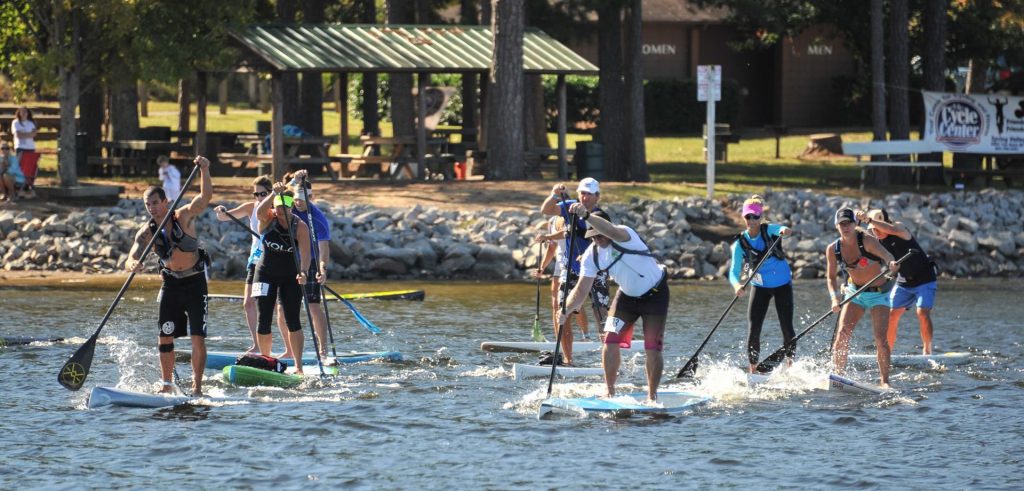 There must be something special about fishing Lake Murray. FLW Outdoors has brought the "Super Bowl of Fishing," the Forrest Wood Cup, presented by Wal-Mart, to Lake Murray Country twice in the last decade. Choose a fishing guide or just rent a boat at Aqua-Fun Boat Rentals and Tours. The 130-passenger Spirit of Lake Murray is a popular and relaxing way to explore scenic Lake Murray.
Off the water, Lake Murray Country offers much to see and do. There's plenty of history to experience in Columbia's historic house museums and gardens. Civil War buffs will certainly enjoy the SC State Museum Confederate Relic Room. The Columbia Museum of Art houses a distinctive collection of fine and decorative art. In the evening visitors can enjoy a Broadway show at the Kroger Center for the Arts or a performance at the historic Newberry Opera House. Discover itineraries at lakemurraycountry.com.