Jacksonville beckons active travelers year-round with options that range from surfing and paddle boarding to kayaking and fishing
The best way to experience Jacksonville is on the water. Whether swimming, kayaking or fishing floats your boat, there are thousands of miles of waterways to explore. The wildlife, flora & fauna and superb weather year-round make this northeastern Florida city a hot destination for all ages. Relaxation, adventure and some of America's most unique ecology – what more could you ask for in a destination? Check out what awaits you on the water in Jacksonville and start planning your group trip.
Kayaking
Navigating by kayak along the pristine Jacksonville waterways is a leisurely way to explore the area and take in the sites, but it can also be a great workout. With 1,100 miles of navigable water, no other city in the nation boasts as many miles of shoreline, which provides ample opportunities for spotting wildlife such as dolphins and sea turtles, bird-watching and soaking up the sun as you glide along. Whether you decide on a guided tour or to go at it alone, be sure to check out The Greater Jacksonville Paddling Guide to help you plan your adventures.
Fishing
Fish like the locals on the waterways of Jacksonville. Jetties, ecological preserves, piers – you'll never be short on options. Note that you don't need a license if you're a Florida resident 65 years of age or older, or under 16 years of age, fishing from a boat with a valid recreational vessel saltwater fishing license, or if you're a Florida resident fishing from land or a structure fixed to the land. Jacksonville Beach Fishing Pier stretches nearly a quarter mile into the sea, and here you'll findflounder and king mackerel, catfish, bluefish, sharks and sheepshead. The pier also features fish-cleaning stations, a bait shop and concession area. Also be sure to check out the Nassau Sound Fishing Bridge forwhiting, jack, drum and tarpon at one of the best fishing spots in northeast Florida. The Timucuan Ecological and Historic Preserve, the Mayport Jetties andGuana River Wildlife Management Area are other popular fishing spots in Jacksonville.
Beaches
Does a beach vacation sound like a good idea this time of year? In Jacksonville, beaches are always in season. These white sandy paradises are just minutes from the downtown core, and you can easily spend a day or just a few hours walking, swimming and enjoying some classic beach games along the 22 miles of shoreline. Jacksonville, Neptune and Atlantic are the three main beach areas in town, with historic Mayport just to the north. And if you don't feel like walking, hop aboard the Beach Trolley for just $1.50 and you'll get where you need to be in no time.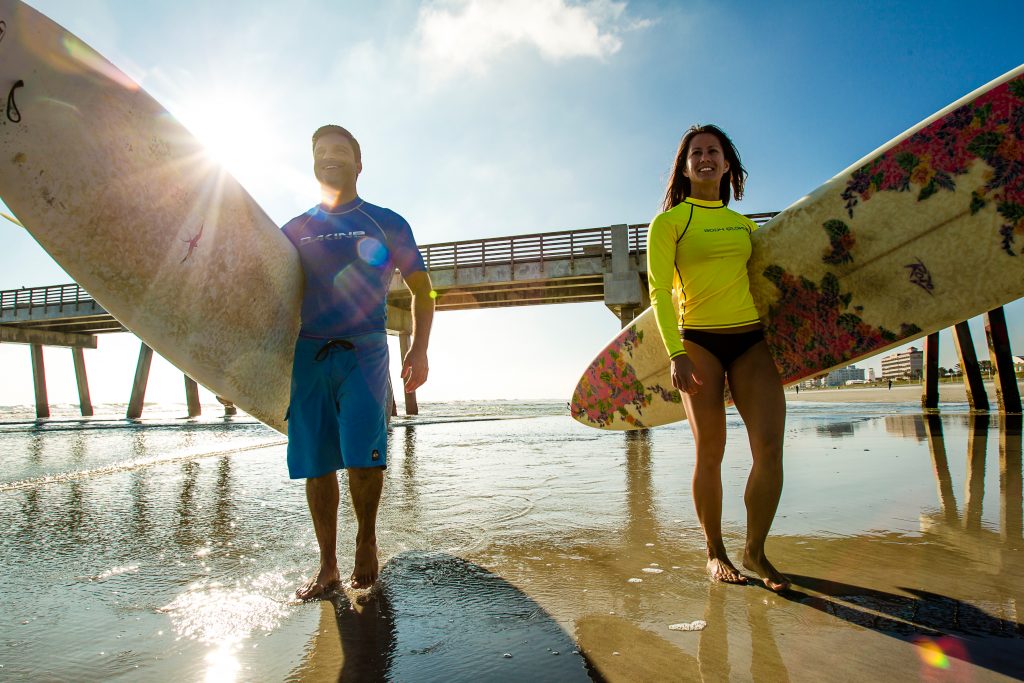 Surfing
Whether you're a seasoned pro or just want to hit the waves for the first time, Jacksonville is an ideal surfing destination. Check out the local surf shops for more information on lessons. The gentle summer waters will help you feel at ease while testing your skill in a new sport. And if you're lucky, you may pass through Jacksonville when pros battle it out at the Wave Masters in May and the Super Grom Surf Festival in June. And don't miss the area's most famous surf spot – "The Poles." Located just inside Kathryn Abbey Hanna Park, you may even end up surfing next to a dolphin!
Stand Up Paddle Boarding (SUP)
Stand up paddle boarding has become all the rage in recent years becoming both a workout and an adventure. Grab some friends and navigate Jacksonville's waterways on your board – the opportunities are endless. SUP can be done in the ocean, the Intracoastal, in lakes, rivers or creeks. Each locale offers the chance to spot unique wildlife, so challenge yourself and see Jacksonville in a fun and exciting way. Not familiar with SUP? No problem. Local providers offer both lessons and tours for beginner and advanced paddlers.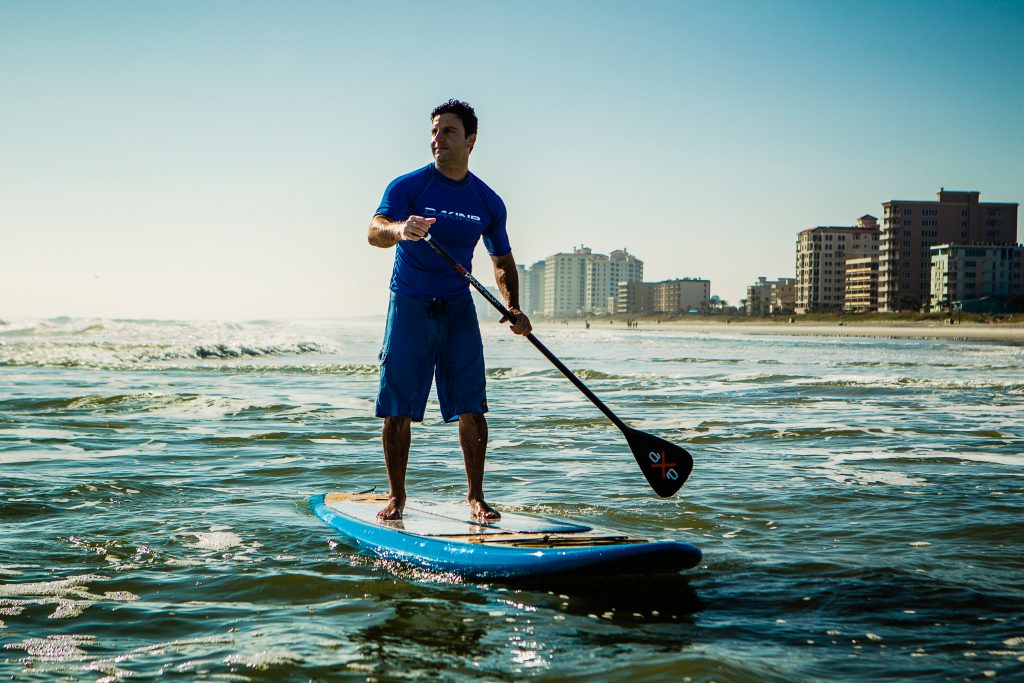 Cruises on Carnival to the Bahamas and Key West
Jacksonville attracts visitors year-round thanks to its beautiful beaches, fun attractions and gorgeous weather, and many of those visitors choose to extend their trip to paradise by hopping on a cruise. Carnival Cruise Lines sets sail from Jacksonville on 4- and 5-day cruises to ports including the Key West, Nassau, Freeport and Half Moon Cay.
There's no end to what you can experience on the water in Jacksonville. If you're looking for a relaxing holiday or to experience a rush of adrenalin, this coastal city never disappoints. With wildlife aplenty, some of America's greatest ecological wonders and weather that's to die for, there are plenty of ways for young and young at heart to have fun on the water. You may find yourself planning your next trip to Jacksonville even before you leave!