With Americans' expanding taste horizons and heightened interest in other cultures, including a food hall in your tour itinerary is an easy call
A burgeoning foodie culture that embraces fresh and local, along with an insatiable appetite for ethnic fare, has put culinary tourism on the front burner. Nothing is hotter when it comes to travel trends. Curious about regional foods and seeking to flex their taste buds, more and more vacationers, especially millennials, place discoveries in good eating high on their list of priorities.
Letting your travelers roam a market for an hour on their own is the ideal lunch solution—they'll like the chance to try regional specialties and appreciate the wide range of food choices. Plus, many markets sell crafts and other non-food items—everyone likes to shop. Food halls are also great for interacting with people, taking pictures and just feeling the pulse of a city. Here are five East Coast emporiums that won't disappoint the epicure or casual grazer.
Quincy Market
Boston
For foodies, Quincy Market is the centerpiece of Faneuil Hall Marketplace, Boston's premier gathering spot—
and one of the world's top venues for street performers. More than 130 shops, pushcarts and eateries can be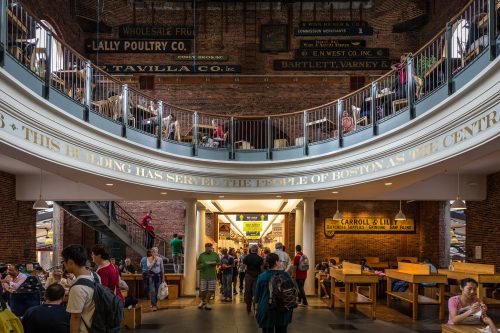 found in an ensemble of three long buildings dating from 1826—Quincy Market, South Market and North Market.
Across the plaza is 1763 Faneuil Hall, a scene of political meetings in Revolutionary times and a starting point for Freedom Trail tours led by National Park Service rangers. It's a five-minute walk to sights like the New England Aquarium, Old State House and Paul Revere's House.
The 535-foot-long colonnaded hall of Quincy Market, once Boston's wholesale and retail center for produce and meat, today is filled with nearly 40 stalls serving up international and specialty foods. Whether you're looking for a burrito, gourmet cookie, Indian curry or New England clam chowder in a bread bowl, this is the city's best spot for grazing. Take your food to a bench on the cobblestone promenades or to tables underneath the classical dome in the rotunda of the granite, Greek Revival-style landmark named after Josiah Quincy, an early Boston mayor. Faneuil Hall Marketplace's food voucher program for groups makes it easy to dine at select Colonnade vendors. The Meal Voucher is $10 a person, a Snack Voucher$5.50 (with one free for every 50 ordered).
Besides quick-food purveyors, the complex includes 18 sit-down restaurants, pubs and cafes, while the North and South Market buildings contain locally owned boutiques and nationally known retailers like Ann Taylor, Coach and Samsonite. Outdoor entertainers range from jugglers and contortionists to magicians and musicians.
(faneuilhallmarketplace.com)
---
---
Chelsea Market
New York City
Fittingly, New York's premier indoor food hall occupies the former Nabisco plant, where the first Oreo cookies were baked in 1912. Indeed, some of Chelsea Market's best shops are bakeries. Treat yourself to a melt-in-your-mouth brownie at Fat Witch Bakery, indulge in crusty, chewy breads at Amy's Bread or savor a sugary, bite-size morsel hot off the conveyor at the Doughnuttery. Maybe it will be a divinely decadent cookie at Eleni's New York or a to-die-for sticky bun at Sarabeth's.
Beyond dough, Chelsea Market's three dozen vendors purvey everything from soup to nuts, cheese to cheesecake. Located in Lower Manhattan's trending Meatpacking District, it's a gourmet's paradise covering a whole city block, with shops selling select ingredients (spices, olive oils, Italian pastas) and eateries offering meals and snacks. Satisfy hunger pangs with a lobster roll (or sushi) at The Lobster Place, Australian meat pies and sausage rolls at The Tuck Shop, a steaming bowl at Hale & Hearty Soups or a Nutella crepe at Bar Suzette Creperie. In the mood for American comfort classics? Consider a corn dog, burger or griddled PB&J at Chelsea Creamline. Lucy's Whey, which deals in artisanal cheeses, serves up grilled cheese delights, toasty and perfectly melted, from white cheddar and fig jam to gruyere with rosemary ham. Li-Lac Chocolates, Manhattan's oldest chocolate house, makes 140 items in small batches.
On a nice day, you might take your Chelsea Market snack to a bench on the nearby High Line, the wildly popular linear park built a few years ago on an old elevated train track. Foods of New York Tours (foodsofny.com) offers private, three-hour Chelsea Market tours with eight tastings (enough for lunch) and time in the neighborhood, including the High Line.
Wandering through the market's industrial-chic setting, with its exposed pipes, brick walls and massive support columns, you'll also come across some non-food shops, like an independent bookstore, a Moroccan imports emporium and Bowery Kitchen Supply, where serious home cooks can find the tools and gadgets they need. One section, a bazaar called Artists & Fleas, features 30 artisans and collectors who market art, fashion and vintage items. Chelsea Market also houses the TV production facilities of the Food Network. (chelseamarket.com)
Reading Terminal Market
Philadelphia
Located in a former train station next to the Pennsylvania Convention Center, the 80-stall Reading Terminal
Market opened its doors in 1892 and bustles with Old World energy. The last train left the terminal in 1984.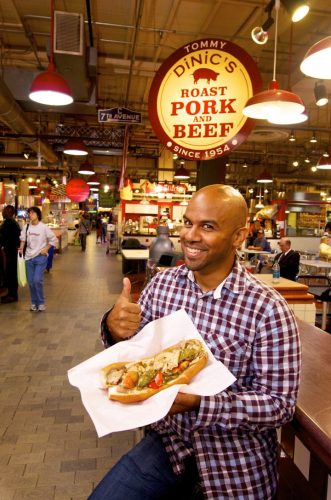 More than 30 sit-down eateries are scattered throughout a cavernous space laid out in a grid pattern with 12 aisles and four larger avenues. Chefs from Philadelphia's top restaurants come to stock up on the best ingredients and farm-fresh products.
Amish merchants from Lancaster County's Pennsylvania Dutch Country are a significant presence with their meats, produce and baked goods. At Miller's Twist, watch Amish bakers twist and bake soft pretzels and then try one still warm from the oven. You can also get a pretzel dog or a pretzel roll-up stuffed with bacon, egg and cheese. Or treat yourself to a cinnamon roll at Beiler's Bakery. The market's northwest corner is primarily devoted to Amish businesses, attracting the most merchants from Tuesday through Saturday.
Reading Terminal Market is also a good place to try a traditional Philly cheesesteak or roast pork sandwich. And for rich, dense and buttery ice cream, it's Bassett's, with the marble counters from 1892 and still owned and operated by the original owner's great-great-grandsons. Groups can arrange a private 75-minute market tour (tasteof-phillyfoodtour.com) that tells the story behind cheesesteaks, hoagies, pretzels and other Philadelphia favorites.
The vast bazaar sells non-edibles like imported crafts, gourmet cookware, Amish quilts, books and artisan candles. When The Gallery mall is finished being transformed into the three-block Fashion Outlets of Philadelphia in 2018, it will be conveniently connected to Reading Terminal Market.
(readingterminalmarket.org)
Lexington Market
Baltimore
Loud, crowded and full of competing aromas, Lexington Market lies in a gritty part of downtown, quite a change of
pace from the touristy Inner Harbor. A real slice of local color, the market attracts a mix of city workers,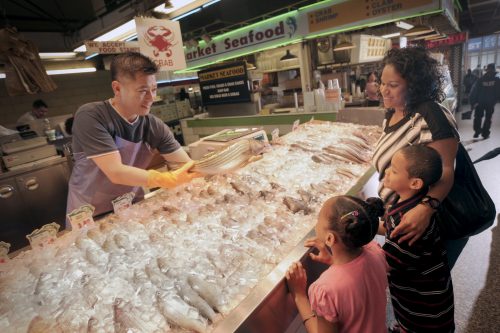 University of Maryland students and curiosity seekers looking to experience one of the East's great food halls, known for its produce from nearby farms, freshly butchered meats and seafood from Chesapeake Bay.
Established in 1782, Lexington Market has served nine generations and claims to be the oldest continuously operating market in the country. By the mid-19th century, it was unquestionably the largest, most famous market on earth, and Baltimore the country's second largest city. When Ralph Waldo Emerson visited the market, he proclaimed Baltimore the "gastronomic capital of the world." To update and expand the market, the iconic attraction is working with planners who have restored historic markets around the country. There will be more choices, larger vendor booths, widened aisles and a simplified layout, plus a new outdoor farmers' market.
The 101 vendors include delis, raw oyster stands and Asian takeout places. At Faidley Seafood, try the fabled crab cake, a freshly fried, golden brown portion the size of a softball. Fried chicken is another Lexington Market staple. For a sit-down meal there's Memsahib Indian Restaurant, which has a popular lunch buffet. Mary Mervis Delicatessen, in business since 1913 under only three owners, serves the kind of huge corned beef and pastrami sandwiches you'd expect to find at a classic Jewish deli. Or try the Wall Street Turkey (turkey, beef tongue and chopped liver). Satisfy your sweet tooth at Berger's Bakery, famous for its Berger Cookie, based on a shortbread and fudge recipe going back to 1835. (lexingtonmarket.com)
Eastern Market
Washington, D.C.
For well over a century, this historic venue has been a community gathering place in the Capitol Hill neighborhood, a cozy part of town with row houses on tree-lined streets. The last surviving covered market in a city that once had many, the block-long brick building first opened its doors in 1873. With stalls selling everything from meats, cheeses and baked goods to fresh fruits, vegetables and flowers, the Eastern Market is a feast for the senses six days a week (closed Mondays). It's at its liveliest on weekends, when the outdoor plaza welcomes more than 100 arts and crafts vendors, plus 20 or so growers peddling just-harvested produce from farms in Virginia, West Virginia, Maryland, Delaware and Pennsylvania. Rows of tents showcase paintings, handmade jewelry and soaps, clothing and antiques; artists and musicians add to the festive mix. There's a weekend flea market across the street, with Sunday the busier day.
Inside the hall, Market Lunch, a Capitol Hill institution, serves up its famous blueberry buckwheat pancakes. With stools at a wooden counter and a handful of tables, Market Lunch also has great soft-shell crab sandwiches and crab cakes. (easternmarket-dc.org)