On your next trip that includes a city with a pro football team, why not schedule a tour of an NFL stadium and get an insider's look at game day? It can be a welcome addition to the mix of attractions on the itinerary. Here are four stadium tours that are sure to impress your group.
1. New Miami Stadium (formerly Sun Life Stadium)
Miami, Florida
The NFL Miami Dolphins and the annual Orange Bowl call Miami Stadium home. On tours of this world-class venue, available every weekday, you'll get a glimpse of how the owner watches his team from the Owner's Suite. Tours also visit the Bank United Club Level and Club LIV. You'll see the Dolphins locker room and walk on the field. A series of stadium improvements will be completed for the 2016 season. (ewmiamistadium.com)
2. Raymond James Stadium
Tampa, Florida
The Tampa Bay Buccaneers play here and you're invited to see their stage. Guests get a behind-the-scenes look at the field and locker room. A glance inside a private suite shows how the game should be enjoyed, while a stop at Buccaneer Cove is a must. Raymond James Stadium partners with the University of South Florida Bulls and the Out Bowl. (raymondjamesstadium.com/about-the-stadium/stadium-tours) A community with both a historic past and a vibrant new economy, Tampa has much to offer visiting fans. Whether your visit to Tampa is just for the guys or it's a multi-generational family sports vacation, a visit to Busch Gardens is a must. Enjoy thrill rides, live music and exotic animals in natural habitats, all in an African setting. For a special meal in Tampa, consider Columbia Restaurant, the nation's largest Spanish restaurant.
3. Bank of America Stadium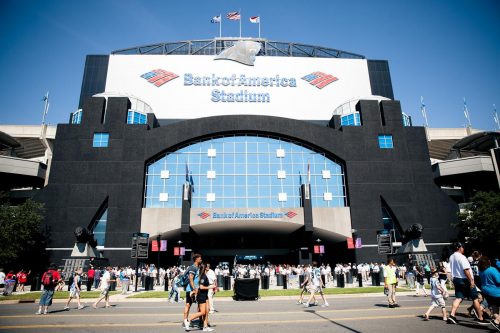 Charlotte, North Carolina
The home of the Carolina Panthers offers tours on Wednesday and Friday. From your starting point at the ticket office, your group gets a look at what makes an NFL team tick on game day, with visits to the locker room, weight room, suites and club lounges. (panthers.com/stadium/tours.htm) Sports fan also know Charlotte as the center of NASCAR. Besides the NASCAR Hall of Fame, a high-tech shrine to motorsports culture, there are numerous working race shops in the area and the Charlotte Motor Speedway. If you want to eat like like a local, try Lebowski's Neighborhood Grill. Besides being voted best wings in Charlotte, they're known for Roast Beef on "Weck" (a German-style roll) and the Haddock Fish fry.
4. Arrowhead Stadium
Kansas City, Missouri
Home to the Kansas City Chiefs, Arrowhead Stadium provides guided tours for groups. Plan to spend about an-hour-and-a-half. You'll be visiting the Chiefs locker rooms to get into the game day mood. There are plenty of photo opportunities on the field, and you can test your passing skills with a few tosses on the sidelines. (chiefs.com/arrowhead/tours) Football fans in Kansas City might also be interested is seeing where the hogs come from. At one of only four Harley-Davidson motorcycle American plants open to the public, visitors get on the floor and see the production up-close. As almost any local will say, you cannot come to Kansas City without enjoying a steak dinner. Jess and Jim's Steakhouse has been a favorite for more than 75 years.