SEE THIS ARTICLE IN THE MAGAZINE
by Downloading the Digital Edition

These churches, restaurants and museums depict the struggles and triumphs of the American Civil Rights Movement.
Encompassing over 100 locations across 14 states, the newly launched U.S. Civil Rights Trail honors the
triumphs and tragedies of the Civil Rights Movement and strives to preserve its legacy for future generations. Tennessee is home to 10 stops along the trail that honor the brave men and women who fought for equal rights, and all welcome groups prepared for an immersive American history experience.
Begin your journey in Memphis and Clayborn Temple, named after African Methodist Episcopal Church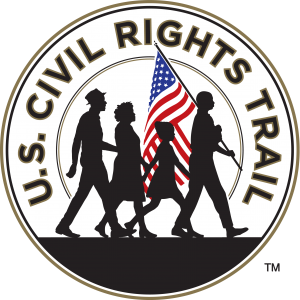 Bishop Jim Clayborn. This house of worship became an important civil rights meeting center when it was visited frequently by activist Martin Luther King, Jr., and the church also served as a hub for the landmark Sanitation Workers' Strike of 1968. The once-stately Romanesque Revival church fell into disrepair in the late 20th century, but an infusion of private funds and residency by the interracial Downtown Church congregation has revitalized the building. Groups are welcome to join weekly services and participate in frequent musical performances.
Also located in Memphis is the Mason Temple Church of God the Christ, where Dr. King delivered his prophetic "Mountaintop" speech on the eve of his 1968 assassination. Traveling frequently to Memphis to aid the Sanitation Workers' Strike, King energized the marchers before ominously saying, "And I've seen the promised land. I may not get there with you." King was tragically shot the next day at the Lorraine Motel, which now houses the National Civil Rights Museum. The museum offers artifacts, oral history, films and interactive media that guide visitors from slavery and the Civil War through Reconstruction,
Jim Crow and the events that drove people to stand up (and sit down) for equality.
Continue your journey to Nashville, where diner sit-ins and nonviolent protests brought civil rights to the national consciousness. In February 1960, a group of students from the city's four black colleges—American Baptist, Fisk, Meharry and Tennessee A&I—set out to confront segregation at lunch counters,
movie theaters and other places of public accommodation while parents bravely registered their children in previously all white schools. The Nashville Public Library preserves photos and documents from these groundswell events in its Civil Rights Room. Groups can sit at the symbolic lunch counter to read the Ten Rules of Conduct protestors adhered to during peaceful sit-ins or register for the speaker series and film screenings hosted throughout the year.
Nashville is also home to Clark Memorial United Methodist Church, which hosted non-violent protest workshops in the 1950s, was a meeting place for lunch counter protest participants and hosted the Southern Christian Leadership Conference in 1961. Next, guide your group to the Davidson County Courthouse. In the spring of 1960, the Nashville Student Movement drew national attention to segregation in restaurants by sitting at counters designated for white patrons. Dynamite was thrown in organizer Z. Alexander Looby's home as tensions rose, and eventually 4,000 protestors marched to the courthouse
to meet with Mayor Ben West and demand desegregation of the city's lunch counters. Groups can also admire the adjacent Witness Walls public art project—a series of freestanding walls that depict the famous lunch counter sit-ins.
Groups can visit the site of these sit-ins at Woolworth on 5th, one of the original diners protestors frequented. It's been reimagined as a three-story restaurant and live music venue that recreates the original's wood paneling and art deco design touches, and visitors can place and order at the reconstructed counter. The kitchen specializes in hearty Southern fare such as sweet potato pancakes and fried chicken, and group reservations are welcomed. The building's New Era Ballroom frequently hosts jazz, gospel and soul performers from Nashville's rich music tradition, and the Downtown Dippers (the establishment's house band) play monthly.
Fisk University, founded in 1866 and the oldest university in Nashville, has been a vital hub for black academia for generations. As early as 1925, students here held protests to demand equal representation in higher education for African Americans. Take a campus tour and learn about the university's famous alumni (Ida B. Wells-Barnett, Justice Thurgood Marshall, Georgia congressman John Lewis) and role in the Civil Rights Era. Many of its students became key activists in the fight for equal rights, and groups can still tour many of the buildings where these activists met (such as Cravath and Jubliee halls). Also be sure to admire the extensive art collection at the Carl Van Vechten Gallery. Nashville's other civil rights education hub is Griggs Hall, the first building constructed on the campus of American Baptist College (a seminary for black students). Tours are available by appointment to explain how the building became a training site for peaceful protest and was designated a National Historic Site in 2015.
Conclude your Civil Rights Trail experience in the town of Clinton, home to the Green McAdoo Cultural Center. Visitors are greeted by bronze statues that depict the Clinton 12—the first group of integrated black students in Tennessee who bravely attended a previously all-white high school in 1956. Groups will sit in a Jim Crow-era classroom, walk through exhibits detailing the difficult path of public school desegregation and watch an informative short film detailing the struggles of the 12.
By Miles Dobis