Upstate New York is home to a worldwide wonder and a city brimming with vitality
Contrary to popular belief, the city of Buffalo is blessed with more than one season per year.
While many unacquainted with Buffalo often associate the city with frigid phrases like "extreme snowfall" and "alarmingly icy roads," they are overlooking the fact Buffalo is an outdoor haven during its warmer months, featuring a multitude of open-air activities.

Groups looking to pay a visit to the second largest city in the state of New York will not only find a healthy array of buffalo wings to consume, they will also have an abundance of chances to burn off some of those wings' calories. Here are a few invigorating spots your group can embrace during your next trip to The Nickel City.
---
Digital Edition Sponsored By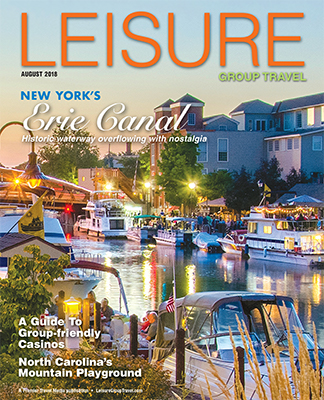 ---
The Buffalo and Erie County Botanical Gardens opened in 1900 and is a National Historic Site, covering 11.57 acres. More than 100,000 people visit annually to revel in the gardens' living plant collection that includes both indoor and outdoor gardens. Among the indoor gardens' highlights are the Palm Dome, a 67-foot-tall structure filled with a diverse collection of palms and tropical fruit trees that originate from exotic locales around the world. The outdoor gardens, which generally flourish from March to October, feature thousands of spring bulbs and a masterful collection of annuals, perennials and shrubs.

Founded in 1875, the Buffalo Zoo is the nation's third-oldest zoo and is home to an assortment of wild and exotic animals, along with more than 320 different species of plants. Open year-round, the zoo welcomes approximately 400,000 visitors annually and is the second-largest tourist attraction in western New York, second only to Niagara Falls. The 23.5-acre zoo houses a wide variety of creatures, including African lions, Amur tigers, Asian elephants, bald eagles and a slew of amphibians, invertebrates and reptiles.
The Erie Basin Marina is a lovely riverfront park and marina situated on Buffalo's downtown waterfront. Located next to the Erie Canal Harbor, the marina contains an extensive collection of boat docks, gardens and restaurants along with a public park and an observatory overlooking the city and waterfront. Groups looking to stretch their legs can survey the marina's charming flower collections and an alluring rose garden set against the backdrop of a waterfront filled with boaters and kayakers.
American architect Frank Lloyd Wright designed more than 1,000 structures (532 of which were completed) in his illustrious career. His organic architecture philosophy, in which he designed structures that were harmonious with their environment, has amassed a considerable following for their creativity. Buffalo is home to one of Wright's imaginative designs, the Darwin D. Martin House Complex, which was built between 1903 and 1905. Wright designed this exclusive residential complex for wealthy Buffalo businessman Darwin D. Martin, and it is considered one of Wright's finest achievements. The house is made up of six interconnected buildings designed as a unified arrangement and contains 394 examples of Wright-designed art glass, including the famed "Tree of Life" window.
While Buffalo's city limits are filled with outdoor delights, perhaps the most impressive natural wonder in the country resides a scant 20 miles from the city: Niagara Falls State
Park. Niagara Falls, recognized as the oldest state park in the United States, attracts millions of visitors per year, as its patrons marvel at the more than 750,000 gallons of water that flow over the falls each second.
The falls, which consist of the American Falls, the Bridal Veil Falls and a portion of the Horseshoe Falls, more popularly known as the Canadian Falls, surge alongside 400 acres of lush scenery. That landscape is dotted with a myriad of entertainment options, including the Niagara Gorge Discovery Center, in which visitors can enjoy exhibits showcasing the falls' colorful history; Seneca Niagara Casino, which offers more than 2,800 reel and video slot machines along with nearly 100 table games; Niagara's Wax Museum of History and the Aquarium of Niagara.
Those seeking an up-close view of the falls can take a ride aboard the historic Maid of the Mist boat tour. Operating since 1846, the Maid of the Mist is the only tour boat fleet whose captains have safely navigated the Niagara Gorge for more than 100 years. The boat transports up to 600 passengers and journeys into the heart of the falls, allowing patrons the chance to experience the breathtaking views in intensely close proximity. Another way visitors can savor the falls in intimate fashion is the Cave of the Winds tour, a guided journey in which sightseers don souvenir sandals and ponchos before descending 175 feet into the Niagara Gorge. Standing just 20 feet from the thundering waterfall on the appropriately named Hurricane Deck, visitors find themselves deluged by the falls on even the most tranquil of days.
-Jason Paha