If someone were to ask you what Germany's most visited attraction is, would you know the answer?
You might say Munich and Oktoberfest. There certainly are a lot of people who go there.
How about King Ludwig II's Neuschwanstein Castle near Fussen with its towers, ornamental turrets, gables, balconies and pinnacles?
The city of Berlin is certainly a hot destination.
But if you gave any of these as your answer, you'd be incorrect.
Cologne Cathedral is Top Draw
Surprising to some, Cologne's Cathedral is the most popular place in Germany, with 6.5 million visitors a year. The Cathedral, with its two mighty spires rising above the cityscape, is the symbol of this city of one million people.
Marked by 516-foot-tall twin towers that shoot skyward, the Gothic building is the piece de resistance of this Rhine metropolis. The imposing cathedral houses the Shrine to the Three Magi, making it one of the most important pilgrimage sites in Europe. Since 2007, the stained glass window by Cologne artist Gerhard Richter has added a further attraction to the south transept, consisting of approximately 11,500 squares of glass in 72 colors.
Groups are always going in or coming out of this 330-foot-long by 282-foot-long structure. The Cathedral can hold as many as 20,000 people at one time.
Cologne also counts 12 Romanesque churches, many of which were damaged in World War II and finally rebuilt by 1985. There are a total of 244 churches in the city altogether.
Cologne is focused on groups, with 80 trade fairs each year attracting 44,000 exhibitors and 2.6 million visitors from 200 countries. The city offers 280 hotels and 29,000 beds.
Cologne has an extensive public transportation system, with street trams, regional trains, and over 1,300 passenger trains passing through the city every day. More than 30 airlines fly in and out of Cologne/Bonn airport.
Many Museums of Note
Groups will enjoy many other Cologne highlights besides the Cathedral. In this 2,000-year-old Rhine River city, first established by the Romans, museums are abundant. There are 42 of them, and more than 100 galleries. The Wallraf-Richartz Museum & Foundation Corboud displays an extensive collection of Impressionist works, and Museum Ludwig features 20th century pieces to the present. The modern Art Museum of the Archbishopric Kolumba shows sacred art alongside contemporary works.
In the Museum of Applied Art, classics of the 20th century are displayed with the collection of art and design of Richard G. Winkler. There's a new Cultural Center at Neumarket in which the Rautenstrauch-Joest Museum is devoted to the world's cultures and the Museum Schnutgen exhibits medieval art.
Cologne was a Roman capital, and evidence from that era is still present. The Praetorium, or Governor's Palace, was located under the current Town Hall; a Jewish ritual bath was also located there. A new 23,000-square-foot museum showcasing Roman history is currently being built near the Town Hall.
At Holzmarkt 79-83 is the Mustard Museum, containing one of the oldest mustard mills from the year 1810. Mustard miller Wolfgang Steffens will take you through the steps in the milling process. Groups of 18 or more require advance bookings.
Of course, groups will want to take in the House at 4711, home of Eau de Cologne fragrance where they can enjoy the "real water of Cologne" dating from 1709. A tour conducted by "the perfumer Farina" clad in a Rococo costume reveals the secrets of the fragrance.
Beer and Chocolate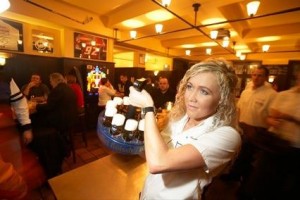 Then there's another kind of "water" in town. The number one drink is "Kölsch," and it's the only language that is also a drink. There are 28 different brands of Kölsch in Cologne, and the Kölsch Convention, signed in 1985, was established to regulate which beers may be called Kölsch. The Kölsch dialect is spoken by about 250,000 residents of the city.
If you like chocolate—and who doesn't?—consider the Chocolate Museum, located on the Rhine in a glass-and-metal building constructed to look like a ship. Three exhibition levels showcase the 3,000-year history of chocolate. Discounts are available to groups of 15 or more.
Groups can see the city's delightful panorama aboard riverboats that can accommodate large parties on sightseeing cruises between April and October; group discounts are available.
Along the Rhine, a number of restaurants and bars have sprung up over the years to form a riverfront walk called Frankenwerft. Perfect for a break from sightseeing, this spot, not far from the main train station, will refresh you and get you ready for further Cologne adventures.
Cologne hosts a number of festivals and events that add an extra dimension to a visit. In February is the Cologne Carnival, in July is the Cologne Lights Festival with impressive fireworks. Europe's largest literature festival is held in Cologne, and there's the annual Christmas Market that begins the first day of Advent.
Cologne is a city of music. There's the Cologne Opera Company, the blue-tinted Musical Dome where various musical performances are scheduled, and the LANXESS Arena where big stars such as Elton John, Rihanna and classical violinist David Garret perform.
Germany is endowed with great chefs. For an impressive dinner, the Hotel im Wasserturm in Cologne is both a leading luxury hotel and restaurant. Hidden within a 130-year-old brick tower, once the largest water tower in Europe, La Vision restaurant on the 11th floor has been awarded two Michelin stars and 18 Gault Millau points. An added bonus to the attentive service and food: a great view overlooking the city.
Close by Cologne
Near Cologne is Bergisch Gladbach, a small suburb with a grand castle called Schloss Bensberg. Now a Leading Hotel of the World, this hotel-castle has 84 rooms and 36 suites, nine conference rooms and a large ballroom for group events. Built in 1705, it's the second largest Baroque castle north of the Alps. Re-opened in 2000 after spending $100 million on reconstruction, the five-star hotel offers a breathtaking view of Cologne. Its Vendome gourmet restaurant, headed by 3-star chef Joachim Wissler, serves a blend of classical and modern cuisine.
For country-style accommodations and food, Hotel Schloss Lerbach, also in Bergisch Gladbach, provides a laid-back atmosphere in the middle of a 70-acre wooded park. A grand terrace that overlooks a small lake is the perfect spot for a group party or reception. The Brasserie Coq au Vin in the cellar is a quiet place for a cozy meal and a glass of wine from the castle's well-stocked cellars.
While Cologne's 2,000-year-old history is evident when you walk past the medieval city gates or the Roman Praetorium, there's a vibrant, upbeat rhythm here that invites visitors to linger. You may want to return, if only to enjoy the Kölsch beer.