Regardless of your group's ability level, you're sure to find outdoor recreation options that are a perfect fit in the Blue Ridge Heritage Area.
Outdoor Recreation Awaits in the Blue Ridge Heritage Area
Amid the majesty of the North Carolina mountains, there's outdoor recreation waiting in each of the state's 24 westernmost counties. From soft to rugged adventure, the Blue Ridge National Heritage Area has it all.
Stunning Scenic Settings
 Majestic Mountains
Let's begin with the stunning beauty of the mountains. The area is home to the highest mountain east of the Mississippi River, 6,684-foot Mount Mitchell, and one of the oldest mountain chains in the world, the Appalachians. The North Carolina portion of Great Smoky Mountains National Park and the Blue Ridge Parkway are perfect for a windshield tour with
scenic views along the way.
The Blue Ridge Parkway in North Carolina runs from the Virginia state line to Cherokee. Familiar names like Mount Airy, Blowing Rock and Asheville dot the map. In 2017 more than 17 million visitors were attracted to the scenic ribbon of roadway and nearby attractions.
Recently ranked #3 for scenic views in a poll of Southern Living Magazine readers, Chimney Rock at Chimney Rock State Park will not disappoint. From 1,200 feet above the valley floor visitors can see more than 75 miles.
Although the elevator for accessing Chimney Rock is under repair at this writing, the Outcropping Trail stairs are wide, and there are landings every 12 feet. There's not a bad view at any one of them. Groups enjoy a "meet and greet" welcome from a naturalist.
Grandfather Mountain State Park has 11 trails with four noted as "Attraction Side Trails." The Mile High Swinging Bridge offers a 360-degree panoramic view of Grandfather Mountain.
Educational Experiences
The North Carolina side of Great Smoky Mountains National Park offers plenty of things to see. Two miles north of Cherokee is the Oconaluftee Visitor Center, where stories of Native Americans and early European settlers are told through exhibits. Groups will also learn about the development of the national park by the Civilian Conservation Corps.
Mountain Farm Museum and Mingus Mill feature log structures. Demonstrations are conducted seasonally, and two 1.5-mile walking trails are close by. Outside of Bryson City, fantastic views of Fontana Lake are found along the six-mile Lakeview Drive. A few short walks to waterfalls are worth a stop.
Do the Locomotion
Great Smoky Mountains Railroad may be one of the most leisurely ways to enjoy the scenic beauty of the countryside. From the Bryson City Depot, a variety of excursions are offered, from first-class dining cars to an open-air gondola.
Blowing Rock's Tweetsie Railroad shows off the countryside in a historic, steam-powered locomotive. At the end of the line there are entertaining shows, including mountain clogging, rides, panning for gold and shopping in North Carolina's first theme park.
---
Digital Edition Sponsored By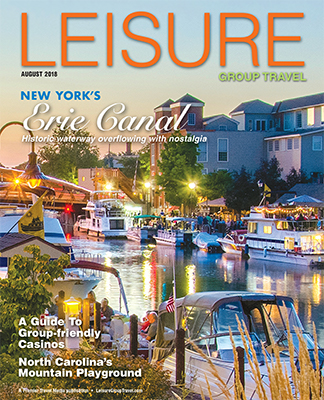 ---
Astonishing Estates and Covert Caverns
George Vanderbilt's Biltmore Estate in Asheville is America's largest home. However, you may be surprised at the number of outdoor activities on the 8,000-acre property. On the water there are stand-up paddleboarding and river float trips. If you prefer something with wheels, you might lean towards carriage rides, biking, a Land Rover trip or a Segway tour. There are hiking trails, horseback riding and fly fishing, too.
There's no questioning the beauty of the western North Carolina mountains, but beauty can be found underground as well. Linville Caverns, located just four miles off Milepost 317 on the Blue Ridge Parkway, has been welcoming visitors since 1937. Experienced guides share the history of the caverns and the pretty formations.
A Diamond in the Rough
If you favor a little profit from your outdoor experience, consider panning for precious gems and minerals at Doc's Rocks Gem Mine near Blowing Rock, Little Switzerland's Emerald Village and Gem Mountain Gem Mine in Spruce Pine. Elijah Mountain Gem Mine in Hendersonville promises the
"Treasure Hunt of Your Life!"
Pisgah Forest Gem Mine has locations in downtown Hendersonville and Pisgah Forest. The Hendersonville and Pisgah Forest mines are in Brevard County, the "Land of Waterfalls." A number of qualified guides in Brevard and neighboring Transylvania County are available to lead your group on a waterfalls tour.
Leisurely Adventures
Looking for more soft adventure? In Asheville, the North Carolina Arboretum features 65 acres of gorgeous gardens and 10 miles of hiking and biking trails. More than a half-million LED lights create a winter wonderland from mid-November through December.
The Cradle of Forestry Historic Site tells the story of forest conversation through interpretive trails and interactive exhibits. Guided tours are available and the walk is relaxing.
For small groups wanting to explore the mountains at a leisurely pace, horseback riding may be their ticket. Saddle-Up Trail Rides stables are located between Asheville and Hendersonville. All trails in Pisgah National Forest provide breathtaking views of the mountains and rivers.
Cataloochee Guest Ranch in Hayward County features trails that travel though the ranch and Great Smoky Mountains National Park. Your mile-high setting provides views that seem to go on forever. Elk viewing in the park's Cataloochee Valley is a special treat. Start your day at the ranch with a hearty breakfast.
Adrenaline Junkie Journeys
If you're looking to put a few rugged options on your itinerary, there are plenty available. Whether it's fishing, hiking, canoeing, kayaking or tubing, you'll find the right outfitter for your group's ability.
High Gravity Adventures in Blowing Rock provides the ultimate challenge. The zip line tour is a fixed start and finish. You'll have access to both courses, consecutive rides on the giant swing and access to the Ninja Ground Course. About six hours should be enough time for the full experience.
Nantahala Outdoor Center, a whitewater rafting outfitter, is true to its name. Operating out of Bryson City, it will provide your boat, paddles, gear shuttle and basic instruction. The intensity levels are intermediate, so some experience is recommended. There's an eight-mile, three-hour excursion on the Nantahala River, or you can step up for a full day with Nantahala Adventure Pass Raft, Zip Line and Mountain Biking experience. The day-long French Broad River Rafting includes lunch and some Class IV rapids.
For a high-adventure whitewater kayaking experience, look to Green River Adventures in Saluda. The Upper Green River Adventure consists of continuous Class II-III rapids and two Class IV rapids. The guided trip through unspoiled wilderness covers four miles in four hours. Fill the remainder of your day with more adventure at the Bid Bradley Waterfall Rappel, the Little Bradley Waterfall Rappel, Zip Line Canopy Tour or a Waterfall Trek. On the latter you'll experience moderate/full activity during a guided experience that combines rappelling, swimming, sliding, hiking, boulder hopping and waterfalls.
Hiking with a View
There are more than 900 miles of hiking trails in western North Carolina. Experienced
hikers take the two-mile Grandfather Trail or the moderately rough seven-mile Profile Hike at Linville's Grandfather Mountain.
On Pisgah National Forest's 30-mile Art Loeb Trail, hikers can view Neil Gap, Pilot Mountain and Deep Gap. Roaring Gap's Stone Mountain State Park has more than 16 miles of hiking trails.
Near Collinsville the 8.5-mile Harper Creek Falls Hike follows a hilly trail with very rugged conditions. There are easier ways for getting to the highest elevation east of the Mississippi in Mount Mitchell State Park, but the 11.4-mile Mount Mitchell Hike gives the hiker a sense of "summiting" a superior peak.
Winter Wonders
Ski season in western North Carolina is a special time of year. From November to early April, eight venues welcome skiers of all levels. Located in Beech Mountain, Eastern America's highest town (5,506 feet), Beech Mountain Resort celebrated its 50th anniversary in 2017.
Sugar Mountain Ski Resort is North Carolina's largest with 20 trails on 115 skiable acres.
Appalachian Ski Mountain, Hawksnest Snow Tubing Resort, Sapphire Valley, Wolf Laurel, Wolf Ridge Ski Slopes and Cataloochee Ski Area each provide an adventure on the slopes of western North Carolina.
Additional Information
Begin your outdoor adventure in the Blue Ridge National Heritage Area online at blueridgeheritage.com.
For assistance in developing an itinerary, call 828-298- 5330, ext. 303; or email amy@blueridgeheritage.com.