For over a century, the French Lick Resort has been attracting tourists for its European elegance, extravagance, refined amenities and leisure activities
Nestled among the hills of the Hoosier National Forest resides a classic American destination, the French Lick Resort. Containing two nationally historic hotels, the French Lick Resort is where history and luxury emanate throughout. Discover all the rich history of the West Baden Springs Hotel and the French Lick Springs Hotel for an ideal getaway where each room and suite have a story.
The Epitome of Sophistication
For 50 years, the West Baden Springs Hotel, modeled after the grandest spas of Europe, boasted the world's largest free-span dome that stretches 200 feet. This world-class facility was once dubbed "Eighth Wonder of the World" when it opened in 1902. Named best historic resort by Historic Hotels of America, this timeless hotel combines value, comfort and convenience to create a luxurious setting with a range of modern amenities suitable for small or large groups. Feel at home in the opulent rooms that offer a flat screen TV, refrigerator, air conditioning and free wifi. The atrium is set with plush seating, tables and chairs and filled with live musicians. The room is decorated with period furniture and the library is packed with books and comfortable spaces. The grounds are filled with formal gardens and trails, making for an Old World-style elegant experience.
Enjoy the Afternoon Tour and Tea before relaxing in the atrium to the sounds of nightly live music. Discover various dining options including an impressive experience for up to 10 as you watch the Table One chef prepare a custom meal served on Versace dinnerware.
At night, witness the architectural wonder become enchanted when colored lights fill the atrium—an attraction bringing in tourists since its opening. Enjoy the peace of riding in a horse-drawn carriage and visit the ice cream shop that contains a multitude of fun flavors. During your visit, be sure to check out French Lick Winery, a relaxed vineyard featuring a tasting room and a café with Italian fare, and Spirits of French Lick, where you can tour a distillery and enjoy award-winning spirits and cocktails and savor fresh, homemade Italian cuisine in the relaxed atmosphere of the tasting room.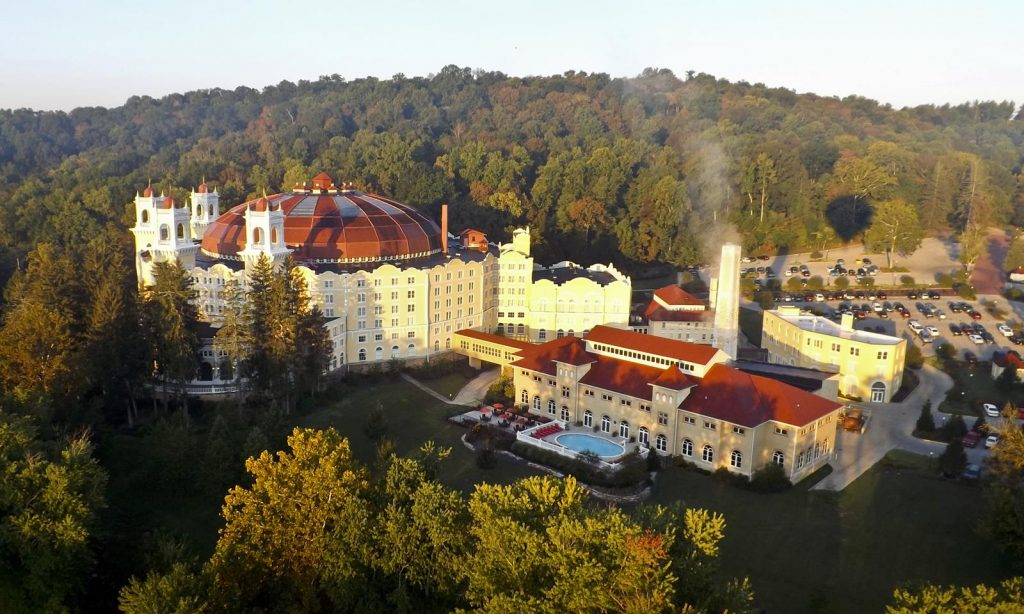 In addition, Indiana Landmarks offers historical tours of both hotels daily. From the intricate tiled floor below your feet to the spectacular dome overhead, you'll learn all about the history and preservation of the grand structure in a historical tour of the hotel. Choose from an array of hotel packages including birthdays, romance, holidays and historical packages and more.
[optin-monster-shortcode id="belbnog7yk1mfbaleerf"]
An American Classic
From the West Baden Springs Hotel, take a quick trolley ride to the French Lick Springs Hotel where you can enjoy family-friendly activities that make this an ideal destination for celebrations or relaxing getaways. This classic American hotel, established in 1845, has something everyone can enjoy whether it's championship level golf, a trip to the spa in the spa wing, hiking, biking, swimming, bowling or shopping in the promenade. Although more affordable and family-oriented, you're not treated any less than royalty. Let the valet take your keys as live musicians on the front porch playing ragtime music greet you. Take a step back from daily routines and go horse-back riding in the stables, play at the Vegas-style casino, and browse casual and formal dining options.
French Lick Scenic Railway Dinner Train
For a fine dining experience, board the French Lick Scenic Railway and take a 20-mile day tour through the rolling hills of the Hoosier national forest, the 2,200-foot Burton Tunnel (Indiana's second longest tunnel), and past limestone outcroppings. You can enjoy a three-course meal on the newly added dinner train while soaking in all the beauty of southern Indiana. Enjoy a meal of your choice from the menu when you book in advance. The railway excursion also hosts other themed train rides for special events and holidays including the popular Polar Express Train Ride™.