Skiing and other snow sports beckon groups to the Swiss Alps
As a long-time snowboarder—and a skier before that—I've spent years exploring the slopes of several mountain destinations. My experiences, so far, have been limited to the resorts of the United States, but there are many parts of the world I dream of carving one day. On that long list of destinations, Switzerland is at the top.
I visited Switzerland twice when I was younger, but only in the summer. Its dramatic mountains and homey towns awed me then; I can only imagine what it's like blanketed in snow and buzzing with winter activity.
---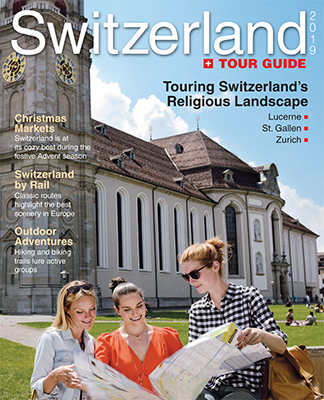 ---
Switzerland is a true alpine skiing haven and popular winter destination. It's what comes to mind when I think of elite winter athletes, off-piste powder activities and European ski villages. And I'm not alone. More people are flocking to the Alpine nation, with U.S. visits up 5.3 percent from November to April 2017/2018 compared to the same time frame in 2016/2017.
The country's mountainous landscape offers 55 peaks that surpass 13,000 feet and diverse terrain for all skill levels. It's home to the famed Matterhorn and Eiger mountains and cozy towns filled with Swiss chalets and medieval landmarks. It boasts miles of snowshoe and winter hiking trails for a more relaxed adventure, as well as hundreds of heart-pumping tobogganing runs to please those adrenaline junkies. Plus, it's one of the few places on earth you can go glacier skiing. If that's not a winter paradise, I don't know what is.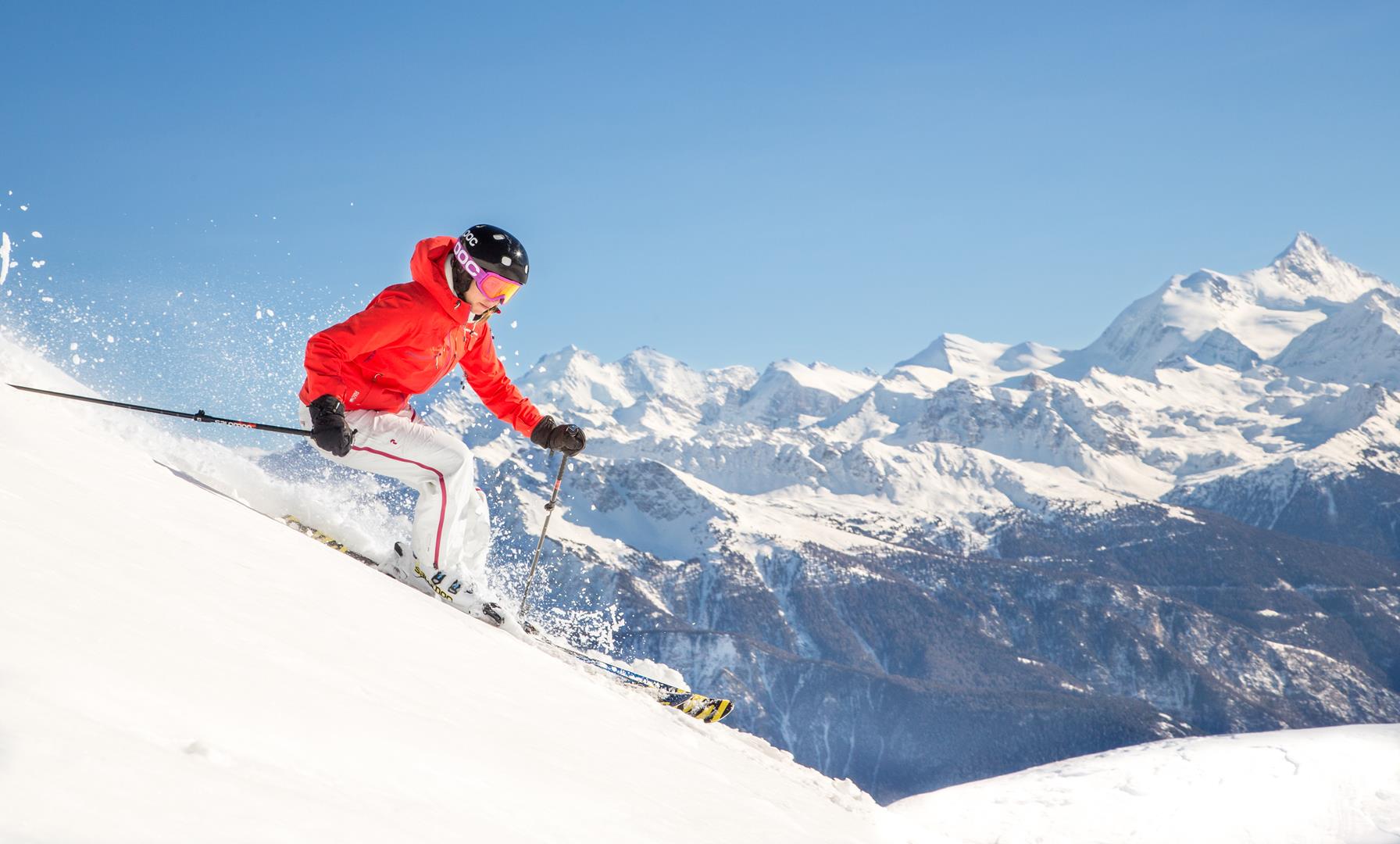 The fresh powder falls practically everywhere in Switzerland. Where and how you choose to track it is completely up to you.
South/Southwest Switzerland
Just north of the Swiss/Italian border sits one of the most striking formations in the Alps. The Matterhorn peak juts and twists upwards, piercing the sky. From its perch, it overlooks the pistes of Matterhorn Ski Paradise, the highest winter sports region in the Alps. Ski and snowboard groups can enjoy over 200 miles of beginner to advanced runs accessible from 52 lifts.
Ambitious skiers and riders will love the challenge of the Matterhorn Ski Safari, where they will cover between 32,000 and 41,000 feet in a day, without using the same lift or piste twice. If you have some novices in the group or those who prefer something a little more laid-back, the Matterhorn offers Slow Slopes. These runs allow visitors to make the descent at their own pace, without being disturbed by the more advanced athletes.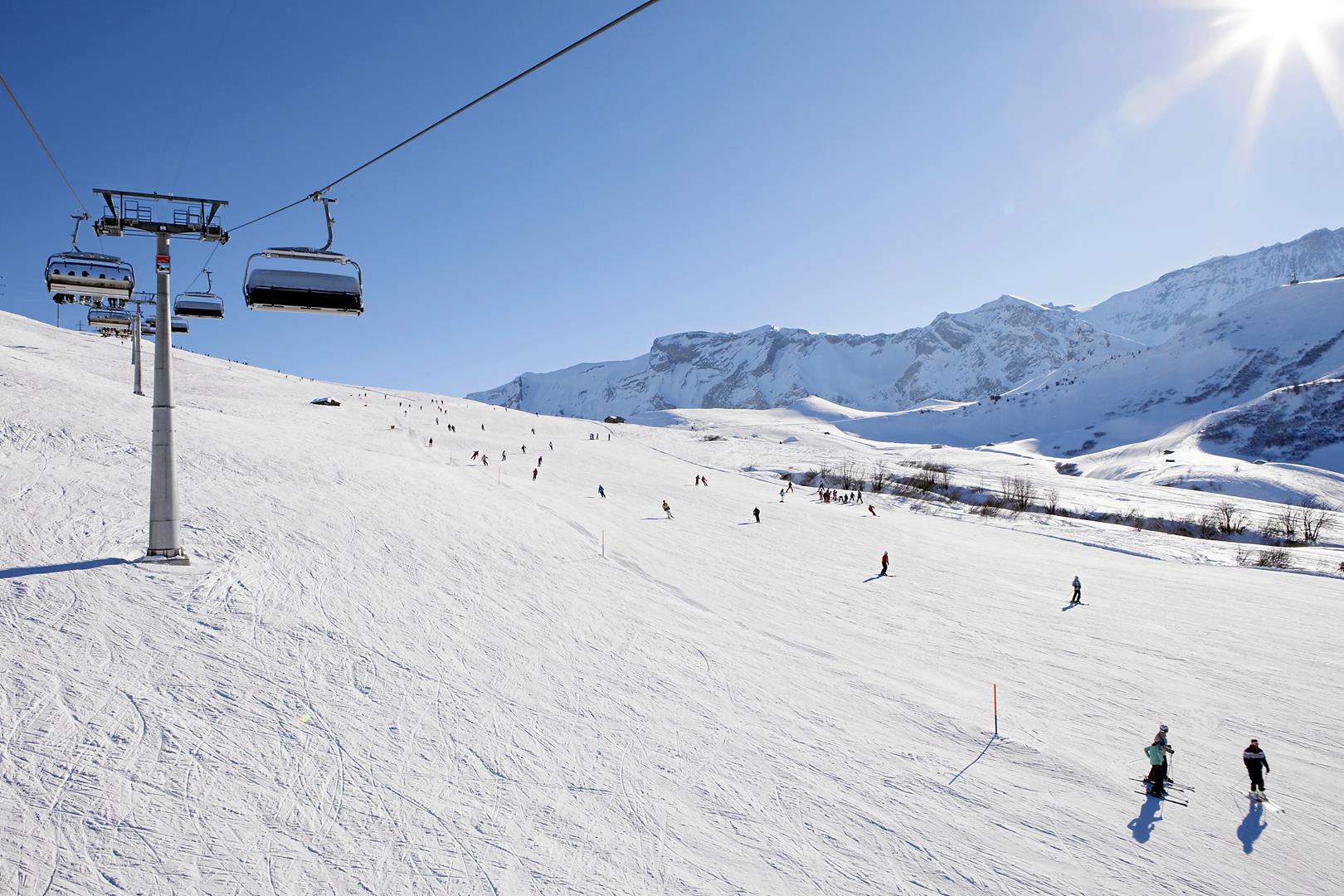 At the end of a long day on the slopes, groups can relax in the car-free town of Zermatt. This high-altitude village boasts relaxing spas, a hospitable dining scene and some of the best apres-ski joints in the country. If you want to take a break from the ski boots but still take in the views, head to Matterhorn Glacier Paradise, the highest place in Europe that can be reached by cableway. It features a viewing platform and the highest glacier palace in the world.
North of Zermatt, ski enthusiasts will discover Crans-Montana, two neighboring resorts that make up an alpine-skiing oasis. The villages are set atop a plateau above the Rhone Valley, offering spectacular views of the chain of peaks to the south. There are more than 87 miles of slopes that reach up nearly 10,000 feet to the Plaine Morte Glacier. The diverse terrain offers something for every skill level, from wide-open runs for beginners to steep pistes ideal for seasoned skiers. A golfing mecca in the summer, Crans-Montana courses become a paradise for cross-country skiers and hikers in the winter. And for those in the group who enjoy a spin on the ice, there's an extra piste reserved just for skaters.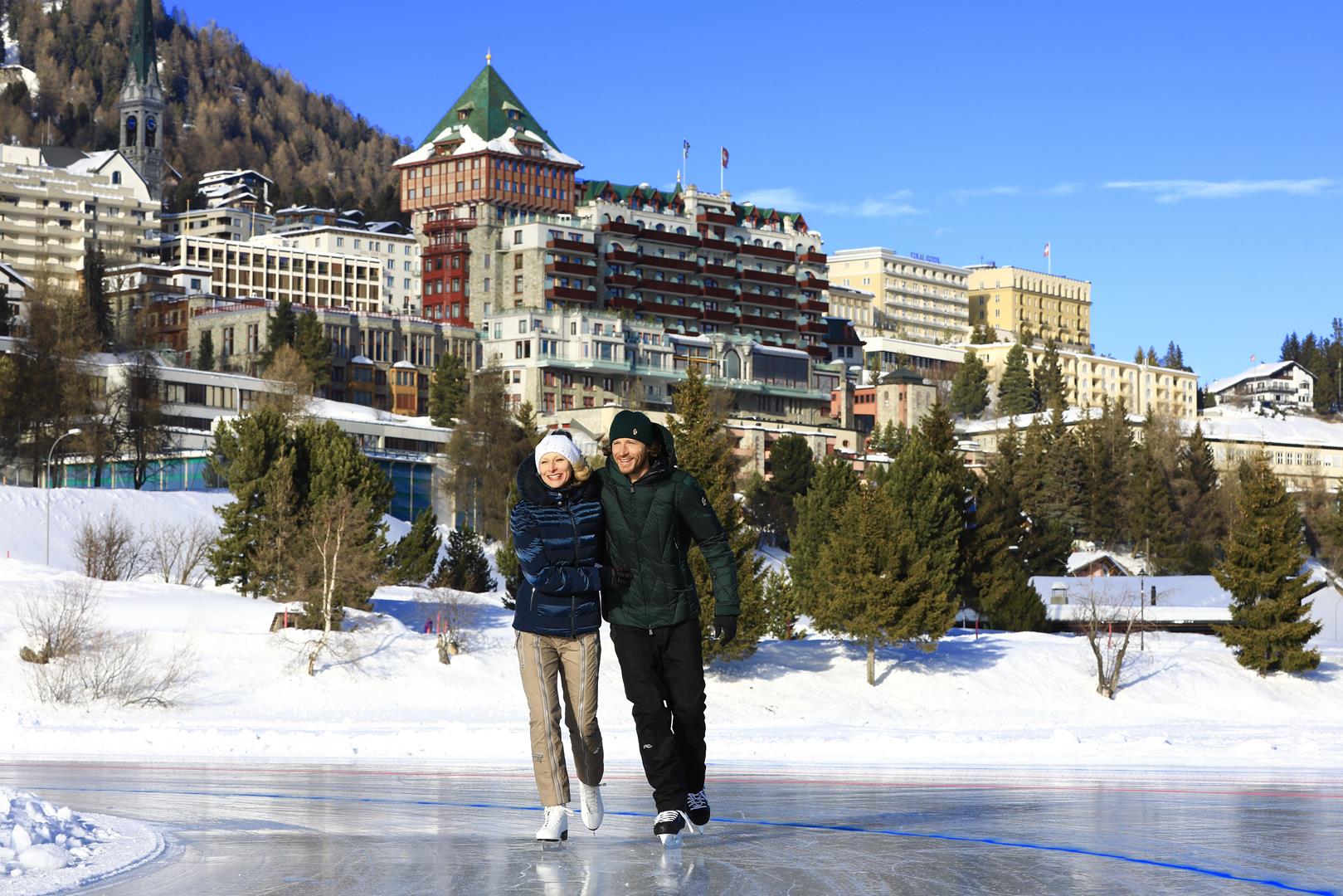 A little farther north is the Bernese Oberland region, home to the Adelboden-Lenk Ski Resort. With roughly 125 miles of runs, groups can spend days exploring the expansive terrain, which consists of many sub-areas joined together into one of the largest snow sport regions in Switzerland. Winter hiking trails take groups to the Adelboden sun terrace for stunning views, while the miles of cross-country and tobogganing paths welcome visitors to explore the winter wonderland in a different way. In the evening, be sure to grab a table at Fondue Igloo, the world's largest fondue parlor and a truly unique Swiss winter experience.
Central Switzerland
Located a few miles south of Lake Lucerne, Engelberg-Titlis is the largest winter destination in Central Switzerland. The resort is a free-riders paradise. There are several ski tours that take visitors off-piste where they can enjoy incredible downhills—if they don't mind doing some climbing. For those in the group who aren't big alpine skiers, there are some 20 miles of cross-country skiing trails to explore. After a day on the slopes, groups can spend some time wandering the streets of Engelberg, which boasts its own distinct character and Swiss flair. For a relaxing and beautiful winter vacation, check out Grindelwald and Wengen in the Jungfrau region of Switzerland. These resorts offer laid-back runs that cater to groups of beginners and intermediate skiers, while also offering plenty of activities for non-skiers, such as winter hiking and tobogganing. Don't miss Jungfraujoch, the "Top of Europe," the continent's highest railway station and a renowned destination in the Swiss Alps.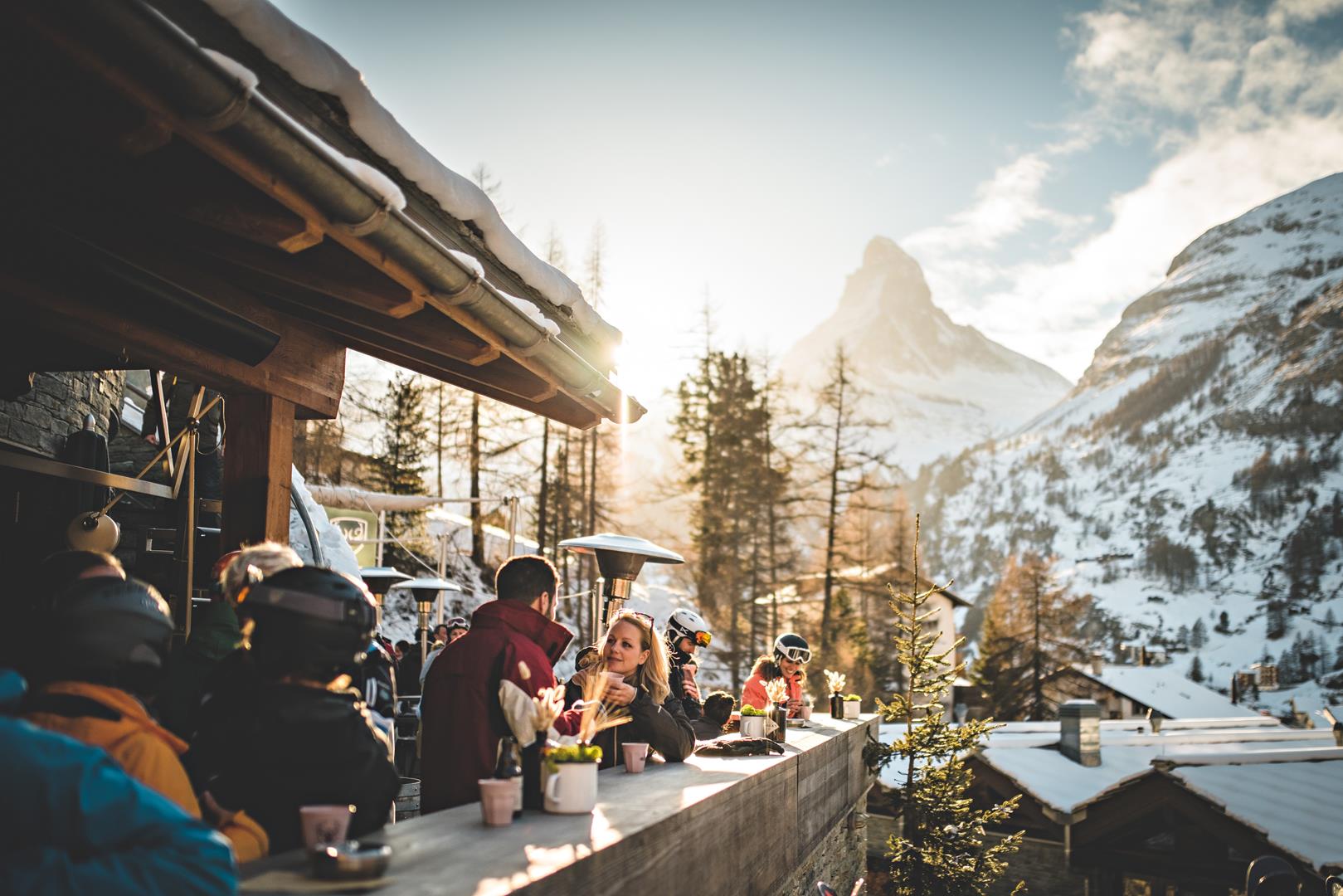 Even more pistes, toboggan runs and walking trails can be found at Murren, a destination made famous not only by its spectacular landscapes, but also by James Bond. Part of the film On Her Majesty's Secret Service was filmed at the innovative revolving restaurant on Schilthorn. Groups can drink in the views of some 200 mountains and 40 glaciers while noshing on a legendary "007 Burger."
North/Northeast Switzerland
The northern part of the country features a well-rounded selection of ski resorts near Zurich and over by St. Gallen. Flumserberg, located less than 60 miles from Zurich, is a popular winter sports destination in the Canton of St. Gallen. It has terrain that suits all skill levels—wide, gentle runs for beginners to steep, mogul-filled slopes for advanced skiers. For something a little different, groups can race down the nearly two-mile sledge run from Prodalp to Tannenheim, or get in some pets and face licks with an introduction to dog sledding. Toggenburg, the largest resort in St. Gallen, consists of three areas connected by 17 lifts. There are plenty of groomed runs, as well as more extreme off-piste options and two terrain parks. For some off-mountain fun, groups can enjoy several miles of winter rambling paths, or take in Mother Nature on a snowshoe tour.
by Vanessa Day