When your group sets sail on the Schooner Alliance or Schooner Serenity, you'll travel down the York River and back in time to the golden age of sailing as you pass the battlefield where America won its independence, view the Victory Monument and scan the waters for dolphins and osprey. Your adventure into this bygone era will only be enhanced by the ships' knowledgeable and energetic crews and the natural beauty of Virginia.
The Ships
Alliance: Built in 1995, Alliance gets her name from the French-American alliance that solidified an American victory in the War of Independence. This graceful ship can carry 49 passengers on day excursions and 12 on overnight adventures. Alliance sticks to the balmy waters of Yorktown during the summer but come winter, she sets sail for the Caribbean.
Serenity: At 65 feet long, Alliance's younger sister, Serenity, is a slightly smaller boat that can carry up to 24 passengers on day sails and offers the perfect opportunity for smaller groups.
All Aboard!
Exploring the waters on a Yorktown schooner is an experience that visitors of all ages will enjoy. Whether your group is mostly kids, entirely adults or a mixture of the two, Alliance and Serenity will deliver the perfect adventure.
When Can We Sail?
There are three cruises daily from April to November. The first cruise takes place 11 a.m. to 1 p.m.; the second is from 2 to 4 p.m.; and the sunset cruise departure time varies with time of sunset.
Types of Cruises
Historic Yorktown 2-hour Cruises
Lend a hand at setting sail or just relax and enjoy the sights as your group cruises down the York River under a cloud of canvas. You may see dolphins, osprey or working watermen harvesting their catch from the river. The crew will point out the sights as you sail and talk about the Yorktown history. Beverages and snacks are available in the galley.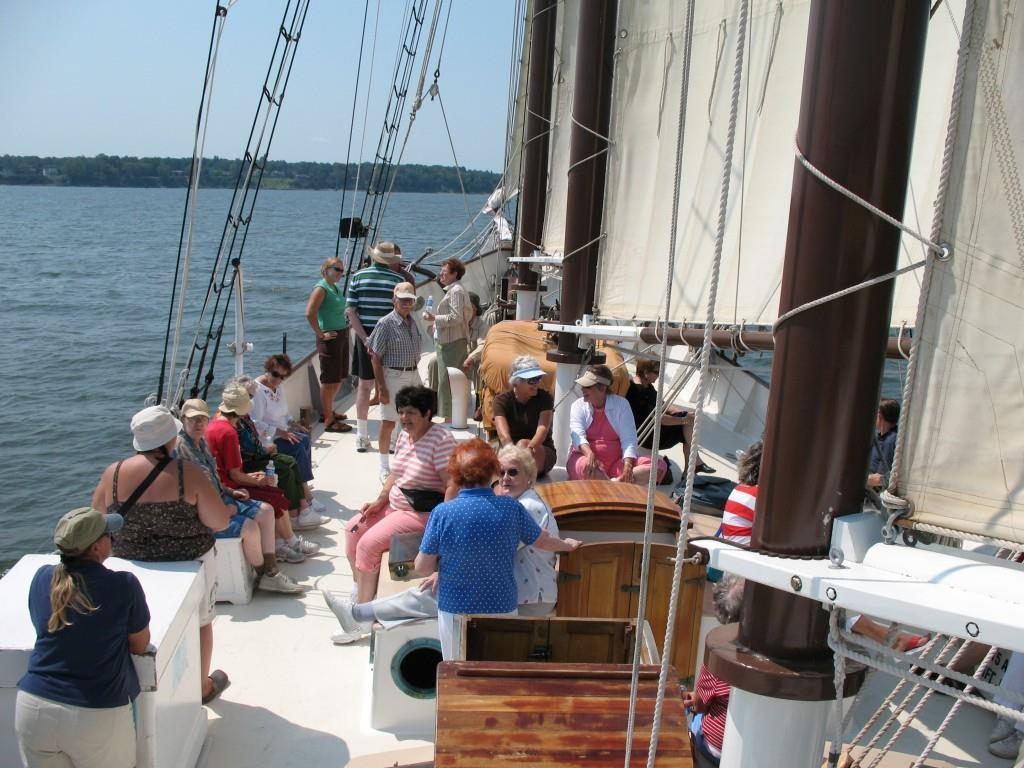 Captain Mayhem's School of Piracy
Designed for children, Captain Mayhem's School of Piracy gets kids involved in learning some of the skills necessary to be a successful pirate. The kids will raise the sails, steer the ship, tie a knot and get pirate-themed temporary tattoo. The crew will fire the cannon and even be in pirate costumes. These trips are 1.5 hours in duration. Stay tuned for Yorktown's new adult pirate cruises during select sunset sails.
Private Charters
Yorktown Sailing Charters can customize your charter to fit your group's needs, including catering and beverage services and personalized themes (such as wine-tasting, history, bay ecology, etc.).
Where?
Yorktown Sailing Charters is located at 425 Water St. in Riverwalk Landing Pier, Yorktown Virginia. The schooners sail in the protected waters of the York River, a tributary of the Chesapeake Bay. There is convenient motorcoach drop-off on Water Street and public restrooms at the head of dock near the motorcoach disembarking area. Motorcoach parking is located at the County Administration building two blocks up on Ballard Street.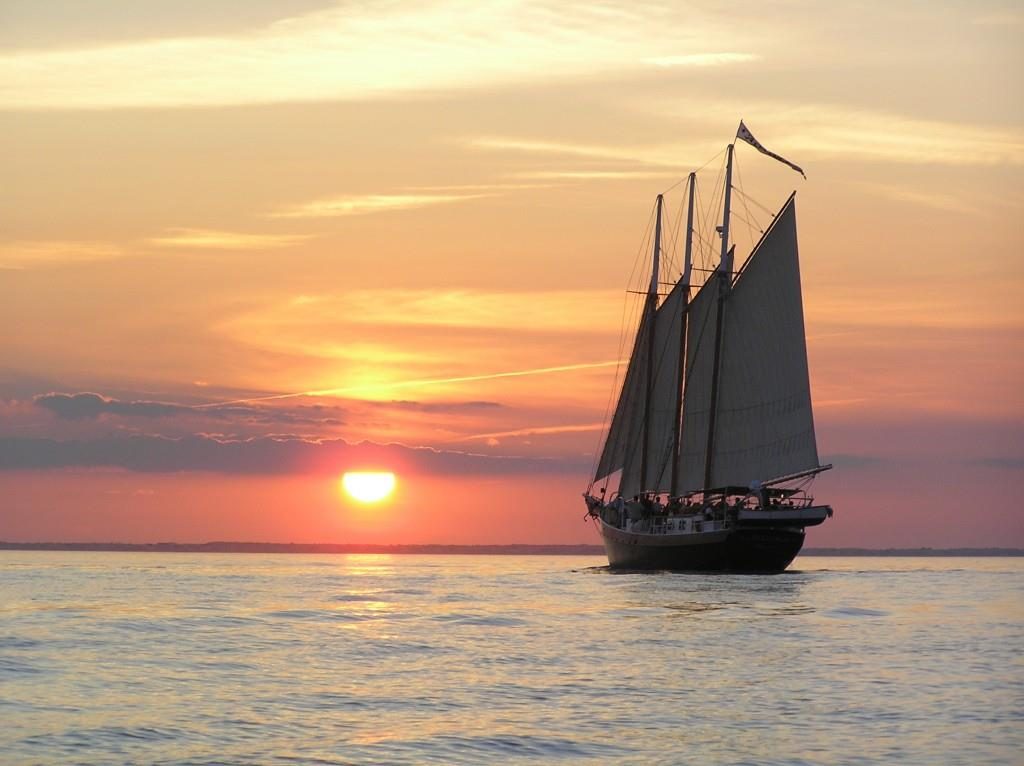 There are many shops and restaurants within walking distance at Riverwalk Landing. You may also be interested in visiting Yorktown Victory Center, Yorktown Visitors Center, the battlefield, Watermen's Museum, antique shops, art galleries, the public beach and picnic area.
How Much?
Public Sailing Rates:
2-hour morning and afternoon sails: $35 adults, $20 children 12 and under
2-hour sunset sail: $35 per person (no child discount)
There is a 10% discount for groups of 20 or more on public cruises, with free admission for the tour operator, escort or driver.
Private Charter Rates:
Schooner Alliance (maximum of 49 passengers, including tour operator)
Travel industry discount on private charter rates:
2-hour morning or afternoon sails: $1,300
2-hour sunset sail: $1,400
Saturday charters $100 more
Schooner Serenity (maximum of 24 passengers, including tour operator)
2-hour morning or afternoon sail: $750
2-hour sunset sail: $800
Saturday charters $50 more
5 Tips for Planning a Cruise with Yorktown Sailing Charters
Before or after your cruise, relax on the river's sandy beach; stroll along the scenic river walk; stop in art galleries and antique shops; or visit museums with hands-on exhibits. Seeing the area on land will further enhance your nautical perspective.
If you can, book a cruise during one of Yorktown's events and festivals.
Reserve a box lunch for the cruise; snacks and drinks (including beer and wine) are available onboard, but if you choose to help man the sails and steer the ship, you will surely work up an appetite.
Plan ahead! Cruises fill up quickly.
If you're considering a Caribbean cruise, call well ahead of time to discuss all your options, amenities and details.