A drive up the Mother Road will provide groups with a host of entertaining attractions including several affiliated with our 16th U.S. president
Illinois is a popular destination for a variety of reasons, from its bustling big cities like Chicago and Springfield to its various natural getaways across the state.

Two of its most renowned attractions are the legendary U.S. Route 66 and the many destinations affiliated with the 16th president of the United States, Abraham Lincoln. The iconic Route 66 roadway stretches across 301 miles in Illinois and has been an enduring icon of cross-country travel for decades. Lincoln lived most of his life in Illinois and left an enormous mark on the state. Groups can learn about the Great Emancipator's life, which is thoroughly documented on various stops in the Land of Lincoln. Here are a few destinations that will enthrall and educate your group:
A drive upstate begins with a trip to Effingham, the Gateway to Illinois.
Effingham
Standing 198 feet tall and stretching 113 feet wide, the Cross at the Crossroads is America's second-largest cross and is a landmark for more than 19 million travelers who pass through Effingham each year. The cross was created out of more than 180 tons of steel and can withstand winds of up to 145 miles per hour. The site also houses a visitor center, chapel and a 10 Commandments display.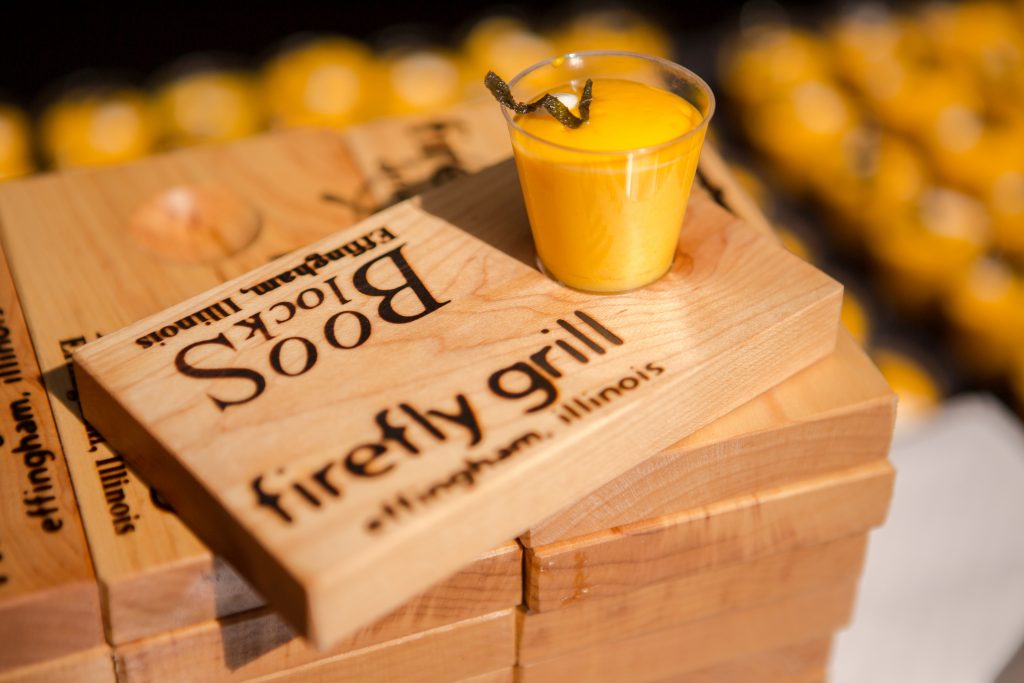 Firefly Grill is a beloved culinary destination for groups located on the shores of Kristie Lake. An oasis of American fresh cuisine, Firefly serves farm-to-table food, strives for sustainability, and whatever isn't grown at Firefly, is hand-selected locally or sourced by artisan farmers, foragers and fishermen.
Established in 2011, Tuscan Hills Winery is a family-owned business focused on creating well-balanced wines using grapes sourced from neighboring states in the Midwest. Containing an old-world Tuscan feel, the winery offers a wide selection of wine, sangrias, craft beers and a broad range of liquor products for every palate.
---
[optin-monster slug="d8fq6rzoxcf9jwy06d8p"]
---
No trip to Effingham would be complete without a visit to John Boos Factory Showroom and Outlet. John Boos is a perfect place to find Boos Block kitchen equipment and furniture for all cooking enthusiasts. Since the 1980s, the John Boos Factory Showroom and Outlet has been providing its customers with American-made butcher blocks, kitchen and home furniture and its famous cooking utensils that are the preferred tools of numerous celebrity chefs you'll see on the Food Network shows.
Great Rivers & Routes
After departing Effingham, enjoy one of the most scenic drives in the country as Illinois' Great Rivers & Routes is the only place where two of our nation's greatest roadways (Route 66 and the Great River Road) come together alongside the confluence of America's three legendary rivers: the Missouri, Mississippi and Illinois Rivers.
Pay a visit to Cahokia Mounds State Historic Site the largest pre-Columbian settlement north of Mexico is and a UNESCO World Heritage Site. Within the 2,200-acre tract, located a few miles west of Collinsville on an older alignment of Route 66, lie the archaeological remains of the central section of the ancient settlement that is today known as Cahokia. One of the greatest cities of the world and one of the most advanced civilizations in ancient America, Cahokia was larger than London in 1250 A.D. and was the center of a trading network linked to other societies over much of North America.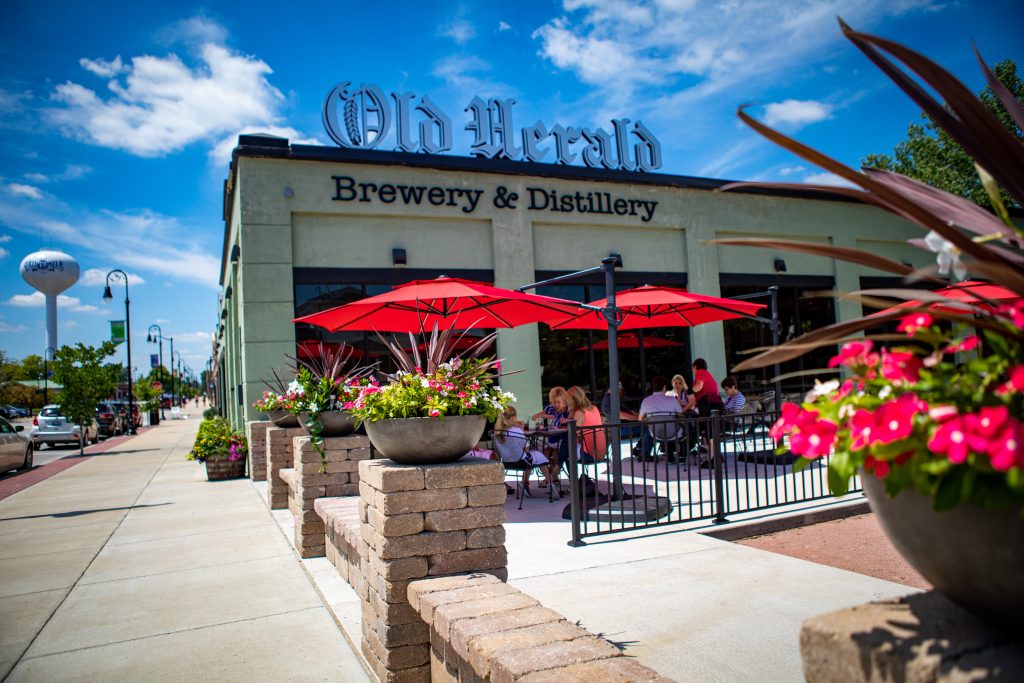 Satiate your hungry group with a stop at Old Herald Brewery and Distillery in Collinsville. This family-friendly full-service restaurant also features craft beers and spirits. It also offers a craft distillery tour along with unique private event spaces celebrating the history of the Collinsville Herald and the city's nearly forgotten brewing and distilling past.
Another delicious stop along Route 66 is Weezy's Route 66 Bar & Grill, in Hamel. Weezy's is an enduring greasy spoon favorite which serves delicious burgers and fries and features a Route 66 sign-filled décor that celebrates its past incarnations. Route 66 Creamery in Hamel is another beloved locale that has a cozy atmosphere and serves a variety of ice cream, sundaes and custard.
A must see for travelers exploring Route 66 is the Pink Elephant Antique Mall. More than 50 antique dealers are located in the former Livingston High School building. Browse for that special find, or just enjoy a memory from a different time. There's a quaint diner for lunch and don't forget the ice cream, candy and fudge.  There are plenty of photo opportunities, too. Stop for a glass of wine and a homemade pizza afterward at the Winery at Shale Lake, which features a heated wine garden overlooking a 14-acre vineyard.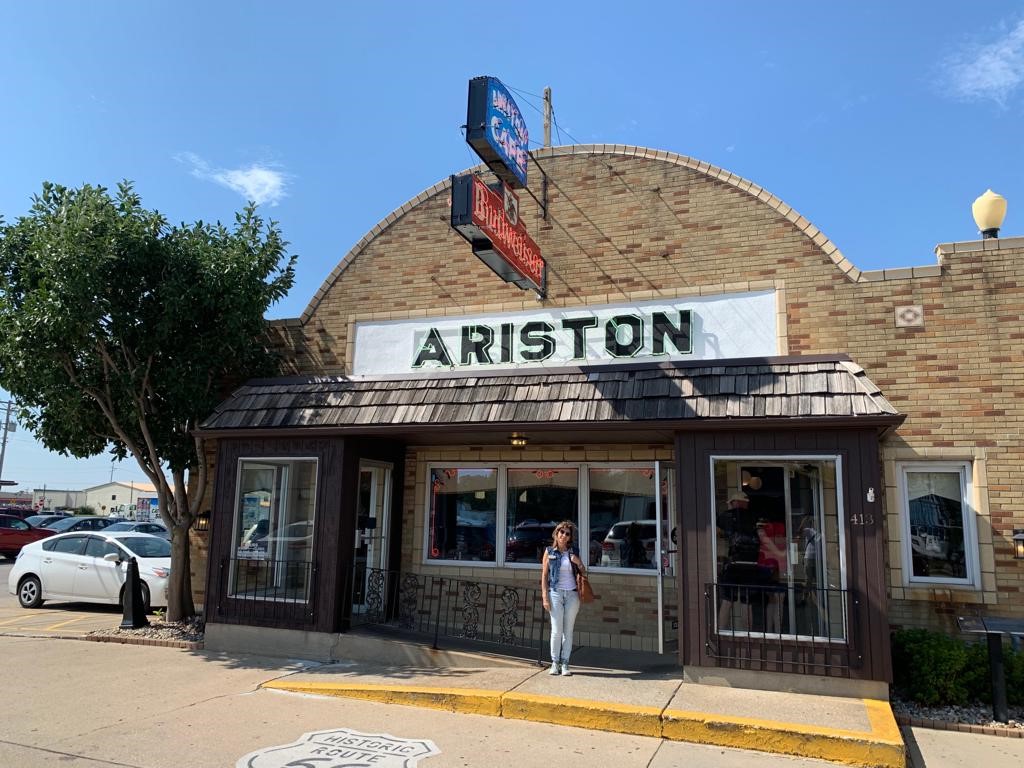 Another excellent Route 66 stop is the Ariston Café in Litchfield. This historic attraction features a global menu, a soup and salad bar and souvenirs. Ariston Café opened its doors in 1924 and is one of the oldest continually operational Route 66 restaurants still working. It offers a wide range of food including American, Southern, Italian and Greek fare along with a fully stocked bar in a comfortable environment.
Pull up a stool and order lunch with your choice of flavored sodas from one of the greatest soda fountains in the country at Doc's Soda Fountain in Girard. Serving old-fashioned goodness since 1884, Doc's is located along Old Route 66 and hosts many visitors who stop at historic Girard Square. Another tasty Girard stop is the Whirl a Whip, whose exclusive menu includes enormous horseshoes, delicious ice cream, Philly cheese steaks, salads, sandwiches and cheese fries.
Springfield
Lincoln made Springfield his home from 1844 to 1861 before becoming president. Not surprisingly, Springfield offers a multitude of attractions related to the popular president.
Step into the daily life of the Lincoln family as you enter the only home the Lincolns ever owned at the Lincoln Home National Historic Site. Take a stroll through the lovely historic neighborhood surrounding the home and enter Lincoln's house which will give you a rare glimpse into the life of Lincoln as a husband, father and neighbor.
The Abraham Lincoln Presidential Library and Museum is the official library and museum of the 16th U.S. president. Guests can experience key moments in Lincoln's life and view immersive displays and shows that explore the human costs of slavery and war. Connect with Lincoln and his family through artifacts that can't be found anywhere else in the world. Numerous exhibits explore Lincoln's life from his boyhood in a Kentucky cabin to his 1860 campaign for President of the United States.
Another intriguing stop is the Old State Capitol Historic Site, a reconstruction of the fifth State House. It served as the State Capitol from 1840-1876 and during the 20th century's Civil Rights movement, its restorers faithfully recreated the building in which Lincoln gave his famous "House Divided" speech. Take a 30-minute self-guided walk through the site. Staff will be on hand to answer your questions.
At the Lincoln Tomb State Historic Site (located in Oak Ridge Cemetery), you can gaze upon the stunning granite monument where Lincoln, his wife and three of their four children were buried. Surpassed only by Arlington National Cemetery, Oak Ridge Cemetery is the second most visited cemetery in the country.
A lovely stop in Springfield is the Lincoln Memorial Garden Nature Center, a 100-acre woodland and prairie garden which features six miles of interconnected trails that wind through its restored prairies, woodlands and wetlands. Architect Jens Jensen designed the garden as a living memorial to Lincoln, and it is home to 12 footbridges, a pond and eight stone council rings, most which contain views of a lake. Plantings within the gardens include white oaks, sugar maple, dogwood and redbud trees as well as bur oak trees and big bluestem prairie grasses.
Route 66 also runs through Springfield and contains several noteworthy stops, including Route 66 Motorheads Bar & Grill: a classic car restaurant that serves great food and delicious drinks among the backdrop of the Route 66 & Motor Museum. Every aspect of Motorheads was designed with car and racing enthusiasts in mind.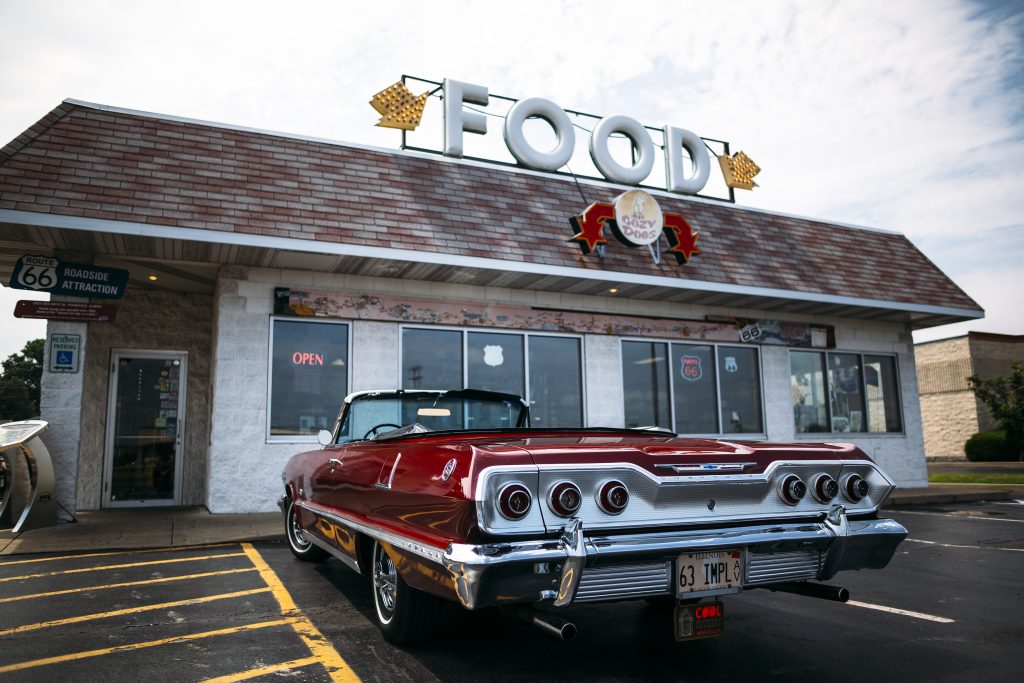 Part Drive-in, part Route 66 museum, Cozy Dog Drive In is the originator of the corndog on a stick. Cozy Dog has been located on Route 66 since 1949 and uses the same batter recipe that Ed Waldmire, inventor of the corn dog on a stick, developed back in 1946. Another venerable Springfield institution is Maldaner's Restaurant, which was established in 1884. Located off Route 66, Maldaner's is one of Springfield's finest restaurants, serving the best of contemporary American dining in a historical setting.
Bloomington-Normal
Once owned by Lincoln confidante and close friend Judge David Davis, the David Davis Mansion in Bloomington is a stately 19th-century mansion that will give you a glimpse into the social and political life Lincoln knew. This beautifully restored, 19th century estate contains a remarkable collection of decorative arts and technological conveniences from the mid-19th century. Outside, the garden features an amazing array of plants as well as the same design, pathways and beds that Sarah Davis first gazed upon when the mansion was created in 1872.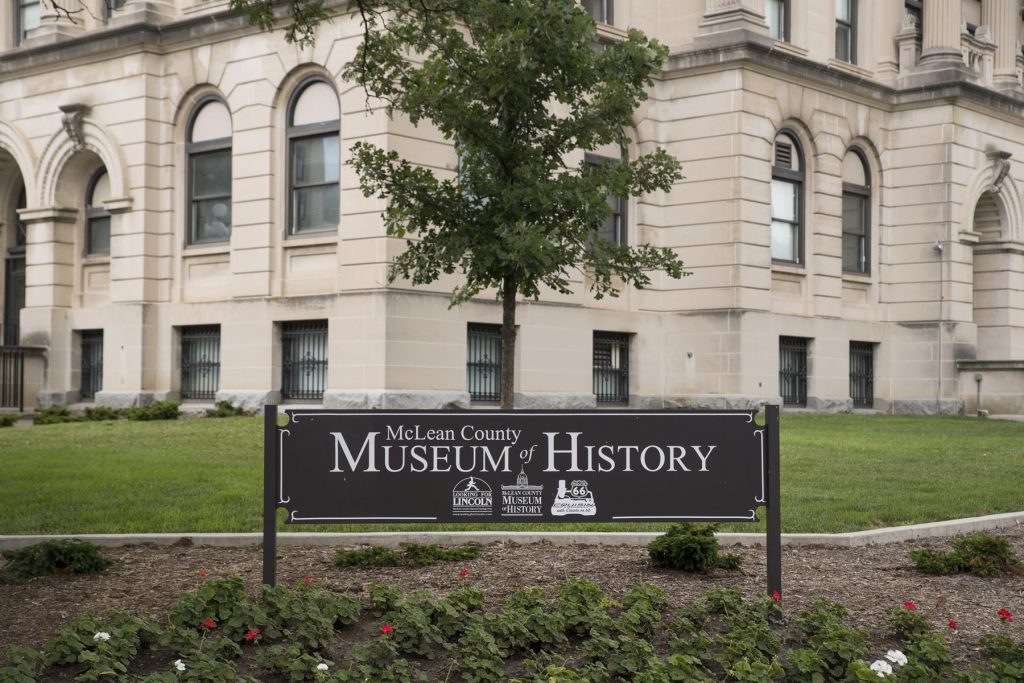 The McLean County Museum of History in Bloomington traces its roots back to 1892, the year the McLean County Historical Society was founded. A nationally accredited award-winning museum, it features five permanent exhibit galleries and two rotating galleries. The museum preserves more than 20,000 objects, makes available more than 15,000 rare and hard-to-find books on local history and genealogy and manages 2,000 feet of historical papers and images in its archives. It also spotlights the many residents who were Lincoln's contemporaries as he rose from prairie lawyer to the man who would be president. Located on the ground floor of the museum is the Cruising with Lincoln on Route 66 Visitors Center and Gift Shop, which houses a 1,200-square-foot visitors center designed to highlight Historic Route 66 and Lincoln tourism. This Abraham Lincoln-themed center celebrates Bloomington-Normal's rich historical connection to both Route 66 and Lincoln through an interpretive exhibit.
Rosie's Pub in downtown Bloomington is one of the oldest buildings in town and is located in Lincoln's former law office. This American pub features an eclectic menu and great drinks in a cozy atmosphere. An institution for Illinois State University students and faculty, Avanti's Italian Restaurant in Bloomington cooks and serves home-style pasta, pizza and sandwiches. Avanti's, which is located off Route 66, serves its trademarked fresh Italian bread to delighted customers from across the globe.
The Bloomington Center for the Performing Arts is the centerpiece of the city's Cultural District. Built in 1921 as a home for the American Passion Play, the center holds more than 500 events annually, offering diverse programming to a wide range of audiences and presenting national and international touring artists.
Opened in 1931 to serve Route 66 travelers passing through Normal, Sprague's Super Service was not like the other gas stops. The earlier stations on Route 66 were pumps in front of a general store, or later stand alone gas stations. The Tudor Revival style that contractor William Sprague built was a restaurant, garage, gas station and had living quarters on the second floor. Today, the property is owned by the town of Normal and has been restored as a visitor's center and gift shop. It's listed on the National Register of Historic Places and in the Route 66 Association of Illinois Hall of Fame. While in Normal stop for homemade ice cream and a photo op with 14-foot "Muffler Man" at Carl's Ice Cream on College Avenue.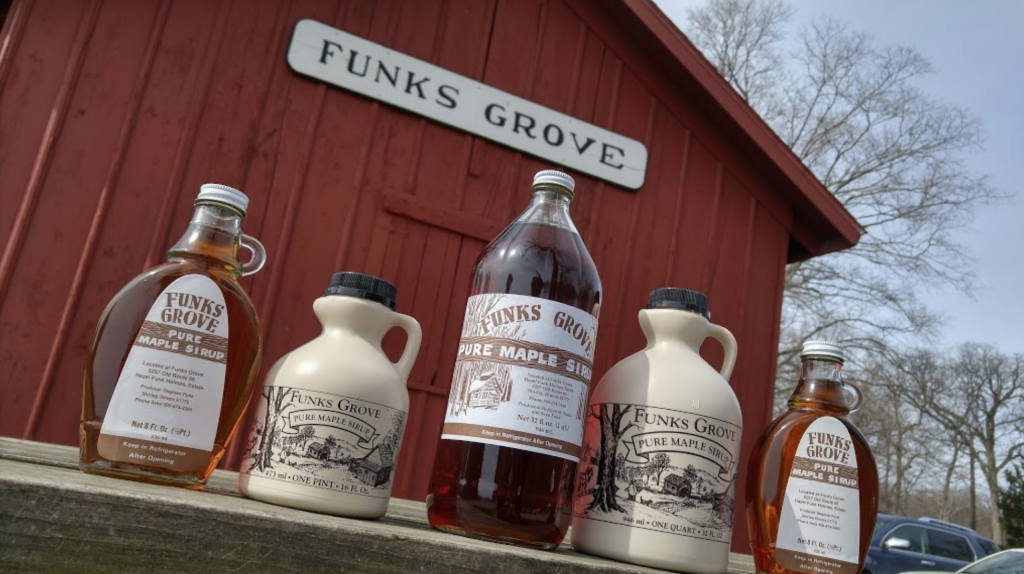 In nearby Lexington Route 66 Memory Lane is a favorite stop. Built along a portion of the original 1926 roadbed it's a mile walk through history. Along your walk you'll see restored vintage billboards for motels and the Burma Shave signs! Funks Grove Pure Maple Sirup has a rich history with Route 66. Today, stopping at the shop for a bottle of their specialty syrup, or sweets is a must.