Possibly one of the most satisfying experiences a tour operator can have is helping a group cross off their bucket list a truly iconic American experience. Whether visiting the "TODAY Show" window, watching the Rockefeller Center tree lighting, witnessing the Albuquerque Balloon Fiesta or attending the Tournament of Roses Parade, seeing travelers traverse that threshold to "been there, done that, got the t-shirt" status is a wonderful feeling.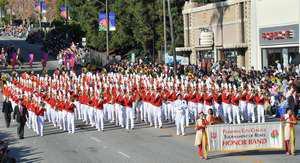 It was in that mode, with the dawn of 2012, that I found myself in sunny Southern California, escorting a group of eight ladies determined to achieve a lifetime dream of seeing the Rose Parade in person. Our small group joined several others who comprised a total of 33 people hosted by TRIPS, a Los Angeles-based tour operation owned by Brian Doughty. Tennessee, Mississippi, Missouri, Iowa, South Dakota, Texas, Ohio and Florida were all represented within the group, which quickly established a camaraderie born of shared experience.
This trip wasn't my first Rose Parade with TRIPS, nor will it be my last. Who better to trust with organizing such a landmark experience than a company in Pasadena's own back yard? Not the least benefit is the security that comes from working with folks familiar with ways to avoid what could be a logistical nightmare.
Our itinerary included not only reserved seating at the top of Colorado Boulevard and the head of the parade route, but a visit to see the floats as they were being festooned with flowers, foliage, seeds and more. While the parade itself attracted tens of thousands of spectators and what felt like at least that many motorcoaches, the float-decorating spectacle the day before the parade brought out throngs of visitors who soaked up mid-80s warmth while navigating an endless line to enter the construction tents.
Both experiences were sandwiched among three additional days of touring that included Hollywood, Warner Bros. Studio, Grauman's Chinese Theater, The Getty Museum, Ronald Reagan Presidential Library and a lavish New Year's Eve celebration in Long Beach, complete with a champagne toast and fireworks at 9 p.m. (which is midnight on the East Coast). An optional afternoon tour allowed interested group members the chance to go beachcombing in Malibu, to see the fabled Santa Monica Pier and have a seaside lunch as well as cruise Rodeo Drive in Beverly Hills.
Despite a crush of holiday tourists and revelers in areas like The Grove, the Los Angeles Farmers Market and Hollywood Highlands (a multi-level shopping/dining complex anchored by the Kodak Theater on Hollywood Boulevard), tour activities were easily navigated, thanks to our local guide who was armed with a neon-yellow sign held aloft to guide us through. His knowledge of shortcuts, both at the venues we visited as well as on the city's tangled mass of freeways, kept us punctual and stress-free. That our tour dates fell over the weekend definitely worked to our advantage in terms of battling the infamous LA traffic.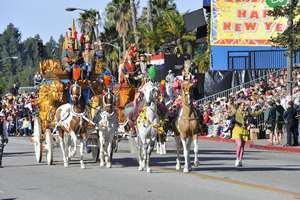 The Rose Bowl and the adjacent float-decorating grounds were designed with nearly seamless pedestrian traffic lanes that kept the flow of visitors moving with a minimum of congestion. Despite posted signs that indicated our position in line was 45 minutes away from entry to the float-decorating tents, we reached the entrance in approximately 20 minutes. Once inside, guides strategically placed along viewing platforms overlooking the decorating areas kept the crowds moving.
Our pre-dawn departure for Pasadena on parade day didn't prevent our coach from becoming entangled in traffic snarl, but our guide assured us he was prepared with Plans B and even C to get us to our seats on time. Arriving at a centralized coach parking area a block off Colorado Boulevard, we hiked the three short blocks up the hill to our grandstand seats and were in place with a half hour to spare. With our pre-determined meeting point after the parade, we strolled back to our coach and made it back to our Los Angeles Airport-area hotel in approximately one hour.
As with any other area of the country in January, weather can be unpredictable. For example, our string of sunny, 80+-degree days and mild evenings were a sharp contrast to last year's rainy weather with temperatures in the 30s as the parade stepped off.
With a group size of at least twenty-five passengers, TRIPS can customize the itinerary to suit the group while offering the flexibility allowing smaller groups, such as ours, to combine to prevent cancellation.
I am already working toward a repeat visit next year and found out it's not too soon to begin the planning process. All through Pasadena, signs announced that tickets to the 124th parade go on sale Feb. 1.
—By Melinda Hughey