Tour planners are discovering what families have known for decades. Itineraries are easily filled with fun options on this coastal gem.
North Carolina's Crystal Coast is an 85-mile stretch of picturesque coastline and is made up of an assortment of small oceanfront communities from Morehead City and Beaufort, to Atlantic Beach and more. The area offers a distinctive array of accommodations, with more than three dozen hotels, motels and inns, and well over 5,000 vacation rental cottages, condominiums and villas. It is also a Mecca for small-town Main Street shopping as it features an abundance of specialty shops, including art galleries and clothing boutiques in many of the communities.
Here are some options to build your itinerary around.
Harkers Island
This peaceful community located 30 miles from Emerald Isle has an abundance of attractions. One of the most popular draws is the Cape Lookout Visitor's Center, one of two ferry gateways to Shackleford Banks and Cape Lookout National Seashore, where you can see wild horses, go shelling, fishing, lighthouse climbing and kayaking. Harkers Island also offers the Core Sound Waterfowl Museum and Heritage Center, where you'll find the artistry of wooden decoy carving, waterfowl art, music, storytelling, boat building heritage and more.
Pine Knoll Shores
Thousands of aquatic animals take you on a journey from the state's grand peaks to the open Atlantic at the North Carolina Aquarium in Pine Knoll Shores. The aquarium offers a variety of learning opportunities for groups, as students can explore the aquarium on a teacher-led tour, participate in a live animal program in the Big Rock Theater, research exhibits and species with interactive scavenger hunts or become scientists through hands-on classroom activities or outdoor field experiences. Group discount rates apply to civic organizations, such as nonprofit, religious, community or senior groups and out-of-state school groups. Children and teachers/staff in registered North Carolina school groups are admitted at no charge.
Bogue Sound
The Bogue Sound stretches for roughly 25 miles along the Crystal Coast and is a prime destination for mariners, fishermen, watersports fans and those who savor a fantastic sunset. A number of marinas and public docks are located on its edges. When groups aren't enjoying Bogue Sound's outdoor attractions, they can visit the Bogue Sound Distillery, which offers premium quality gluten-free vodka, white whiskey, single malt whiskey and gin.
The large distillery also houses a museum showing how stills and spirits were made in the late 1700s and early 1800s. A restored 1923 Ford Model T pickup, complete with whiskey barrels, is on display along with a 1900s grist mill and some local family history. Guests can tour the distillery museum and watch Bogue Sound's 500-gallon still and 27-gallon test still actively engaged in liquor production processes.
---
[optin-monster slug="ez4vkawohbeh3cfjgrcb"]
---
Beaufort
Named by Travel & Leisure as America's Favorite Small Town, Beaufort is home to a variety of charming boutiques, a downtown marina and the two-acre Beaufort Historic Site featuring six authentically restored buildings. One of North Carolina's oldest towns, the historic site features more than 150 restored homes. A red double-decker bus is an ideal way to tour the town.
The town's North Carolina Maritime Museum is one of three state maritime museums, all of which have the purpose of preserving, collecting and interpreting coastal life and history. Inside the museum is the official repository for the artifacts from the wreckage of Blackbeard's flagship, Queen Anne's Revenge. Across the street from the museum resides the Harvey W. Smith Watercraft Center, which is one of the best places to see Beaufort's maritime history come to life. The center is a working boatbuilding facility that comes alive with the sounds and smells of traditional North Carolina wooden boatbuilding.
Those seeking some delightful beverages can pay a visit to Carteret County's first brewery, Mill Whistle Brewing Company. This nano brewery produces just 31 gallons of beer in a batch. By focusing on small batches of beer, Mill Whistle Brewing has been able to produce a wide variety of styles of beer. The brewery resides on the site of a 100-year-old lumber mill, and like the old tradition to signal shift change, still blows the original steam mistle at 4:45 p.m. daily.
Another fun attraction is Beaufort Pirates Revenge, which offers interactive voyages featuring fun and adventure for families of all ages. Groups can enjoy a live pirate show and enjoy festive music guaranteed to unleash your inner pirate.
Not far from Beaufort is the Rachel Carson Reserve, located between the mouths of the Newport and North Rivers. The reserve's waters create a pristine environment where juvenile fish and invertebrates find shelter and food. Diverse arrays of coastal habitats are found at the site including tidal flats, salt marshes, ocean beach, sand dunes and maritime forest. More than 200 species of birds have been observed at the site as well as a diverse array of mammals including river otter, gray fox and a herd of feral horses. Kayaks and paddleboards are available at Beaufort Paddle.
Atlantic Beach
Situated on a beautiful barrier island bordered by the Atlantic Ocean and Bogue Sound, Atlantic Beach is known for an abundance of pristine public beaches.
One of its more popular hot spots is Memories Beach Club, which is the only Shag Club on the Crystal Coast. The Carolina shag is a partner dance done primarily to beach music and is a popular regional dance and Memories is the best place to shake your hips and enjoy a tasty beverage.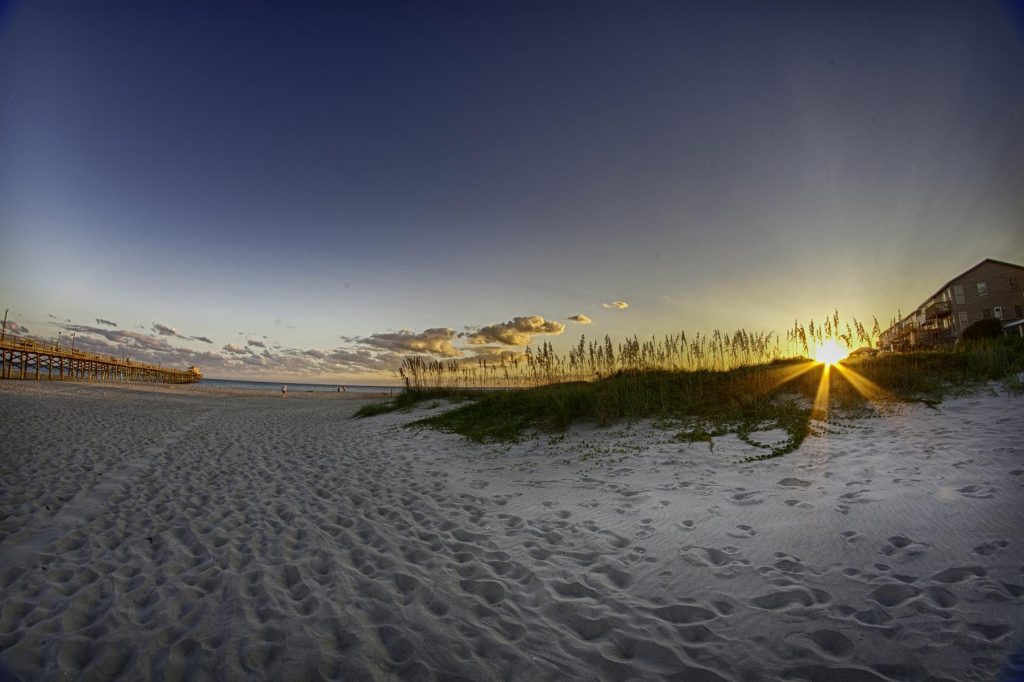 Kites are a fun activity for groups seeking to enjoy the gentle ocean breeze and the best place to grab some kites is to visit Kites Unlimited and Bird Stuff. For more than 30 years, they have provided top quality wind-related products including kites and wind socks, flags, bird feeders, baths, puzzles and games for all ages and abilities.
Located on Bogue Banks near Atlantic Beach, Fort Macon State Park has more than 1.5 miles of ocean beach for hiking featuring more than 320 species of birds. Groups can also experience the thrill of watching dolphins swim in the ocean from a beach trail.
Salter Path
Located in the middle of Bogue Banks at its narrowest part, Salter Path offers easy access to both the beach and sound for recreation and relaxation. A popular Salter Path attraction is Professor Hacker's Lost Treasure Golf and Raceway which features two 18-hole miniature golf courses, a mining train that will take you to the first holes, go-karts, bumper boats an arcade and kiddie rides.
Morehead City
The largest community of the Crystal Coast, Morehead City offers boutique shops, enticing eateries and live entertainment. It is also home to many large events throughout the year including the Big Rock Blue Marlin Tournament and the North Carolina Seafood Festival.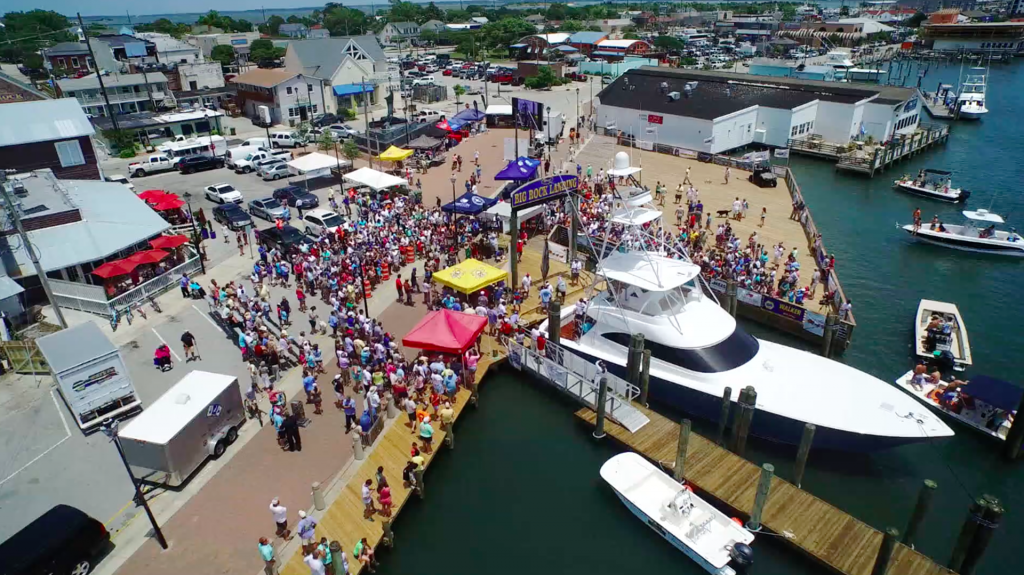 Those seeking to enjoy deep sea fishing, sport fishing or private cruises can rent out the Carolina Princess. Charter the Carolina Princess for a full day on the open seas, reeling in the big catch, soaking up the sun or just relaxing with the sea wind in your face. Or set sail on a three-hour (or more) cruise around the pristine waters of the Crystal Coast. Groups of up to 70 angles or 120 cruisers can charter the Carolina Princess for an expedition.