The Itinerary at a Glance
Hidden waterfalls, unique views, unexpected beauty.  Nestled in the heart of the Finger Lakes Region of New York State, Ithaca is best known for stunning waterfalls and dramatic gorges. Ithaca is a culinary wonderland where fresh, local and organic are daily specials.  Ithaca is the perfect hub to experience all the Finger Lakes Region has to offer.  You pack comfy shoes and a keen sense of curiosity, and we'll show you the way.
 3 Unique Experience on This Trip
[list line="no" style="style1″]
Explore Cornell Botanic Gardens
View Taughannock Falls, 3 stories taller than Niagara Falls
Sample beer made with NYS ingredients at Hopshire Brewery
[/list]
Duration: 3 Days
Available: Year-round
This Itinerary is Ideal For: Adults over 21
Itinerary Details
---
Day 1
Start your day with a tour the extensive gardens and arboretum of the Cornell Botanic Gardens.  Experience living displays of botanical diversity on your own or with a guide in the middle of renowned Cornell University. Showcasing a panoramic view of Ithaca and Cayuga Lake, the Herbert F. Johnson Museum of Art on the Cornell University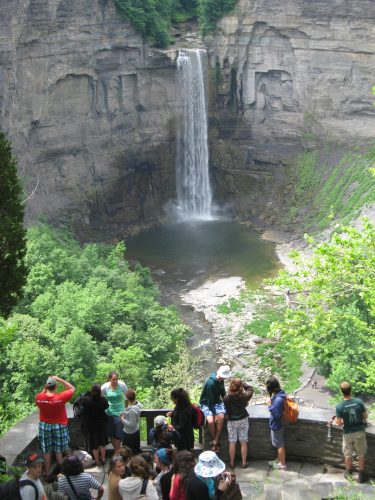 campus offers a collection spanning six millennia and encompassing most world cultures. Next, take a photo at 150-foot Ithaca Falls right in the heart of the city.  At 175 feet wide, the falls are one of the region's mightiest.
Arrive downtown to enjoy a unique dining and shopping experience on the Downtown Ithaca Commons, one of the few surviving pedestrian malls left in the U.S.  Experience the centerpiece of a Nationally Registered Historic District as you browse the area's most diverse shopping and eclectic dining, from upscale bistros to casual cafes.
While downtown, be sure to stop into Life's So Sweet Chocolates, which features locally hand-crafted chocolates using fair trade chocolate cocoa and unique ingredients.  You'll be able to learn how the chocolate is made while browsing their selection of classic and retro candies.  For a truly unique tasting experience, F. Olivers is another downtown treasure.  Sample infused olive oils and balsamic vinegars and learn how to add a little flavor to your meals.
After lunch, sample wine at Ithaca's own Six Mile Creek Vineyard in a hilltop tasting room overlooking a picturesque pond and vineyards.  Be sure to sip some of their spirits made exclusively from wine grapes. Before dinner, revel in the sound of roaring waters of Buttermilk Falls as it descends in a series of plunging cascades and rapids that converge into a beautiful basin. Elegantly designed with a modern flair, ZaZa's Cucina offers groups contemporary Italian cuisine. Rest your head in one of a variety of group lodging options that Ithaca has to offer.  From downtown locations to spacious suites, the Ithaca Convention & Visitors Bureau is happy to recommend a group friendly hotel to meet your needs.
Day 2
Enhance your appreciation and knowledge of birds at the Cornell Lab of Ornithology.  Birding is best enjoyed with a group. Beer from a farm, not a factory, Hopshire Brewery features craft ales made from New York hops and other local agricultural products in a variety of beer styles.
Take in extraordinary views while tasting your way through the Cayuga Lake Wine Trail, the nation's first organized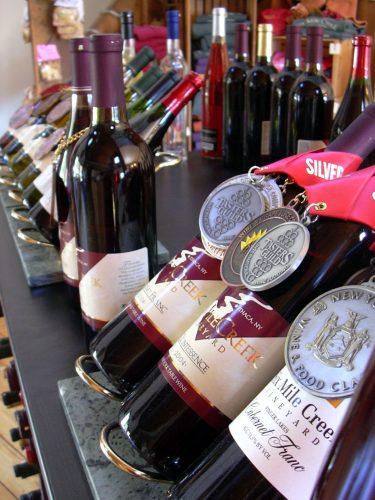 wine trail.  Sample award-winning wine, beer, hard cider and spirits along the way.  Be sure to enjoy a wonderful group lunch featuring local ingredients from area farms at Knapp Winery & Vineyard Restaurant, overlooking the trellis of grapevines on the estate vineyard.
Meet the "kids" at a Lively Run Dairy, a working goat dairy farm.  Learn how high-quality goat cheese is made and of course stay for the tasting. Visit the expansive tasting room of Finger Lakes Cider House— the hub of the hard cider renaissance— located on a sprawling organic farm. Enjoy the artisan ciders of five local producers, each dedicated to creating distinct, complex ciders from farm-based orchards.
Enjoy a scenic ride through the countryside with a stop at one of the most outstanding views in the region.  At 215 feet, the cascading Taughannock Falls is three stories taller than Niagara Falls.  Take time for pictures at the Taughannock Falls Overlook and marvel at how the steep-walled gorge formation was carved by ice thousands of years ago.
Need a group dinner suggestion? Groups can enjoy the scenic lakeside setting while dining at the casual Boatyard Grill or enjoy the private room at Joe's, the casual kitchen dishing Italian meals since the '30s.
Don't forget dessert.  At local favorite Purity Ice Cream, grab a scoop of some of the region's best.  Ithaca is the birthplace of the ice cream sundae, after all!
Day 3
Before departing the region, depending on which way you are headed, there are many attractions in the Finger Lakes to choose from, all within 40 minutes of Ithaca.
Heading north, meander the tranquil grounds and gardens of MCKenzie-Childs that overlook Cayuga Lake in Aurora.  The 65-acre farm includes a restored Victorian farmhouse, a duck pond, Gothic revival Chicken Palace aviary and Scottish Highland cattle.  Browse world renowned tableware, home furnishings and more at the gift shop.  In Auburn, the Harriett Tubman House, William Seward House and Willard Memorial Chapel will satisfy the history buff.
Heading west?  Check out the Corning Museum of Glass, home to 35 centuries of glass art and history and the largest hot glass demonstration space in the world.  Captain Bill's Seneca Lake Cruise in Watkins Glen will spoil your groups with a scenic lunch cruise before departing for home.