Indulge in Delightful Entertainment and Exquisite Dining at a Dinner Theatre
There's nothing like dinner and a show.
Groups looking for a dining and live theatre option for their group trip will find dinner theatres the perfect solution. Dinner theatres offer a seamless combination of a restaurant-quality meal and professional entertainment all in one venue. This eliminates the process of coordinating separate dinner and theater locations, allowing tour groups to enjoy a stress-free visit. The National Dinner Theatre Association (www.ndta.us) is a perfect resource to find a theatre near you or wherever your travel may take your groups!
Dinner theater has always been a popular activity for bus tours and social groups. Many of America's best-known dinner show venues have been around for decades; a reassuring thought for tour planners who know they can count on the quality and experience of the owners and leadership teams at these venues. For example, Beef and Boards Dinner Theatre in Indianapolis, IN and Derby Dinner Playhouse in Clarksville, IN have both been operating for 50 years. Circa '21 Dinner Playhouse, housed in a restored 1921 movie theater in Rock Island, Illinois, has entertained Midwest guests since 1977.
The focus of the member dinner theaters is to provide crowd-pleasing entertainment. And these owners know their audiences! While classic shows like The Sound of Music or Fiddler on the Roof are perennial favorites, audiences also want new shows that are now available such as Mamma Mia!, Jersey Boys, family shows like The Little Mermaid and Mary Poppins and original comedies and revues. The membership offers all of these styles of theatre with venues such as Desert Star Playhouse in Utah presenting comedy parody musicals and Chanhassen Dinner Theatres in Minnesota presenting productions with a cast of more than 30 at times and newer productions such as The Prom. "We feel that it's important to bring unique and inclusive shows to audiences, as well as the newer works as they become available, and Chanhassen has numerous stages in our facility to do this. We have concerts and a comedy improv club as well as the large mainstage productions," stated Michael Brindisi, president of NDTA and Artistic Producer at Chanhassen. Other member theatres also offer concerts, comedies and children's theatre on their mainstage and in the case of Circa '21 and Broadway Palm in Ft. Myers, FL they also have a second performing space that groups can also book.
The dinner theaters prioritize food quality as much as the show, offering meals that can rival those of the best restaurants in town. Dining options are also changing and vary across the country. While some dinner theatres such as Candlelight in Colorado and Riverside Performing Arts Center offer a multi-course meal served at your table, others offer an upscale buffet, and the Broadway Palm and Dutch Apple Dinner Theatres offer both options. A common
misconception, is that dinner is served or eaten while the show is being performed, and that is not the case. Tables are cleared prior to the show except for beverages and silverware for the venues that serve dessert at intermission.
Denny Hitchcock, long time member and a founder of NDTA and owner of Circa '21, made the transition from buffet to served menus following Covid. "When we were able to open during the pandemic at a limited capacity, we offered a served meal instead of our traditional buffet. While we considered returning to a buffet, the audiences loved being served and we made the decision to remain a served dining experience. It has also attracted a younger audience to our theatre as well that didn't care for buffets."
Ticket prices for dinner theaters are also an excellent value for your group's itinerary as part of a day or multi- day trip. "Groups often receive a significant discount off the regular prices and the group leader and motorcoach operator are honored for their hard work with complimentary dinner and show tickets at most theatres," states Beef and Boards Audience Development Manager and NDTA Vice-President, Jennifer Beth. "Groups also receive advance notice of the new season in many of our member theatres, just like the subscribers. This helps them to book the best seats prior to the general public sale date."
Many dinner theaters are members of the National Dinner Theatre Association (NDTA), which was formed in 1979 to unite dinner theatres across the country and provide them with new perspectives and professional development opportunities. This ensures that theaters stay up to date with industry trends, and can provide an exceptional experience for their guests from the time they enter the front doors to the finale of their visit. You can be guaranteed a wonderful visit with any of NDTA's member theaters listed below. Check out the states you will be visiting as you plan your new itineraries for 2024. Visit NDTA.us for the listing and links to each theatre.
Beef & Boards Dinner Theatre
Indianapolis, Indiana
Beef & Boards Dinner Theatre has been serving up food, fun and fabulous entertainment since 1973. Located in Indianapolis, IN, Beef & Boards makes for an ideal group stop on your route through the Midwest. Entertaining more than 130,000 theatre goers annually, Beef & Boards produces a professional Broadway series with offerings year-round.
The 2024 Season brings Broadway favorites to our stage once again. Opening with Menopause the Musical, the rest of our 2024 Season follows with Beautiful, the Carole King Musical, The King & I, The Wizard of Oz, Legally Blonde the Musical, Million Dollar Quartet, Fiddler on the Roof and A Christmas Story; the Musical. Included with every visit is a tasty buffet, plus a full-service bar, mouthwatering gourmet desserts and an on-site gift shop for all your shopping lovers. Group rates and complimentary tickets for escorts and drivers available for groups of 20 or more.
Beef & Boards offers complimentary on-site coach parking, convenient location to dozens of full service hotels, and special group options such as an actor talk back following the show. Beef & Boards Dinner Theatre is a member of the American Bus Association and the National Dinner Theatre Association. Let us entertain your group today.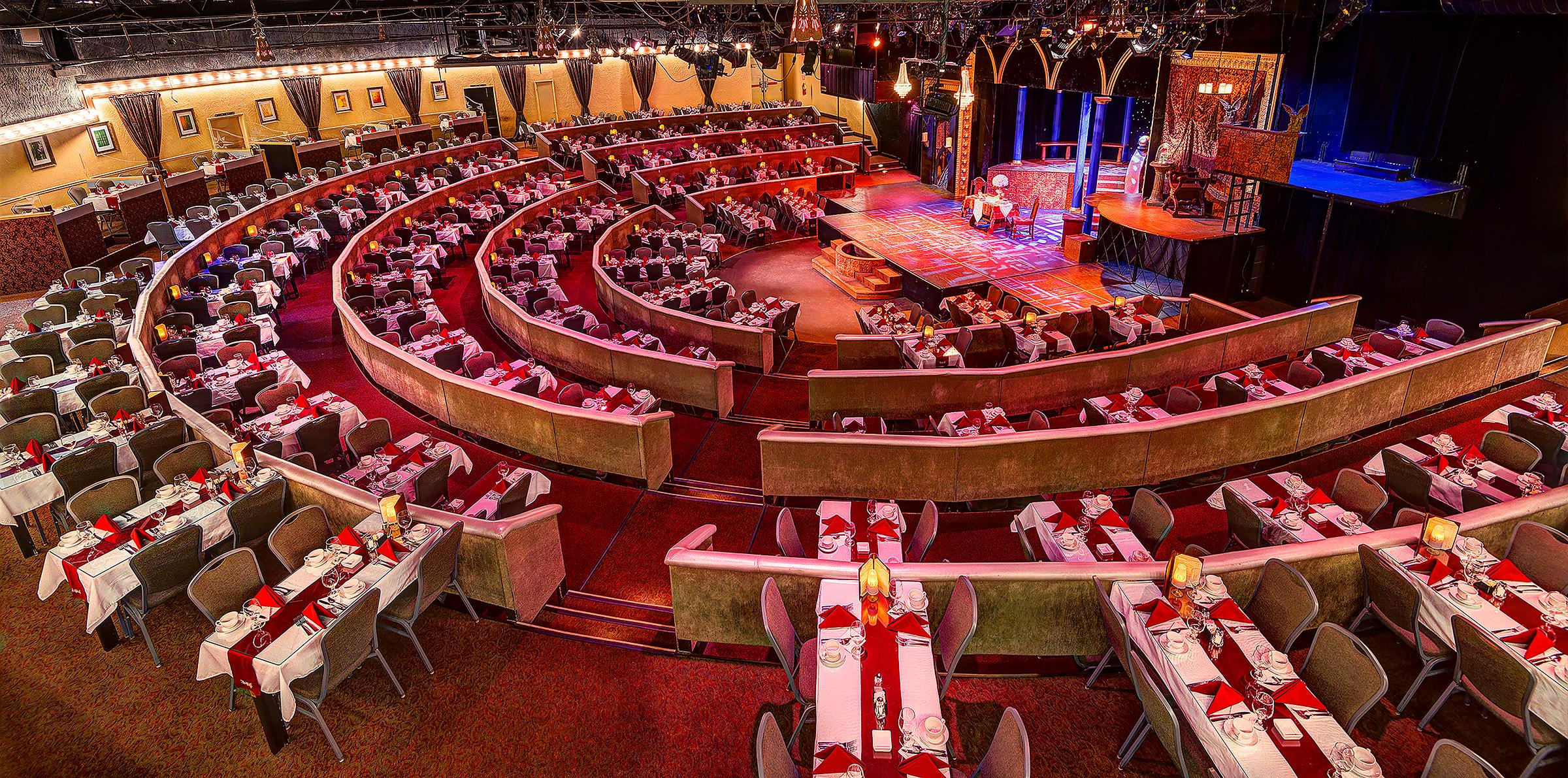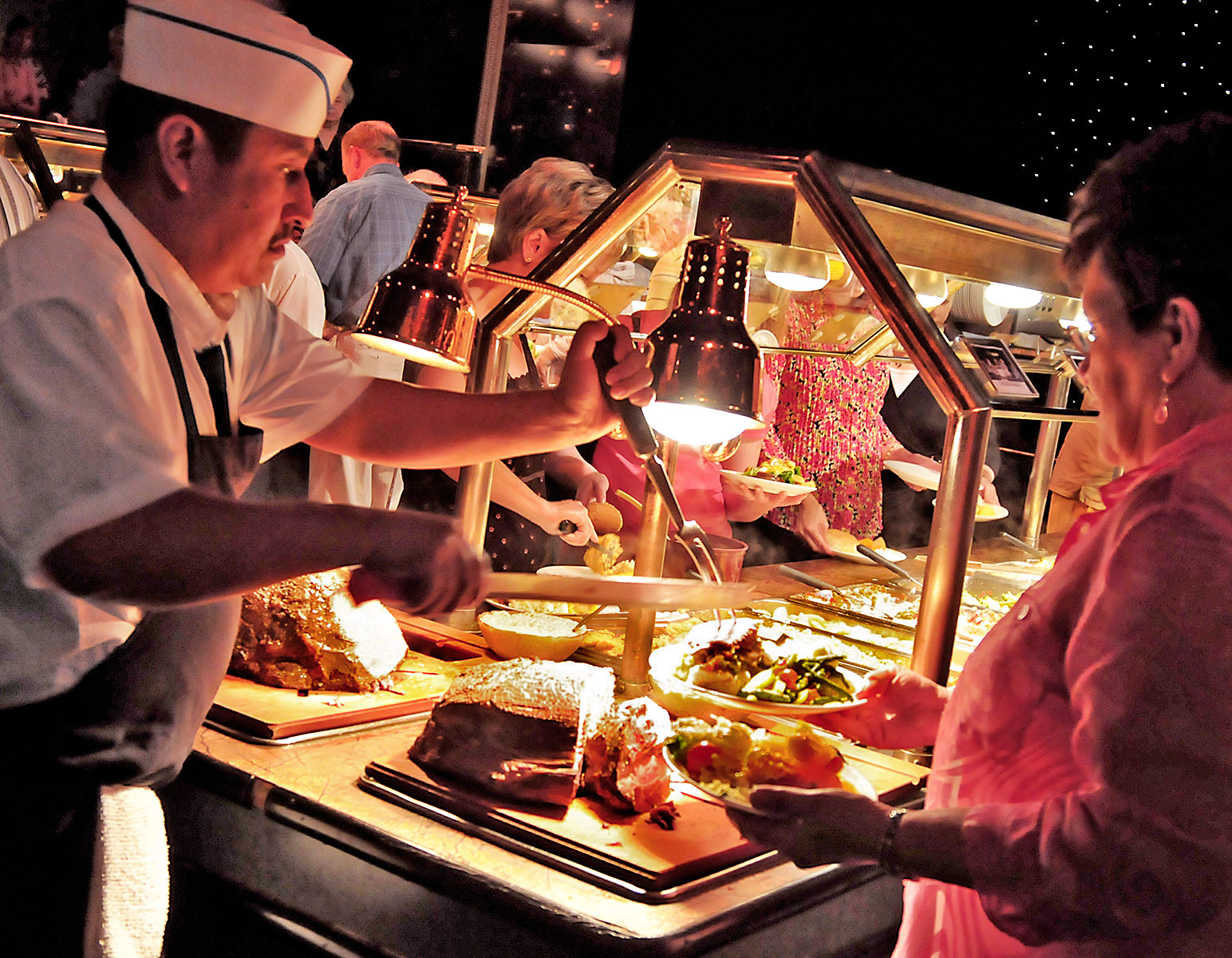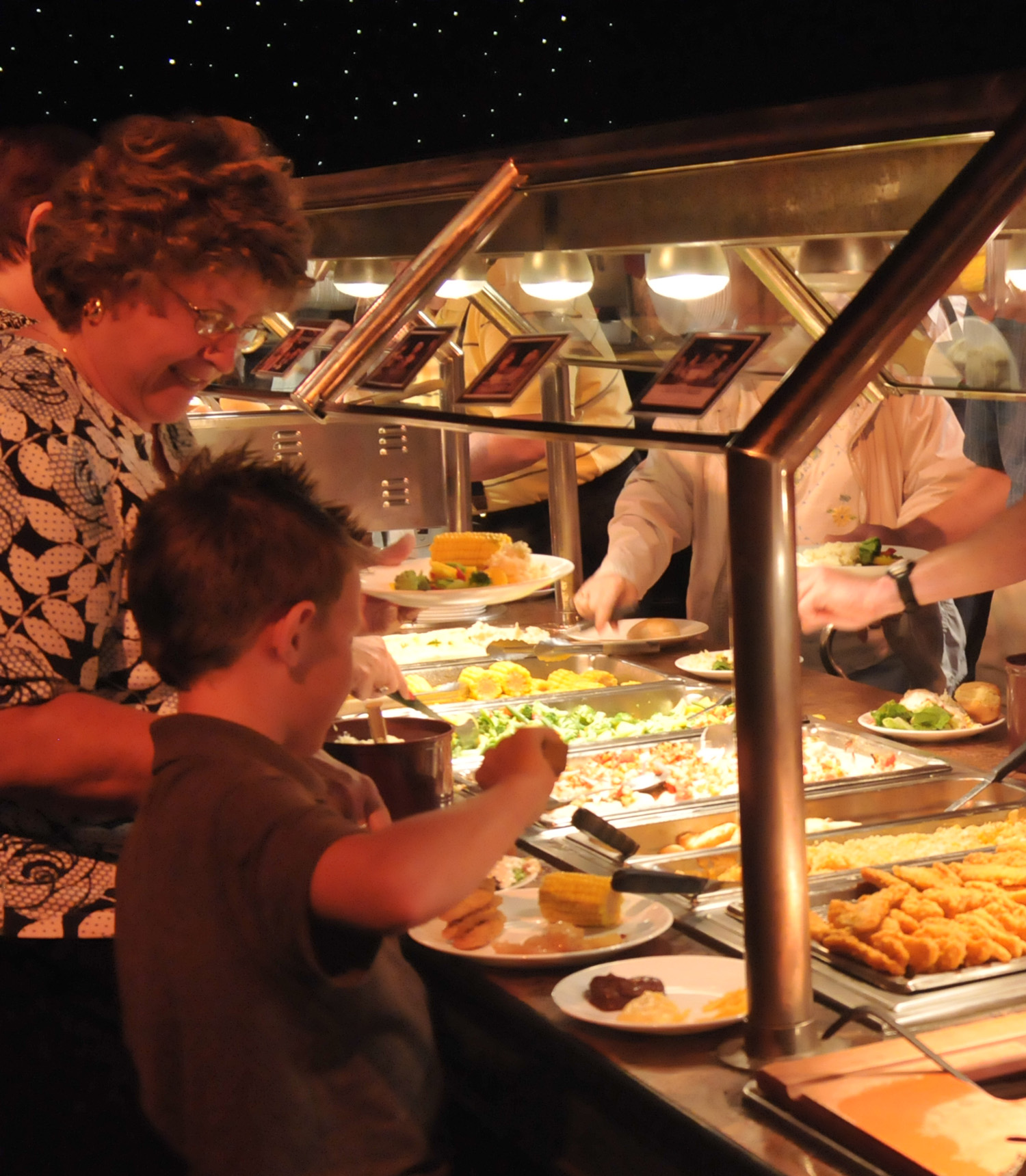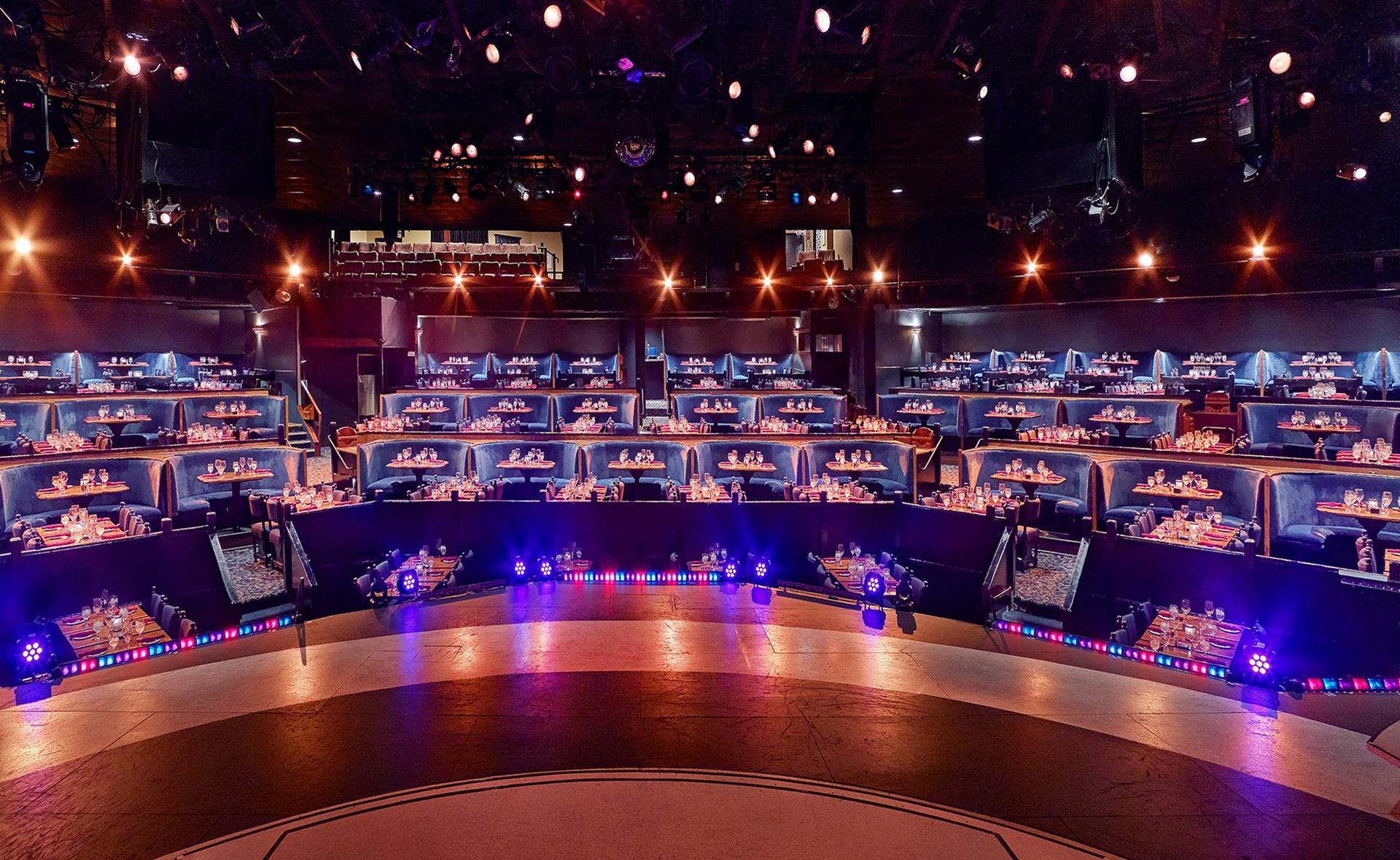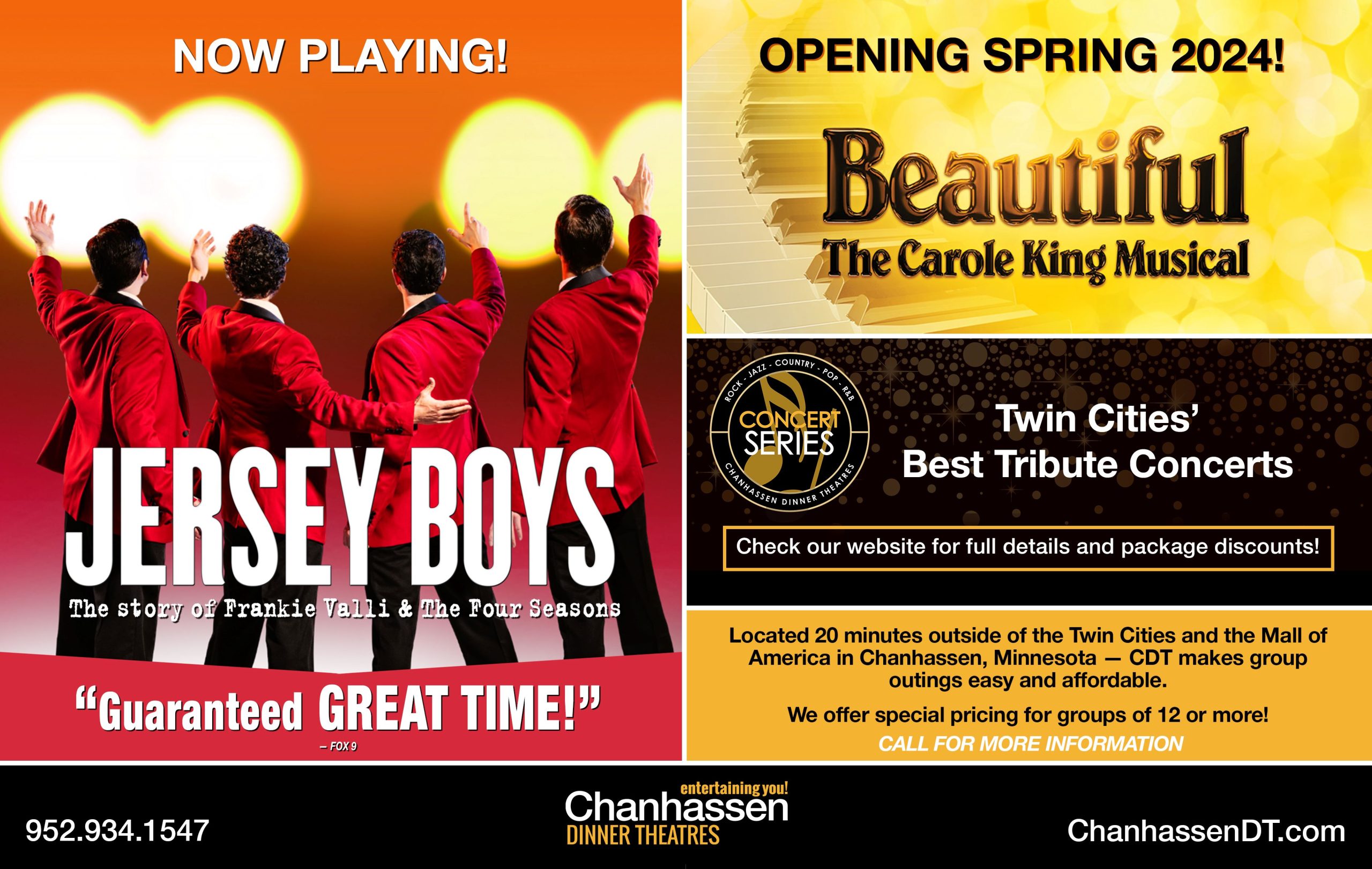 Chanhassen Dinner Theatres
Chanhassen, Minnesota 
Chanhassen Dinner Theatres is known for its world-class entertainment options including concerts, comedy shows, special presentations, and of course, year-round theater productions all interpreted and created on-site. The current production, Jersey Boys, gives audience members the opportunity to enjoy a glass of their favorite wine while watching the story of one of the most prolific bands in rock' n' roll history. All ticket prices include warm bread and butter to start, a choice of entrée, and coffee, tea, or milk to accompany the fantastic entertainment.
Whether it be an anniversary dinner date or celebratory corporate event, different packages ensure the best deal is given according to specific groups, and information about personal discounts is available by calling the box office. The hardwood dance floors and dramatic venues of the Ballroom and Dance Loft can be the setting for an elegant wedding, or outdoor event space is readily available through Chanhassen Dinner Theatre's partnership with Bluff Creek Golf Course. Whatever the occasion may be, the Chanhassen Dinner Theatre provides gourmet meals alongside vibrant entertainment which rightfully titles this establishment as a theatrical gem in the Midwest for generations to come.
Chanhassen Dinner Theatres ensures that there is a delicious dinner for everyone, with options ranging from a roasted beet salad to a grilled tip sirloin, and as the show comes to a close, be sure to end sweetly with a signature sundae or towering chocolate cake for two. Any group of 12 or more receives special rates and benefits. Reservations can be made up to a year in advance and your dinner & show ticket includes gratuity on the entrée portion of your dinner. Different packages ensure the best deal is given according to specific groups, and information about personal discounts is available by calling Group Sales or visiting their website.
CIRCA '21 DINNER PLAYHOUSE
New York City, New York
Take one step into the Circa '21 Dinner Playhouse and feel the overwhelming charm of what once was the bustling historic Fort Armstrong Theatre, first opened in 1921. Today, the classic building sits on the same corner in Rock Island, Illinois and offers a high-end dining experience and modern award-winning musicals while still maintaining the elegant and timeless atmosphere. Circa '21 Dinner Playhouse showcases a variety of events including comedies, dramas, mysteries, musicals, celebrity attractions and children's shows.
All ticket sales for evening and matinee shows include a freshly chopped salad or pasta salad, a plated entrée served to your seat and a choice of coffee or tea. Groups are always given a warm welcome at the playhouse. Your visit always includes complimentary tickets for escorts and drivers of motorcoaches, the best available seating at the time you make your reservation and plenty of free, safe motorcoach parking.
Coming in 2024: Agatha Christie's classic show Murder on the Orient Express will be playing at the Circa beginning January 19 and running through March 2. Beginning March 8 and running through April 27 is Church Basement Ladies, a show about how four women handle a Lutefisk dinner, a funeral, an Easter fundraiser and a wedding while staving off potential disasters and having fun. Showing May 3 through July 6, Jersey Boys takes you behind the music of Frank Valli and the Four Seasons to discover the secret of a 40-year friendship as the foursome work their way from the streets of New Jersey to the heights of stardom.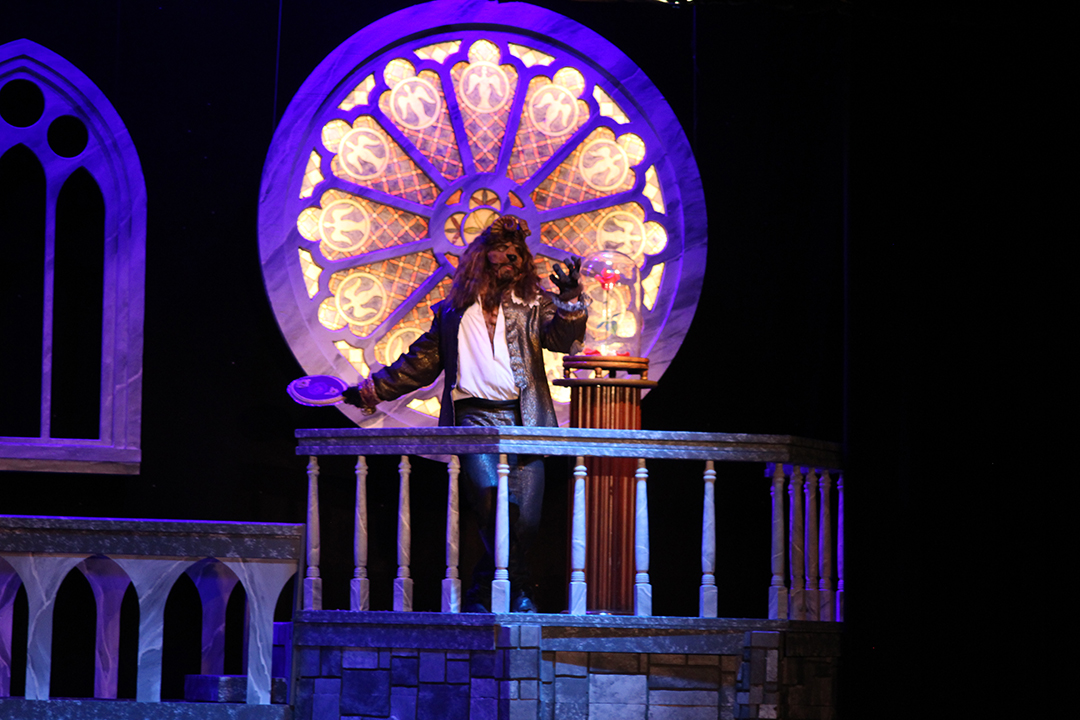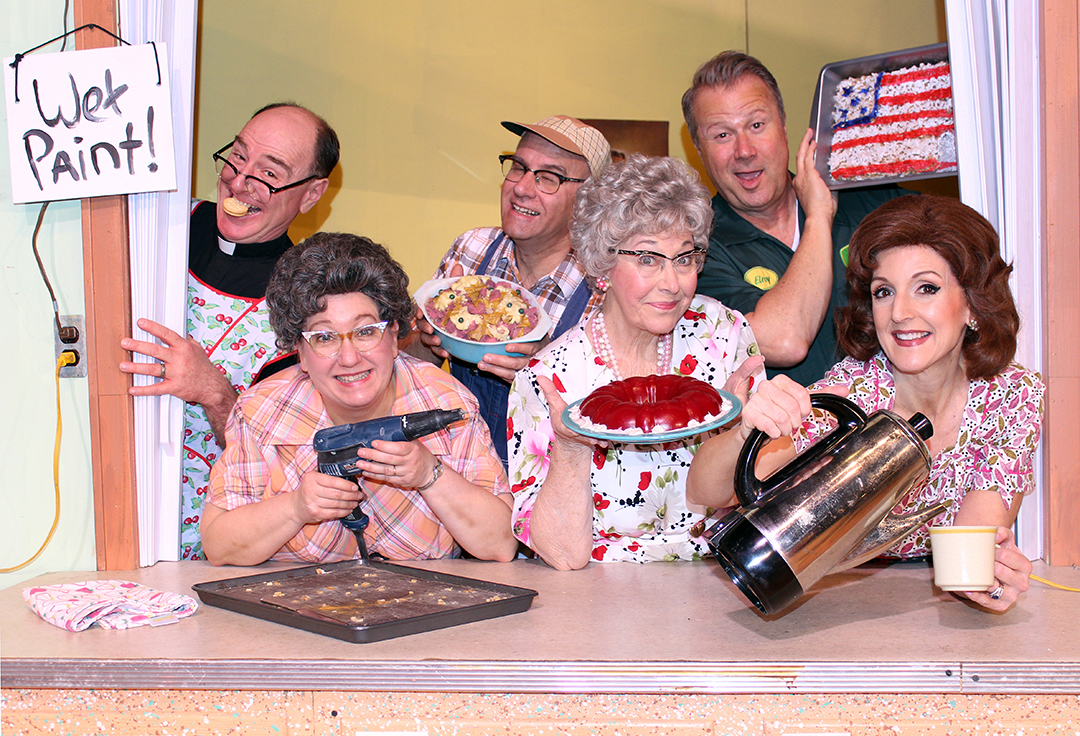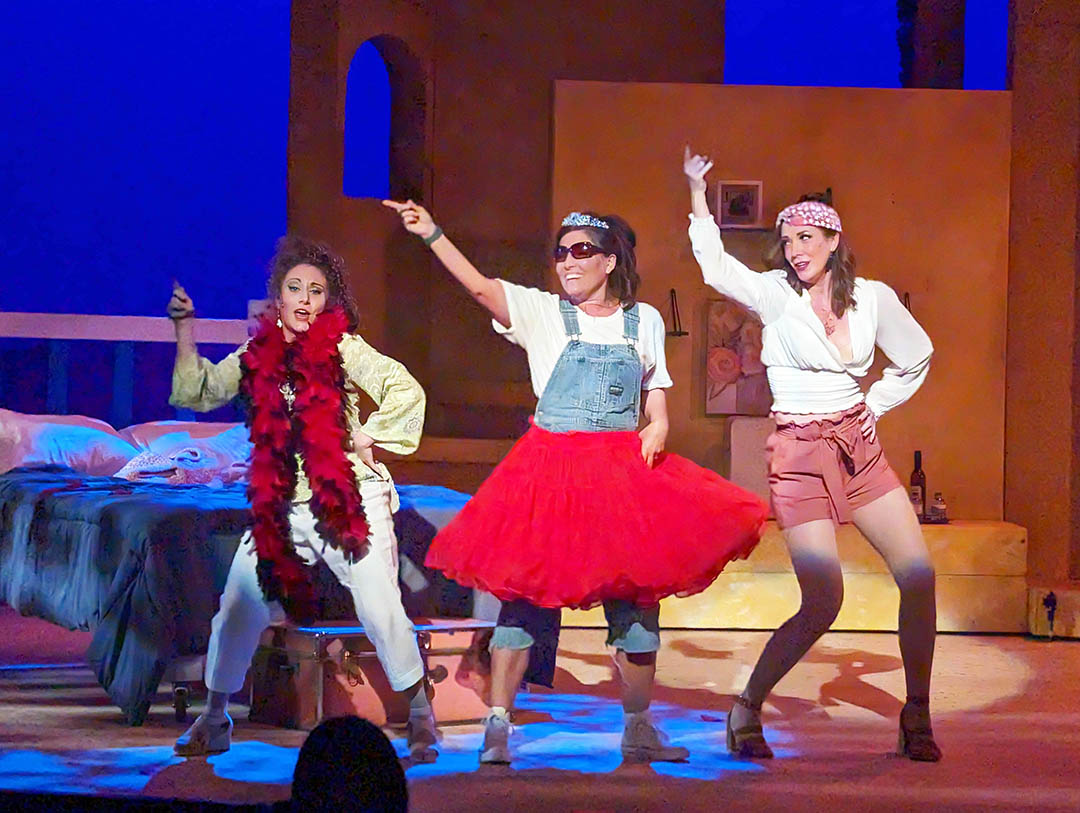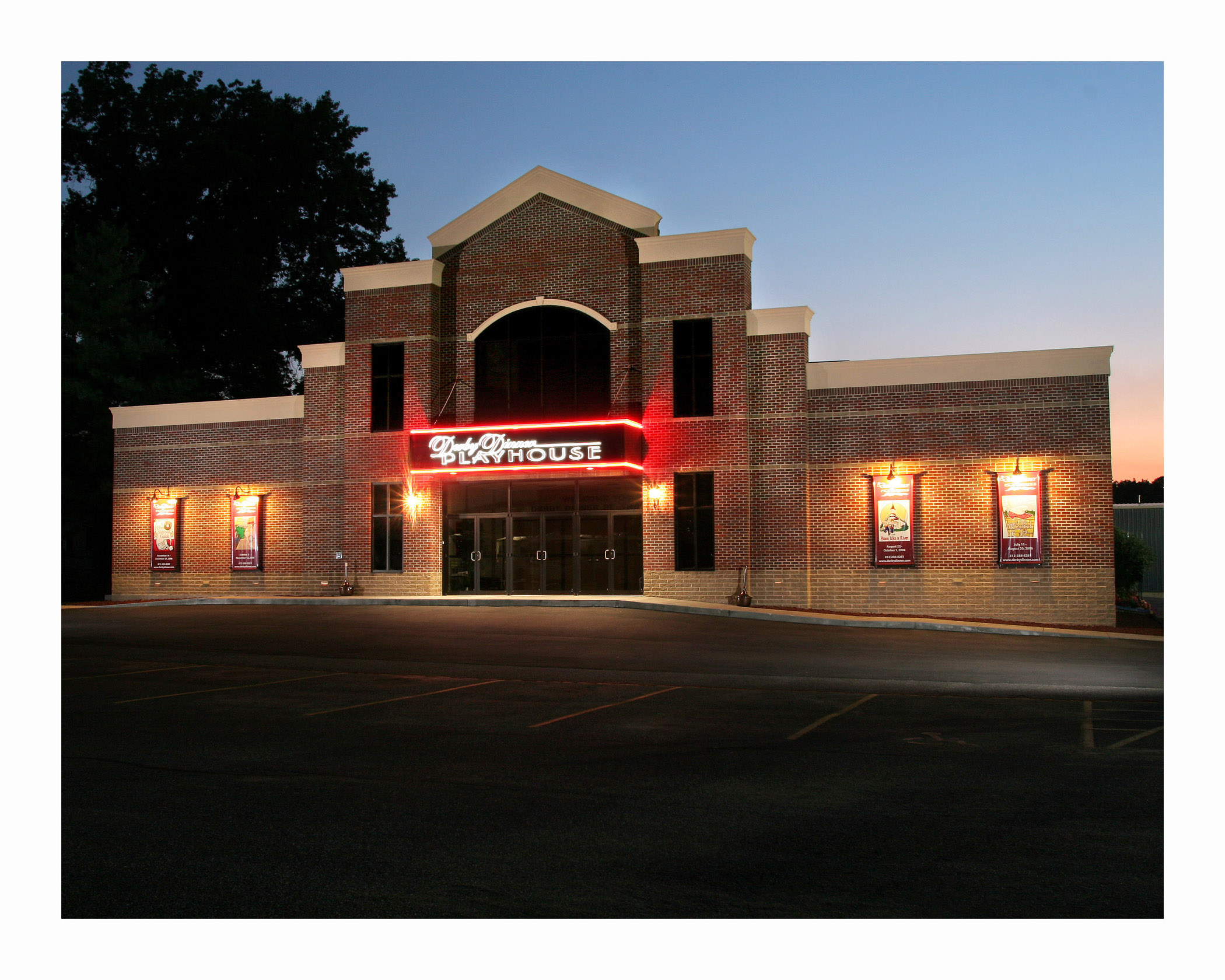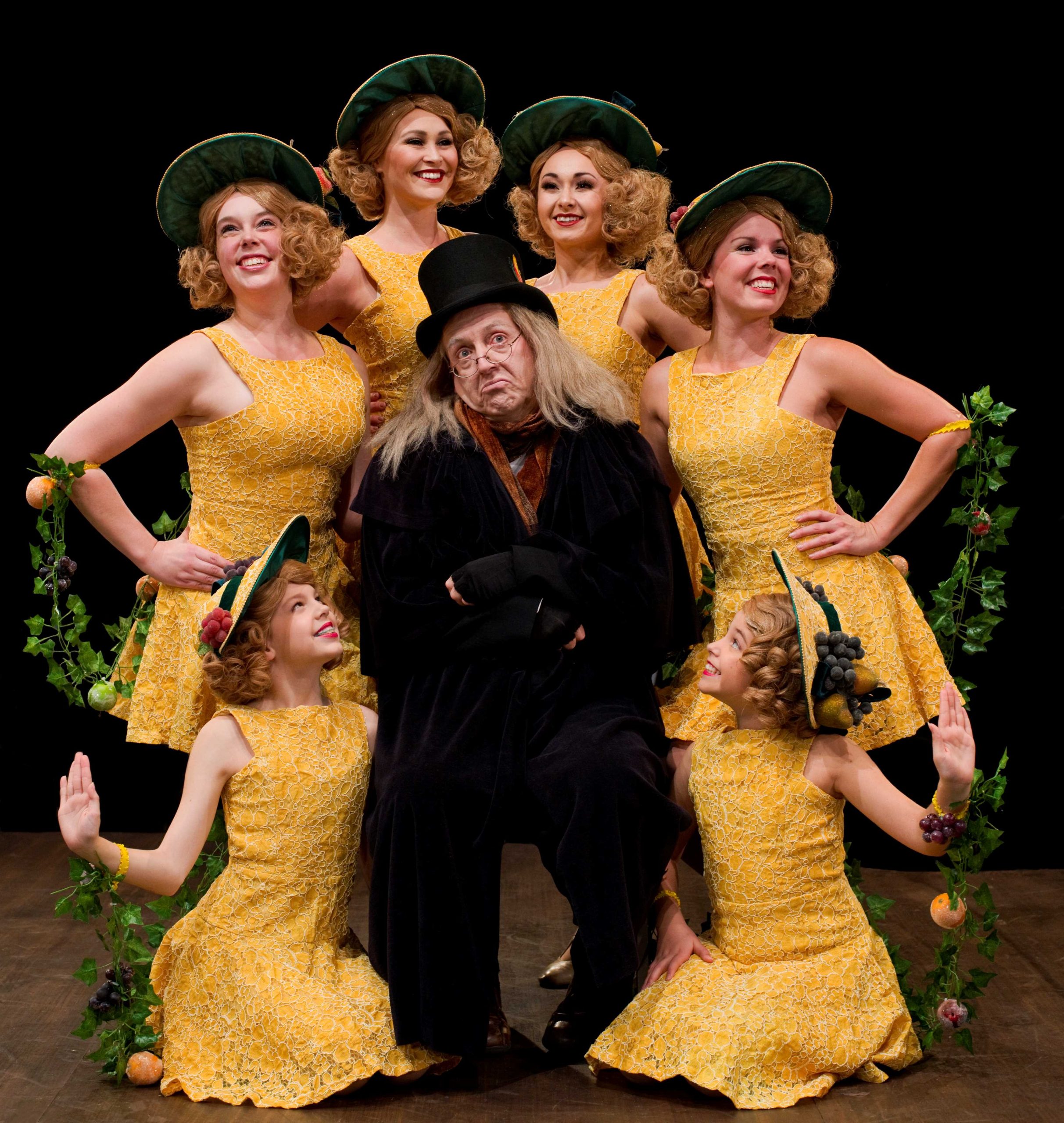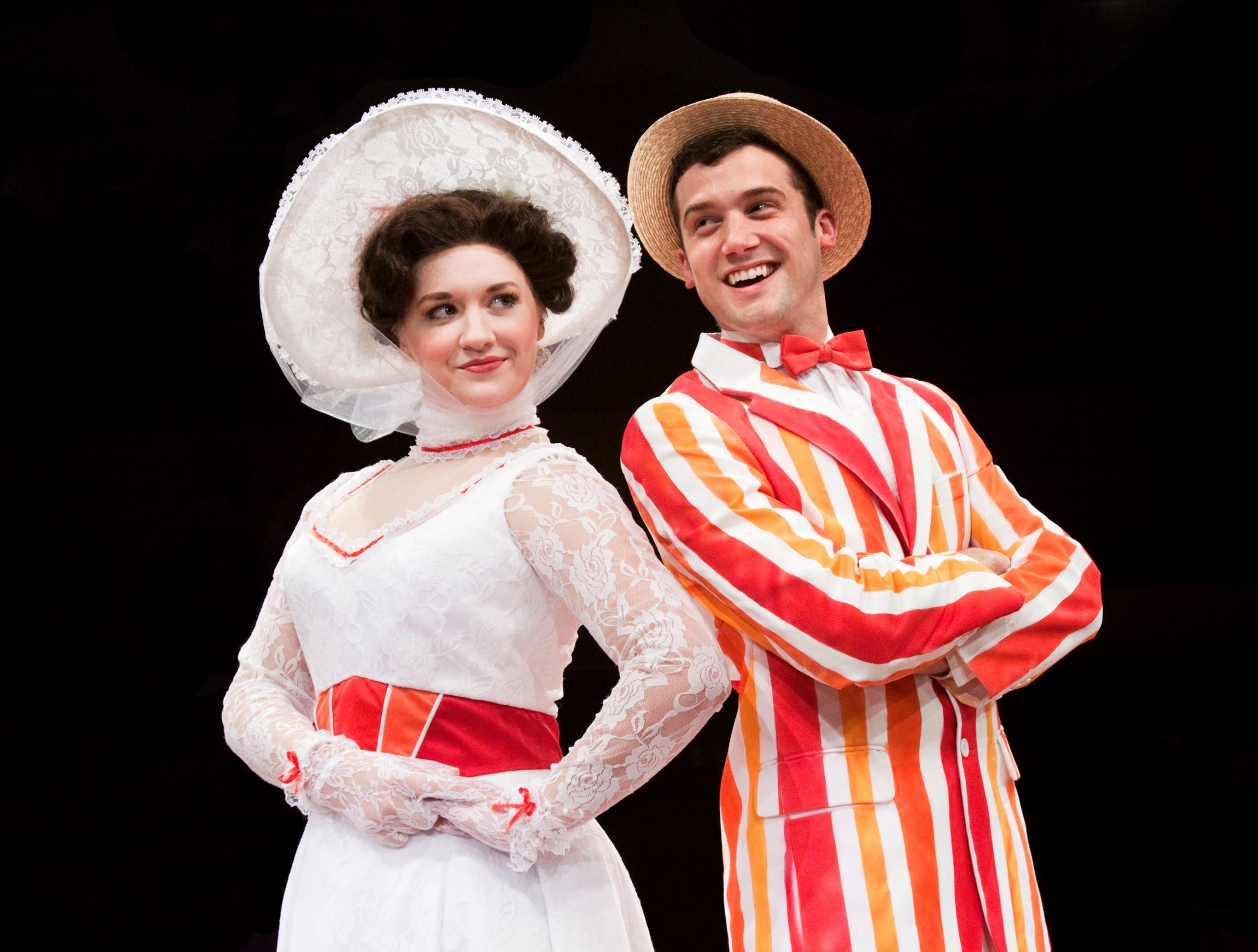 Derby Dinner Playhouse
Clarksville, Indiana
Derby Dinner Playhouse is proud to be in its 49th season featuring such shows as BUDDY – THE BUDDY HOLLY STORY, ACCOMPLICE, A CHRISTMAS CAROL THE MUSICAL, THE BUNCO SQUAD, SWEENEY TODD, and FOOTLOOSE.
Located just minutes from downtown Louisville, this 450-seat theatre is noted for its professional productions of Broadway musicals, comedies, and Children's Theater. The Derby Dinner stage is surrounded by tiers of dining tables set "in-the-round," which provides an intimate setting not usually found in most theatrical venues. The freshly prepared home-style buffet includes such Southern favorites as fried chicken and fish, green beans, mashed potatoes, and a full salad bar. And homemade desserts are a specialty of the house.
Sit back and enjoy Derby Dinner's own talented vocal ensemble, The Footnotes, as they entertain you just prior to the stage production. With its wide variety of shows, excellent food service and intimate facility, an evening at Derby Dinner Playhouse is truly something that everyone can enjoy. Group rates are available for groups of 20 or more and coffee and soft drinks are free.
Dutch Apple Dinner Theatre & Broadway Palm Dinner Theatre
Lancaster, Pennsylvania/Fort Myers, Florida
Entertaining guests for over 45 years, the Prather family continuously provides great entertainment at a great value. With two convenient locations, these remarkable theatres deliver top-notch entertainment. Experience dinner theatre at its best starting with a lavish buffet complete with salad bar, hot entrees, sides and desserts. Then sit back and relax with a captivating Broadway-style production featuring nationally selected performers, dazzling sets, beautiful costumes and a live orchestra.
A special rate inclusive of meal, show, tax and meal gratuity for parties of 16 or more makes this the perfect attraction for your groups. Group leader and motorcoach driver receive a complimentary meal and show ticket. Contact Group Sales today.
Whether it be a romantic date, celebrating a big family birthday or corporate work event, The Dutch Apple Dinner Theatre presents outstanding performances, delectable meals and excellent hospitality which will leave all guests applauding for more.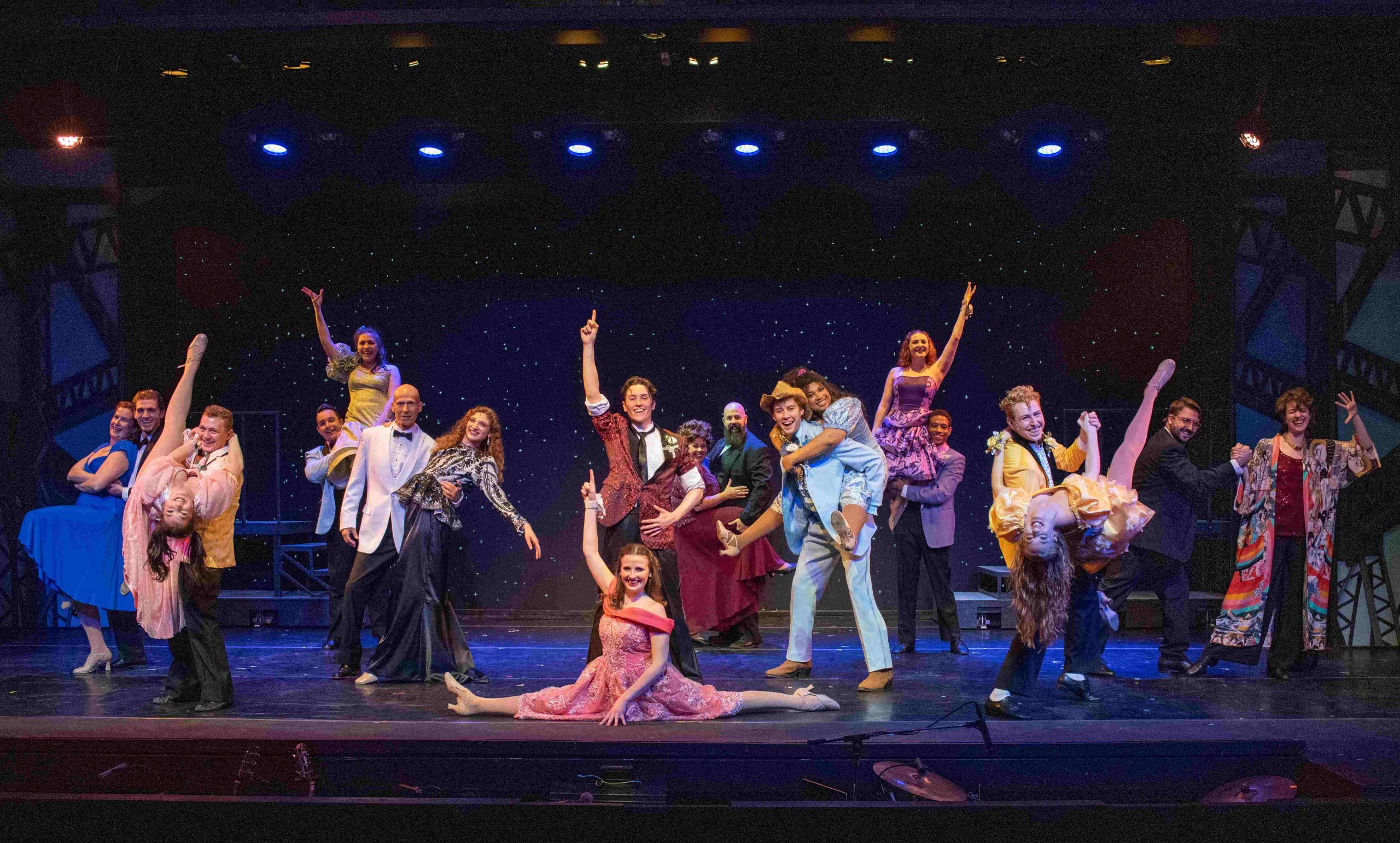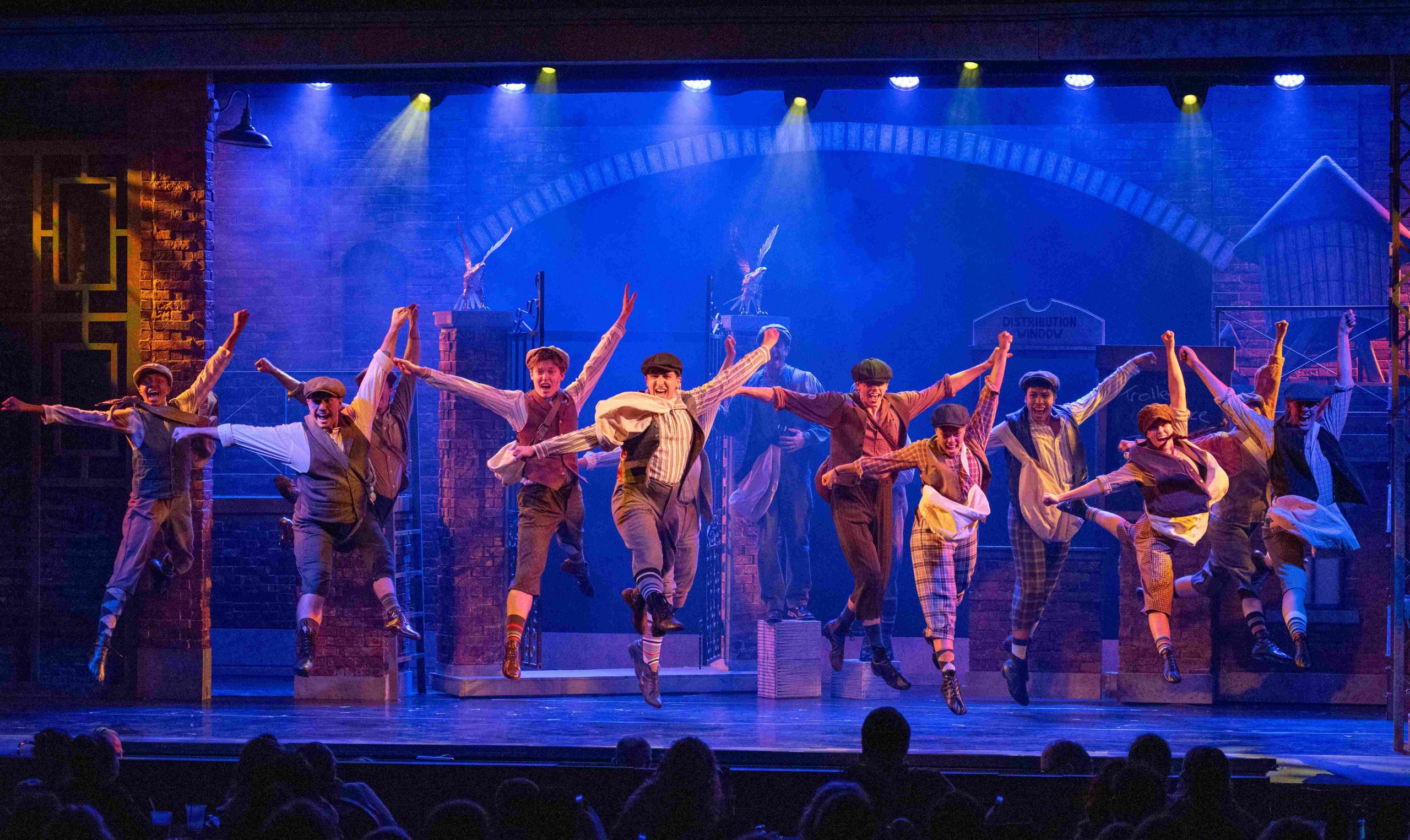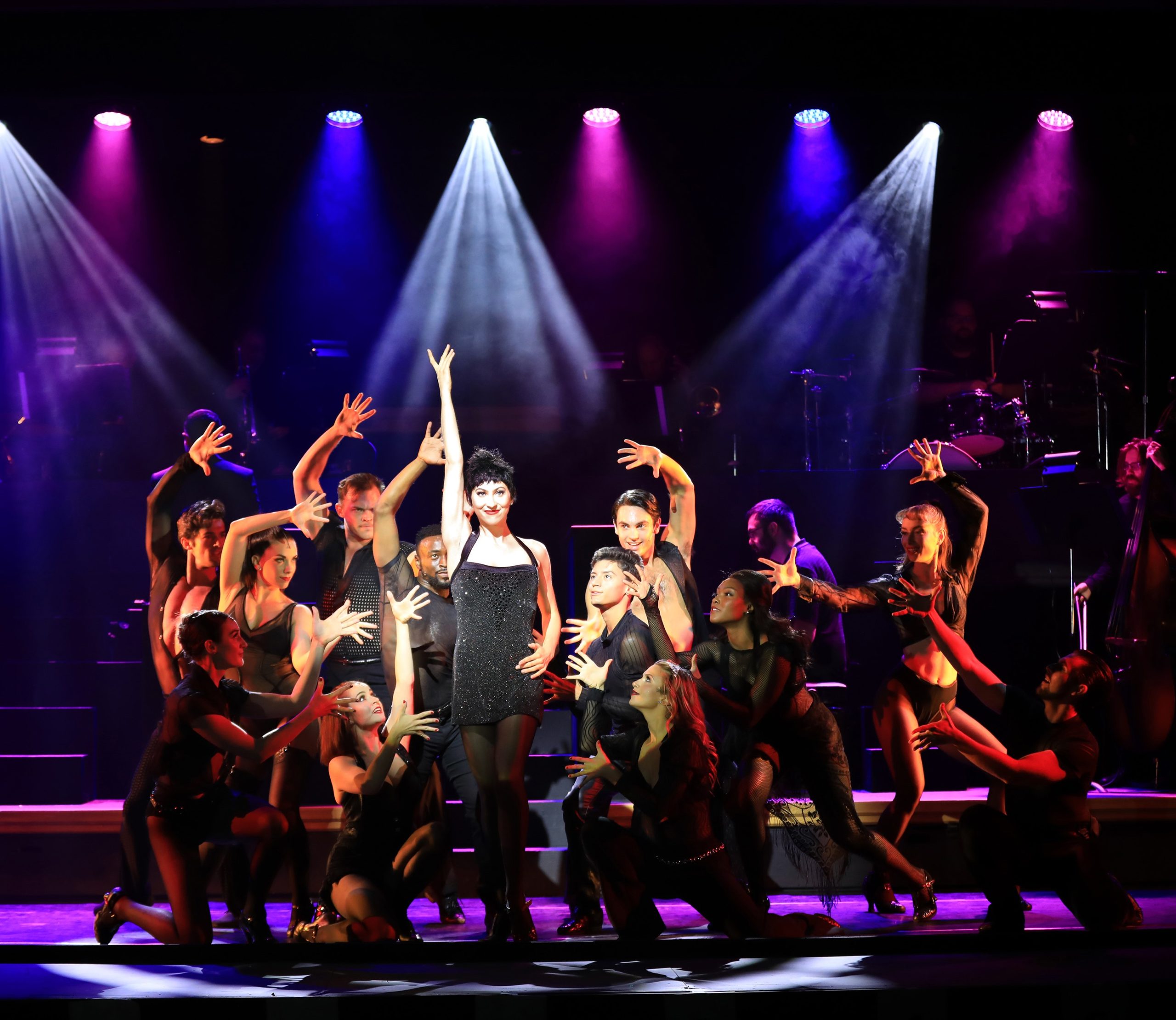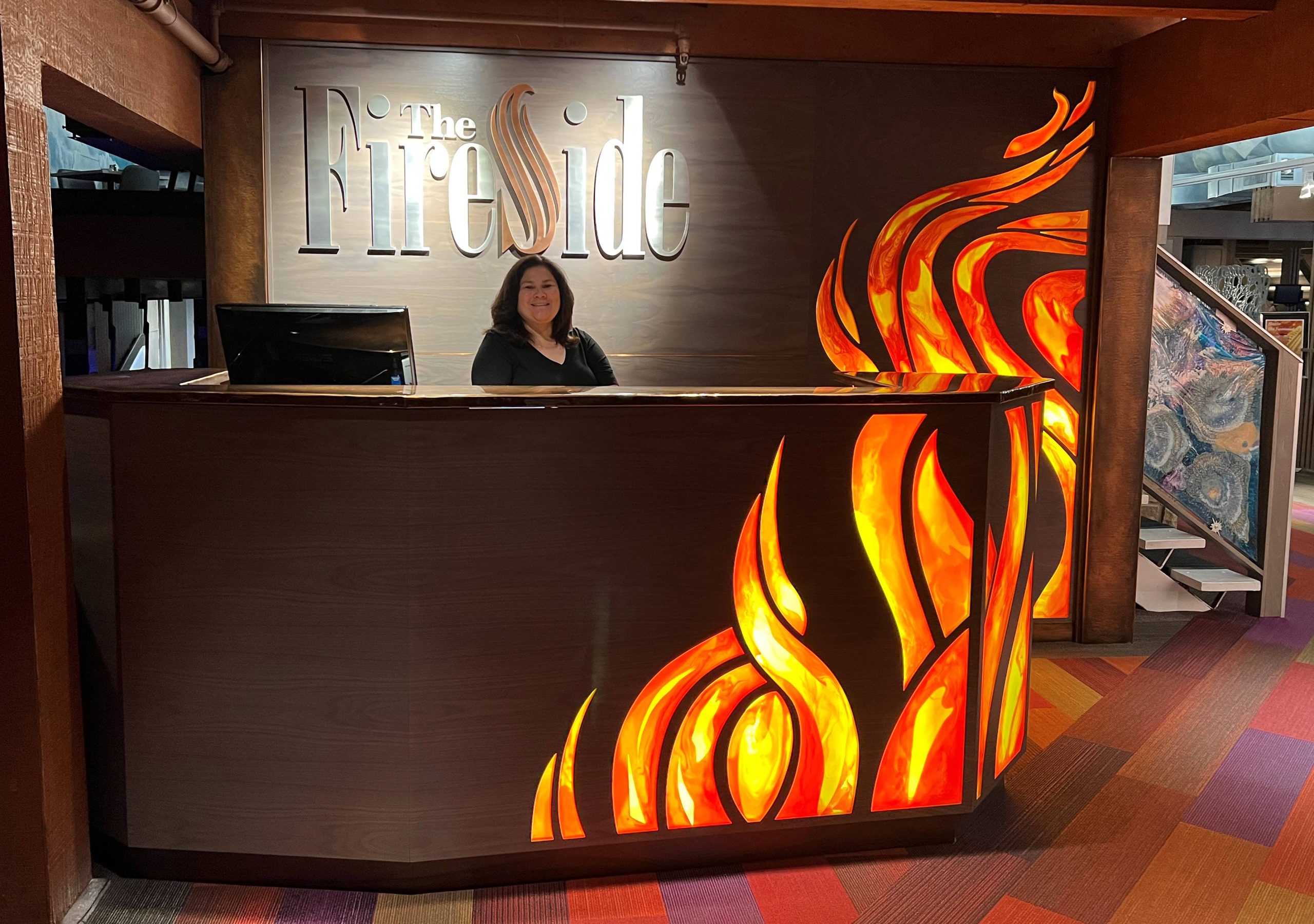 The Fireside Dinner Theatre
Fort Atkinson, Wisconsin
The Fireside is proud to celebrate its 60th year in 2024 as it presents its 47th theater season. Opened in 1964 and now in its third generation of Klopcic Family hospitality, The Fireside is a complete destination in itself or the perfect complement to any Wisconsin tour.
Your visit begins with a personal greeting and escort to your tables in the beautiful and unique restaurant. Before or after dining, you can browse the charming specialty shops or enjoy a cocktail in the lounge. You'll then enter the 650-seat theater-in-the-round for a professional theater experience featuring Equity actors, singers and dancers from across the country. The entire experience is sprinkled with a personal touch that's made The Fireside one of Wisconsin's top visitor attractions for six decades.
Groups of 13 or more save up to $17 off the individual ticket price. The expert group sales team will walk you through the easy booking and payment plan, provide meal and gratuity options, offer promotional assistance, and even send motorcoach groups home with a box of cookies! Thanks to a location within 1.5 hours of Milwaukee, Madison, Lake Geneva and Wisconsin Dells, it's easy to turn a one-day tour into a several-day adventure. Performances run Thursday through Sunday year-round and are accessible to guests with disabilities.
Murry's Dinner Playhouse
Little Rock, Arkansas
One of the longest running dinner theatres in America, Murry's Dinner Playhouse has been entertaining Arkansas with the Best of Broadway for 56 years. We are proud to offer a complete evening of food, fun, and fabulous entertainment at one low price.
Our 2023 season includes the classic comedy Arsenic and Old Lace, Agatha Christie's Murder on The Orient Express, Joseph and the Amazing Technicolor Dreamcoat, The Addams Family and Disney's Beauty and the Beast.
The theatre opened in 1967 as the Olde West Dinner Theatre. It was remodeled and reopened in September 1977 as Murry's. Murry's founder Ike Murry was a well-known and respected lawyer and civic leader, serving as state attorney general during 1948-52 and as a gubernatorial candidate in 1952. Today Ike Murry's daughter Ginger and her son Ike Murry McEntire continue to run the theatre in his tradition.
Murry's is a proud member of the National Dinner Theatre Association, an organization of professional dinner theatres from across the country. Together with the NDTA Murry's sponsors the Ike Murry Memorial Scholarship. An annual scholarship awarded to a University of Arkansas at Little Rock theatre or dance Major.
Murry's is located just minutes from downtown Little Rock, AR. Group rates and complimentary tickets for escort and driver are available for parties of twenty or more. Please join us this season and experience the wonderful world of live theatre.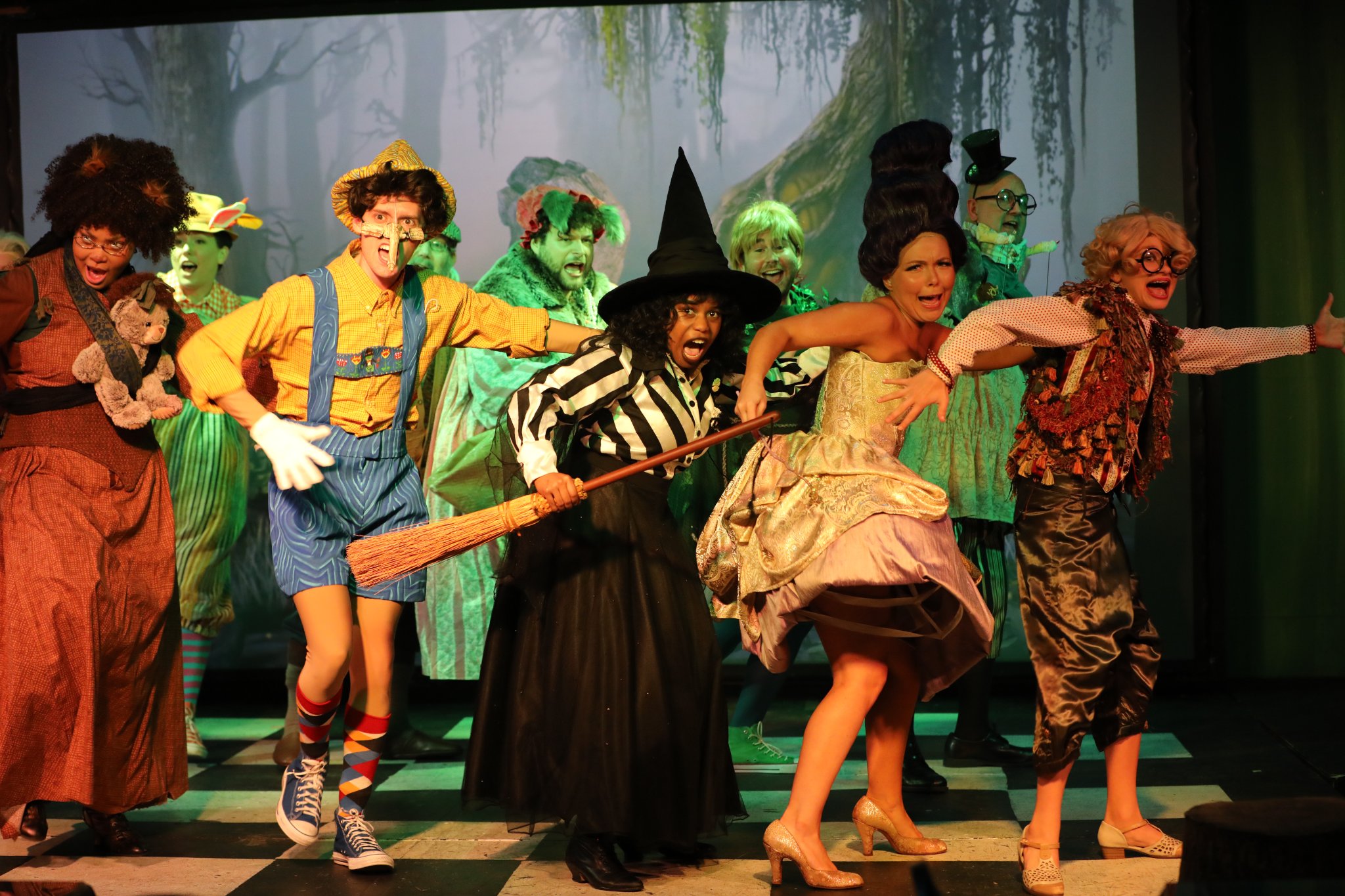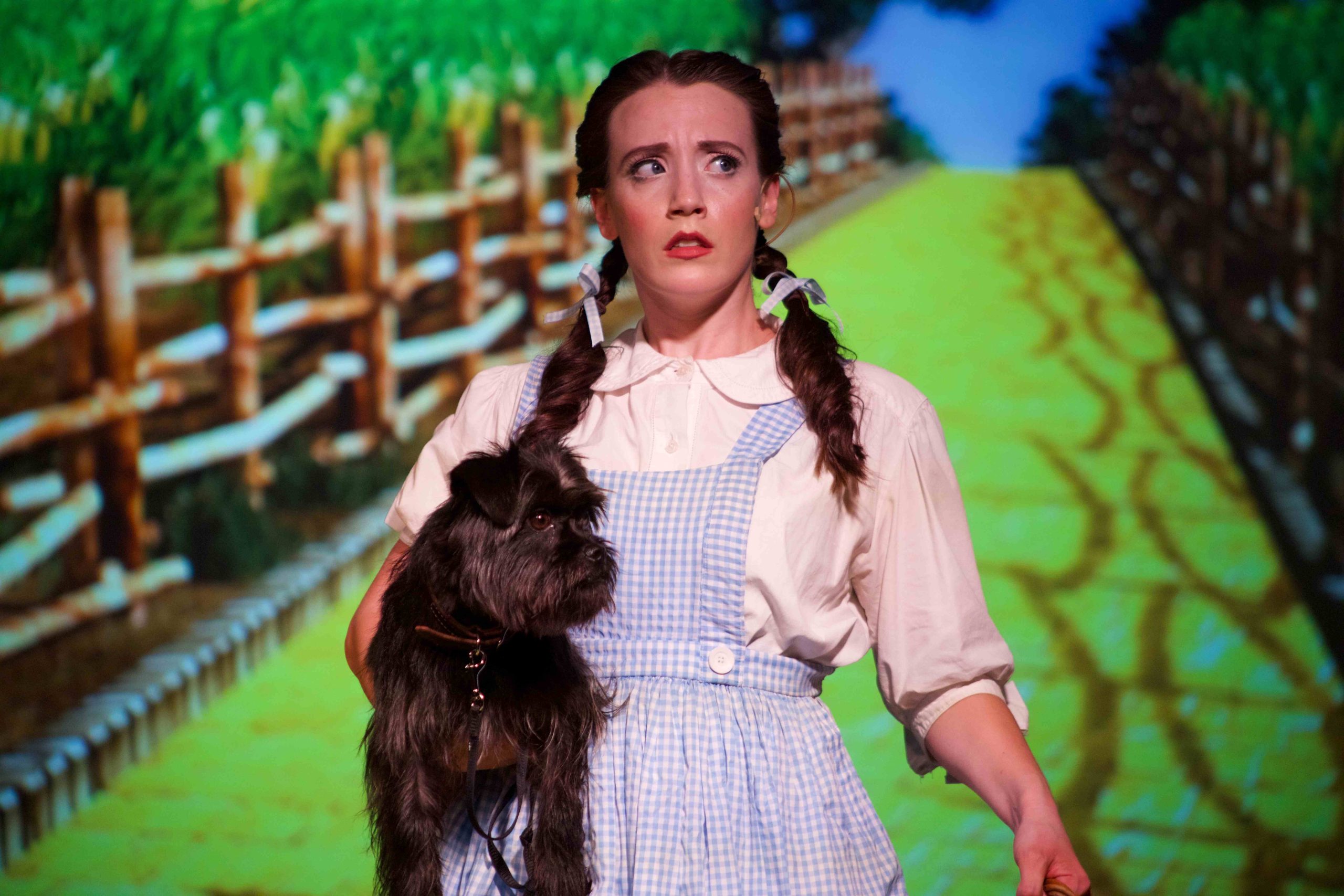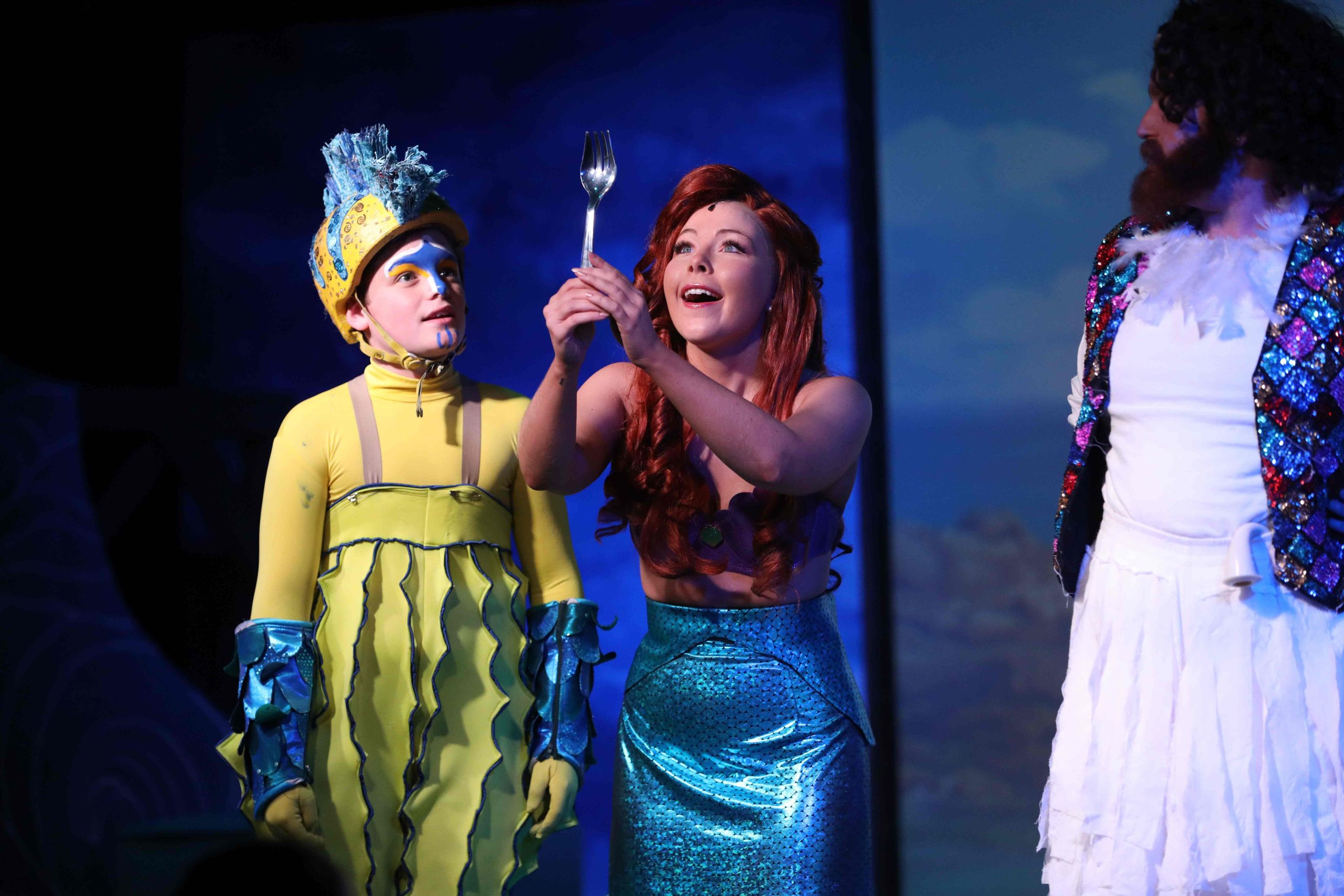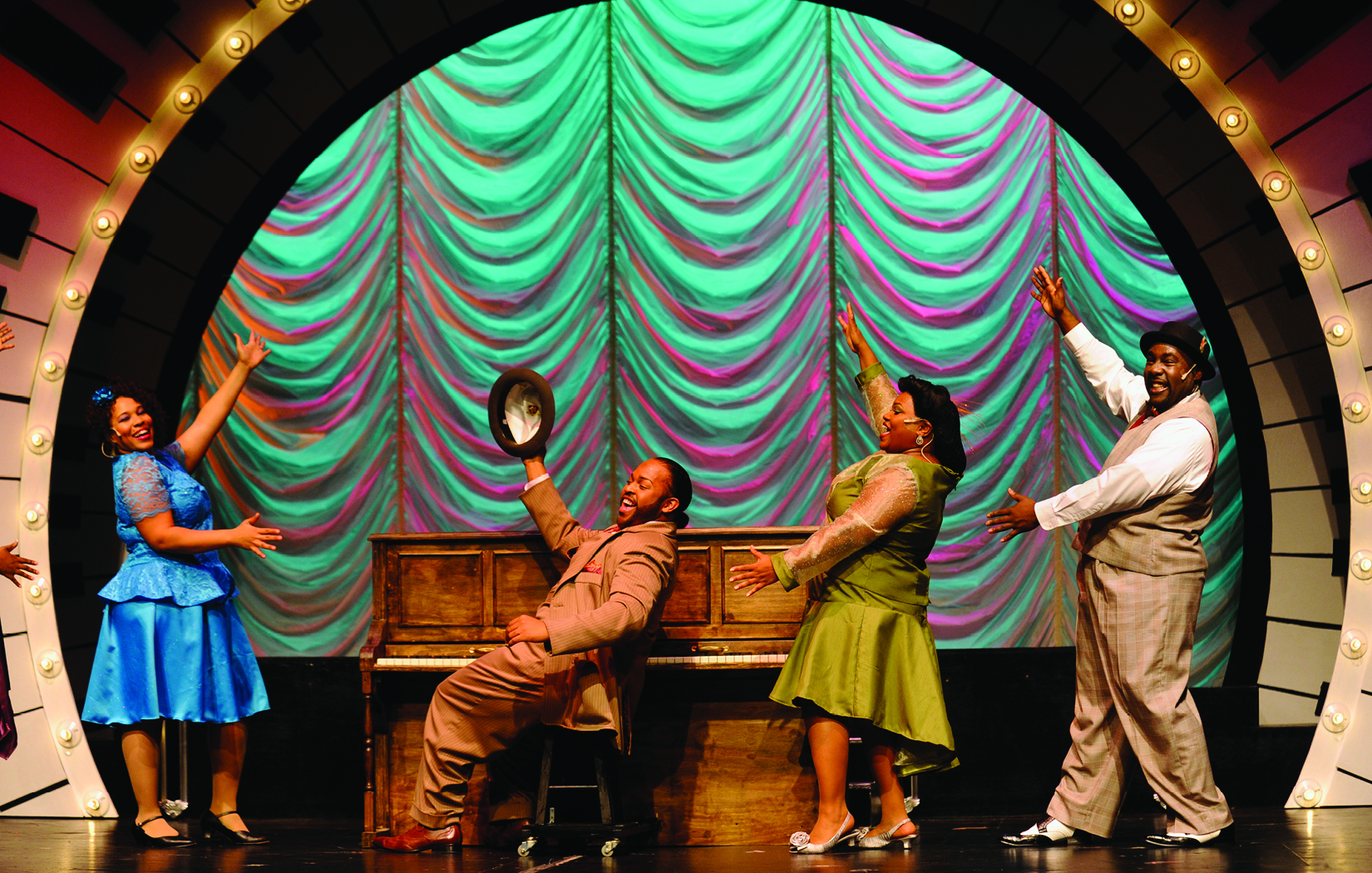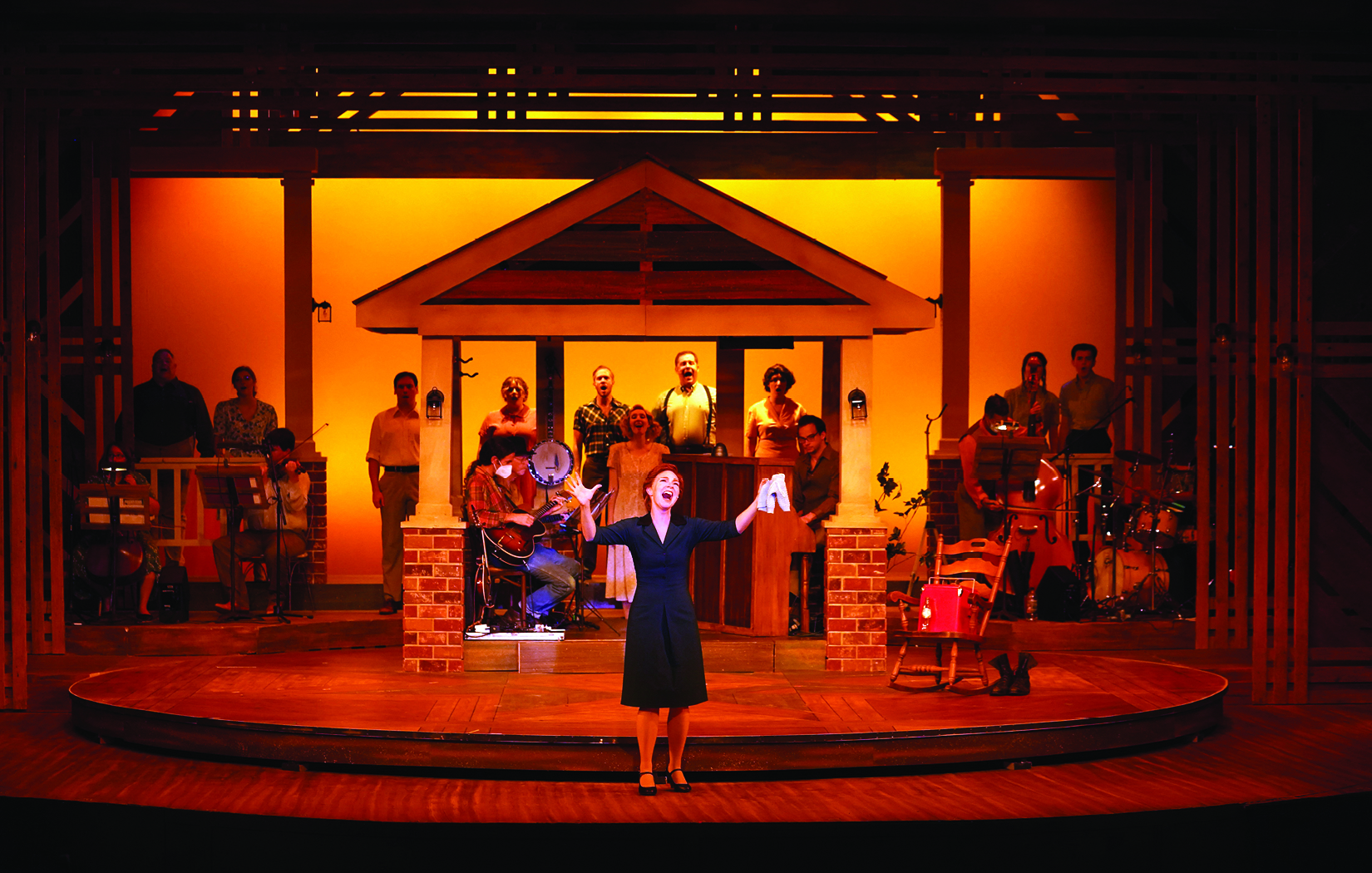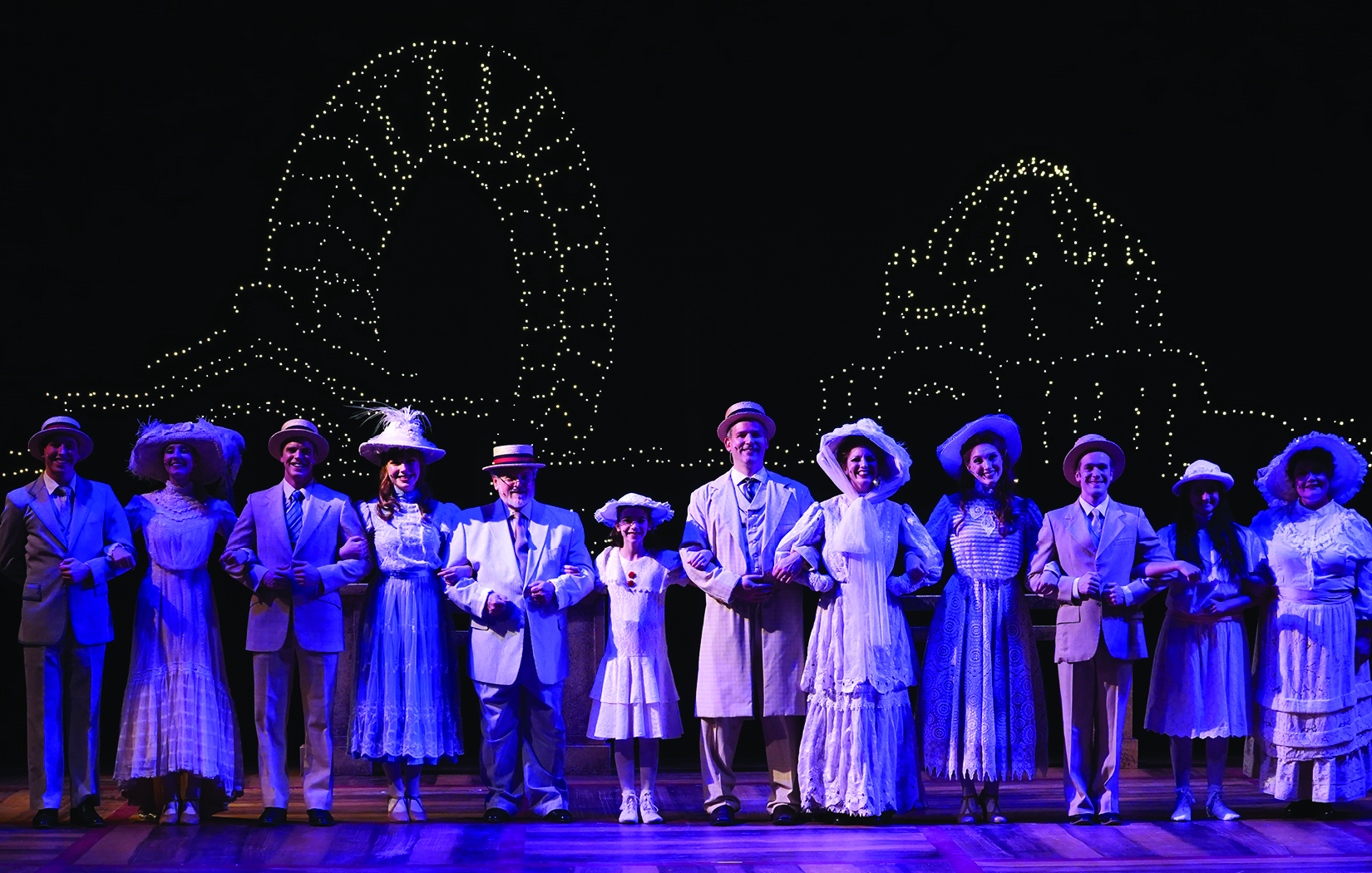 Riverside Center for the Performing Arts
Riverside Center Dinner Theater and Conference Facility in Stafford County, Virginia, opened in 1998 with the theater's inaugural performance of Oklahoma! Since then, Riverside Center's illustrious stage has been the site for more than 100 mainstage musical and dramatic productions and more than 120 musical adaptations of popular children's stories for its Children's Theatre.
Built in response to the late Rollin E. Wehman's vision for bringing professional performing arts, and especially live musical theatre, to the Fredericksburg area, Riverside Center is 36,000 square feet of dinner theatre and conference facility all rolled into one beautiful building. Specially-designed according to a multi-function concept, the two spaces are gracious and accommodating to many different purposes for both large and small gatherings of people and for many different purposes. Over half a million patrons have experienced the enchantment of Riverside Center since 1998.
In 2016, the facility was rebranded as Riverside Center for the Performing Arts.
The theater is a traditional proscenium stage, boasting Virginia's only dinner theatre fly loft for exquisite sets and seamless transitions between scenes. Riverside's ever-widening reputation and recognition for production excellence has attracted performers from the Broadway stage and national-tour casts, and noted musical theater critics have cited Riverside Center as "consistently demonstrating high-quality, professional-caliber productions" and "one of the best places to see musicals in the D.C. area."
Every week, Riverside offers both evening and matinee main stage performances, as well as Children's Theatre matinees on Saturdays and selected weekdays. Dinner Theatre patrons enjoy a three-course, chef-prepared meal served by an experienced staff of waiters, a service not generally found in dinner theaters elsewhere. Between its fine theatre facility and a commitment to bringing the best productions of the musical stage to central Virginia, it is the aim at Riverside Center to raise the standard of dinner theater entertainment for its patrons.
Round Barn Dinner Theatre
Nappanee, Indiana
Known nationwide for over 50 years of excellence in food and entertainment, the
Round Barn Dinner Theatre experience is something you won't find anywhere else.
Enjoy delicious, farm to fork food in our spacious, welcoming restaurant barn, followed by a
world-class, Broadway-style stage musical in our famous Round Barn Theatre.  Our talent comes from all over the world and the reviews of our Broadway titles as well as original shows like "When Calls the Heart: The Musical," and "A Musical Christmas Carol" are glowing. Our authentic Round Barn Theatre was beautifully converted into a 400-seat theatre, complete with a hand-hewn dome ceiling crafted by Amish carpenters. Located on Amish Acres, the only Amish homestead on the National Registry of Historic places, you will love the entire property of The Barns at Nappanee.
Walk through the courtyard to browse our shops, enjoy antique wagon rides, tour the pioneer
Amish farmhouses, visit the pretzel and ice cream shops, enjoy the antique shop and much more. Located between Fort Wayne and South Bend, Indiana, and less than 40 minutes from the South Bend airport, it's a beautiful, easy drive through Amish country to enjoy a full day or
two of incredible food, world-class theatre and unique shopping. Upcoming shows include the world premiere of our original production of "Love Comes Softly: The Musical," as well as "Anastasia: The Musical" and other golden age Broadway musicals.
Don't miss our concert series featuring top artists.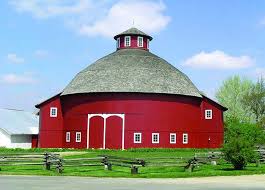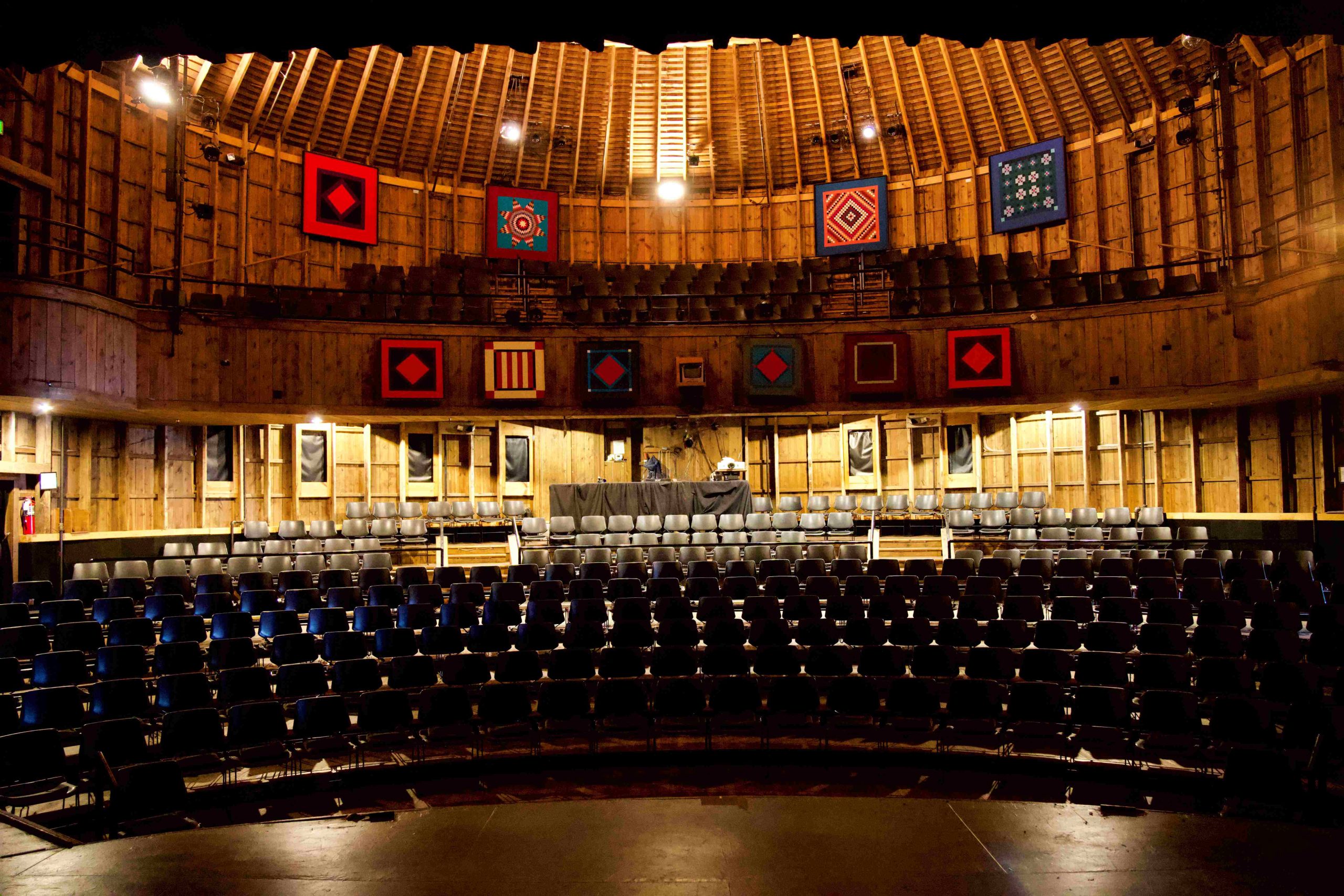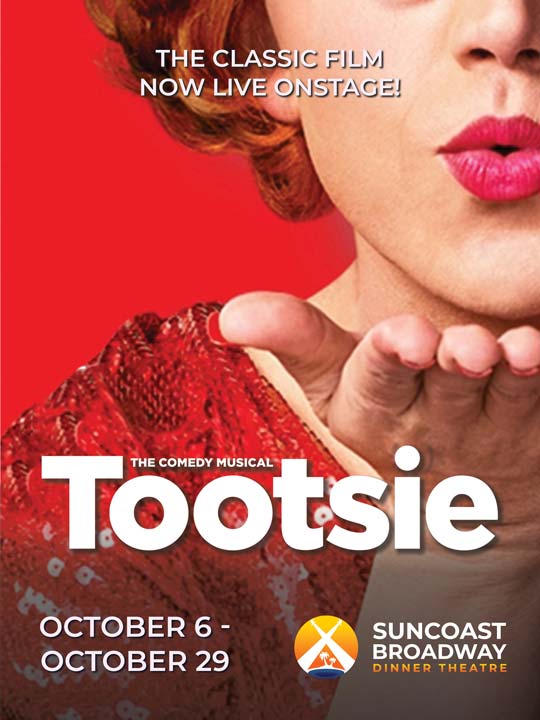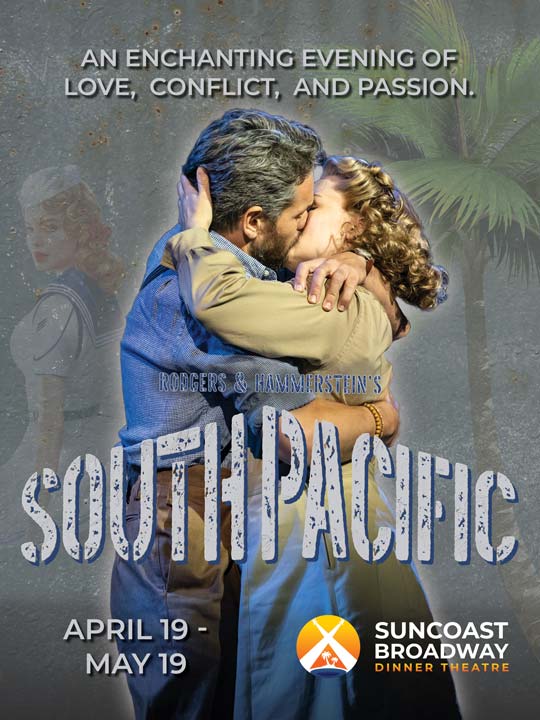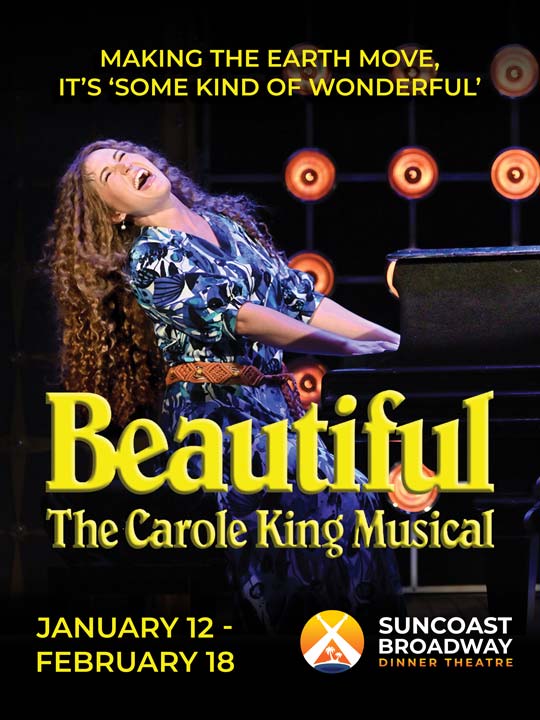 Suncoast Broadway Dinner Theatre
Hudson, Florida
Less than 45 minutes north of Tampa and two miles from Florida's gulf coast, Suncoast Broadway Dinner Theatre combines the best of live, professional entertainment with a scrumptious, all-you-care-to-eat dinner. Audiences can experience the hottest Broadway titles or rocking tribute concerts, all featuring nationally recruited talent backed by state-of-the-art lighting, sound, and scenery. Suncoast's newly renovated dining room provides an elegant, plush and roomy experience with more than half of the seats fully ADA- accessible. Upcoming shows include the Florida regional premiere of Tootsie, White Christmas, Beautiful, The Carole King Musical, Cats and South Pacific. Don't miss our concert series featuring top tribute artists showcasing the music of Elvis, Neil Diamond, Fleetwood Mac and more! Every show is a hit at Suncoast Broadway.
With room to accommodate up to 400 patrons and plenty of parking for tour buses, Suncoast Broadway is greater Tampa's choice for large group outings and bus tour. With dinner and entertainment at one convenient location, Suncoast Broadway provides an all-inclusive experience saving not only money, but headaches saving group leaders time and energy normally devoted multiple stops.
Our premier buffet features several menu selections, some themed to our Broadway show. Patrons have the option to add-on one of our specialty show-themed cocktails from our full-service bar. Our all-inclusive group ticket includes preferred and grouped seating, discounted dinner and show, plus a non-alcoholic beverage, table-served dessert, tax, and gratuity. Better yet, groups save up to 40% off retail pricing. Call 727-843-7949, visit us online at suncoastbroadway.com or email us directly at groups@suncoastbroadway.com to set up your customized Broadway outing today.
Toby's Dinner Theatre
Columbia, Maryland
Located in the heart of Columbia, Maryland, Toby's Dinner Theatre offers award-winning Broadway and original musicals with an exceptional buffet-style dinner. From our customer's first contact with our Box Office or Group Sales staff to watching our servers transform into glamorous, talented performers on stage, our commitment to our guests' enjoyable Toby's experience is first and foremost.
Toby's celebrating 45 years has its own history and style receiving over 100 Helen Hayes Award nominations confirming the excellence of our productions.
This unique venue, with amazing performances "in-the-round," provides each guest with a dynamic interactive experience and a great view, with no seat more than 30 feet from the stage. Additionally, Toby's is one of the few regional dinner theatres featuring a live orchestra.
At Toby's, we offer a 25-item salad bar, carving station, a plentiful buffet uniquely selected by our chef for each show and desserts. With our full service bar you can enjoy a cocktail, beer, wine or Toby's signature show drink which is served in a take home souvenir glass.
Toby's Dinner Theatre offers eight shows weekly with both evening and matinee performances. For more information please visit their website or call 410-730-8311.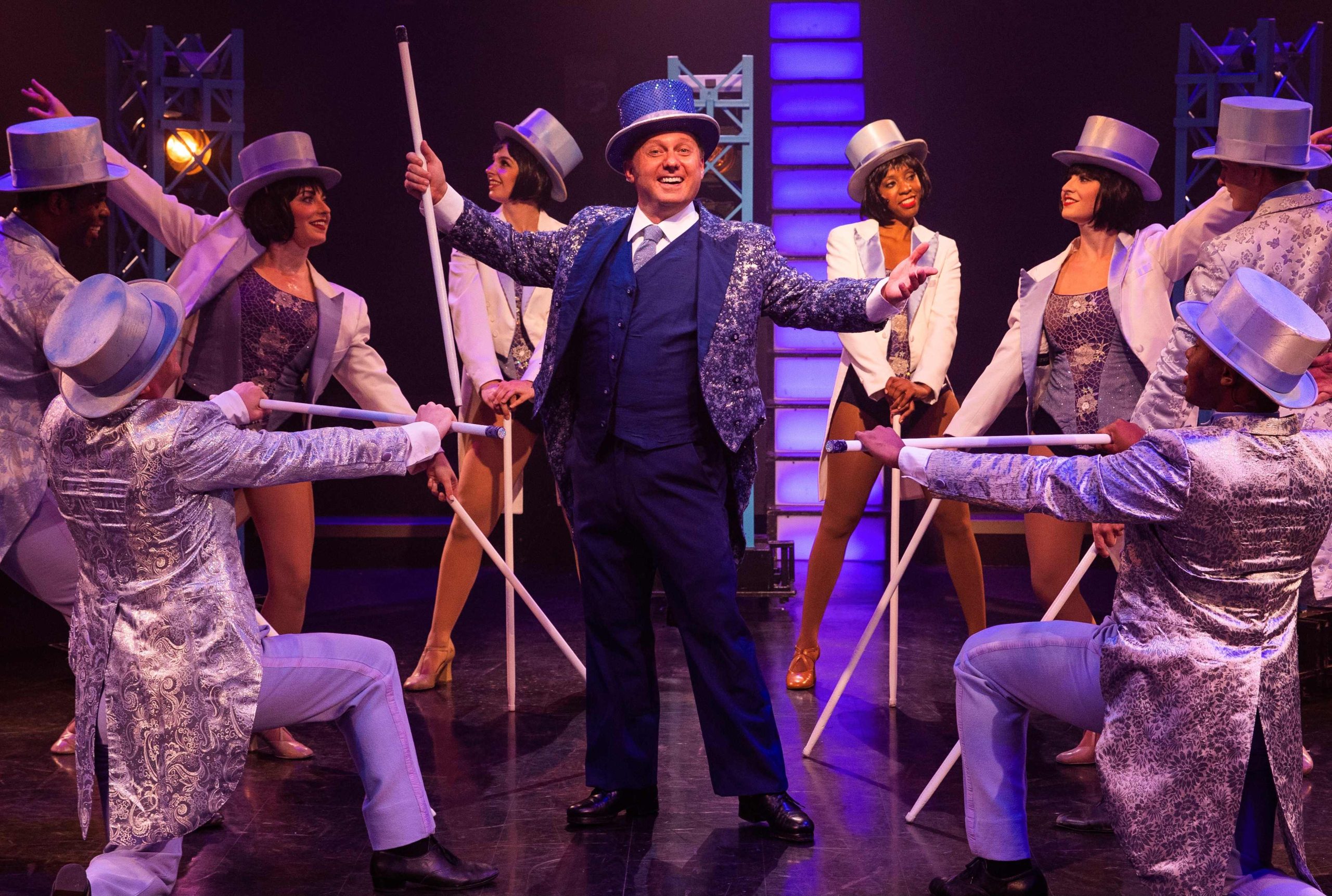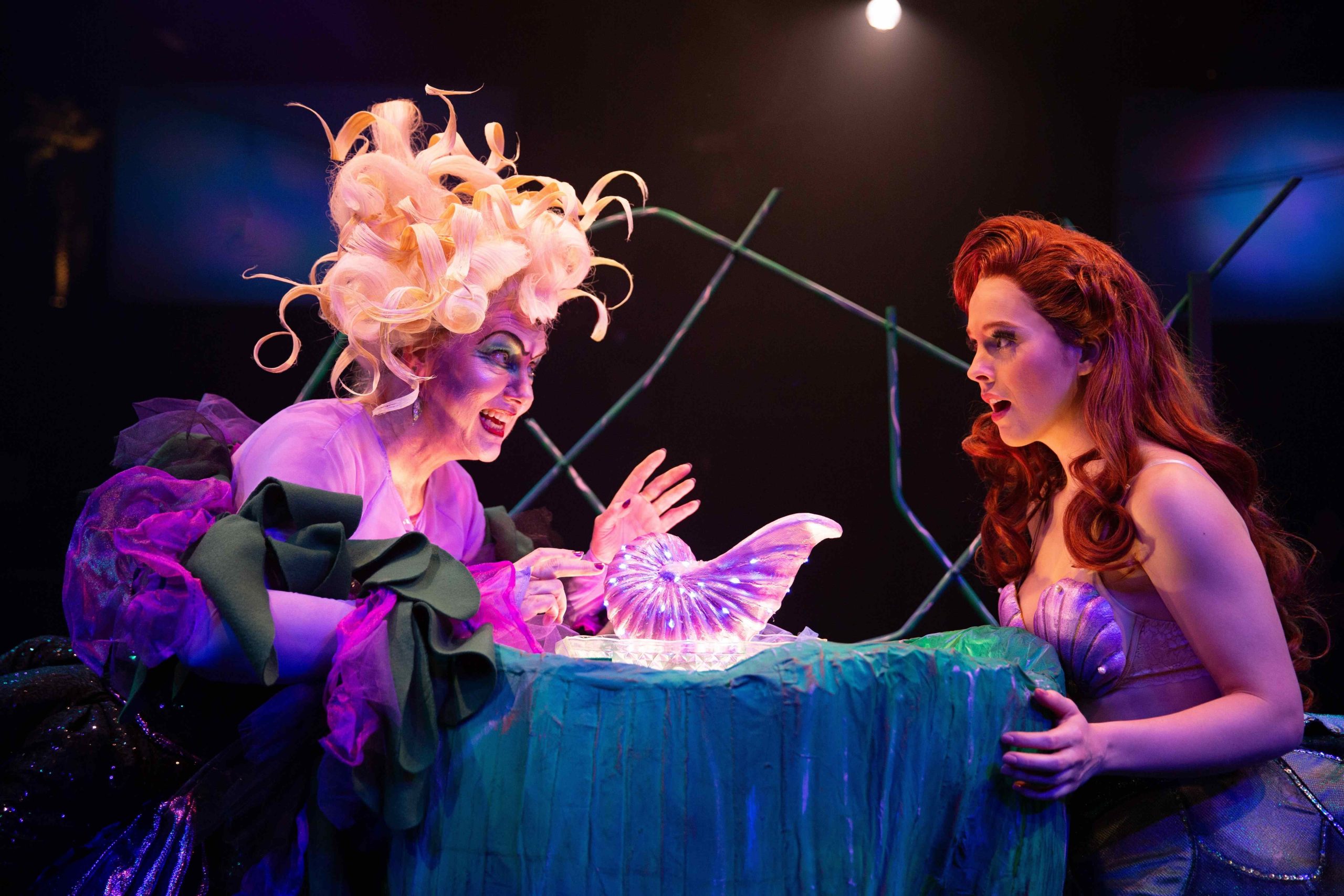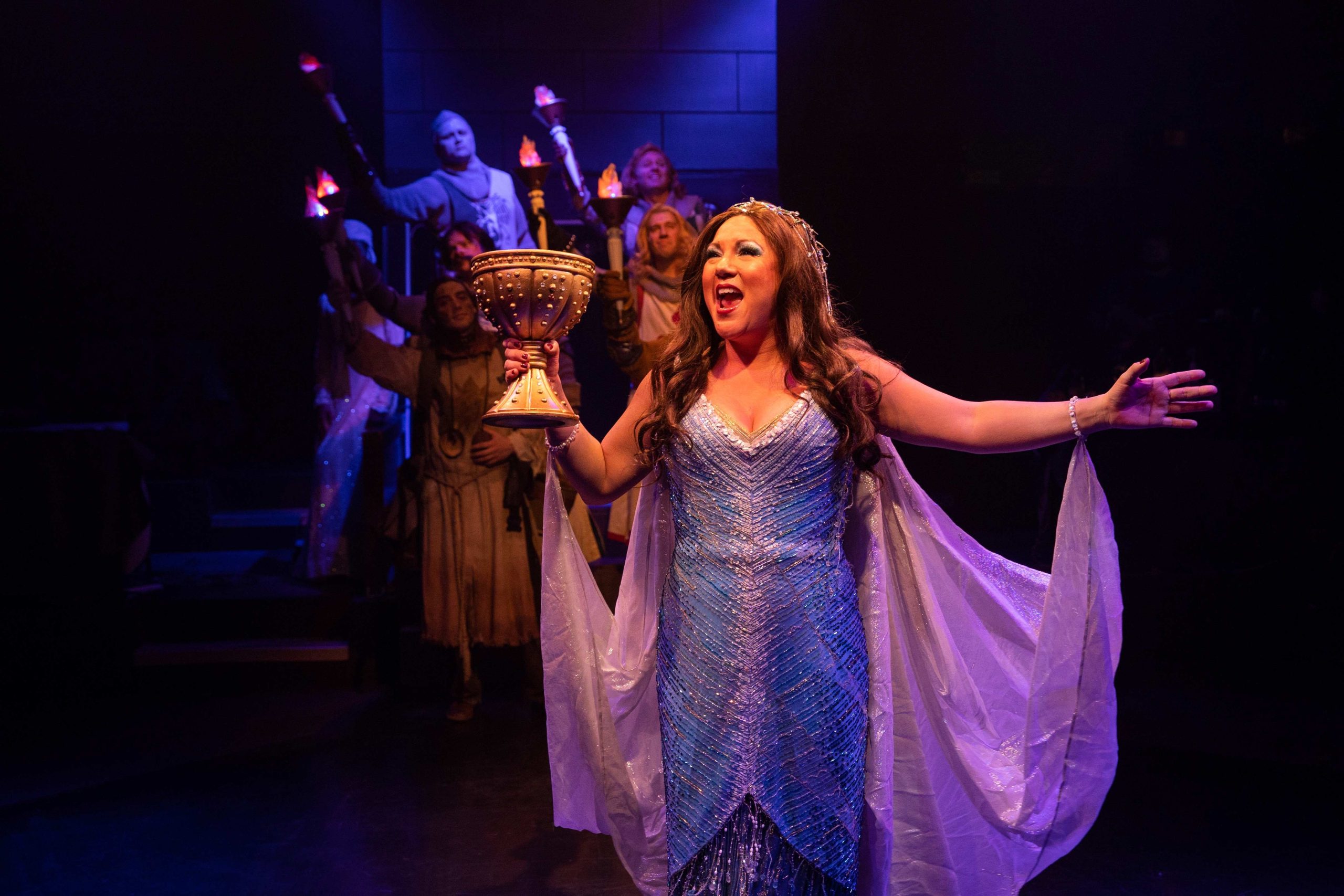 WASHINGTON COUNTY PLAYHOUSE
Hagerstown, Maryland
The historic Washington County Playhouse opened its doors in 1985. It has been operating continuously since that date in its current location. Nestled behind Hagerstown's City Hall on Cramer Alley, The Playhouse produces live stage productions paired with delicious meals. The intimate venue features a three quarter thrust stage, so there is not a bad seat in the house. The Seasons feature five Mainstage Productions as well as "Playhouse +" programming which includes interactive murder mystery dinner shows, concerts, theatre for young audiences and children's theatre camps. Group sales are available for those attending with 14 people or more. For groups of 20 or more there is a complimentary ticket for the group leader and bus/motorcoach driver.