These spiritual communities in Minnesota's St. Cloud area are home to stunning architecture and priceless artifacts
In 1856, five monks from St. Vincent Archabbey in Pennsylvania ventured to the small town of St. Cloud, Minnesota. Their mission was to establish a new priory and serve the poor German immigrants of the region, spreading their Benedictine philosophy of service and selflessness. Within a few years, the brothers found their message so popular that they established Saint John's Abbey in nearby Collegeville along the pristine waters of Lake Sagatagan. Today, visitors can explore the 2,500-acre grounds of the abbey, which include prairies, glacial moraine hills and Saint John's University, a liberal arts college that serves nearly 4,000 students.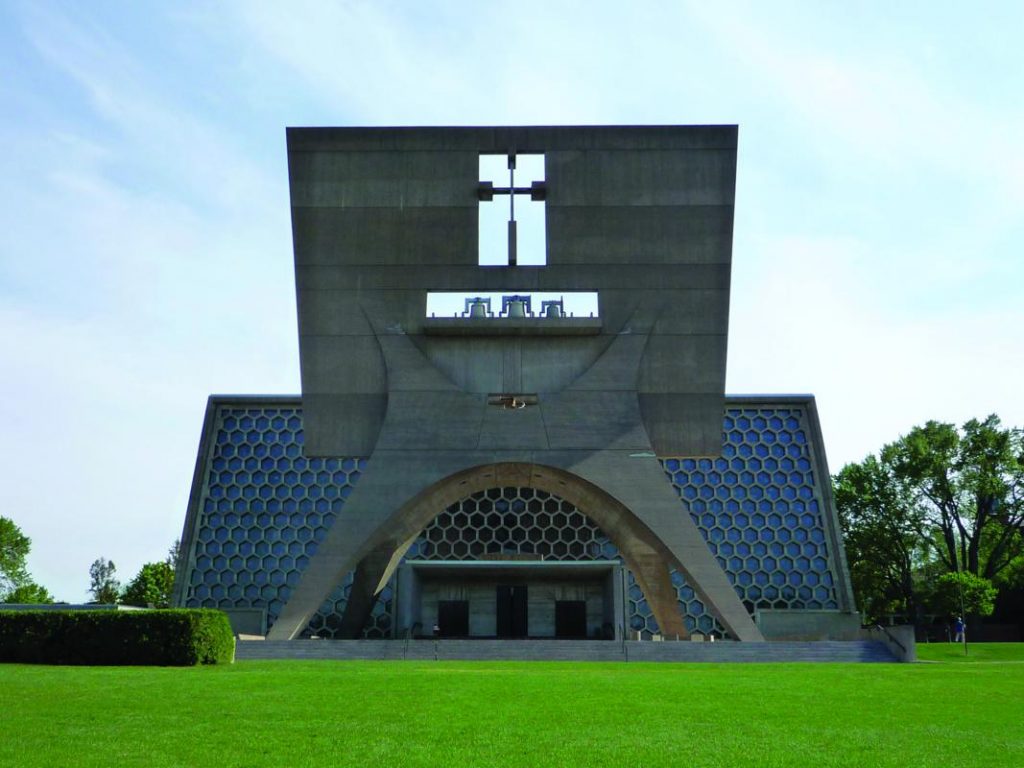 The campus centerpiece is the Abbey Church of Saint John the Baptist. Completed in 1961 during the Second Vatican Council, the structure was one of the world's first Catholic churches to integrate liturgical changes from Vatican II into its design. Its trapezoidal shape, vast ceilings and 360-degree pulpit encourage worshipers to gather closely together, and minsters and musicians to project sound outward to the audience. Touring groups can admire the W. Holtkamppipe organ, a huge, honeycombed wall of stained glass on the building's north facade, and the church's iconic bell tower.
This 112-foot "banner" rings its five bells in preparation for church services or monastic prayer, and its enormous parabolic base gives it a distinctly modern look rare in Catholic architecture. Visitors are always welcome during morning prayer and Sunday services, and the resident monks are happy to explain their lifestyle and answer spiritual questions.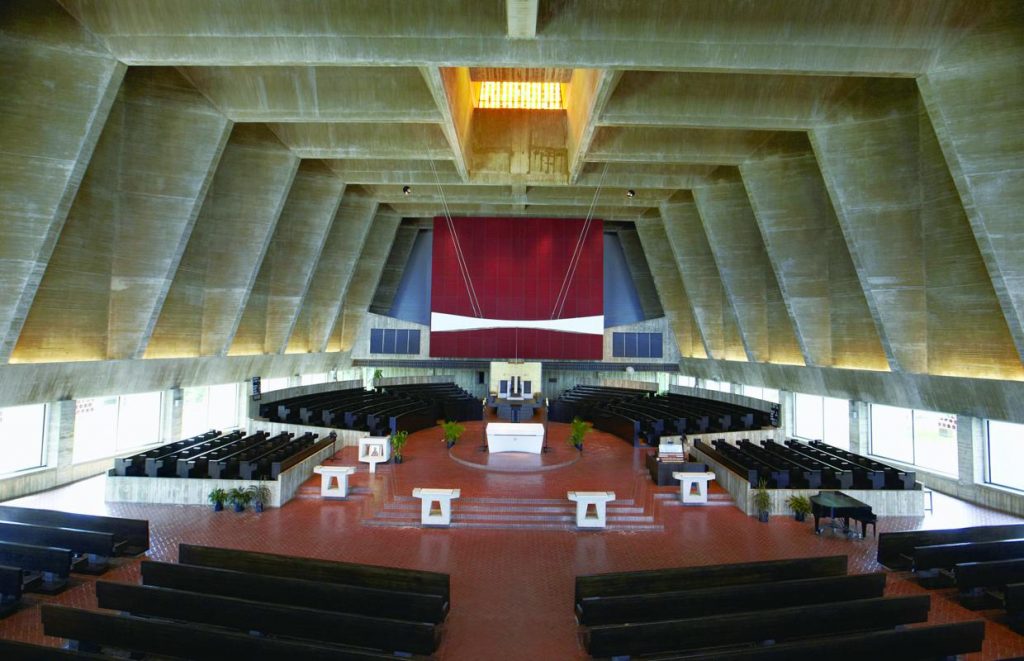 Exploring Minnesota's Saint John's University
Next, venture outside to explore the rest of the Saint John's University campus. Highlights include Clemens Stadium, home to the Johnnies football team, and the Hill Museum & Manuscript Library, which houses thousands of rare medieval and early modern manuscripts from Africa and Asia. However, the library's most valuable holding is the Saint John's Bible, the first completely handwritten and illuminated Bible commissioned by a Benedictine abbey since the invention of the printing press. The manuscript is pressed onto parchment in the Enlightenment tradition, and 160 illustrations are "illuminated" with gold and silver leaf pressed onto the page to depict holy moments.
Groups looking to stay overnight will find lodging at the Abbey Guesthouse, a 25-room facility that offers home-cooked meals and meeting space to facilitate a spiritual retreat. Options for longer stays include group retreats overseen by a monk with generous time for discussion, meditation and prayer.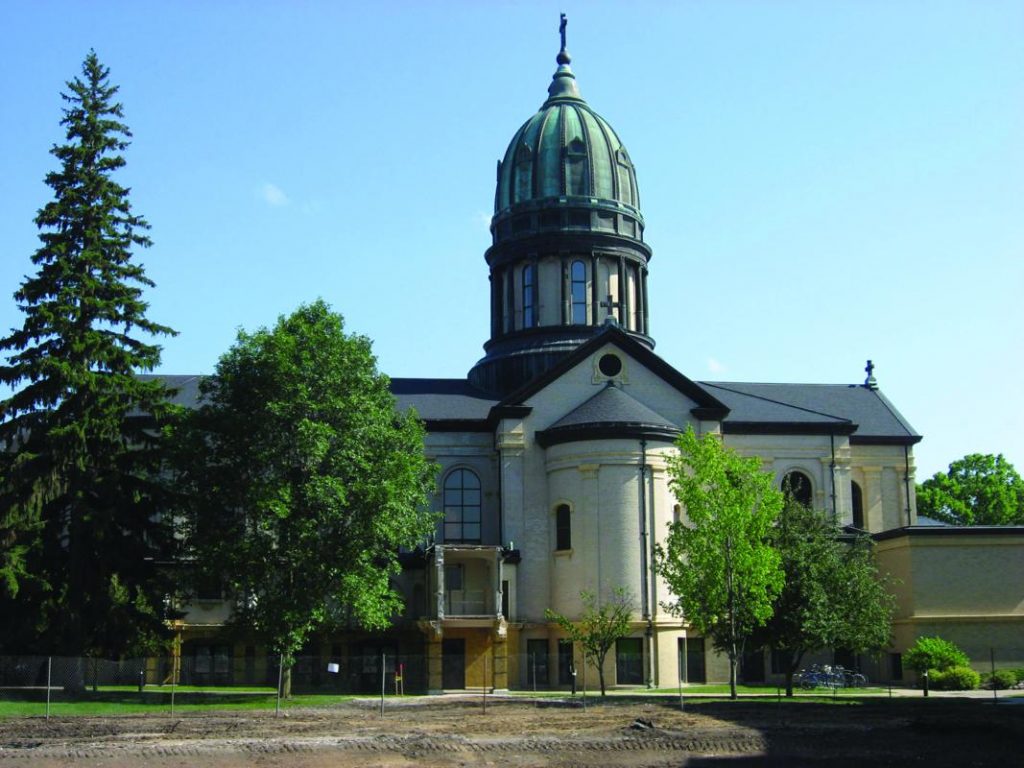 Discover Saint Benedict's Monastery in Minnesota
Also of spiritual interest is Saint Benedict's Monastery in nearby St. Joseph. This convent was established by nuns who emigrated from the 19th-century kingdom of Bavaria to encourage higher education for Midwestern women. The 6-acre campus now serves nearly 2,000 students and includes the Sacred Heart Chapel, a Beaux-Arts-style worship space adorned with oculus windows and granite columns. Also welcoming to groups is the Spirituality Center, which facilitates retreats, faith presentations and team-building seminars.
Whether your group is seeking a spiritual retreat or an opportunity to admire timeless architecture, the communities of Saint John's and Saint Benedict's abbeys can offer an enlightening experience.
If you'd like more great group travel ideas in Minnesota, check out the Minnesota Group Tour Guide and be sure to Subscribe to Leisure Group Travel to stay up to date with our latest travel news.