There's much to see in Southeast Minnesota's historic Harmony, Preston, Winona, Kellogg, Wabasha and Red Wing
Southeast Minnesota is nothing if not eclectic. Tour Amish farms and sample delicious baked goods. Visit a unique marine art museum. Revisit your childhood at a museum dedicated to antique toys. And that's just a brief sample of all the things you can do in Southeast Minnesota. Pro tip: Bring your camera for abundant photo ops.
7 Unique Experience on This Trip
Amish culture & history
National Trout Center
Minnesota Marine Art Museum
Lark Toys
National Eagle Center
Red Wing Show Company Museum
Red Wing Pottery
Duration: 3 Days
Available: Year-round
Ideal For: Adults 21+
---
Day 1
Amish Tours of Harmony
Let Amish Tours of Harmony guide you through the countryside stopping at several Amish farms. Shops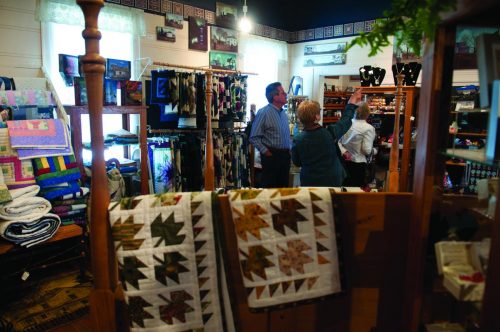 feature handmade baskets, quilts, furniture, baked goods and much more. Experienced guides share the Amish culture and history. Amish tours take you back in time to observe the lifestyle of the 1800s, where horse & buggies, kerosene lamps and wood-burning stoves are still in use. Tours with meals available.
National Trout Center, Preston
The National Trout Center·seeks to conserve the natural and cultural heritage of trout and their cold-water environments. The public is engaged through education, practice and awareness.
Several thousand miles of mineral-rich streams weave across the landscape and represent one of the highest concentrations of the rarest forms of freshwater on Earth. These streams support abundant populations of trout, which in turn, attract tens of thousands of anglers to the region each year. The National Trout Center can customize a learning experience for up to 50 visitors at a time. From fishing to geology to mushroom hunting, they can design a program tailored to your group.
Continue west on Highway 16 to Winona and check-in at your hotel followed by dinner at a local favorite restaurant. Winona is one of the most beautiful cities in Minnesota, set between·towering bluffs and the great Mississippi River.
Day 2
Breakfast at your hotel and check out.
Minnesota Marine Art Museum, Winona
The Minnesota Marine Art Museum features one of the most unique art collections in the Midwest, and an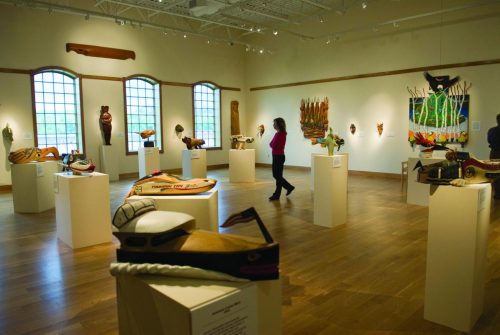 ambitious roster of temporary exhibitions and programs. Collection highlights include masterpieces by J.M.W. Turner, Vincent van Gogh, Claude Monet, Paul Gauguin, Henri Matisse, Pablo Picasso, Georgia O'Keefe, Winslow Homer, Leutze's iconic "Washington Crossing the Delaware," and many more.
Lark Toys, Kellogg
Take a stroll through the antique toy collection in cases and storefronts lining the hallway and scattered throughout the store. Enjoy thousands of toys from eras past. You may see Howdy Doody, little green army men, Barbie, Erector sets, and much more. Next, peek through the viewing windows into the Lark Workshop for a glimpse into the creative toy-making process.
Lunch on your own at Town & Country Cafe.
National Eagle Center, Wabasha
Recently named the "#1 Family Attraction Worth Traveling For" in Minnesota in 2016 by FlipKey.com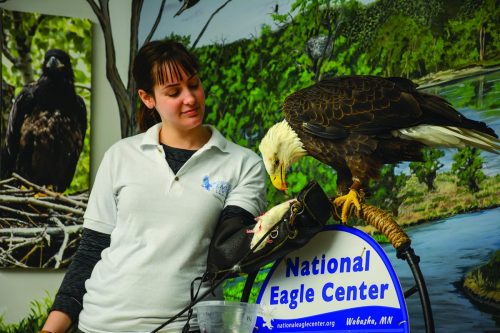 (TripAdvisor), the National Eagle Center is an environmental interpretive center on the banks of the Mississippi River in Wabasha. It offers wild eagle viewing, interactive exhibits, and cultural and historical displays. Live eagle programs conducted by a naturalist interpreter feature a live eagle and can be scheduled for individual groups.
Arrive in Red Wing and check into your hotel. Dinner tonight is at one of Red Wing's group-friendly restaurants, craft breweries or wineries.
Day 3
Breakfast at your hotel and check out.
Red Wing Show Company Museum
stores.redwing.com/red-wing-mn
Take your photo with the world's largest boot, dress up like an ironworker, and see how shoes are made at the flagship store in historic downtown Red Wing. Items from the company's 110-year history are on display year-round throughout the store and museum. Admission is free and open seven days a week.
Red Wing Stoneware
The first pottery company in Red Wing, RW Stoneware Company started in 1877. It eventually became Red Wing Union Stoneware and then Red Wing Pottery. Today, Red Wing Stoneware hand-make the classic zinc glaze products for Red Wing Pottery much the same it always has, in a 10,000-square-foot manufacturing facility. Standard tours are offered Monday-Friday, three times a day, and buses and tour groups are welcome by appointment.
Shopping and lunch on your own on Historic Main Street in Red Wing.
If you'd like more great group travel ideas in Minnesota, check out the Minnesota Group Tour Guide and be sure to Subscribe to Leisure Group Travel to stay up to date with our latest travel news.