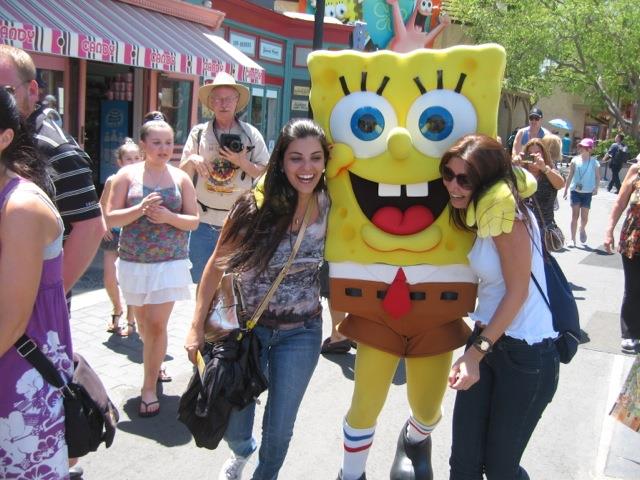 Whether your group is big or small Universal Studios Hollywood offers ways to best experience its many rides and attractions
In this hi-tech, fast-paced world, groups are looking for attractive, inclusive and professionally run venues that offer substance and entertainment value. Universal Studios Hollywood in Southern California takes center stage in this arena, with a jam-packed 415-acre park situated in the heart of a major film studio.
Universal Studios Hollywood can easily handle groups of virtually any size. Students can get in on the fun too — from an exciting day in the park or an exclusive backlot tour to performance opportunities on the amazing 5 Towers stage and unforgettable educational programs. General admission discounted youth tickets are available for groups of 10 or more. From sports youth groups to faith-based youth associations, Universal Studios Hollywood offers unique fun experiences along with thrilling theme park rides and shows.
The park is open mid-morning to 9 or 10 p.m. For groups of 10 or more guests, general admission and front-of-the-line passes (recommended on busy days) are discounted. Large-capacity rides and expansive film stages where presentations are made allow plenty of room for even the largest groups.
Universal Studios Hollywood History
Since 1964 when Universal Studios Hollywood opened with one ticket taker, two guides and two tram drivers, the theme park has expanded and now draws hundreds of thousands of visitors, many of them tour groups.
One of the first attractions in the park was an exhibition of designs by costume designer Edith Head and a walk through Doris Day's dressing room. Today the attractions are sophisticated, colorful and engrossing, such as Transformers—The Ride, a motion-based thrill ride that uses photo-realistic 3-D HD media and special effects by Industrial Light & Magic.
Another top attraction at the park is King Kong, an intense 3-D experience with the world's largest Surround Digital projection system. Wearing 3-D glasses, your group will enter a jungle where a dramatic struggle ensues between a 25-foot-high King Kong and a 35-foot-high dinosaur.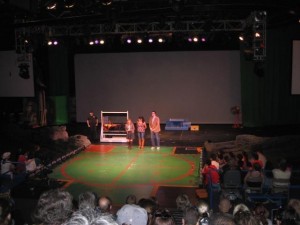 Also on the Studio Tour tram ride, visitors will see pre-visualization technology used in a spectacular chase scene from the film Fast and Furious: Supercharged, as well as a miniature model of King Kong's S. S. Venture tramp steamer used in the King Kong film. This large miniature, combined with traditional and digital effects, allows crews to shoot scenes otherwise nearly impossible to film.
On the tram ride you'll also see a flash flood during a sudden torrential downpour, many of Steven Spielberg's Jurassic Park original props, and Famous Fast Cars such as the Back to the Future DeLorean, a futuristic Edel and Biff's Cadillac, and the Blues Brothers Bluesmobile. "Jaws Lake," in the quiet town of Amity, features an animatronic great white shark similar to the one used in the movie Jaws.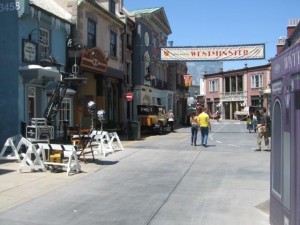 "Earthquake—The Big One" puts guests in the midst of a fully-dressed movie set. In slightly more than two minutes, the earth literally collapses, simulating the devastation of a 8.3 magnitude earthquake. As the pavement collapses above, guests face sparking power cables, felled telephone poles, noxious gases, a crashed 18-wheeler containing highly flammable contents, and a massive 60,000-gallon flood. Everyone escapes injury, and the tram moves on.
Behind the Scenes at Universal Studios Hollywood
The Studio Tour tram also goes through the backlot streets where complete towns used in movie sets are displayed. Courthouse Square, Brownstone Street and an enhanced New York Street are some of the sets you might see on the Studio Tour,  built with creative consultation from Spielberg. There's also a contemporary cityscape that is the largest modern urban backlot shooting location in Los Angeles. Comedian Jimmy Fallon, star of NBC's "Late Night with Jimmy Fallon," is the ride's video tour guide.
One of the more recent items is the original Jupiter's Claim set from Jordan Peele's latest horror epic, NOPE, in an exclusive behind-the-scenes look.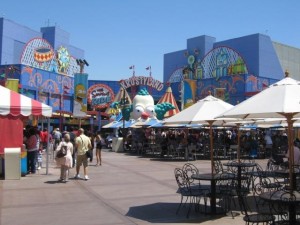 Other Universal Studios attractions include the Special Effects Stage where park-goers enjoy a fast-paced look at the world of movie-making and participate in the production each day. Hollywood's animal actors put on a show for the audience during a daily presentation; these lovable pets include dogs, cats, roosters and birds from shows such as Evan Almighty and Night at the Museum.
At at The Wizarding World of Harry Potter you'll experience everything from magical spells to magical creatures, from dark villains to daring heroes. Explore the mysteries of Hogwarts castle, visit the shops of Hogsmeade, and sample fare from some of the wizarding world's best-known establishments. Plus experience pulse-pounding rides and attractions that transport you into a world of magical thrills and excitement..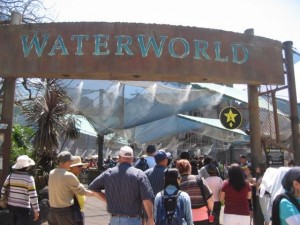 At the Water World attraction, "A Live Sea War Spectacular" represents a complex combination of high-tech special effects, pyrotechnics, flame and human stunt work. The attraction puts studio guests in the middle of the action involving hundreds of stunts and fiery special effects. Highlights include giant fireballs rising 50 feet in the air and cascading to earth in a wall of fire, and a seaplane that swoops in above the audience, skidding across the water and coming to an explosive crash landing just inches away from spectators.
The park is divided into two sections, the Upper Lot and Lower Lot, connected by a skyway for easy access. There are numerous food vendors ranging from Bubba Gump Shrimp Co. and Jimmy Buffet's Margaritaville to Beverly Hills 90210's Mel's Diner. Extensive shopping and additional experiences can be found on Universal Studios Hollywood's iconic  CityWalk.
Private group tours can be arranged. Call 818-622-1550 or contact group.sales@nbcuni.com.
For hotel accommodations close to the park, Loews Hollywood Hotel, 1755 N. Highland Ave. in downtown Hollywood, is only one metro stop away stop from the park. Group package deals are available. Call 855-563-9749 or contact hollywoodreservations@loewshotels.com.
Explore our selection of Group-friendly Itineraries across the globe.