It's not just France that can boast of romantic getaways and amorously attractive provinces like Paris, Cannes or Grasse. In Germany, considered as part of the top 10 most visited countries in Europe along with Spain, aforementioned France, and Italy, there is one province that sticks out and prides itself as the Deutschland's romantic escape. Presenting – Heidelberg.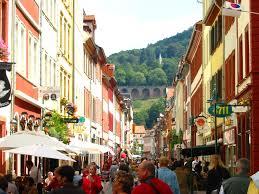 According to Germany.Travel, "Heidelberg is a city that will capture your heart. Famous the world over, it is a perennial favorite among international tourists." The fifth-largest city in the State of Baden-Württemberg has so much to offer: "charm and character in abundance between the Old Bridge and the mighty castle, an unparalleled choice of culture and entertainment, hearty yet heavenly cuisine and a picturesque setting nestled between the Neckar River and the foothills of the Odenwald forest," the travel blog continues on.
One of the main attractions especially for those wanting to experience a full-on romance with this Deutsch region is the Heidelberg Castle. "With its history, architecture and unique location overlooking the town, Heidelberg Castle is one of the most famous historical monuments in the world. The ruins rise majestically on the site of a medieval castle complex high above the narrow lanes and picturesque jumble of roofs of the old town, like a scene from the pages of a storybook. For five centuries, the castle was home to the Palatinate electors of the Wittelsbach dynasty. The castle has many tales to tell, some of which you can hear on a guided tour available in seven different languages," Germany.Travel boasts. Another recommended spot in the city is Altstadt (Old Town), described by TripAdvisor as "The Old Town of Heidelberg (that) starts from Sofienstrasse and brings you to the castle. In the middle there is the University Area (the oldest university in Germany), the main shopping street (Hauptstrasse) and it includes the famous Karl-Theodor-Bridge/the Old bridge." You also have Philosophers' Way (Philosophenweg), Thingstatte and Market Square (Marktplatz) as recommended by many tourists in TripAdvisor.
Germany's capital Berlin is already well-known for its modern nightlife, with many renowned events like the Berlinale and European Poker Tours gracing this city. Despite being well-known as "a world-city of culture, politics, media, and science," according to CNN.com and a favorite venue for many events sponsored by leaders like partypoker.com, csd-berlin.de and many others, Heidelberg offers an exotic feel: for its romantic architecture, great consideration in the arts and culture, and the vast sporting activities you can do. It won't be far fetched to see Heidelberg add to its long repertoire of activities, social games like poker, or even be more open to the emerging culture of street photography. Who knows, the next World Poker Tour, promising film festival event, or an up-and-coming international arts event will be held in this southwest city of Germany.