Groups visiting North Carolina can't miss the majestic mountains of Haywood County
North Carolina is often praised for its friendly metropolitan cities and quaint beach towns, mostly situated in the central or eastern portion of the state. But Western North Carolina is also worth a look. Haywood County, nestled in one stretch of the Smoky Mountains, offers visitors plenty of outdoor adventures, Instagram-worthy views, historic sites, and unmatched Appalachian hospitality. There's no limit to what groups can experience in North Carolina's Smoky Mountains, making Haywood County a must-visit when venturing to the Tar Heel State.
Things to do in Haywood County
Haywood County has a lot going for it. It's not only blessed with magical landscapes, challenging terrain and beautiful wildlife, but it also boasts five cozy mountain towns filled with history and charm. Between the Smoky Mountain adventures and small-town traditions, there really is something for everyone in Haywood County.
Waynesville, the largest town in Haywood County, is the perfect place to begin any North Carolina group tour. The downtown neighborhood, anchored by bustling Main Street, is walkable, making it easy for guests to saunter from place to place, stopping for a quick bite or craft beer along the way. Some of the best locally owned boutique shops and markets are on Main Street, selling artisan crafts, stunning art pieces, intricate antiques, and much more. Pick up some small-production wines, sample natural bath and body products, or peruse hand-carved décor and furniture. It's all there on Main Street in Waynesville.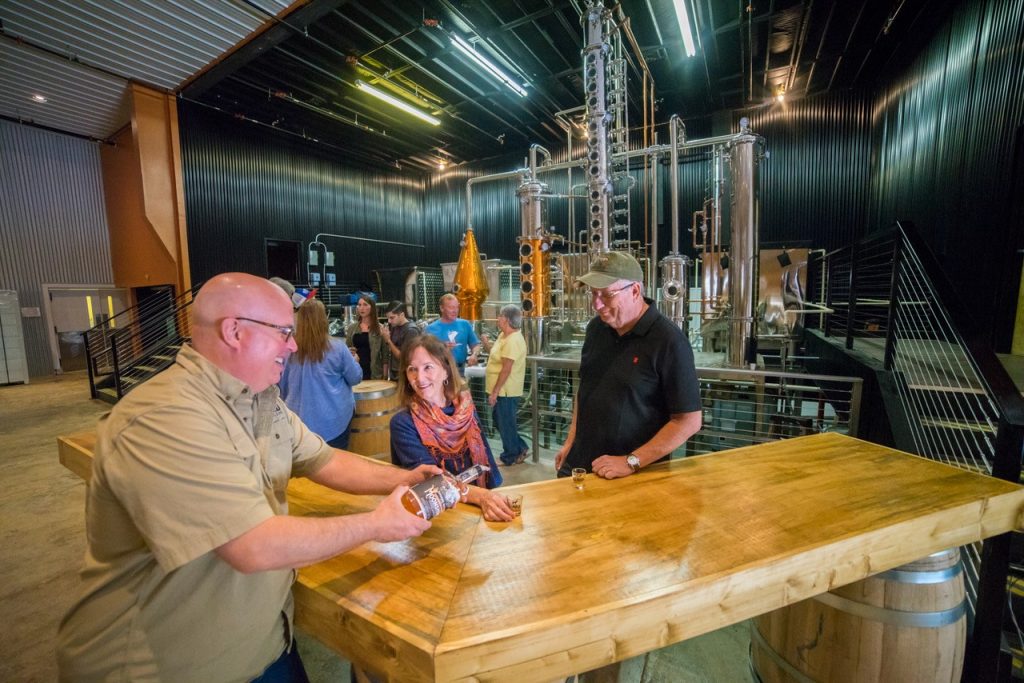 Groups can take their palates on a whiskey-tasting adventure at the Elevated Mountain Distilling Company in Maggie Valley. Groups can take a tasting tour of the distillery, where they get a behind-the-scenes look at the magical hybrid pot and column still that churns out scotch, whiskey, and vodka. After the tour, enjoy a tasting of spirits, and then stop into the gift shop to pick up a few bottles of your favorite to take home.
Groups visiting Haywood County can't miss the Blue Ridge Parkway. While beautiful any time of year, the parkway is jaw dropping during leaf-peeping season, when trees turn shades of red, gold, and orange. The parkway is 469 miles long, with 46 of those miles winding through Haywood County. Groups driving along the parkway enjoy amazing views of the Blue Ridge Mountains, part of the larger Appalachian Mountain range, as well as the valleys and countryside surrounding the peaks. The most scenic part is between milepost 405 and 455, which is the highest portion of the parkway. Of course, there are many other must-stop points of interest along the way, including Graveyard Fields (milepost 418.8) and WaterRock Knob (milepost 451).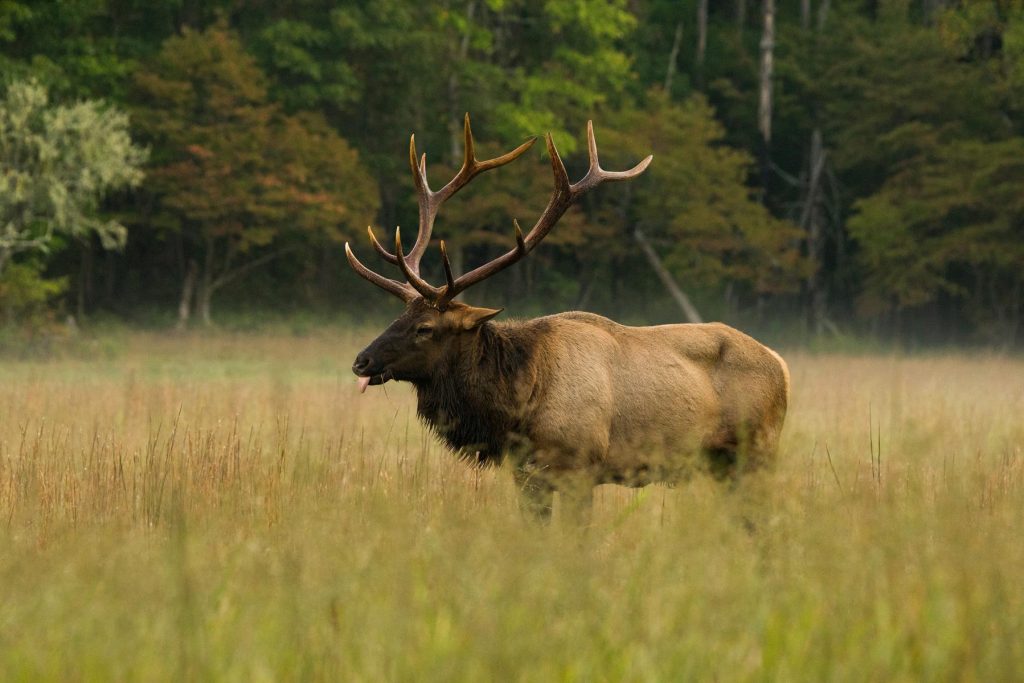 Straddling the border between North Carolina and Tennessee, Great Smoky Mountain National Park is the most visited national park in the country. The largest portion of the park sits in North Carolina, and Haywood County boasts some of the most remote and memorable areas to visit. Visitors can enjoy a range of hiking trails, including Little Cataloochee Church Hike, which takes them past old settlements of cabins, cemeteries and the trail's namesake chapel. Groups can also see some of the area's most renowned residents, the Cataloochee Valley Elk Herd, which was reintroduced to the region in 2001. The 200-plus elk herd can be elusive, but the best times to catch them are early morning and late evening when they can be found grazing in the meadows.
Places to Eat in Haywood County
Haywood County's five mountain towns are not lacking when it comes to food. In fact, this corner of the state is a true foodie heaven, serving up everything from traditional Appalachian cuisine to hearty Southern classic to international favorites. Visitors fuel their day with plates stacked high with flat cakes at Joey's Pancake House in Maggie Valley or groups can fill their bellies at Southern Porch with twists on southern staples like Pimento Cheese Shrimp & Grits or a Mac & Cheeseburger. Then, wash it down with a cold brew while enjoying live music on the expansive outdoor patio. Regional favorites can be found at The Sweet Onion in Waynesville, dishing out fresh mountain trout and their signature pastas. Pick up something sweet at Kandi's Cakes & Bakes Shop in Waynesville, offering iced cookies, custom cakes and handcrafted pastries.
[optin-monster-shortcode id="xe91adelso7uxvbjoqaf"]
Where to Stay in Haywood County
After all the exploring your group will do in Haywood County, you'll want a comfortable place for them to lay their head at the end of the day. Haywood offers all kinds of accommodations, from modern hotels and resorts to cute bed & breakfasts and vacation rentals. There is something for every group size and budget, all within a few minutes of the region's most exciting attractions.
Getting to and Around Haywood County
Located in the western part of North Carolina, Haywood County is less than 30 miles from Asheville, North Carolina. The Asheville Regional Airport has daily flights to major U.S. hubs, including Atlanta, Chicago, Dallas, and Philadelphia, as well as year-round service to New York and seasonal service to Denver and Baltimore. Haywood County is also traversed by several major highways, allowing visitors to easily access the area from most portions of the Central and Eastern U.S.  Once groups have arrived, it's fairly easy to move from town to town via car or shuttle, as all of the major cities and the National Park are within a few miles of each other.