Wide sandy beaches and warm ocean breezes may be calling you, but there is so much more to discover along Maryland's Eastern Shore
[embedyt] https://www.youtube.com/watch?v=–8TvvuPmGg[/embedyt]
Three Miles of Sun and Fun
Adjacent to the beach and ocean, the iconic Ocean City boardwalk follows a three-mile stretch. Walking, bicycling or on a trolley are each great ways to explore. Along the way, there are indoor and outdoor rides and activities, including the beach amusements and games that entertained us as children. There's even more fun and fishing on a pier that stretches well into the Atlantic.
When your sweet tooth calls there are favorite boardwalk treats – hot dogs, corn dogs, taffy, cotton candy, fudge and more. Find a spot to relax and enjoy your treat while doing a little people watching. Do check out the magnificent kite that's flying over the beach. Kite Loft displays one of their magnificent kites to the beach just about every day. Its two annual festivals bring international and domestic participants and viewers.
In 1893, Daniel Trimper and his wife obtained two hotel properties. The hotels, along with a theater and an amusement park, were known as Windsor Resort. In 1912, Trimper purchased a massive, steam engine- driven carousel of 45 animals. Today, the carousel, now run by electricity, is classified as one of the oldest carousels operating in the U.S. Over the years, Trimper's Rides has continued to add new rides to its historical inventory and remained a favorite for generations of families and groups.
Away From the Beach – Art & History Blend Well in Ocean City
The Ocean City Life-Saving Station Museum shares both the OC's past and the history of the U.S. Life-Saving Service. The historic building is located on the southernmost end of the boardwalk. The location presents great views of the inlet, Assateague Island and fishing fleets departing and returning. Exhibits of note are "Wreck in the Offing" and "The Boardwalk of Yesteryear." The former tells the story of the United States Life-Saving Service on the Delaware, Maryland and Virginia Eastern Shore from 1878-1914. Nineteen different stations are represented in the exhibit with numerous rare items on display. The latter exhibit was introduced in 2009 and features Windsor Resort-The Trimper family, boardwalk games, prizes and characters.
[optin-monster slug="u3ptaletrlfac3pksfeh"]
The resort city of OC is part of Worcester County. There are nine additional museums sharing the area's wonderful history. Here are a few to get you started. From 1828-1850, the Nassawango Iron Furnace was at the height of its success. Furnace Town was a company town, built by the Maryland Iron Company. Today, the community is being restored with more than a dozen buildings completed and the original Nassawango Iron Furnace in the final stages of restoration. Other Worcester County museums not to be missed are St. Martin's Episcopal Church, Sturgis One-Room School & Heritage House and Julia A. Purnell Museum.
Merchant planner Captain James Rackliffe constructed the Rackliffe House in the 1740s on a prominent ridge featuring wonderful views of the water. In addition to period furnishings, a current exhibition is titled The Enslaved at Rackliffe House and Worcester County Maryland. Rackliffe House is near Assateague Island, home to the Assateague Island National Seashore.
In nearby Pocomoke, Maryland, the Delmarva Discovery Center & Museum is 16,000 square feet of hands on and interactive learning. This diverse attraction is a good choice for all ages. Dig into Delmarva history that goes back 12,000 years. Examine a two-story steamship, the "Discovery," similar to those that cruised the Pocomoke River in the 19th century. Relax in the luxurious stateroom, or if you prefer, you can steer. The center has an outstanding STEAM program that meets all state and national education standards.
A visit to the Harriet Tubman Underground Railroad Park & Visitor Center is always thought provoking. The Visitor Center is located in Church Creek, Maryland near the Blackwater National Wildlife Refuge in an area Harriet Tubman lived, worked and worshipped. Her story of escaping slavery and returning to risk her life leading others to freedom is told through powerful multimedia exhibits and film. The park includes short walking trails and a large picnic pavilion that's available for rental. The center is one of 36 sites of significance on the Harriet Tubman Underground Railroad Byway, many of them on Maryland's Eastern Shore.
The visual arts are an important part of Ocean City's culture. Leading the way is the Art League of Ocean City Center for the Arts. This nonprofit enriches life through art with exhibitions, classes, workshops and lectures. Exhibits rotate regularly and there are always workshops allowing your creative juices to flow. The Art League provides much of the art gracing the walls of the Ocean City Convention Center. Mark your calendars for early March 2022 when the Art League hosts the 6th annual Ocean City Film Festival.
For anyone appreciating the artistry and vision in carving decoys, the Ward Museum of Wildfowl Art is a must. It is named in honor of Stephen and Lemuel Ward, who pioneered the transition of decoy carving from a working tool to impressive sculpture. Located next to Schumaker Pond in Salisbury, Maryland, the museum features 12,000 square feet of exhibition space.
Annually, the Ward World Championship Carving Competition and Art Festival have been held in the Ocean City Convention Center. This year's 50th event will be online, April 23, 24 & 25, 2021. The event's programming will be across multiple platforms. Mark the late April 2022 dates in OC and come experience first hand the artistic ability of hundreds of carvers from all over the world.
Relax Outdoors in Ocean City
Hopefully, you will find time to enjoy the beach, boardwalk and piers, but there's still more waiting for you outside. Assateague Island National Seashore is a barrier island that's 37 miles along the coasts of Maryland and Virginia. The pristine natural setting is perfect for exploring an extraordinary beach, bird watching and seeing the park's famous wild horses. Begin your trip at the visitor center, or make arrangements in advance for a ranger to have a session with your group.
Blackwater National Wildlife Refuge has been recognized as a refuge for migratory waterfowl, a wintering home for birds on the Atlantic flyway. There's an observation tower where visitors can observe endangered and threatened species. Bring your camera and binoculars. Blackwater has the greatest density of breeding bald eagles and are commonly viewed throughout the year. Both Assateague Island National Seashore and Blackwater National Wildlife Refuge have outstanding student programs.
There's no limit to water activities throughout the OC area. The only problem is you're surrounded by choices. There are some memorable sightseeing tours exploring the unique ecosystem by kayak, or boat. Maybe your adventure spirit is more in line with someone else providing the transportation, while you take in the scenery. Or, you can simply do it on your own and rent paddleboards, kayaks, canoes, boats or jet skis.
In these hundreds of square miles, you have a paradise for fisherman. Whether you choose surf fishing around high tide, pier fishing where pole, reel and bait can be rented, or a head boat with the whole group, you're assured of some fun and relaxation. However, if you want to make your first, or next fishing trip memorable, a charter boat is the way to go. There are dozens that will take you to where the big fish swim.
With 16 championship caliber golf courses in and around Ocean City, golf is a popular option for group travelers. OC has a well-deserved reputation as a quality golf destination. Pack your clubs.
Ocean City Shopping
If you're searching for a souvenir to remember your trip, or a gift for a family member or friend, you'll have a wide variety of choices on the boardwalk.
Outlets Ocean City features many of the big name brands you'd expect from Old Navy Outlet and J. Crew Factory to Homegoods and Rack Room Shoes. Restaurants at Outlets Ocean City offer everything from pizza to Asian food and plenty of choices in between.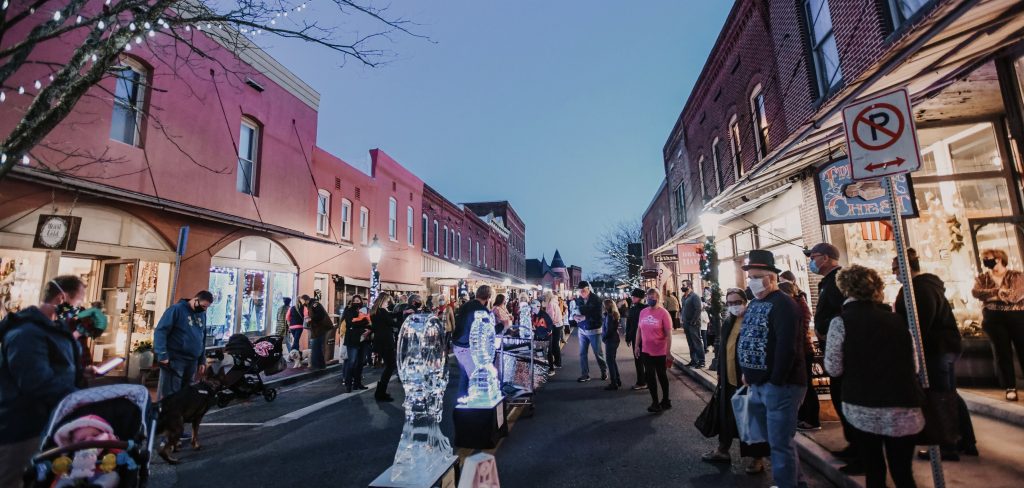 Just 15 minutes from OC, you'll arrive on Main Street in Berlin, Maryland. This is a small-town shopping experience that you'll not forget and well deserving of being voted "Best Small Town for Shopping 2020" by USA Today. Make the Berlin Welcome Center your first stop to get all the info on local restaurants and shops. Plan to spend the better part of the day with lunch on your own. There are 20 spots for lunch, dessert, a cup of coffee, or a glass of wine. Then there's the shopping. There are more than 30 locally owned shops and four antique stores that give Berlin the title, "Antique Capital of the Eastern Shore." Take time to visit the local artists' galleries.
Students, Meetings and More
In addition to STEAM opportunities at Delmarva Discovery Center & Museum, Blackwater National Wildlife Refuge and Assateague Island National Seashore, many of the historical attractions referenced meet history standards. Performance Groups have not been forgotten. The new Performance Arts Center at the Roland E. Powell Convention Center seats 1,200 in two tiers with 51-foot high ceilings. Sunset Park is an outdoor pavilion and OC's newest. Sunset Park is a beautiful setting with wonderful views.
With 30 hotels offering meetings and convention facilities and the Roland E. Powell Convention Center adding 30,000 square feet, it's understandable that OC has grown to be a popular corporate, association and SMERF destination.
Ocean City Festivals are Fun
Four days in early May, Springfest celebrates spring and kicks off the upcoming summer season. Located on the south end of the boardwalk there's live entertainment, great food, crafts and fun for its 30th Anniversary in 2021.
September 30 – October 3, OC's biggest festival Sunfest will celebrate its 46th year. Demonstrating art and craft artists amaze visitors with their skills, while there are 300 vendors to excite your taste buds.
From November 18, 2021 – January 1, 2022, OC celebrates the season with fun events, parades and the Winterfest of Lights. OC sparkles with thousands of sparkling holiday lights and many animated light displays.
Eat Like a Local in Ocean City
OC has more than 200 restaurants serving every imaginable cuisine guaranteeing your group will be well fed. There's certainly an abundance of seafood options, but land lovers will find plenty to enjoy. Here are a few group favorites.
Angler Food & Spirits has been a family-owned and operated staple in OC for more than 80 years. Groups are welcome with great views of the marina and Assateague Island and an exciting menu. The ship shaped bar is a fun setting for a cold beverage. Groups are invited to stay after dinner for a sightseeing cruise on Angler's boat.
Before Phillips Seafood Restaurant opened its doors in 1956, it started in OC with a small take out service. From those humble beginnings, the family affair has grown to three signature locations, two casino locations and seven airport locations. The OC location is still a visitor favorite.
Harrison's Harbor Watch Restaurant and Raw Bar provides an ambiance authentic to OC. Opened in 1984, the Harrisons are committed to using fresh, local produce and seasonal fish pulled off the boats at the dock.