Tour groups in New York City have countless choices when it comes to sightseeing, dining and hotels in the Times Square/Broadway area. Here are just a few recommendations based on my recent trip: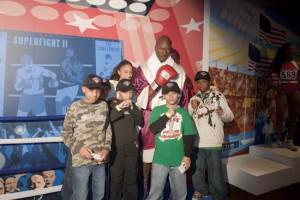 Madame Tussauds New York, on a prime block of 42nd Street, gives off a celebrity vibe.  Touring the museum is a chance to mingle with famous people cast in wax. Remarkably life-like figures, more than 200 in all, range from show business biggies to luminaries from the worlds of sports and politics. Pose with the Obamas in the Oval Office or circulate with the likes of John Travolta, Brad Pitt and Angelina Jolie at a cocktail party. Rub shoulders with the Clintons, George W. Bush, Princess Diana or Pope John Paul II. Visit Rachael Ray's Kitchen. The newest arrival is teen sensation Justin Bieber. Madame Tussaud's Cinema 4D combines 3D film with special effects like wind, snow, mist and vibrations. Another activity: Have your hand cast in colored wax. (madametussauds.com)
Ripley's Believe It or Not! Times Square, a neighbor of Madame Tussauds, abounds with curiosities and stays open to midnight. Gawk at shrunken heads, a mummified hand or a two-headed calf. Learn about Siamese twins, the world's tallest man and woman, and a man who survived a metal pole imbedded in his skull. Artwork includes a Lincoln bust made from tobacco and a mural crafted with 70,000 Canadian postage stamps. (ripleysnewyork.com)
Across from Ripley's, Madame Tussauds and the New Amsterdam Theatre (Mary Poppins) is group-friendly Dallas BBQ, the Times Square branch of the popular New York barbecue chain. Just as loud and bustling as the rest of 42nd Street, Dallas BBQ offers big platters of meat with fries, rice or baked potato, along with oversized drinks and salads. Choose from pulled pork, ribs or chicken. I enjoyed the honey-basted chicken and sopping the honey-vinegar sauce with my cornbread. Decorated with pictures of rodeo cowboys, a buffalo mural and a relief sculpture of galloping horses that fills an entire wall, the 800-seat restaurant spans three levels. (dallasbbq.com)
What's not to like about a restaurant that serves meatloaf and Thai curries? One of the best theater-district finds on my recent visit was Tom & Toon, where a banner advertising its $11.95 Thai-American buffet caught my eye. I feasted on meatloaf, pasta primavera, fish, spring rolls, chicken pad thai, chicken curry with bamboo slices and some of the best sticky, white rice I've ever had. Thai artifacts and contemporary art (for sale) adorn the dining room. Service is superb, and the bathrooms just sparkle. Tom & Toon is across 51st Street from the Gershwin Theatre (Wicked) and around the corner from the August Wilson Theatre (Jersey Boys). Theater goers can take advantage of the three-course, prix-fixe dinner menu offered from 4-7 p.m. (tomandtoon.com)
Tours with an entertainment slant are offered by On Location Tours, which spotlights movie and TV show filming sites. Its signature 3.5-hour bus tour showcases more than 40 locations, from the apartment building in Friends to the deli where Meg Ryan "enjoyed" her pastrami sandwich in When Harry Met Sally. Passengers can grab a slice at the pizza place from Men in Black II and see the exterior offices of Mode Magazine from Ugly Betty. A Central Park walking tour includes the bandshell from Breakfast at Tiffany's and Kramer vs. Kramer, Wollman Rink as seen in Love Story and Serendipity, and Bethesda Fountain, used in Enchanted and Gossip Girl. Specialty tours concentrate on Gossip Girl, Sex and the City and Sopranos sites. Tours are led by New York City actors. Group tours and step-on guides are available. (screentours.com)
Early risers can get their show-biz fix every morning by showing up at Rockefeller Plaza for the Today Show broadcast (7 to 10 a.m.) with Matt Lauer, Meredith Viera, Ann Curry and Al Roker. The hosts occasionally come out on the plaza to do a segment, and you can peer into the studios to catch a glimpse of celebrity guests and watch on the monitors outside. Bring a clever sign and you might be on national TV. In summer big-name concert acts appear Friday mornings on the plaza.
The new-construction Wyndham Garden Hotel Times Square South turned out to be the perfect base of operations, with its convenient location six short blocks from Times Square. From the front desk to the bell staff, everyone made us feel at home. In this hard-edged city, it's a cozy place where you can always expect a warm welcome after a day of sightseeing and shopping. (wyndhamnewyorkcity.com)