A powerful political wife who rose to near-saint status is remembered on the 100th anniversary of her birth
For a person who left this earth at a young age in 1952, Eva Peron—better known as Evita—certainly left a legacy. The presence of this heroine to the downtrodden in post-World War II Argentina seems to be everywhere in Buenos Aires, the country's capital.
Many of us know Evita the Broadway musical and the 1996 movie version starring Madonna, neither of which was well received in Argentina. But visitors to Buenos Aires get a different perspective in the city where the nation's feisty first lady became celebrity-inchief and the focus of a personality cult never seen before or since. That she achieved such renown in a male-dominated culture is all the more noteworthy.
Evita's image looms large on a prominent downtown skyscraper, and it graces Argentina's 100-peso note as well. Posters, postcards and postage stamps in souvenir and antiques shops bear the face of this controversial presidential wife who carved out a niche for herself before succumbing to cancer at the age of 33. Around town it's common to see graffiti evoking the memory of Eva Peron. And hers is the most searched for mausoleum in Recoleta Cemetery, a prime Buenos Aires tourist attraction.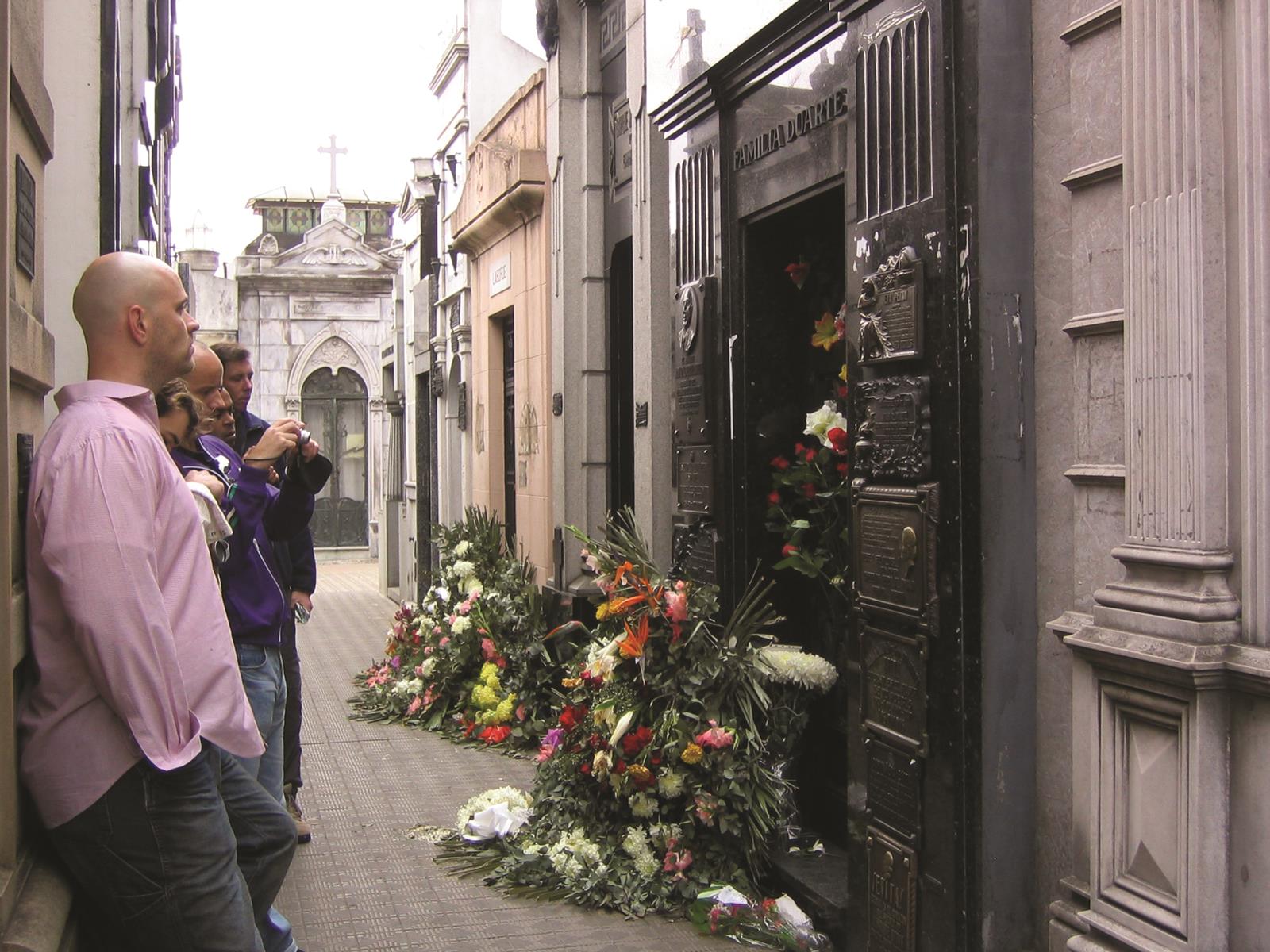 The excellent Evita Museum, housed in an early 1900s mansion in the Palermo neighborhood, tells the story of Eva Peron, from her childhood and show business career to social reforms she initiated as the second wife of Colonel Juan Domingo Peron, who served as Argentina's president from 1946 to 1955 and again in 1973-1974. In her travels around Europe and Latin America, she acted as an ambassador for Argentina.
Digital Edition Sponsored by
The first exhibit area—and one of the most popular—features dresses from Evita's wardrobe. One is a gala black silk frock she chose for a meeting at the Vatican with Pope Pius XII in 1947. With each dress, to show historical context, is a black-and-white photo of her wearing it. An actress before becoming first lady, she was criticized for her extravagant clothes and luxurious lifestyle— and for her politics as well. Not everyone was a fan of the Peronists, who ruled with an iron fist, jailing opposition leaders and closing down newspapers.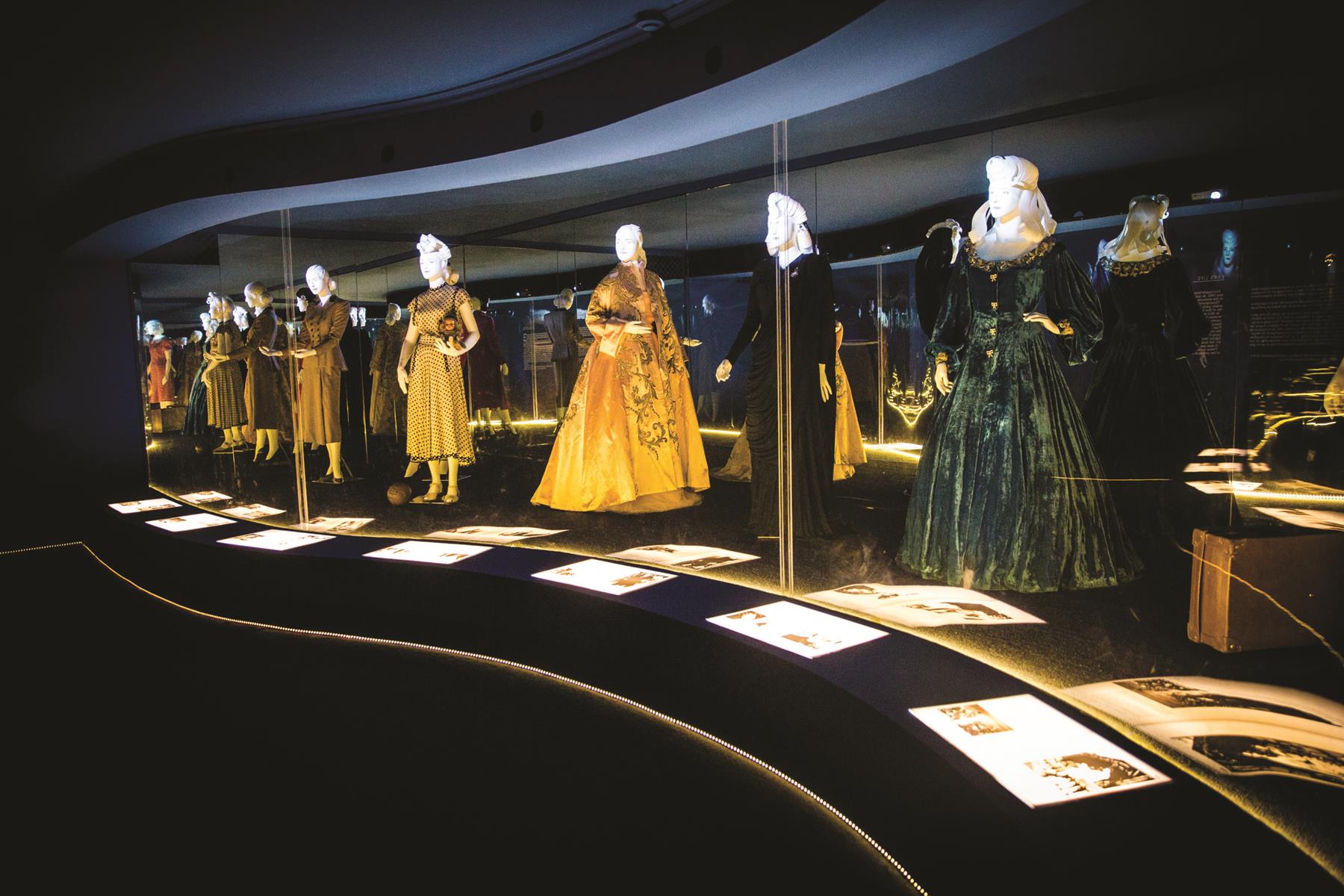 Born Maria Eva Duarte in 1919 in a small town in Buenos Aires province, the future icon was the youngest of five illegitimate siblings raised in humble conditions. A gallery devoted to her early life features a slideshow of family photos with captions in English.
The saga continues in galleries that spotlight Eva's career acting in plays, movies and radio soap operas (1935-1945). There are reproductions of movie posters and video clips of her films. Even as a performer, she showed an interest in politics, helping to organize the Argentina Radio Association, formed to defend the rights of those employed in the entertainment industry. She was elected the guild's president in 1944. The next year she married the widowed Juan Peron, a man almost twice her age.
In her book The Reason for My Life, Eva Peron writes: "My artistic calling made me know other scenes…I started to see the great injustices, and I not only saw them in the fiction I played but also in the reality of my new life."
Upstairs galleries focus on Evita's role in helping her country's poor. In 1948 she helped create a social aid foundation that advocated for building hospitals and nursing schools, housing for orphans and senior citizens, and temporary shelters for women and the homeless. (The mansion was purchased by her foundation and turned into a shelter for women and their children.) She promoted summer camp programs, subsidies for disabled seniors and women's voting rights. Working with unions to solve labor problems also endeared her to the urban masses.
For her social justice platform, Evita was adored by the underprivileged, people she called descamisados ("shirtless ones"). Photos and videos show her addressing workers' rallies, microphone in hand, and meeting with charity organizations on her trips to Europe. Ignoring all protocol when she went abroad she met not only with prime ministers but ordinary people as well. On behalf of President Peron, she also boosted commercial relations with Argentina; some of her efforts resulted in trade treaties signed with France, Spain and Italy.
The museum journey ends with a film (in Spanish) about Eva Peron's funeral and the outpouring of grief upon Evita's death from uterine cancer, one year into her husband's second term as president. During a two-week national mourning period, almost three million people came day and night to pay their respects at her wake in the Department of Labor and Welfare administration building. Eight people were crushed to death in the crowds of mourners, and 2,000 had to be treated for injuries. The demand for flowers was so great that Argentina and surrounding countries exhausted their supplies. Eva Peron had become an icon who eclipsed the president himself. After her premature death, Juan Peron's grip on power weakened and he was deposed by a military coup in 1955. For the next 18 years he lived in exile in Spain, returning briefly to power in 1973 before dying a year later.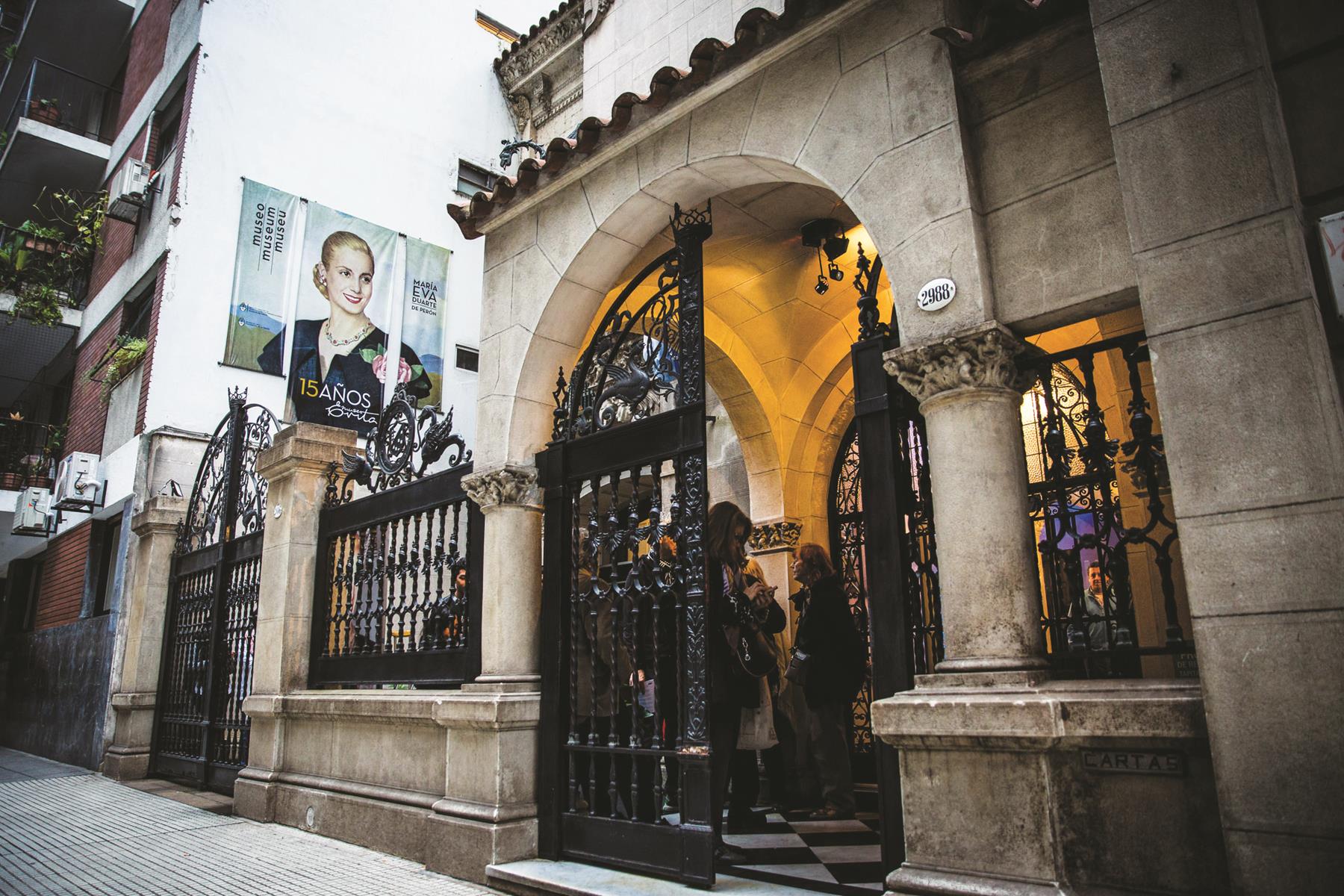 In the museum gift shop, Evita's image adorns everything from handbags and scarves to T-shirts and mousepads.
Eva Peron's final resting place is one of the grandiose tombs that line the lanes of historic Recoleta Cemetery in Buenos Aires' posh Recoleta neighborhood. Inscribed "Familia Duarte," the mausoleum is the only one continually festooned with flower bouquets thanks to Evita devotees who keep the black granite shrine freshly supplied. Affixed to the vault are bronze plaques with quotes from her speeches.
As you learn on the free Recoleta neighborhood walk offered by the Buenos Aires tourism office, Evita's embalmed corpse had been secretly moved to Milan, Italy (under another name) after the 1955 military coup and remained in a hidden location there for 16 years before being sent to Spain, where it lay in her exiled husband's mansion for two years. The body was returned to Argentina in 1974 upon Peron's return to power. (The whole story of the corpse's journey is filled with bizarre twists and turns.) Resting with Eva are her sisters and brother; her niece cares for the tomb. Juan Peron is buried elsewhere in Argentina. It's ironic, your guide points out, that Evita, a champion of the poor, rests with captains of industry, political leaders and others in the upper classes she despised. Rich families competed with each other to build the most elaborate tombs.
Downtown, rising high above the city's widest boulevard, is a building that, on each side, bears a 10-foot-high portrait of Evita. This is the headquarters of the government's social welfare ministry, where she frequently addressed crowds. Avenida 9 de Julio, at 16 lanes reputedly the world's widest avenue, also is home to the Obelisk, a needle-like landmark on the Plaza de Republica, a gathering spot for fans celebrating soccer victories.
Evita, along with her husband, also made emotional speeches, almost religious in fervor, to union members and other supporters from the balcony of the presidential palace in the Plaza de Mayo, the historic heart of Buenos Aires. The reddish building, called Casa Rosada, is one of many landmarks on the plaza, which has seen countless dramatic events and today hosts political rallies, protests and jubilant celebrations. During the military coup that ousted Juan Peron in 1955, Argentine naval aircraft strafed the square, killing more than 300 civilians. Bullet holes from that attack, along with a plaque commemorating the event, can be seen on the economics ministry building across the street from Casa Rosada.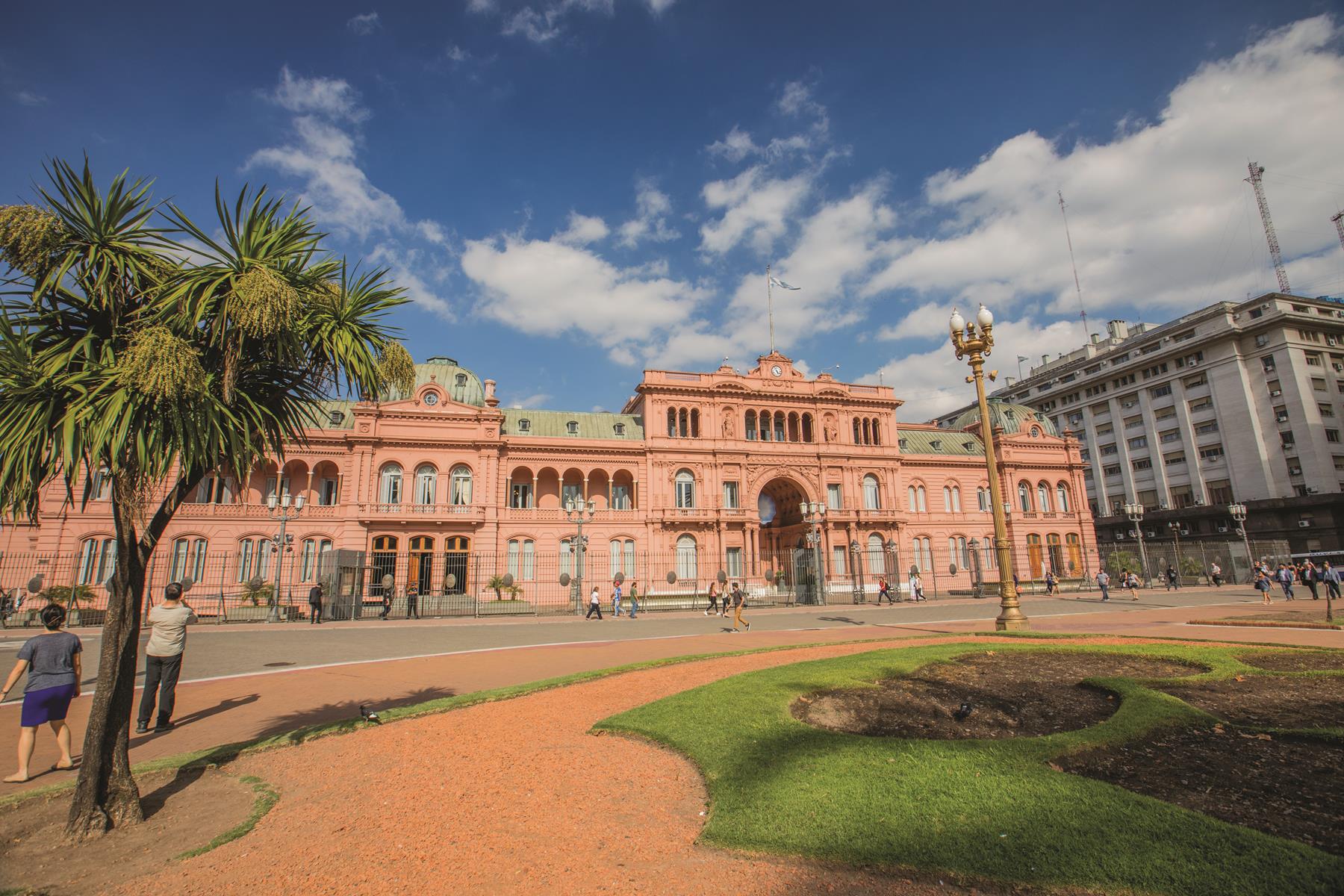 To witness strong women in action today, visit Plaza de Mayo around 3:30 Thursday afternoon. Since 1977, the Mothers of the Plaza de Mayo and their supporters have marched holding photos of those abducted and "disappeared" by the state during the military dictatorship of 1976-1983. Thousands of people were kidnapped, tortured and killed, some dropped from airplanes into the sea. Even babies were taken from pregnant women who gave birth and were given to families to raise as their own. Called the "Dirty War," that frightening time in Argentina is chronicled at museums and memorials at ESMA, a former naval campus where some 5,000 men and women were held.
From Peronist rule to human rights atrocities two decades later, the mid-20th century in Argentina was indeed a turbulent time. Fortunately, visitors today can get a sense of this recent history while touring Buenos Aires. One name that comes up time and again is that of a glamorous woman who was the face of an era—Eva Peron. Her passion changed a nation forever.
An epitaph on a plaque at her grave, famously paraphrased in the Andrew Lloyd Webber-Tim Rice musical, reads: "Don't cry for me, Argentina, for I remain quite near to you, and I am an essential part of your existence." Those words still ring true nearly seven decades after her death.
For more information on the Evita Museum and Buenos Aires, visit museoevita.org.ar and turismo. buenosaires.gob.ar/en.
By Randy Mink