Take a pilgrimage and learn about the state's proud patriotic history.
With historic forts, heroic leaders and humbling stories, Ohio's proud patriotic legacy helps visitors understand centuries of conflict and hopefully find healing resolution. Monuments and museums pay homage to the independent American spirit, providing a glimpse into the lives of those who sacrificed so much to build better lives for so many others.
From first sight, the National Veterans Memorial and Museum impresses visitors with the importance of what lies within the awe-inspiring Columbus attraction. The iconic arch was constructed from 28 million pounds of concrete, with a spiral processional that ascends to a rooftop sanctuary, symbolizing the veteran experience. Guests embark on a narrative journey, following exhibitions focused on the soldier, sailor, airman, Marine, Coast Guardsman and their families.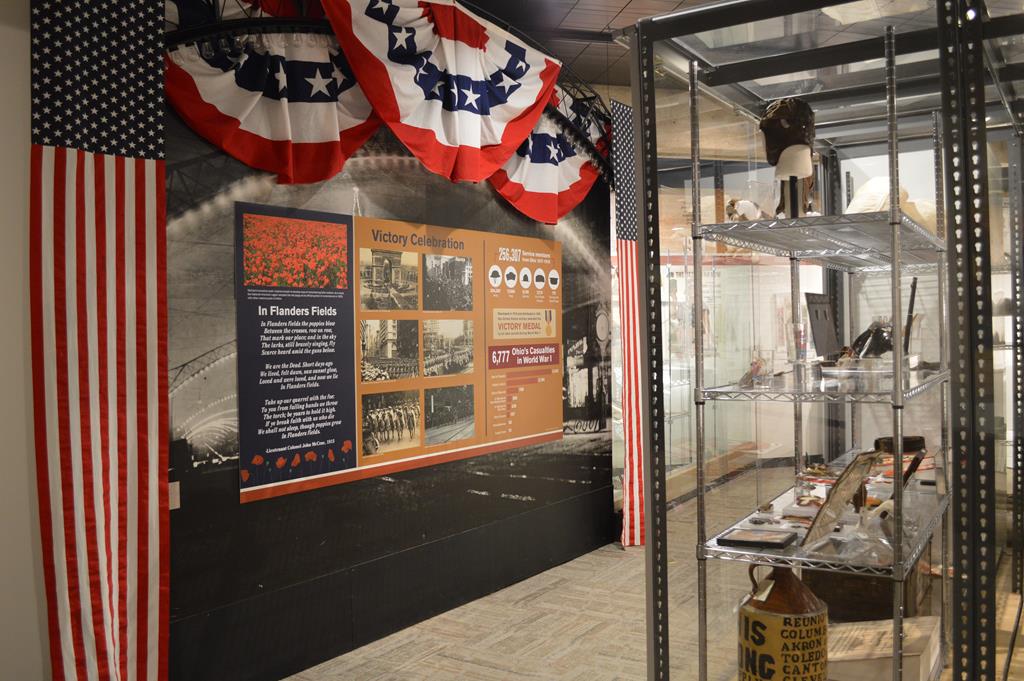 Individual stories and shared experiences are communicated through personal artifacts, quotes, letters, imagery and powerful films, using actual veteran voices telling their unique story. The interactive museum includes a Share Your Story booth where visitors can also share their personal history. Anchored by elm trees, a 2.5-acre memorial grove was designed for contemplation and reflection. Featuring three cascades of water and a reflecting pool, guests can pause in a peaceful space to remember and recognize the service and sacrifice of American veterans. The NVMM welcomes groups of 10 or more for both guided tours and self-guided visits with a 20 percent discounted admission rate, a dedicated entrance and other group privileges.
Continue your patriotic pilgrimage in Columbus exploring more military marvels at the Ohio History Center. The Follow the Flag exhibit features 10 authentic Civil War battle flags that have been conserved, accompanied by stories of those who lived through America's epic war, delivered in their own words. As designated caretaker of the battle flags collection, the Ohio History Connection continues to raise funds to conserve 400-plus Civil War flags, many with significant damage. In a 45-minute Follow the Flag tour, visitors participate in an exclusive experience. The battle flag case is unlocked, offering frontline access that brings participants close enough to smell the battlefield.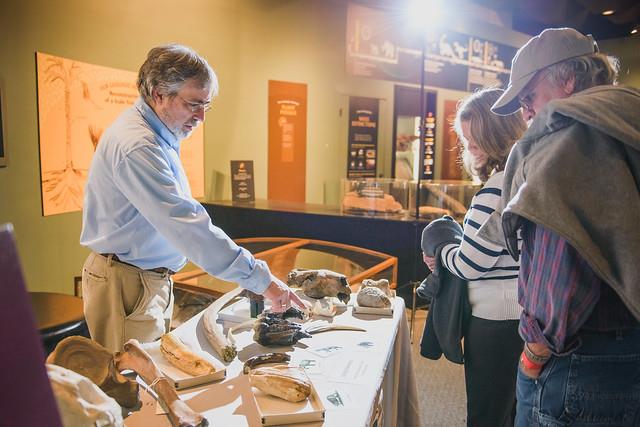 "Bring the whole family for a fun, interactive day filled with exhibits exploring everything from life in the 1950s to extinct and endangered Ohio species to an exquisite collection of restored Civil War battle flags," said Savannah Johnson, public relations coordinator for the Ohio History Connection. "Included in admission is our new exhibit, Ohio–Champion of Sports, which features over 70 stories and 35 oral histories that cover more than 25 sports ranging from baseball, football and basketball to roller derby, skateboarding and e-gaming."
Visitors can also experience the "Great War" in a new way, through a special World War I display at the Ohio History Center. View military uniforms and weapons, patriotic pins and other souvenirs that troops and volunteers brought home from Europe. Through documents and images from archival collections, see how the imagery of war changed, contrasting the bleakness of mud-splattered battlefields with the bright and vibrant posters found at home. In honor of the commemoration of the United States' entry into World War I, the Ohio History Center will host special 45-minute group tours.
Fort Laurens, in Bolivar, is the site of Ohio's only Revolutionary War fort and was built as a wilderness outpost. Visitors can tour a museum that tells the fascinating story of frontier soldiers. Americans completed the construction of Fort Laurens — named after Henry Laurens, president of the Continental Congress — in 1778. The fort was erected to serve three purposes: Americans hoped to use the fort as a base to attack the British garrison located at Detroit; the fort was intended to deter American Indians loyal to the British from conducting raids against American settlers in eastern Ohio and western Pennsylvania; and the fort offered protection to the neutral Christians of Delaware, with intentions to persuade them to forsake neutrality and join the cause of the Patriots. In total, 21 soldiers lost their lives at Fort Laurens before it was abandoned in 1779. The Tomb of the Unknown Patriot of the American Revolution pays homage to the unknown defenders of the fort.
Fort Meigs, in Perrysburg, marks the turning point in the western theater of war for American forces during the War of 1812. Your group can learn about the famous conflict at one of America's largest reconstructed log forts. Explore blockhouses, artillery batteries, a quartermaster's building and numerous maneuvers used by troops to defend the fort from British cannon fire. Learn about Ohio's role in the war at this National Historic Landmark through soldiers' letters and diaries, uniforms and weapons located in the adjacent museum and visitors center.
The Grant Boyhood Home in Georgetown housed Ulysses S. Grant, the 18th president of the United States. From 1823, when the future leader was 1 year old, until 1839, when he left to attend West Point, Ulysses S. Grant lived in this historic structure. Preservationists bought and restored the home in 1977 and eventually donated the National Historic Landmark to the State of Ohio in 2002. A multi-year $1.4 million restoration of the home was completed in 2013. The house museum has dedicated rooms filled with Grant memorabilia and an additional wing provides more exhibit space. Tours include a field trip to the two-room school attended by Ulysses, built in 1829. Walk a little farther in Grant's footsteps and visit the birthplace of the famous Civil War general in nearby Point Pleasant.
Buffington Island Battlefield Memorial Park is a four-acre site commemorating the location of the only significant Civil War battle fought on Ohio soil in 1863. On the morning of July 19, Union troops cornered General John Hunt Morgan and his men as Confederates tried to cross the Ohio River. While Union troops dealt a heavy blow to Morgan's men and resources, General Morgan escaped after losing nearly half his men. Major Daniel McCook, patriarch of the fighting McCook family, was mortally wounded in the Ohio battle.