The Golden State has plenty of options after dark
With its idyllic weather, pristine beaches and hardy redwoods, California is a utopian locale for lovers of seemingly endless sunshine and the great outdoors.
Eventually though, the sun does set and people's entertainment cravings don't vanish with the daylight. Which begs the question, what activities does California provide for group travelers when the street lights begin to glow? We're glad you asked. Here are some tips for groups looking to embrace the Golden State's burgeoning nightlife.
San Francisco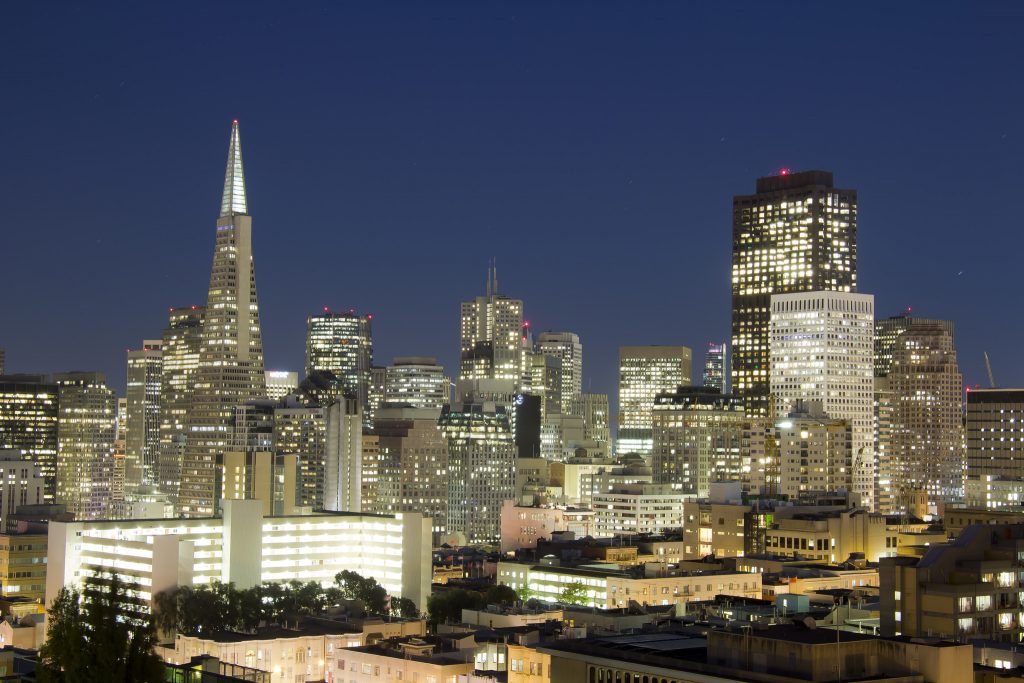 An enchanting city possessing one of the finest skylines on earth, San Francisco is a perfect place to sightsee. Group travelers looking to savor the city's beauty at dusk can drive to the top of Twin Peaks, where they can bask in its late-night radiance. This set of peaks is located near the center of San Francisco, offering 360-degree views of the city, the bay, its bridges and the ocean.
Those seeking a more active evening can knock down pins at the Presidio Bowling Center and Lucky Strike. Both bowling alleys are open until midnight, except for Fridays and Saturdays when they extend their hours to 2 a.m. Another option that will get the blood flowing is miniature golf, which has a reputation as a daytime event, but Urban Putt suggests otherwise. Open on Fridays and Saturdays until 1 a.m. (open until midnight the rest of the week), Urban Putt features a 14- hole mini golf course and a variety of beer and wine options. If mini golf is too strenuous for a group's tired legs, Clay Theatre has a Midnight Madness movie on Saturday nights while PianoFight hosts Night Moves, a midnight night comedy show on Friday nights. For music lovers, the Chapel is a live music venue, restaurant and neighborhood bar located in the heart of the Mission District that keeps its doors open until midnight on Friday and Saturday.
Naturally, almost everyone's favorite late-night activity is eating. And San Francisco does not disappoint on that front. For pizza lovers, Golden Boy Pizza offers slices until 2:30 a.m. on Friday and Saturday, while Beretta provides thin pizza until 1 a.m. daily. For those seeking a more diverse menu, the Revolution Café is a European-style café that's open until midnight (2 a.m. on Friday and Saturday) and features beer, wine, food, coffee and live music. Groups with a collective sweet tooth are also in luck because Bob's Donuts is a popular bakery with a variety of classic doughnuts and pastries, and is open 24 hours.
Los Angeles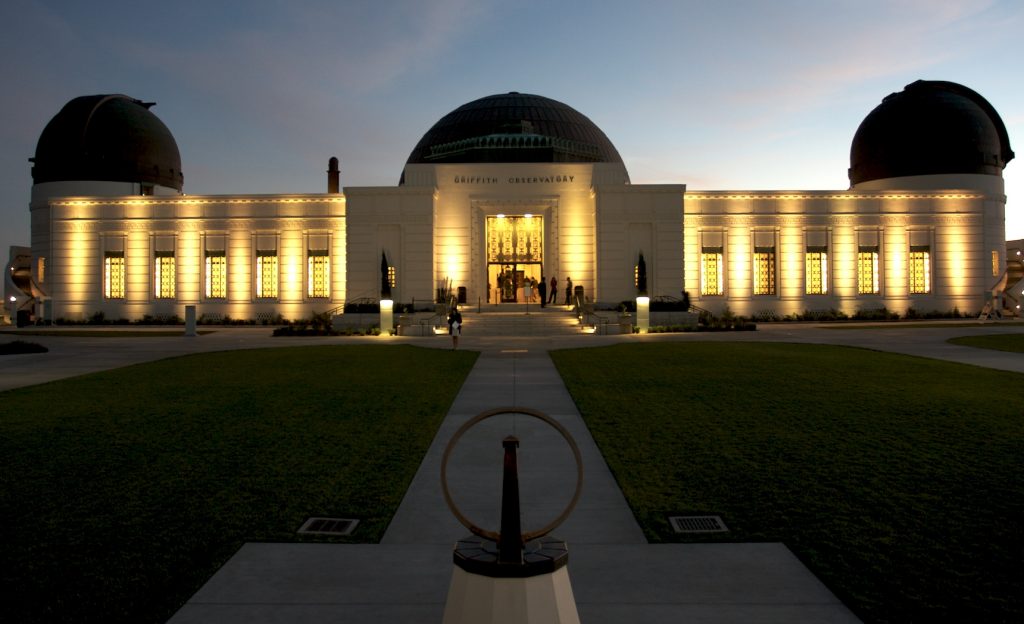 With views of the Pacific Ocean, the Hollywood sign and downtown Los Angeles, Griffith Observatory, which sits on Mount Hollywood, is one of the best spots in the city to watch a sunset. Admission to the building, grounds and telescopes is free, and the observatory is open until 10 p.m. The Hollywood Bowl overlook on Mulholland Drive also offers a sightly view of the stars (in the sky) while the OUE Skyspace LA, an open-air observation deck nearly 1,000 feet above downtown Los Angeles, features 360-degree views of the city and is open until 10 p.m. (11 p.m. on Fridays and Saturdays).
---
---
For groups seeking a more down-to-earth view of L.A. and its surrounding neighbor-hoods, the Santa Monica Pier is open 24 hours and is notable for its seaside amusement park and beautiful ocean view. Other excellent locales for strolling are Abbot Kinney Boulevard, a mile-long Venice Beach street filled with fashion, art and food that stays vibrant into the wee hours; the iconic Hollywood Boulevard, which captivates with its array of neon lights that reflect off the Walk of Fame when the sun sets; and the Universal CityWalk, near Universal Studios in Hollywood, which closes at 11 p.m. on the weekend and is a hub of shops, eateries and nightclubs.
L.A.'s many food options are catered for the city's late-night crowd as plenty of establishments stay open late. Among the best of these hot spots are Pizzeria Mozza, which provides acclaimed wood-burning oven pizzas and antipasti until midnight; Pink's Hot Dogs, arguably the most famous hot dog stand in America (open until 3 a.m. on Friday and Saturday); and Father's Office, a gastropub that has a highly-regarded burger and is open until 2 a.m. on Friday and Saturday.
San Diego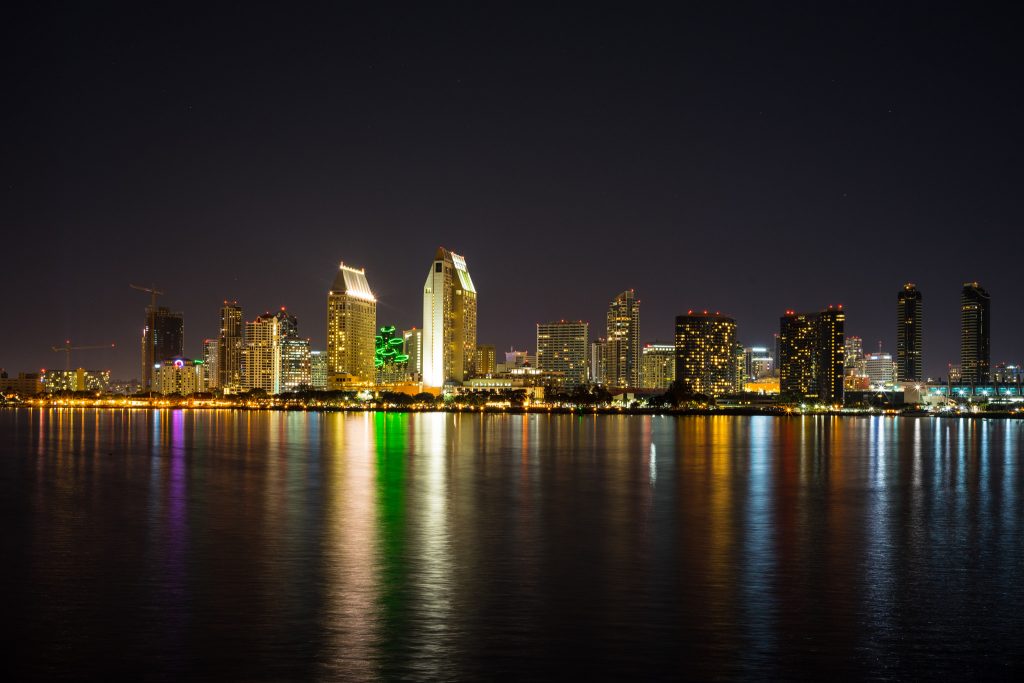 Considered by many the most beautiful city in the country, San Diego lays claim to impeccable weather
and resplendent architecture. Groups looking to embrace its night-time vibes can ascend Mount Soledad, the highest spot in San Diego, where they can look out over the city and enjoy the shimmer of its lights. Those with extra stamina can stay up until dawn and catch a picturesque sunrise.
The San Diego Zoo is one of the city's most popular attractions, and during summer the zoo extends its operating hours until 9 p.m., allowing visitors to catch the sights and sounds of nocturnal animals. Those who want to brave the high seas in the dark from December until March can enjoy a midnight whale watch thanks to Hornblower Cruises, where they can potentially see thousands of gray whales migrating into Baja, California. Vacationers who prefer a more relaxing evening can visit the National Comedy Theatre (open until 11:30 p.m. on Friday and Saturday), a fabulous spot to enjoy an interactive comedy show that offers snacks and drinks.
Like San Francisco and Los Angeles, San Diego features a diverse slate of late-night eating options. In Mission Bay, surf and turf can be savored at Saska's Steakhouse, which stays open until 1 a.m. on Fridays and Saturdays. Turf Supper Club is one of San Diego's oldest cocktail lounges and is a storied grill-your-own-steak spot that closes at 2 a.m. daily. Open until 1 a.m. nightly (except for Sundays when it closes its doors at midnight), Izakaya Masa is an intimate Japanese spot offering sushi, ramen and udon along with sake and beer. Hard-partying groups who want even later food options can visit Night & Day Café in Coronado, a 24-hour diner that serves American and Mexican cuisine along with beer and wine in a classic setting.