A bright, contemporary lobby, a quiet room, a good central location, a reasonable price that includes breakfast…what more could I ask for in a midtown Manhattan hotel?
One of the highlights of my recent trip to New York City was an overnight at nyma, the new york manhattan hotel (yes, all lower case). It's part of Apple Core Hotels, a collection of five budget-friendly properties in the Big Apple.
Ideal for groups pinching their pennies in this high-priced city, these Manhattan hotels offer most of the same amenities as those charging twice as much. They may occupy older buildings, but Apple Core hotels are clean, stylish and sparklingly modern. So don't let the economy tag fool you. Room rates range from $119.99 to $509.99.
The 17-story nyma, tucked in a bustling block between Fifth Avenue and Broadway, is just two blocks from the Empire State Building, three blocks from Macy's. Chock-a-block with Korean restaurants and music clubs, the one-block stretch of 32nd Street is known as Korea Way—an exotic twist I wasn't expecting in my hotel neighborhood.
Previously a Red Roof Inn, nyma became an independent property in 2010 and completed an extensive facelift in June 2011. In the newly renovated lobby, I made good use of the complimentary, 24-hour business center with two computers and a printer. A concierge is on hand to help tourists plan their day.
The hotel's new mezzanine area has comfortable seating with flat-screen TVs and work stations for laptops with free Wi-Fi, along with complimentary coffee, tea, hot chocolate and cappuccino 24 hours a day. Also free at nyma: phone calls nationwide and a fitness center.
Choices in the 50-person, self-service breakfast room include sweet rolls, bagels, cereal, yogurt, fruit and juices. It wasn't until we sat down for breakfast that we realized how many foreign guests the hotel attracts.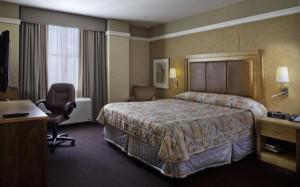 Amenities in nyma's 171 guest rooms include flat-screen TV, iron and ironing board, coffee and coffee maker, hair dryer, safe and daily newspaper.
Down the street, La Quinta Manhattan, another Apple Core hotel, provides the same amenities. Its ornate red-brick/white-stone/black-iron Beaux Arts facade, dating from the turn of the 20th century, was designated a city landmark in 2001. The 14-story, 182-room hotel underwent a multi-million-dollar renovation in August 2008. A special feature is an indoor/outdoor rooftop bar that offers views of the Empire State Building.
Not far away is the 12-story, 101-room Ramada Eastside at 30th Street and Lexington Avenue. Rounding out the Apple Core group are two properties on 46th Street in the heart of the Times Square area—the 14-story, 208-room Hotel @Times Square and nine-story, 79-room Comfort Inn Times Square.
With convenient locations close to the action, Apple Core hotels have thought of all the little things that make travelers comfortable in the big city.
For information, call reservations at 800-567-7720 or visit www.applecorehotels.com.