It tastes like Oregon.
While you may have never said these words in order before, an agritourism trip to the Beaver State will offer you this and many other first-time experiences. In a day and age when food production is becoming more and more commercialized, the farmers of Oregon have stuck to their heritage, using small plots of land to create artisan delicacies. With more than 800 vineyards, 300 wineries, 250 farmer's markets, a wide variety of crops and Pacific seafood experiences, Oregon has (a) plenty to offer your agritourism group.
An hour east of Portland is the Hood River Valley Fruit Loop, a 35-mile scenic drive through some of the state's most bountiful orchards and farmlands. Many intimate family-run orchards offer tours and self-picking. Mt. Hood Organic Farms grows pears and apples and offers great mountain views from colorful gardens. Old-fashioned cottages are available for groups wishing to explore the orchard trails for a few days. Streich's Orchards specialize in cherries with four different varieties; bings, rainiers, skeenas and sweethearts. A private park offers views of snow-covered Mt. Hood. Mountain View Orchards has 50 varieties of apples and pears on its 50 acres, and also grows prunes, peaches, grapes and pumpkins. Self pick or enjoy cider, jams, pear fudge and apple pie.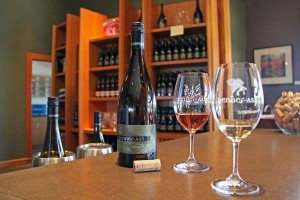 Thanks to fertile soil and a climate similar to Northern France, Willamette Valley's vineyards can grow many of the same varieties of grapes that are produced in the famous French fields of Alsace and Burgundy. Over 80 percent of Oregon's wineries call Willamette Valley home, and they are best known for squeezing out some of the world's best pinot noir. Not far east of Portland, almost all Willamette Valley vineyards and wineries showcase beautiful Oregon scenery from picnic areas and tasting patios.
Willakenzie Estate in Yamhill features a traditional Burgundy three-level gravity-fed winery, making sure that all wine is handled gently. The estate produces several pinot noir varieties and is also known for its pinot gris and pinot blanc. Erath in Dundee is one of Oregon's largest and oldest wineries. A wood-paneled tasting room in the Red Hills offers groups fine views of surrounding vineyards while they sample homemade wines. A little closer to Portland is Shafer Vineyard Cellars, located on an oak-shaded hillside. Shafer boasts some great sparkling wines and rieslings to go along with its own version of pinot noir. Area winery events run year-round as part of the Willamette Valley by the Glass series.
An hour and a half west of Portland and just minutes away from the Pacific Ocean is Tillamook, home of Tillamook cheese. The 100-year-old cheese manufacturer offers factory tours and cheese tastings. See how cheese is produced, aged and packaged with bird's eye views of the factory floor, and sample varieties of cheddar, pepper jack and colby jack among others. Ice cream, sour cream, yogurt and butter are also produced in the factory.
Rogue Valley in the southern part of the state offers a unique combination of adventure and relaxation on its wine country raft tours. These three- to four-day tours take groups down the Rogue River and through the history of Oregon wineries. Stops often include Valley View Vineyard, Oregon's oldest vineyard, and the Rogue River Museum, which showcases old farming tools and photographs early settlers. Overnight accommodations include riverside campsites and rustic lodges, which present an opportunity to enjoy world-class wines in a wilderness setting.
Not far from the Rogue's shores in Central Point is the Rogue Creamery, which has been making artisan handmade cheeses for 0 years. Tastings in the historic cheese shop include popular cheddars and an extensive line of blue cheese varieties. The creamery's Rogue River Blue won "Best Blue Cheese in the World" at the 2003 World Cheese Awards.
Medford is home to the headquarters of Harry and David, America's largest mail marketer of gourmet fruits, chocolates and baked gifts. The 2,500-acre Bear Creek Orchards from which they pluck their world-famous gourmet pears and peaches are available for touring by appointment. Regular factory tours allow groups to see how chocolate, candy and baked goods are produced.
Get a taste and feel of the Oregon's Western heritage in the eastern part of the state. Visit Pendleton, home of the Pendleton Round-Up Rodeo every September. Traditional livestock ranches in eastern Oregon include Country Natural Beef, Painted Hills and Strawberry Mountain, where you can sample some of the best steak the state has to offer.
Yaquina Bay in Newport is a popular place to try your hand at crabbing, an Oregon seafood tradition. Some of the best Dungeness and Red Rock crabs in the world come from the shores of Oregon, and the sport's lack of technical skill requirements means that even first-time crabbing groups have a high chance of success. The shallow tide pools of Yaquina make it a great place to try shore crabbing, and charter boats can take you out to the deep sea to fish while dragging crab rings along the ocean floor.
Jetty Fishery, north of Tillamook in Nehalem Bay, can teach groups the ins and outs of catching, cleaning, cooking and eating crab. Clamming is another option for groups, who can dig Purple Varnish and Eastern Soft Shell clams straight out of Nehalem Bay beaches. Use a clam gun to hunt for the biggest and deepest clams, or dig the old-fashioned way with a shovel or by hand. Enjoy a seafood smorgasbord for lunch or dinner at the marina.
Whatever your group desires—fruit, crabs, beef or wine—Oregon has a bevy of stops to entertain and feed your group. The small farms, intimate orchards, family-run fisheries and ranches all leave with you a similar taste—a taste of homemade, handcrafted artisan food. And it tastes like Oregon.