Horticultural splendor is in full bloom throughout the Bay State
For the home gardener looking for cultivation tips or visitor who just enjoys getting away to a peaceful place, Massachusetts gardens provide special memories. These exquisite gardens will complement any group tour.
Arnold Arboretum of Harvard University
Jamaica Plain
This historic arboretum was established in 1872 when a portion of whaling merchant James Arnold's estate was transferred to Harvard College. Income from the legacy was used to support Arnold Arboretum. A 1,000-year lease maintains the property in the city park system, but full care for the collection remains with the arboretum staff.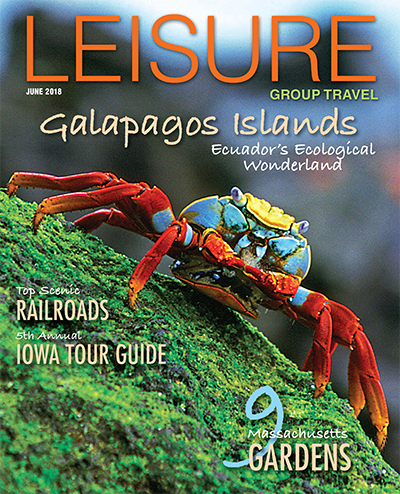 More than 15,000 plants make up the arboretum's 15 collections. Four thousand hardy varieties of trees, shrubs and vines do well in Boston's outdoors, and the arboretum's landscape is dynamic regardless of the season. Group tours led by docents and staff shed light on the collections. (
arboretum.harvard.edu
)
Polly Hill Arboretum
West Tisbury
In Martha's Vineyard, horticulturist Polly Hill began an arboretum by sewing a seed. Eventually 20 acres were cultivated with 40 more acres preserved as natural woodlands. In 1998 the arboretum was established as a non-profit devoted to cultivating and studying plants while preserving their character. Rare trees and shrubs from around the world grace the meadows, stone walls and fields. Polly's famous North Tisbury azaleas, camellias and rhododendrons are favorites of visitors. Guided tours are available by appointment; self-guided tours are available at the parking lot kiosk or Visitor Center. (pollyhillarboretum.org)
New England Wildflower Society Garden in the Woods
Farmingham
This garden showcases rare and commonplace plants in a woodland setting, with more than more than 1,000 varieties creating displays of seasonal beauty in natural New England habitats. The Curtis Woodland Garden displays the forest floor's splendor in early spring. The new Meadow Garden reflects the farm fields of the area and is especially vibrant in late summer.
Volunteer guides can be reserved for tours of the garden. Carts are available for two to five handicapped individuals. A self-guided audio tour is available, and informal drop-in tours are available on selected days. (newenglandwild.org)
Berkshire Botanical Garden
Stockbridge
In 1934 the "Berkshire Garden Center" was established as a not-for-profit, membership-supported educational group. With just more than 15 acres of land, the garden is a showcase of garden art and design and horticulture, featuring collections that thrive in the Berkshires; many plants are native to the area.
A leisurely stroll allows visitors to enjoy a variety of garden areas that seamlessly blend seasonal color with landscapes. Areas accessible by step stones are easily viewed from multiple locations; most paths are wheelchair- accessible. Classes and workshops are held in the three greenhouses and Education Center. The Center House is home to three galleries of garden art. Through October 8, 10 works by contemporary sculptors will be featured throughout the garden. (berkshirebotanical.org)
Heritage Museums & Gardens
Sandwich
Heritage is a premier cultural attraction in Cape Cod. The 100-plus acres include water features, specialty gardens and a multigallery building. The Heritage galleries (with more than 18,000 items) feature classic automobiles, a vintage carousel (thrilling riders for more than 100 years), American folk art and special exhibitions. The Adventure Park at Heritage features aerial and ground interpretive trails, the aerial trails featuring zip lines with ropewalks and moving panels.
From spring to summer to fall there are always bright blooms at one of the eight gardens. The Dexter Rhododendron Garden, with more than 10,000 rhododendrons, is spectacular in the spring. The Cape Cod Hydrangea Display Garden and the North American Hydrangea Test Garden are in full bloom throughout the summer. Nature trails snaking through the grounds offer spectacular views in the fall. Groups of 10 or more are welcome for visits and programs. Group dining is available. (heritagemuseumsandgardens.org)
Massachusetts Horticultural Society
Wellesley
Listed on the National Register of Historic Places, the 36-acre Cheney Estate showcases 12 historic and contemporary gardens. Weezie's Children's Garden, Bressingham Garden designed by English nurseryman Adrian Bloom, the Italianate Garden by the Olmsted Brothers and the new Garden to Table Chef's Garden are among the favorites. The gardens are surrounded by open fields and meadows, plus wooded areas with ponds, streams and the Charles River, all adding an element to the setting.
An important part of Mass Hort's mission involves regularly scheduled classes to help develop understanding of plants and the environment. From January through August there are more than 50 opportunities to grow your gardening knowledge. Planning a visit around any special event at Mass Hort is a rewarding experience. A tour guide can be added for a reasonable cost. (masshort.org)
Tower Hill Botanic Garden
Boylston
Following a well-received fruit and flower display at the 1840 cattle show of the Worcester Agricultural Society, the Worchester County Horticultural Society was established less than two years later. Nestled on 171 acres, the garden has a year-round display of New England cultivations in 17 distinct gardens.
High-quality art exhibits regularly rotate. Events, classes and programs are ongoing. Docent-guided tours can be scheduled Tuesday through Sunday year-round. A group rate is available for 10 or more with a reservation two weeks prior to the visit. Farmer and the Fork is open daily with a changing and locally-sourced menu. (towerhillbg.org)
Wellesley College Botanic Center (Wellesley, hwellesley.edu/wcbg) and The Botanic Garden of Smith College (Northampton, smith.edu/garden) each have magnificent gardens and a commitment to education and horticulture.