Riverside promenades overflow with possibilities for urban tour itineraries
No matter how many group trips you've planned or how organized your party is, it's always a challenge to budget time. You want to experience everything a city has to offer while simplifying the logistics of transportation and meals. River walks often combine historical landmarks, museums, public parks and easy access to downtown. Happily, most of the riverside sightseeing is free. Simply park in one location and your group can spend hours exploring the culture and history of great cities built on commerce —and get in some exercise while they're at it!
Here are nine Midwest cities with exceptional river walks filled with surprises around every bend.
1. Chicago River, Chicago, Illinois
Spanning six blocks along the Chicago River with views of the city's famous bridges, this river walk features bars, restaurants and leisure activities with a new theme for each block. Walk along the south side of the river and admire famous landmarks like the Wrigley Building and Tribune Tower.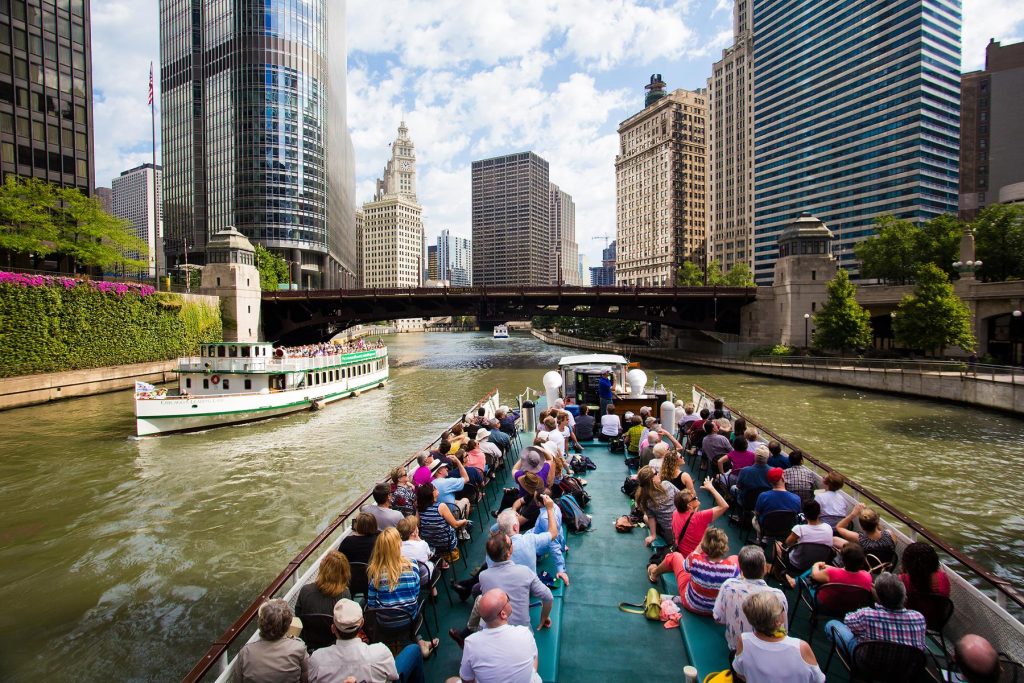 Rental bikes are available for riding along the river and nearby Lake Michigan shoreline, and river kayaking tours are growing in popularity. Docent-led architecture cruises, another hot ticket, showcase internationally renowned buildings that stud Chicago's skyline, Dining options on the water include O'Briens, a tribute to Chicago's Irish heritage with pub fare and hearty ales, and City Winery, a relaxed Italian trattoria with Mediterranean specialties and cheese plates in addition to wines from around the world.
2. Mississippi River, Davenport, Iowa
Dozens of acres of recreation space are included in Davenport's Mississippi riverfront area. Community bike and hiking trails can take your group through the Quad Cities on both shores of the Mississippi River, with stops for nature spotting in Sunset Park and Credit Island. For a trip on the water, take a cruise on the Channel Cat Water Taxi. Captains will guide your group through Davenport's history as a riverboat city and through the choppy waters once known as Rock River Rapids.
On the river's north shore is LeClaire Park, a dedicated recreation area over 100 years old and host to festivals and athletic events throughout the year. Even if your group is in town when there are no festivals, be sure to stop by the park's W.D. Petersen Music Pavilion, an imposing concrete band shell with Mediterranean architectural touches, and Modern Woodmen Park, home to the minor league Quad City River Bandits. For spectacular views of the entire region, your group should experience the Skybridge, a kaleidoscopic tunnel in the air with thousands of LED lights to create a unique color scheme for each visit.
[cta id="54018″ vid="0″]
3. Canal Walk, Indianapolis, Indiana
Looking to enjoy a gondola ride that sails under Venetian-style bridges without the flight to Italy? Indianapolis Canal Walk features waterside cafés, public parks and live concerts that replicate a European metropolis with Midwestern hospitality. Dug 200 years ago as an offshoot of the White River, the canal is now bordered by a 3-mile stretch of pedestrian walkways.
Kayaks, paddleboats and other watercraft are available to rent, and bicycle and Segway tours are available for groups to explore the nearby Ransom Place neighborhood. Follow the canal farther south and your group will find a variety of activities in White River State Park. Here you'll find an entire campus full of activities, such as Eiteljorg Museum and its collection of Native American artifacts, the historic civil war camp of Military Park and the internationally renowned exhibits of the Indianapolis Zoo.
4. Mississippi River, Minneapolis/Saint Paul, Minnesota
The Mississippi River begins in Minnesota and makes its first major stop by creating the border between the Twin Cities, Minneapolis and Saint Paul. On both sides your group will find plenty of riverside activities in the cities' acclaimed public parks and culinary scene. Those interested in French colonial history and Victorian architecture should explore Nicolett Island, home to preserved frontier inns and horse-drawn carriage rides.
Foodies in your group will want to make a stop in the Mill District neighborhood, where they can sample pasta hand-made in the historic Chase Building and a taste of Minnesota's Scandinavian heritage with pastries and breads. To burn off all the calories, walk over the Stone Arch Bridge and through Saint Anthony Main, once a milling district and now a revitalized riverfront street with brew pubs, boutiques and a movie theater. Farther upstream is Boom River Park, which features spectacular views of Minneapolis' skyline and famous miniature lighthouse.
5. Milwaukee River, Milwaukee, Wisconsin
Walk along the same shores Native American and French fur traders did on this nearly 2-mile route that winds along the Milwaukee River. Stops along the water include the city's theater district, where your group can see Milwaukee's symphony, ballet company or a children's show. Take time to pose with the statue of Fonzie from TV's Happy Days.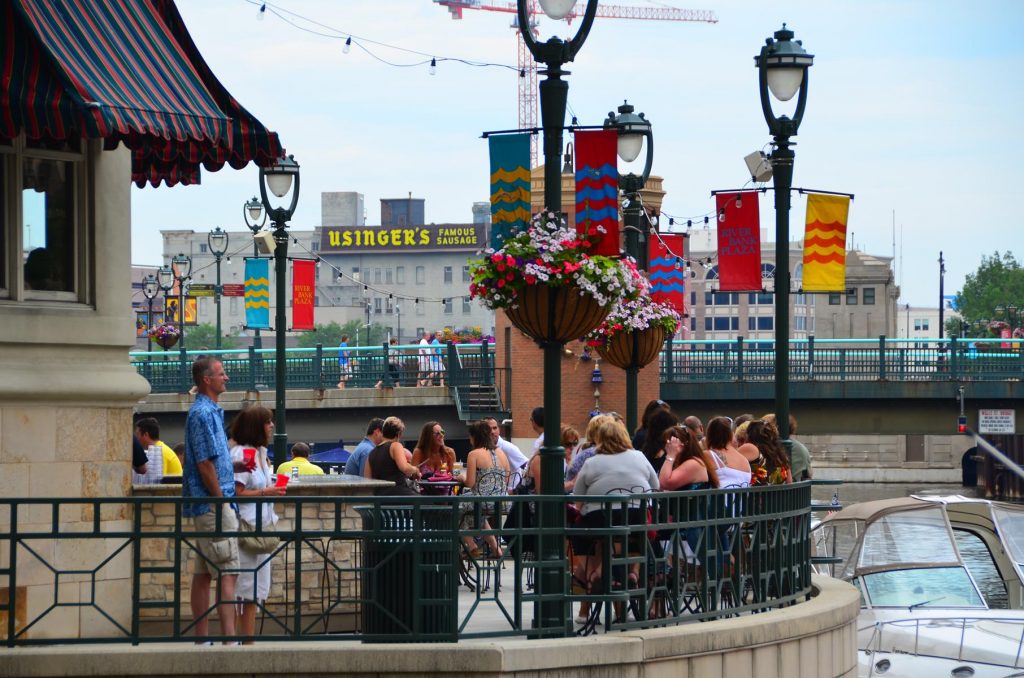 The Historic Third Ward has become a hub for artists and musicians, and here your group can stop in nearly 20 galleries and studio spaces. Farther north along the river is Brewer's Hill, the site where Pabst, Schlitz and Blatz used the river water in their beer. Your travelers will find brew pubs with stunning water views such as Wolf Peach, which features European comfort food and house microbrews.
6. Detroit River, Detroit, Michigan
A tributary between Lake St. Clair and the much larger Lake Erie, the Detroit River forms the shoreline for the Motor City and is home to miles of pedestrian walkways that straddle the river and downtown. Your group will pass by William G. Milliken State Park, originally a wetland and now a restored greenspace with sailboat marinas, and Hart Plaza, home to the renowned Detroit Jazz Festival.
The must-see attraction on the river, however, is Belle Isle, an expansive 982-acre island park where the city's 19th century upper class would walk through the botanical gardens and boat through the canals. Now open to everyone and just a ferry boat trip away, the island has enough historic sites and activities to fill an entire day, including an aquarium, yacht club and forest for hiking.
7. Scioto River, Columbus, Ohio
Cutting through the heart of Ohio's thriving capital, the Scioto River is surrounded on both sides by the ever-expanding Scioto Mile riverfront park. The 145-acre promenade, which stretches over a mile through Columbus' historic neighborhoods, features sculptures to admire, benches to rest on and interactive fountains to explore, all for free.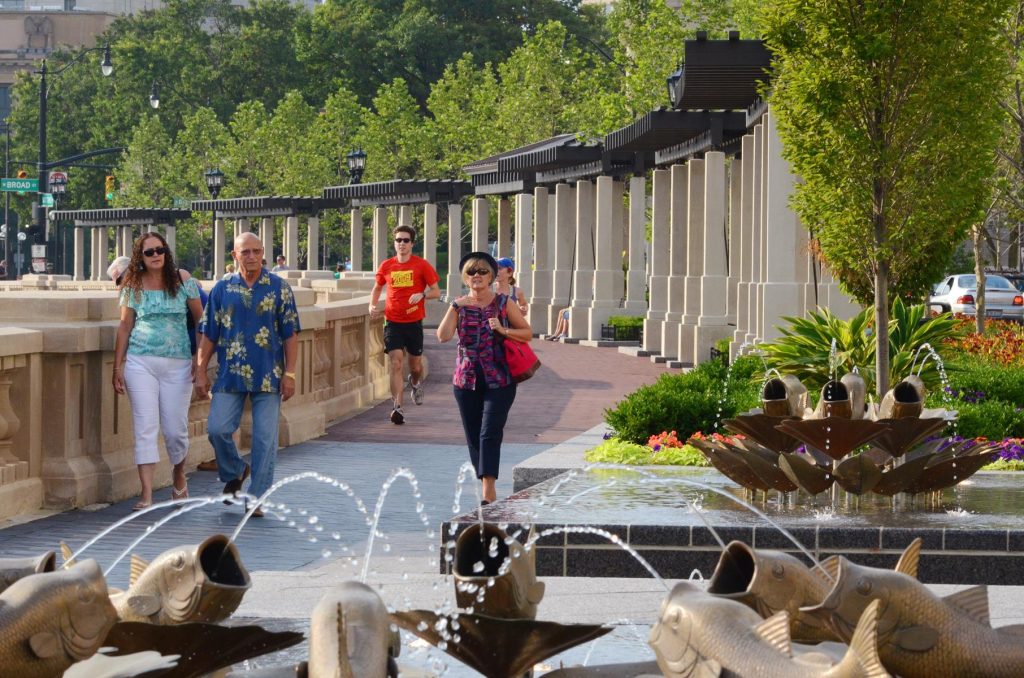 Bicentennial Park, located on the Mile's southern edge, has a permanent band shell and riverfront café perfect for al fresco dining, and Genoa Park offers stunning views of the downtown skyline ideal for group photos. Placed at the scenic bend of the river and overlooking the entire Mile is COSI Columbus, an interactive science museum with over 300 exhibits designed for younger learners.
8. Missouri River, Omaha, Nebraska
Famed explorers Lewis and Clark passed through what is now known as Omaha while traveling to the Pacific coast, and the Missouri River's shore has several museums and parks named in their honor. While walking along Omaha's pedestrian paths, your group can pass through Lewis and Clark Landing, which features an expansive boardwalk perfect for picnic lunches and views of Council Bluffs, Iowa from across the river.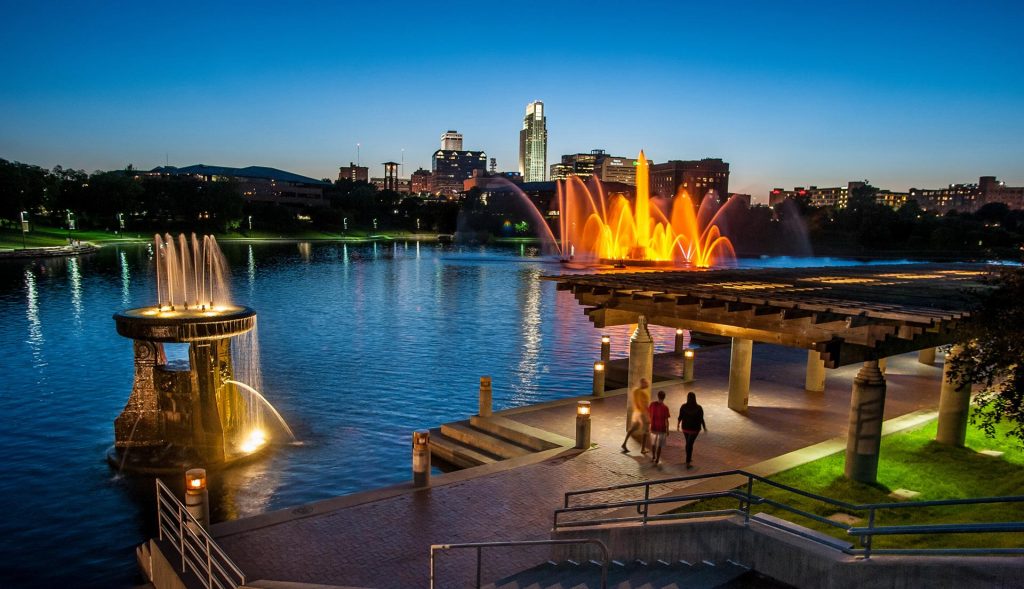 Nearby is the National Lewis and Clark Historic Trail Visitor Center, featuring artifacts from the pair's expedition and exhibits on westward expansion. Farther south along the river is Heartland of America Park, a 31-acre space filled with biking and hiking trails and boat trips on the General Marion, which takes visitors to the center of ConAgra Lake to watch resident swans named Romeo and Juliet by day and spectacular fountain light shows by night.
9. Ohio River, Cincinnati, Ohio
Along the shores of the Ohio River lies a cluster of facilities perfect for families and sports fans. Paul Brown Stadium and the Great American Ballpark, home to the Cincinnati Bengals and Reds, bookend Smale Riverfront Park, a new area designed with families in mind.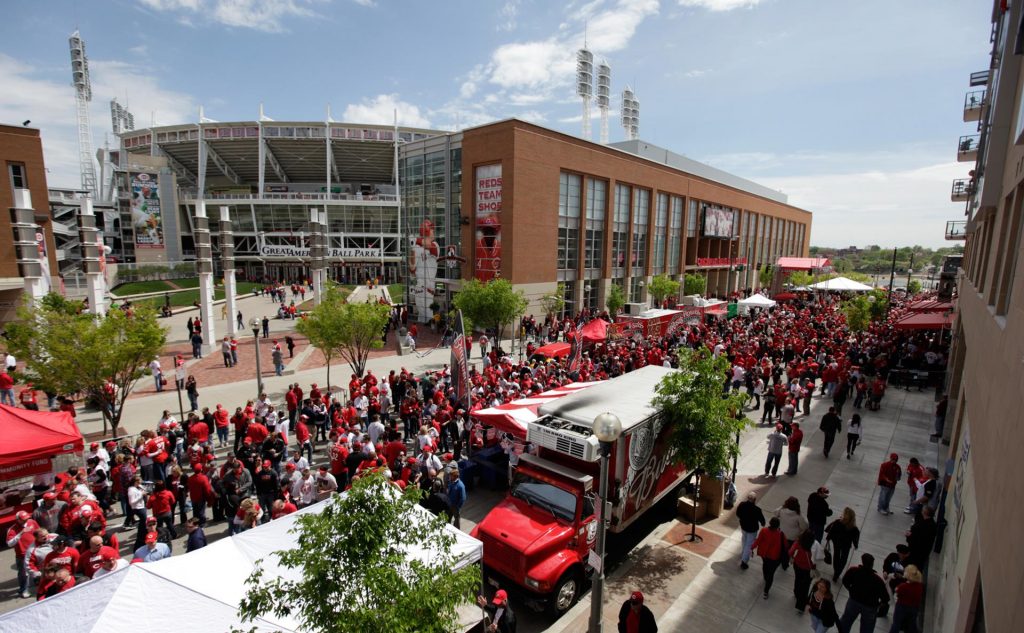 Interactive art installations, labyrinths and fountains will occupy children for hours, while adults in your party can admire Cincinnati's famed suspension bridges or play a game of chess on an enormous board. Straddling the two stadiums is Freedom Way, a restored block filled with restaurants to watch the game and spacious decks to look at the neighboring Kentucky shoreline.