Set at the foothills of the Great Smoky Mountains, Sevierville, Tennessee has always been a popular destination. Now, there's even more reason to visit.
Group travel planners are well aware of the attractions making Sevierville a premier destination. Dollywood theme park with more than 40 rides, attractions and entertainment and Dollywood's Splash Country Water Park host traditional and niche groups, reunions, students and faith-based groups. Blend some world-class Tanger Outlets shopping and outdoor adventure into the mix and you're off to a good start. However, like the popular infomercials say, "Wait, there's more."
Extend your Sevierville itinerary with these options.
Tennessee Museum of Aviation
Regardless of your group's prior interest in aviation, upon visiting the museum you'll have a difficult time pulling your troops away. Located on the grounds of the airport, the museum is an educational mix of history and technology. The large gallery houses captivating exhibits and artifacts preserving history and creating a path to understanding the past. The U.S.S. Arizona exhibit is quite interesting, while the exhibits honoring chaplains of all faiths are an education in the extreme dangers and challenges of their mission.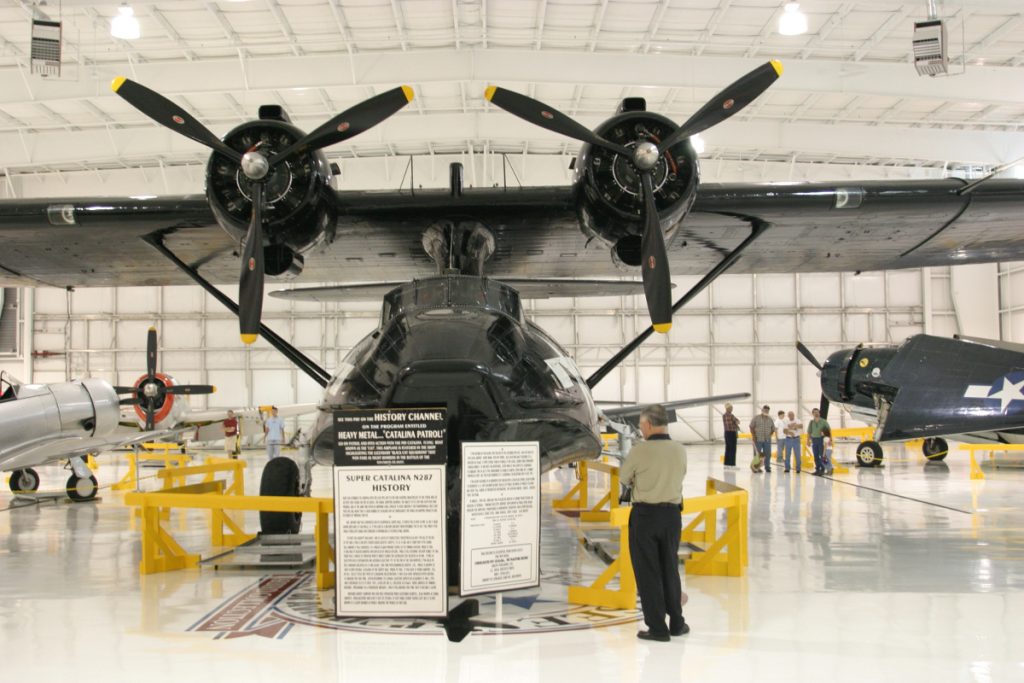 There are as many as 20 historic aircraft on display in the massive 35,000 square feet aircraft hangar. Two airworthy P-47 Thunderbolts are the pride of the museum and are often called upon to provide impromptu flights. Less than a dozen of these World War II Thunderbolts are still flying. A large selection of other aircraft is on display, too. The aviation enthusiast will recognize names like Douglas, Beech, Canadair, Grumman, Mikoyan, Boeing and others. Military vehicles, aircraft engines and cockpits that provide a close-up look at the instrumentation round out a noteworthy display.
The museum is a great option for tour groups, student field trips and military reunions. Volunteers are available to add their expertise to your visit. Do make time to visit the Flying Spirit Gift Shop.
Thunder Road Distillery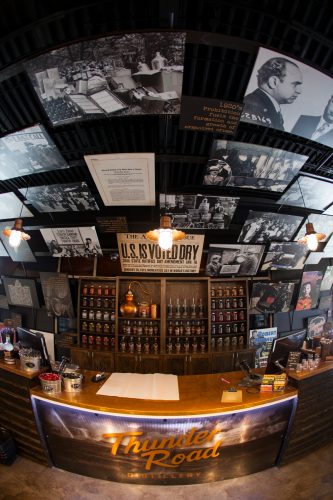 It just seems natural that an East Tennessee distillery would adapt the great 1958 film Thunder Road, in both name and spirit. The film written by, produced by and starring Robert Mitchum is considered the best at portraying the moonshine runner's way of life.
Catching up on a little history, it was 1920 when the 18th Amendment to the U.S. Constitution went into effect. Prohibition, known as the "Noble Experiment," made it illegal to sell, manufacture and transport liquors. Restaurants suffered lost revenue, employees in the industry lost their jobs and it's estimated the government lost $11 billion in taxes. In 1933 the 21st Amendment made the 18th the first to be overturned. Moonshining had become a closet industry during Prohibition, satisfying the country's taste for alcohol. Moonshiners continued to thrive until the late 1966s when Mississippi became the last dry state.
What makes Thunder Road Distillery special is while embracing the legendary movie, Thunder Road Distiller Dwight Bearden is making really good product. All moonshine is made corn meal, sugar, yeast and water, but distilling experience and pride make it special. Thunder Road's more than 10 flavored moonshines are indeed special.
Unlike many distilleries that perform their magic in a separate room, you'll see Thunder Road's process up close while browsing through the selections or enjoying a free tasting. They're happy to share the details of their process with groups. Limited quantities of corn whiskey, rum and rye are also distilled.
Robert A. Tino Gallery
East Tennessee native Robert Tino has spent the past 30 years interpreting the landscapes of his beloved Great Smoky Mountains in both watercolor and oils. In remarkable detail Tino's work captures that special moment in time that can be remembered and enjoyed forever. In addition to original artwork that's available at the gallery, Robert features Limited Edition Lithographs, Limited Edition Giclees' and Signed Edition Prints.
Located at Sunset View Farm, the Robert A. Tino Gallery is an historical work of art in itself. Built in 1844 the home has been privately owned by only two families – the Andes and the Dentons. Robert's Tino's wife, Mary John Denton Tino, is the granddaughter of John H. Denton. After the Civil War the original owner's son, Riley Andes, hired a well-known master craftsman to do some renovations to the house. Lewis Buckner designed and carved the hard wood ornamentation seen on the porches, central gable, eaves and stairway bannister. His artistic talent is seen throughout the house. It seems the perfect setting for two creative talents to complement each other.
Mary John is always there to greet groups. Robert, a working artist not always available, will often stop by to say hello to visitors. A special experience for groups is the art class "Paint Yourself Happy" with Robert A. Tino. A little paint and a little wine and you're guaranteed a good time. An annual event at the gallery and a must for groups is the Smoky Mountain Homecoming. Located adjacent to the gallery, it will be held Sept. 30 to Oct. 2, 2016. With the color and splendor of the Great Smoky Mountains as a backdrop, groups will experience heritage and local crafts, bluegrass music and Southern food. There are savings throughout the Gallery, too.
Forbidden Caverns
Hardly forbidding, this remarkable cave is quite welcoming. The drive from Sevierville provides lovely views of the Leconte mountain range, farmlands and an old gristmill that may be operational in the near future. The history and legends surrounding the caverns are worth the visit. With a constant temperature not affected by season, the caverns became a winter dwelling for the area's Native Americans. Numerous artifacts were uncovered during the caverns' development prior to opening in 1967. From the early 1920s through the 1940s the caverns, with its crystal clear streams, were a favorite of area moonshiners.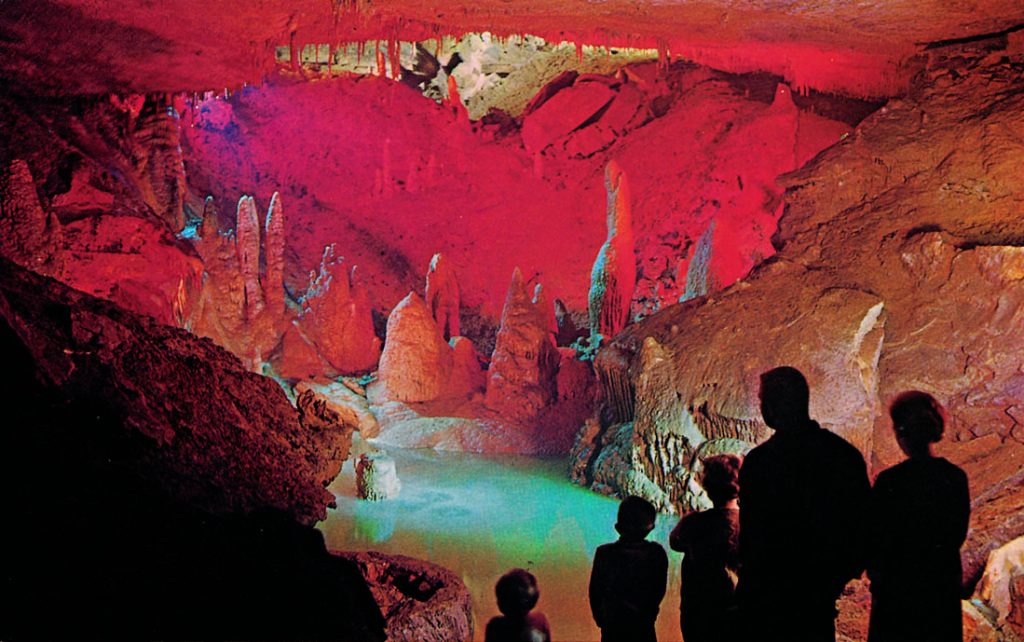 Unlike the narrow entrance and straight drop into the cave the Native Americans and whiskey makers endured, today's guest is welcomed at a visitor center with plenty of parking for coaches. Your guide will take you on a comfortable, well-lit hour walk with handrails at all the necessary passages. Special lighting and a stereo sound presentation highlight still growing and unusual formations, chimneys, grottos and streams.
Donuts and Downtown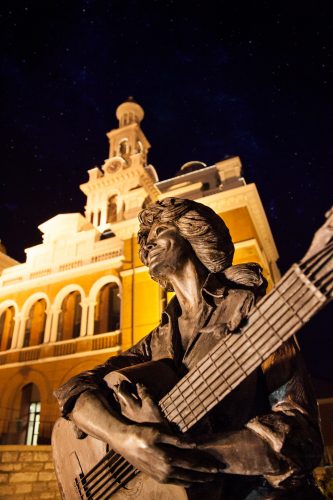 Erected to honor Sevierville native Dolly Parton, a six-and-a-half foot statute pays tribute to the world-famous vocalist, songwriter, actress and philanthropist. Sitting on the courthouse grounds, Dolly's statue is the perfect spot to begin a walking tour of the historic downtown. The courthouse, built in 1896, is actually Sevierville's fourth; the first three burned where the renovated Public Square now sits.
There are almost two dozen significant historic sites on the walking tour guide. From homes and houses of worship to colleges and entertainment and historic archeological finds, there's plenty to learn about the community named in honor of Governor John Sevier. One stop you must make is Courthouse Donuts. There's a good chance you found their donuts on your hotel's breakfast bar. However, a cup of coffee and a chance to decorate your own donut should not be missed. Lunch at Courthouse Donuts or one of the other downtown restaurants goes well with shopping at 10 downtown shops and stores.
Groups Move on their Stomachs
Now that you're convinced to stay extra days, we better make certain you're fed. To many of us one of the true joys of travel is the opportunity to enjoy local foods and unique dining venues. Swann Plantation is just such a place. An authentic Southern plantation, it is an ideal venue to host any size wedding. However, groups are also discovering Swann Plantation as the perfect place for creating their own culinary memorable moment. Situated on 50 acres, the property consists of a mansion, large horse barn, dairy barn, and carriage house. The Milk Parlor, with its deck, air conditioning and caterer's kitchen, is ideal for groups. The folks at Swann Plantation are happy to assist in planning dining options and on-site activities for your group.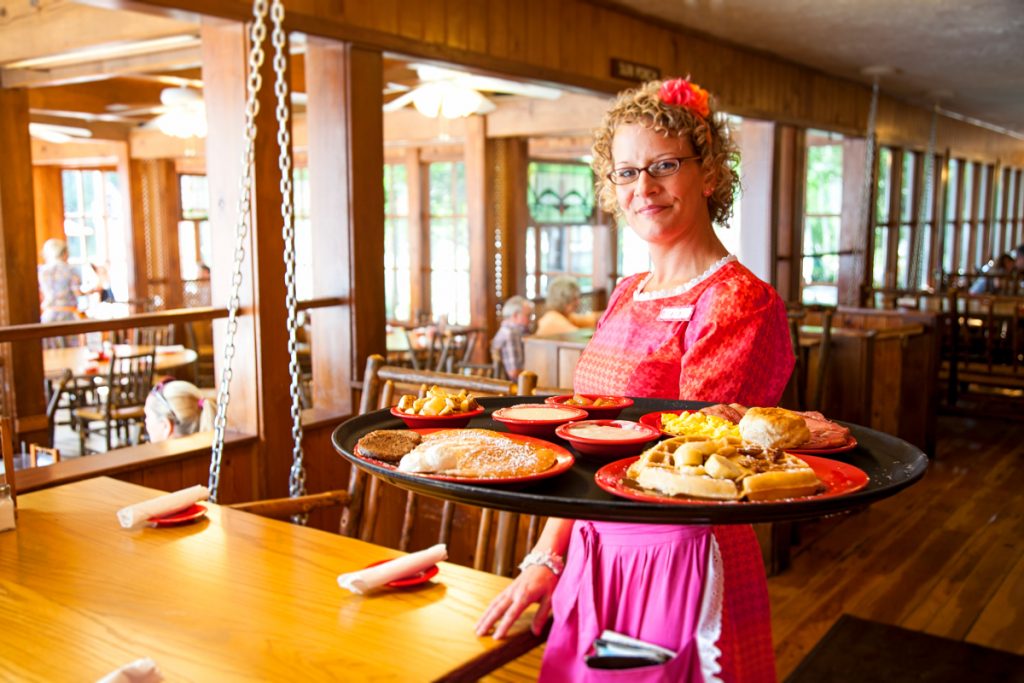 On Apple Valley Road the Apple Barn Cider Mill & General Store is a day's adventure in itself. First of all, this is a working farm where 14 varieties of apples are grown and harvested. Within the complex you'll see sweet cider, apple butter, candies, pies and ice cream being made. The Applewood Farmhouse Restaurant and the newer Applewood Farmhouse Grill are the places to enjoy good food and warm hospitality. The former is the epitome of a Southern family-style dining experience. Do save room for dessert – the apple pie is marvelous. Take a short walk to the winery and enjoy a sampling and spend time in the gift shop.
A classic ̓50s style diner, The Diner is a Sevierville favorite. The owners have put together a menu of homemade all-American favorites. Fish and fried green tomatoes are all hand-breaded, and the burgers are cooked fresh. Breakfast, lunch and dinner are served and group menus are available. Check out the classic car weekends at The Diner for a real treat.
Lay your Head Rest
Farther down Apple Valley Road sits the Appleview River Resort. Nestled on the Little Pigeon River, it is quiet and offers both water and mountain views. The fully furnished one-, two-, three- and four-bedroom riverside condos are both luxurious and comforting. Each features an oversized balcony with a view along with gas log fireplace and whirlpool tub/shower. The clubhouse with outside pool and deck are located on the Villas side of the resort. Do plan to do some fishing along the banks of the river. With a fire pit, playgrounds, grills and rockers, Appleview River Resort is perfect for vacationing families, faith-based groups and reunions.
To learn more about these great options, or to start planning your trip contact the Sevierville Chamber of Commerce at visitsevierville.com, or by calling 888-766-5948.