For some of the best art-viewing experiences in Virginia, head to Richmond, Norfolk, Roanoke and Williamsburg
From exquisite examples of Tiffany glass and American folk art to the paintings of European masters like Rubens, Renoir and Picasso, some of the nation's premier art treasures can be found in Virginia. Treat your group to an uplifting and eye-opening experience at one or more of these five cultural powerhouses.
Virginia Museum of Fine Arts, Richmond
One of the largest comprehensive art museums in the United States, the Virginia Museum of Fine Arts (VMFA) holds a collection that spans 6,000 years, from ancient Egyptian, Greek and Roman pieces to contemporary American works. It is the country's only art museum open 365 days a year with free general admission.
A suite of five galleries showcases the largest public collection of Russian decorative arts outside of Russia and includes an extraordinary group of five Fabergé Imperial Easter eggs created for the last two Russian tsars. Intricately decorated with precious stones and enamel, the jeweled eggs are among the museum's 200 objects attributed to the Fabergé firm. Inspired by the traditional Russian custom of giving decorated eggs at Easter, Tsar Alexander III commissioned the first Imperial Easter egg in 1885 as a gift for his wife, Empress Maria Feodorovna.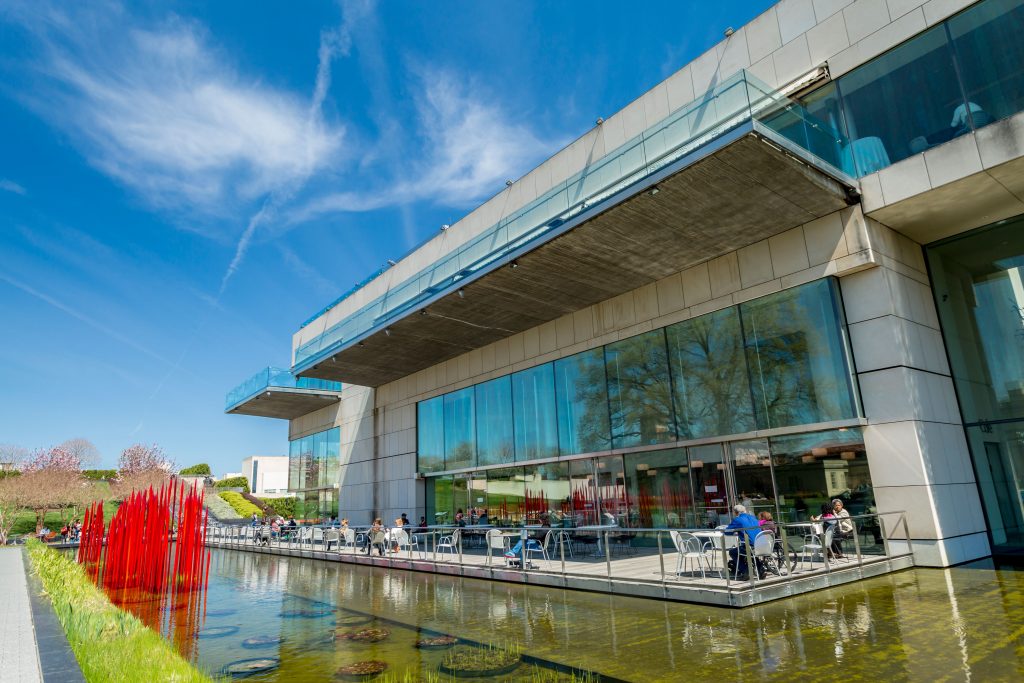 VMFA also boasts one of the finest collections of American art and the largest collection of Art Nouveau outside of Paris. Many are impressed by the life-size marble statue of the Roman emperor Caligula. Other treasures include British sporting art, English silver, French Impressionist and Post-Impressionist paintings (Degas, Cézanne, Renoir), and renowned collections of South Asian, African and Himalayan art. The museum also features a sculpture garden. Together with the adjacent Virginia Museum of History and Culture, VMFA anchors the Museum District of Richmond.
Abby Aldrich Rockefeller Folk Art Museum and The Dewitt Wallace Decorative Arts Museum, Colonial Williamsburg
A recent 65,000-square-foot expansion has enhanced the visitor experience in a building that houses two world-class museums. Beyond the new entrance and orientation area, a grand concourse provides access to both museums, which now have more space for displaying their vast collections.
Mrs Rockefeller, with a keen eye for appreciating the art of the common man, began collecting American folk art in the 1920s and created a collection of some 400 pieces, which were eventually given to Colonial Williamsburg. The collection has since grown to over 4,000 pieces that date from the 18th century to the present day. On display are paintings, pottery, sculptures, musical instruments, weathervanes and toys. There are carved wooden figureheads from ships, carousel animals and advertising figurines that stood outside of tobacconist shops. Textile galleries showcase quilts, fashions and costumes.
The Dewitt Wallace Decorative Arts Museum houses a variety of the "finer things," including the world's largest collection of furniture from the early South and one of the largest troves of British ceramics outside of England. Guests also see more than 20 tall case clocks, plus exhibits of glassware, silver and jewelry. One of the world's best collections of Revolutionary-era weaponry includes muskets, swords and bayonets used by American, British, French and Hessian troops in the French and Indian and Revolutionary wars. The Making Music in Early America gallery features antique pianos and guitars made in England.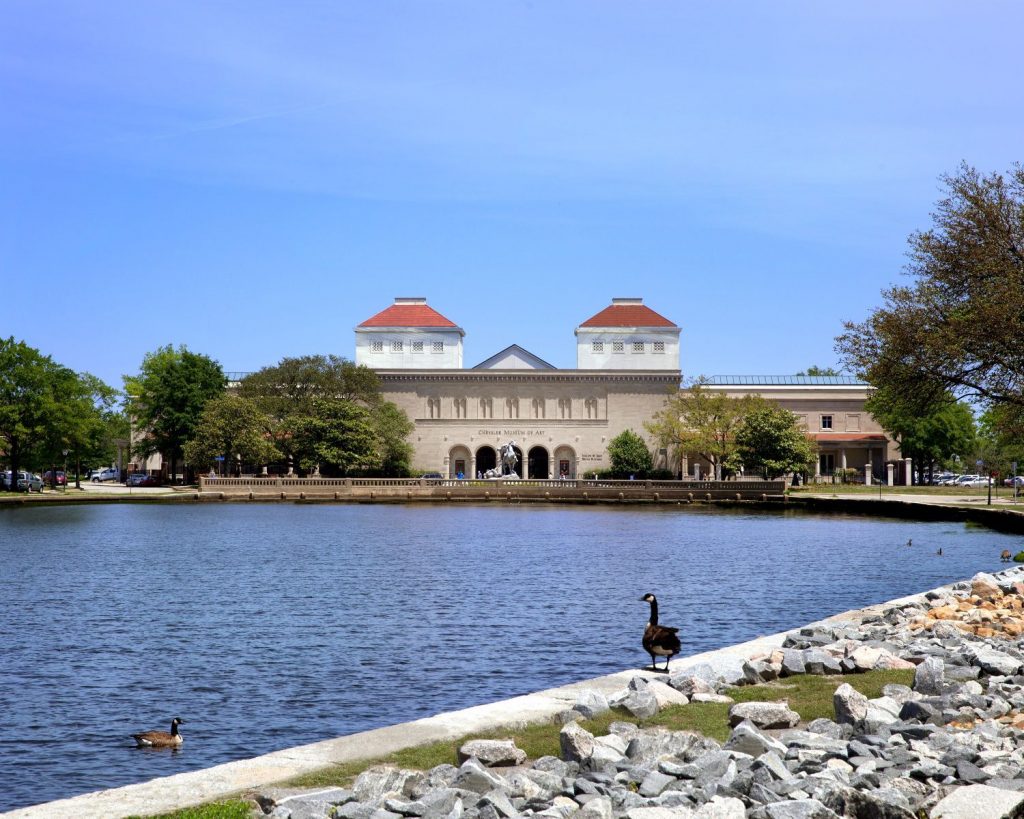 Chrysler Museum, Norfolk, Virginia
One of America's most distinguished mid-sized art museums, the Chrysler holds more than 30,000 objects encompassing a 5,000-year span. The core of the collection comes from Walter P. Chrysler, Jr., an avid art collector who donated thousands of objects from his private collection to the museum, which originally was known as the Norfolk Museum of Arts & Sciences. He was the son of the founder of the Chrysler Corporation, his wife Jean a Norfolk native.
The stately Italianate-style building on the Hague Inlet of the Elizabeth River makes a fitting repository for the treasures. Displayed in 50 galleries, diverse holdings include pieces from ancient Egypt, Greece, Rome, Asia and Mesoamerica; canvases from the Italian Renaissance and Baroque periods; decorative arts from the 12th Century to the present; an outstanding Civil War photography collection; and modern and contemporary art.
One of the country's most comprehensive glass collections features more than 10,000 pieces, including major works by Emile Galle, Rene Lalique and Louis Comfort Tiffany. Lamps and grand windows highlight the Tiffany collection. Artists at the state-of-the-art Perry Glass Studio, adjacent to the Chrysler, offer narrated glassmaking demonstrations.
Paintings by Dutch and Flemish masters include works by Peter Paul Rubens and Anthony van Dyck, while those of 19th century French painters like Edgar Degas, Paul Gauguin and Pierre Auguste Renoir also delight gallery-goers. Among other artists represented at the free-admission museum: Mary Cassatt, Winslow Homer, Henri Matisse, Pablo Picasso, Jackson Pollock, Roy Lichtenstein and Andy Warhol.
Taubman Museum of Art, Roanoke
A soaring 77-foot glass atrium dominates this striking glass-and-steel structure, a cultural gem in the Blue Ridge Mountains of southwestern Virginia. Its collection of 2,200 works ranges from 3,500-year-old Egyptian figurines to paintings and sculptures by contemporary Roanoke artists. General admission is free. The museum, a focal point in downtown Roanoke, is best known for its permanent collection of American art from the 19th and 20th centuries. These works are shown on a rotating basis in exhibitions in the Fralin Center for American Art, the main gallery level on the second floor. Through September 24, 2023, the exhibition American Art from 1850-1950 from the Taubman Permanent Collection will feature paintings by masters like Norman Rockwell, Childe Hassam, Thomas Hart Benton, Thomas Eakins and John Singer Sargent. Recent past exhibitions have spotlighted jewelry worn by Hollywood celebrities in films and on the red carpet, and costumes by Academy Award-winning designer Ruth E. Carter, who has worked on movies like Black Panther, Coming 2 America and Selma.
By Randy Mink
Explore our selection of Group-friendly Itineraries across the globe.