Tour planners have a wealth of choices in all parts of the state
What better way to get a handle on the cultural makeup of South Dakota than a visit to one of its outstanding museums. Through collections of artifacts, videos and interactive exhibits, your tour members can see how mountain men, homesteaders and Native Americans shaped the character of this vast state that stretches from the farm fields of the east to the Black Hills in the west.
But social history is not all that can be found in these impressive repositories. South Dakota museums focus on subjects as diverse as geology, archaeology, politics, art and music. Here are just a baker's dozen of the many museums the state has to offer.
National Music Museum, Vermillion.
Internationally famous for its vast collection of rare and unusual musical instruments from around the world, the National Music Museum is located on the campus of the University of South Dakota. Among the 15,000 instruments in its collection (of which 1,200 are on display in nine galleries) is the world's oldest harpsichord (1530), Stradivari violins, and guitars used by celebrities like Johnny Cash, Elvis Presley and B.B. King. There are banjos, harps, gongs, Appalachian dulcimers and Javanese percussion instruments. Other pieces include a zither shaped like a crocodile, 16th century miniature keyboard, Civil War drum and goldfish-shaped harmonicas. (nmmusd.org)
Indian Museum of North America, Custer.
One of several museums at the Crazy Horse Memorial complex, the Indian Museum of North America features American Indian art and artifacts from tribes across the continent and offers the opportunity for guests to be hands-on with "make & take" activities. Collections include photographs and paintings portraying Native American life in the late 19th and early 20th centuries. In the summer guests enjoy visiting with Native American artisans and watching American Indian dancers perform. See history in the making as the world largest mountain carving, an in-the-round sculpture of Lakota leader Crazy Horse on horseback, emerges on the site. (crazyhorsememorial.or
Akta Lakota Museum, Chamberlain.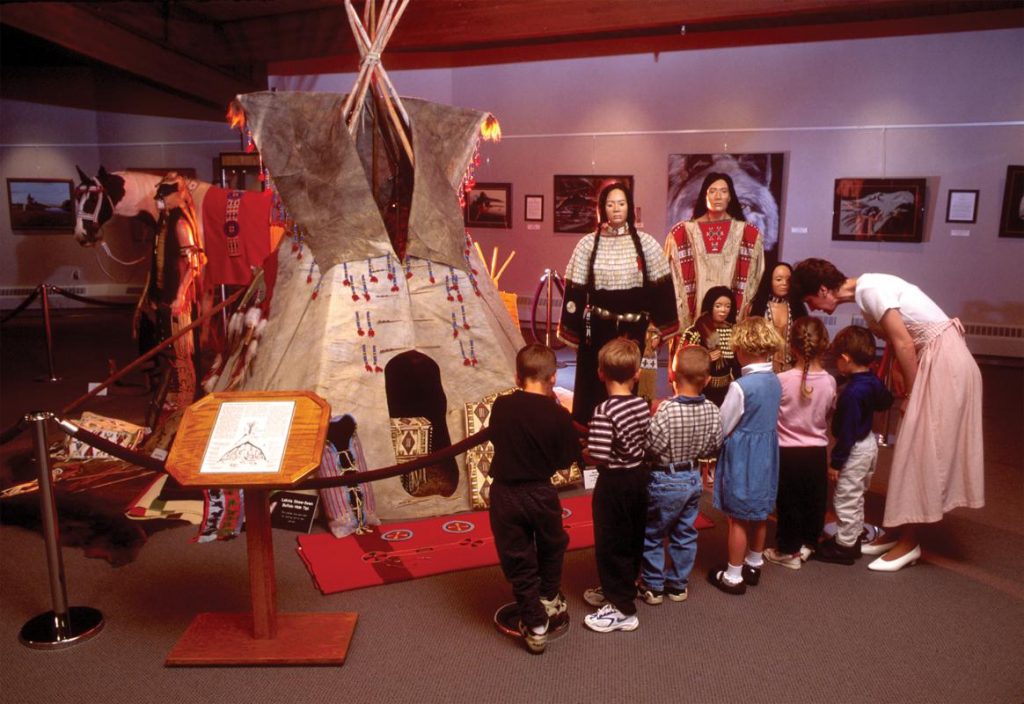 For centuries, the Lakota people lived and flourished in the Northern Plains, and their beautiful culture is honored in this 14,000-square-foot space. The Akta Lakota Museum, adjacent to the St. Joseph's Indian School campus, provides visitors glimpses into past and present Native American life. Exhibits explore the Lakota approach to art, religion and hunting, while speakers frequent the museum to explain contemporary Lakota reservation life. Visitors can also explore a mini-theater, interactive displays, an outdoor Medicine Wheel Garden and a gift shop featuring a unique selection of Native American-made products. (aktalakota.stjo.org)
Redlin Art Center, Watertown.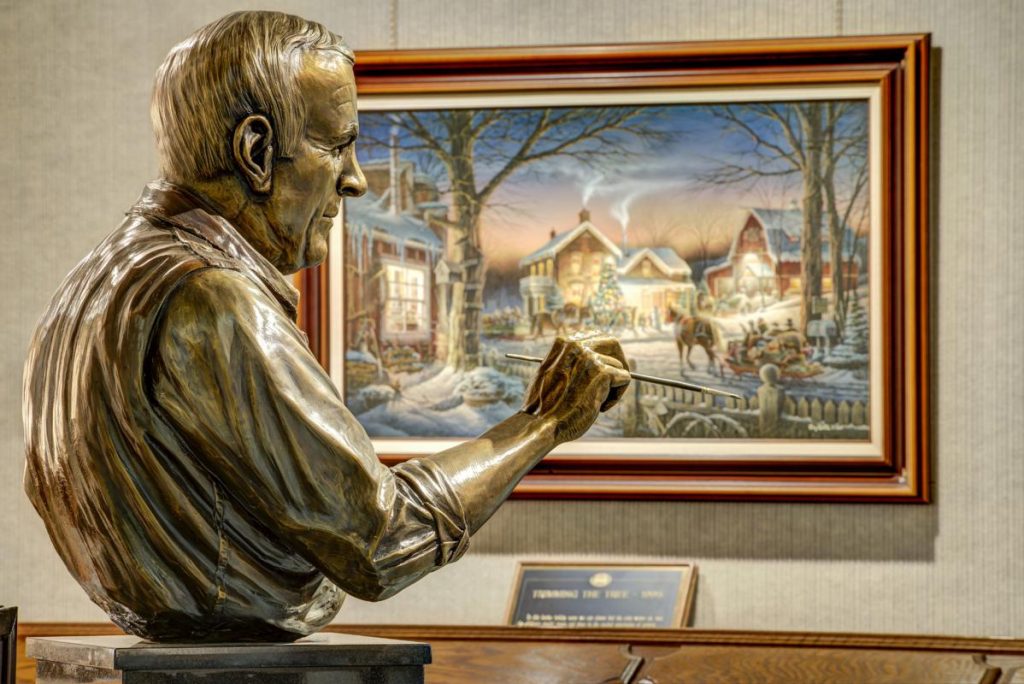 The imposing colonial-style, four-story brick building supported by 24 granite columns showcases more than 150 original oil paintings by local artist Terry Redlin (1937-2016), one of the most widely collected painters of wildlife and Americana. Video presentations like "A Conversation with Terry Redlin" and "Terry Redlin Paints America the Beautiful" are shown as orientation to Redlin and his art. When last on the market, Redlin paintings sold for $50,000 to $75,000. The gift shop sells Redlin prints and collector plates, plus home furnishings and giftware inspired by his works, whose hallmarks are earthy colors and nostalgic themes. Surrounding the building is a 30-acre wildlife refuge with walking trails, gazebos and waterways. Groups can order a Redlin Box Lunch, which is packed inside a Terry Redlin keepsake tin and served on the patio of the art center. (redlinart.com)
South Dakota Art Museum, Brookings.
Operated in conjunction with South Dakota State University, this museum houses more than 7,000 paintings, sculptures and artifacts. Six galleries include works by South Dakota native Harvey Dunn, known for his iconic depictions of rural Great Plains life, and Paul Goble, a children's book illustrator who specialized in Native American imagery. The museum's excellent Native American art collection features baskets, pottery and rugs that illustrate the diverse artistic contributions of local tribes. Group members interested in textiles can admire the most comprehensive collection of Marghab Linens in the world. (sdstate.edu/south-dakota-art-museum)
South Dakota Cultural Heritage Center, Pierre.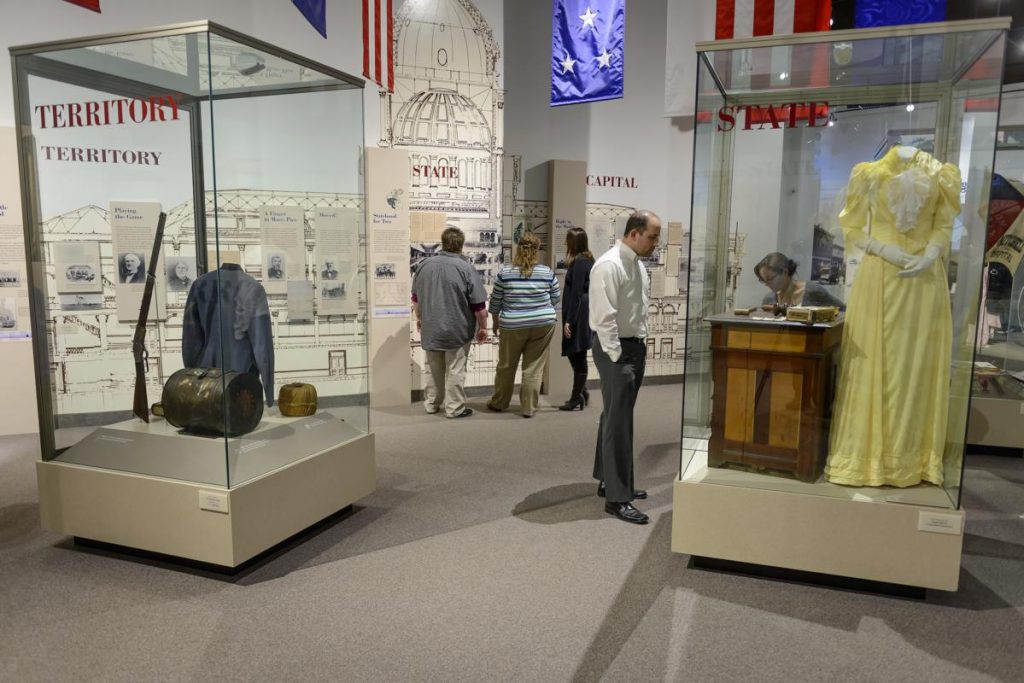 Nestled in a bluff north of the State Capitol, this Smithsonian affiliate is the headquarters of the South Dakota State Historical Society. It features The South Dakota Experience, three galleries that illustrate the history of the state from its earliest inhabitants to present day. Discover the rich culture of the Dakota, Lakota and Nakota Indian tribes. Experience the stories of the explorers, trappers, settlers, miners, and statesmen who helped establish South Dakota. Examine the changes and challenges that South Dakotans experienced in the 20th century. The Observation Gallery affords a great view of the State Capitol and Missouri River bluffs. (history.sd.gov/visit)
High Plains Western Heritage Center, Spearfish.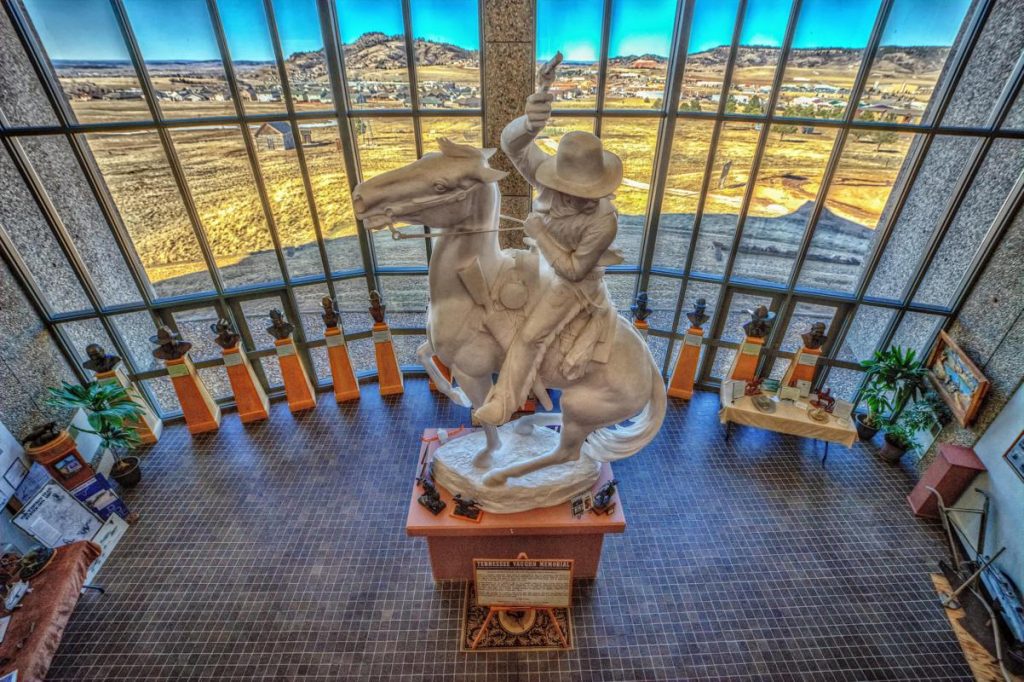 This five-state regional museum was founded to honor the Native American and Old West pioneers of Nebraska, Wyoming, Montana and North and South Dakota. A distinctly modern structure that rises above a native grassland, the center houses exhibits on Western art, history and transportation. Outside, groups can walk among longhorn cattle and bison while exploring a preserved 19th-century cabin and schoolhouse. Guided tours for groups can be scheduled by request, and bus tours receive half-price admission. (westernheritagecenter.com)
Minuteman Missile National Historic Site, Philip.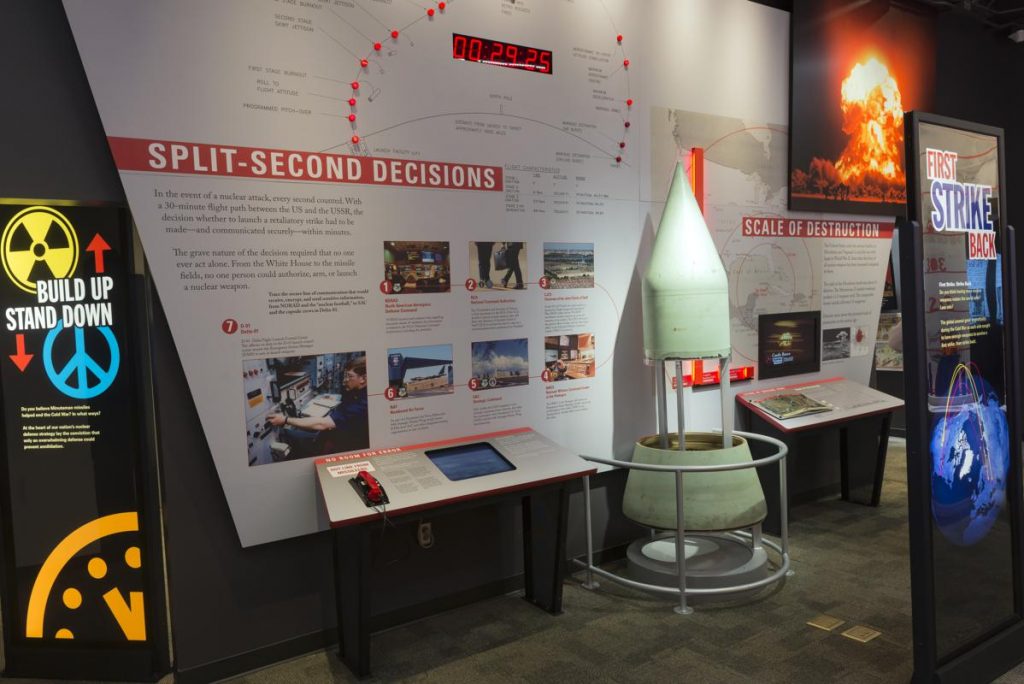 Visitors can learn about the nuclear arms race and Cold War diplomacy at this multi-site landmark, which includes a welcome building, missile silo and control center. From 1963 until the early 1990s, the silo contained fully operational Minuteman Missiles—nuclear warheads with 1.2 megatons of power. The weapons were removed after the fall of the USSR, but your group can still see the control panel, an unarmed missile and the reinforced concrete bunker that housed it. Self-guided cell phone tours will explain the site's relationship to Ellsworth Air Base in nearby Rapid City and the daily routines of the brave "missileers" who provided 24-hour surveillance of the warhead. Other exhibits estimate the scale of a nuclear blast, simulate life in a bomb shelter and depict the Cold War from the Soviet perspective. (nps.govmimi)
The Mammoth Site, Hot Springs.
Large woolly mammoths were trapped and died in an Ice Age pond more than 26,000 years ago near what is now Hot Springs. Since their bones were uncovered in 1974, The Mammoth Site has developed into a history center and the largest concentration of mammoth remains in the world. Visitors can walk through an active excavation site that contains 55 discovered fossils and discuss ancient mammals with on-site paleontologists in addition to exploring the Muller Exhibit Hall, which houses replica skeletons of an American lion, giant short-faced bear and pygmy mammoths. Groups can also visit the center's Ferguson Collection, which contains exquisitely preserved early Native American artifacts from the Black Hills and Badlands regions. (mammothsite.org)
Dakota Discovery Museum and McGovern Legacy Museum, Mitchell.
Located on the campus of Dakota Wesleyan University, the Dakota Discovery Museum is a historic village complex that includes an 1885 schoolhouse, 1909 country church and 1900 train depot. Exhibits spotlight Indian cultures, fur trading, railroading, farming and ranching, and there are several art galleries. Also on the campus, the McGovern Legacy Museum looks at the life of former U.S. Senator George McGovern, the Democratic Party's candidate for president in the 1972 election against Richard Nixon. Exhibits spotlight his military involvement, years in Congress, presidential campaign and fight against global hunger. Several short films are narrated by McGovern. (dakotadiscovery.com, mcgoverncenter.com)
Lincoln Borglum Visitor Center, Mount Rushmore.
Learn about Mount Rushmore's 14-year creation in this museum that honors the father and son sculpting duo of Gutzon and Lincoln Borglum. Between 1927 and 1941, they and over 400 workers carved the enormous faces of George Washington, Thomas Jefferson, Theodore Roosevelt and Abraham Lincoln into the granite mountainside, and their work is honored in hallways that chronicle the monument's progress. Your group can see the plaster models of presidents' heads, sculpting tools for their faces and dynamite blasters used to clear the site. You can also step inside the adjacent Sculptor's Studio, the building where Gutzon Borglum worked on a one-twelfth scale model of the monument. (nps.gov/moru)
The Journey Museum, Rapid City.
This high-tech museum chronicles the Black Hills' history from dinosaur days to more recent times, covering everything from Native American culture to the arrival of gold miners and military expeditions. Encounter mountain man Jim Bridger, General George Armstrong Custer, Wild Bill Hickock, and great Sioux leaders like Sitting Bull, Crazy Horse and Red Cloud. Marvel at rocks, gems and other geology artifacts, learn about the tragic Rapid City Flood of 1972 and enjoy space science programs in the Wells Fargo Theater.
(journeymuseum.org)