When will the leisure group travel market return and what will it look like?
If you're like three quarters of Leisure Group Travel readers, you haven't run a trip since March 15. Even if you're among the 28% who have, you haven't been turning a profit doing so. These results and other grim statistics were revealed in a revised Group Intentions survey we put out to our digital audience in late October.
Normally at this time of year, we forecast the year ahead in group travel by gauging what different travel programs are offering, where travelers are interested in visiting and how you're going about your daily lives. This year is anything but normal.
As the travel industry struggles with its very survival, we've spent the last few months studying what's working, interviewing tour planners about what's really happening in their businesses, consulting with experts in human behavior and, like you, looking for a way out. We've heard countless inspirational stories and spoke with many others who've lost everything. None of this is going to be easy and the story is still unfolding.
THE BIG QUESTIONS
How do you operate during a pandemic? With 3 in 10 groups having some semblance of a travel program this year, the big question is how you gather enough steam to operate trips when a virus is on everyone's minds.
"I thought 30 days this would resolve itself," said Bob Cline of US Tours. "I've never seen anything like it." Cline's company has cancelled some 300 trips amid the COVID-19 pandemic. He's had only a handful of customers who have run trips. "We've got a lady who owns one bus in South Carolina, she's bound and determined to run trips. She's had 6-7 trips out. She's still not making money, but her customers love her."
Others, like Catherine Swan from Galaxy Tours, have tested the waters with regional tours. "I decided to bring back this short, three-day Wisconsin/Michigan tour in July. Normally we have from one to three coaches on this tour, but I limited it to 20 people.
Because it was our first tour, I was running it and wanted to make sure all the protocols were followed to a tee. Starting up our travel program was really not going to be a money maker, but (it was a) confidence boost that many people want," Swan continued.
However, Galaxy has had to cancel some fall departures, including a Colorado trip because certain attractions and restaurants were not available, plus the airline was booking to full capacity which discouraged her travelers. "I still have a tour scheduled this year for Opryland Christmas. Fingers crossed I'm hoping things pan out," Swan said.
Moostash Joe Tours, a regional tour company based in Fremont, Nebraska has also (literally) tested the waters with a group of 20 heading up to Minnesota in August for a five-day fishing trip. "They expressed interest and we don't see any reason why we wouldn't operate the trip," said Joey Spellerberg.
When groups are traveling, it's often to wide-open spaces. Kate Scopetti from wholesale operator MARS said, "Our first tour ran in September, 25 passengers to Montana." The trip wasn't without pitfalls as they encountered a myriad of difficulties in operating tours during COVID. "We have to all be flexible during these times.
Anything could change at any time," she concluded. After cancelling all of their spring and summer trips, western Iowa-based Star Destinations had two tour departures this fall. The first was a seven-day trip to the Smoky Mountains of Tennessee and the other a six-day trip to Door County, Wisconsin. "Obviously, like everyone else, we cancelled everything for the season. But we wanted to see what the fall would bring. We have one more trip, a Christmas program at the beginning of December," said Cathy Greteman, owner of the company. Greteman not only has dealt with t our cancellations, but her bus company's fleet of over 180 coaches has been grounded.
Star put a number of measures in place to ensure a safe journey, including keeping load factors down. "Even though the numbers were small, I think that really helped, because many of the places we visited, even restaurants, were okay with smaller groups."
Protocol included a wellness form filled out by passengers before departure, daily temperature checks, sanitizing and mask-wearing. "About halfway through the trips, people realized we were doing everything we could to make them comfortable," said Greteman. "We always do a comment sheet at the end of every tour, and we asked them about the safety and protocol. The comments were very positive about that. They want that feeling of security. All of them were very positive about travel for the coming season."
2020 Group Intentions Survey Results
As part of our annual Group Intentions survey, we asked Leisure Group Travel digital subscribers a series of questions relating to their travel programs in an effort to learn what activity happened in 2020 and what their outlook is going into 2021. Not surprisingly, the group travel industry came to a grinding halt in March. However, as summer and fall came in, groups started to hit the road in spots, opting primarily for wide-open spaces such as state and national parks.
While the outlook is tepid for 2020, the announcement, and most important, implementation of successful vaccines and better therapeutics will bring more travelers out of their shell, ready to travel again.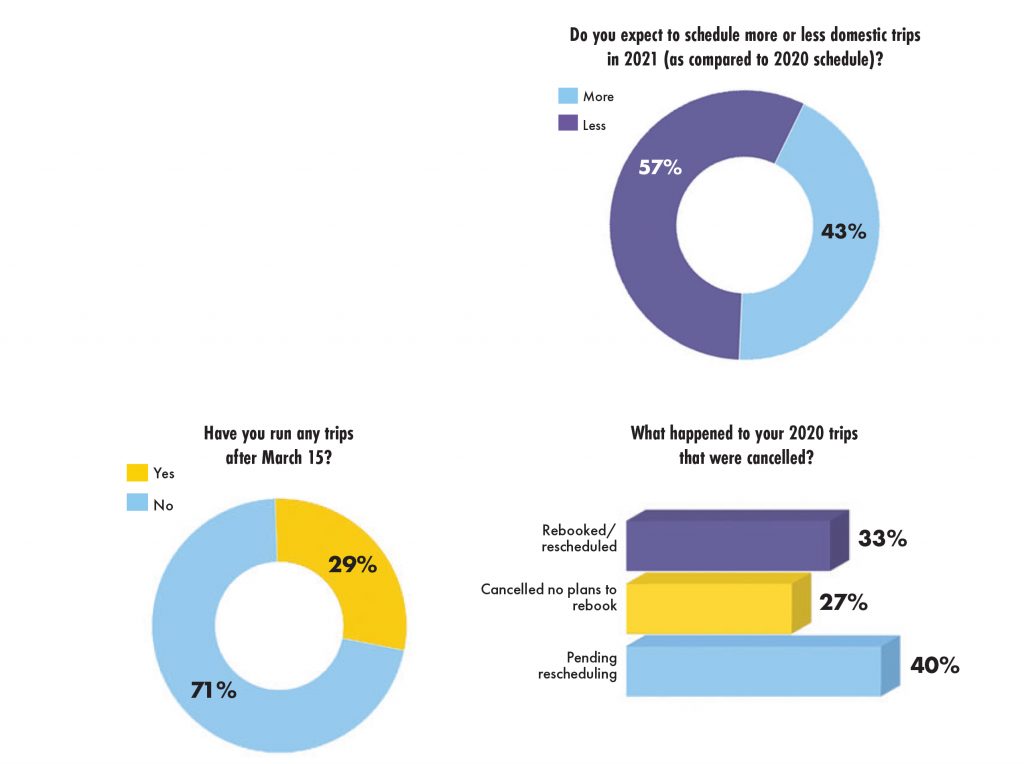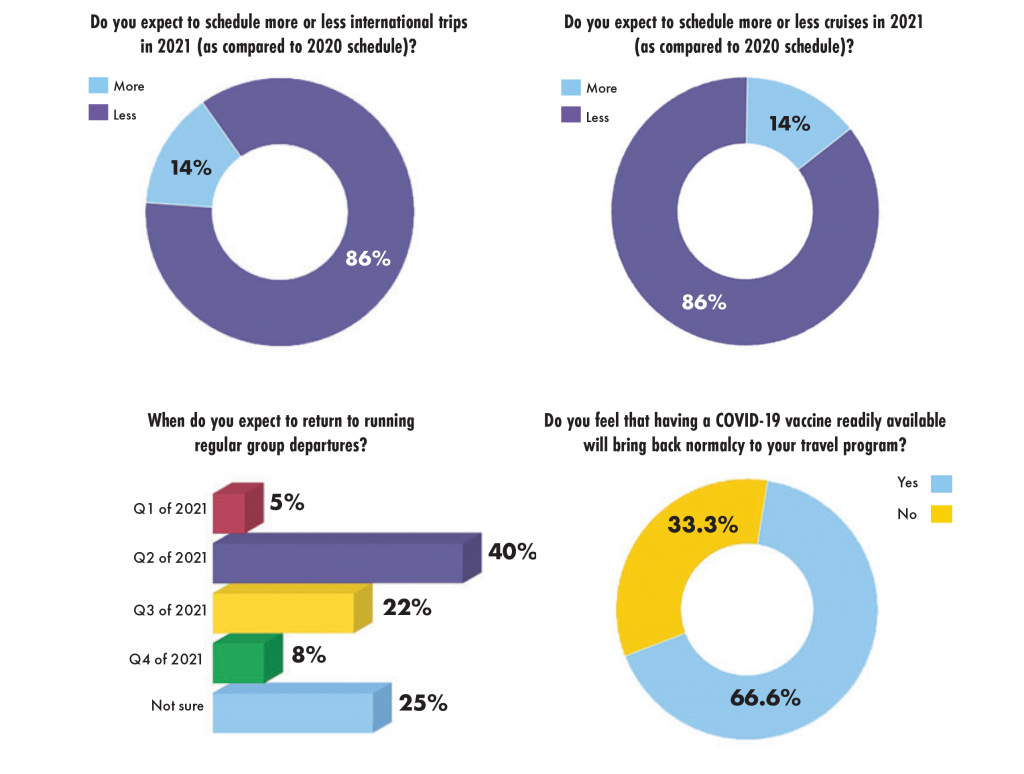 SHIFTING TO SMALLER GROUP SIZES
With social distancing and demand tampered, organizers are looking at how they can turn a profit with fewer passengers. "Looking at the pathway here we're looking at smaller groups and we're going to have to price for smaller groups," said Cline. "Prices have to go up, they just do."
One element that's emerged from COVID is the emergence of private group travel "bubbles." Small group adventure operator G Adventures is allowing groups of 12 to book exclusive departures. "If you want to book your bubble, you can pull one of our trips off¦ the rack, plus we o¦er tailor-made services and create a trip just for you – tell us who the passengers are going to be, you get your own trip and date. You know everybody who's going to be on that tour," said Steve Lima, director of marketing.
G has also created a Travel With Confidence Plus collection, a series of tours to 37 destinations with reduced group sizes, all private transportation, the ability to book single rooms at 50% off, and assurances of enhanced hygiene at all hotel properties on tour.
Taking the private group travel to a new level is a new company that launched this summer. Manifest Escapes is the brainchild of former Frontier Airlines CEO Je¦ Potter. "We're about experiential travel, close to home. There are so many places, so many experiences right in our own backyard that we haven't tapped into. So, I focused in on that, recognizing that smaller group travel experience, three- or four-day getaways with active adults from ages 35-70. We're getting you outdoors—whitewater rafting, kayaking, golf, culinary trips."
One unique element of Manifest's strategy is the implementation of private aviation, a component that Potter has extensive experience with. "We recognized early on that private aviation needed to be a component. We want to get you there within a couple of hours and that just means more time experiencing the destination."
Shifting its focus towards smaller groups, Globus announced in July that all group departures to exotic destinations—South America, Asia, South Pacific and Africa—will travel with an average of 20 passengers. They've done this in specific destinations in the past, and this policy shift with exotic destinations has been met with a fantastic response from travelers and travel advisors according to Cory McGillivray, channel marketing manager for the Globus family of brands.
WHAT'S AHEAD FOR 2021?
"We feel like we're in a fantastic spot operationally," said McGillivray. "We can begin to travel as soon as people are ready. Demand is there for 2021. The question is, can the experience be what we promised? Are places open? Will museums be allowed to let our guests in? Will we be able to share those experiences?"
Globus introduced a new product line called Undiscovered, which touches o¦-the-beaten path destinations across the globe. "People always wanted to have that unique experience, away from crowds," said McGillivray. Tours are designed for repeat travelers that have traveled to the capital cities already and seek a new experience. This naturally caters to a bit smaller group size.
"When I started to put together 2021, I had most everything in the books before the virus hit," said Larry Dawson, from Hawthorn Bank in Missouri, who had a successful Colorado trip go out this September. "I had an African trip planned for February, a trip to Iceland and a Rhine River cruise planned. I didn't feel a lot of people were going to be ready for that. There's going to be a lot of us that are going to want to tiptoe back into the water."
Dawson continued, "When I reworked 2021, I concentrated on domestic trips and I think we've got a pretty good lineup. In late February, we're going to do Wyoming, a whole new perspective on Yellowstone. That's another trip that's going to be fairly conducive to being outdoors. We've got a Lake Huron trip that includes Mackinac Island, a Snake River Cruise and a Poconos trip planned for September."
Dawson's pivot mirrors what other group organizers who in the past focused on international have shifted to domestic tours for 2021. "I did not have anything go out in 2020," said Sue Rudolph, owner of Amazing Running Tours. "I had to cancel the event I organize in Kenya, the Kenya Wildlife Marathon held the first week in October. As far as 2021, I have clients that are ready to travel as soon as things open up. I have a couple of cycling groups planning on traveling to Europe. Beyond that, Rudolph has created a section on her website dedicated to closer-to-home destinations. "I have been shifting to domestic travel. I have never sold anything in the USA before and am marketing through email and social media." While safety and security will be important going forward, so will quality of inclusions. "We're selling a lot of better hotels, better meals and better activities in 2021," said Cline.
As for 2021 plans, Galaxy's Swan reports that she is going full steam ahead. "I think it's important that we get the options out there. Folks trust me, they know I'm going to make a decision to run a trip or cancel it based on their health, security and they know they are getting every cent back if I cancel the trip. It is important that people make plans for the future."
SO WHERE DO WE GO FROM HERE?
In an article that appeared in Forbes, author Seth Cohen, states, "For many travelers, the pandemic has wounded their sense of connectedness with the world outside of their homes." Cohen expects there to be an intense demand for travel that weaves experiences with community, using travel not just as an opportunity to go, but an opportunity to grow as well. "Travel providers will need to be prepared to help their customers create community in new ways, and with new people," he said.
"As families and 'quaran-teams' start to find ways to safely break out of their bubbles, they will be looking for ways to share new, exciting experiences together. Even those travelers who have long sworn o¦ group travel will find that taking journeys with 'their group' is a safer and more meaningful way to go," Cohen states. These groups will want to reconnect, and travel professionals need to be thinking of ways to cater to the needs of these "traveling tribes" in new and innovative ways.
Pointing to the rise in family group travel, planners have been fielding more requests. "If our new inquiries are any indication, families have been spending the last several months dreaming about the destinations they haven't been able to visit and the experiences they haven't been able to enjoy," says Haisley Smith, vice president of marketing and development for Brownell Travel. "Travelers want to make up for lost time and cancelled vacations with longer, more immersive trips with multiple generations."
As a result of the pandemic, companies like Brownell have seen a rise in "hobby travel," from people who took deep dives into new skills and interests during quarantine. "The traveler who started taking Zoom guitar lessons wants to visit South America to learn from a Flamenco guitarist; and the family who completed a 5,000-piece puzzle of Monet's gardens want to visit Giverny," Smith adds.
One thing's for certain, we cannot go back to the way things were. That group travel industry is dead. It's not coming back. On the other side of this will be a new business model that's built on unique shared experiences and spending time with people we care about who realize it's not just the destination that matters, it's the people we're traveling with that makes the group travel experience special.