Snowmobile tours, snowshoe treks, tubing, sledding and other outdoor adventures round out a group winter holiday.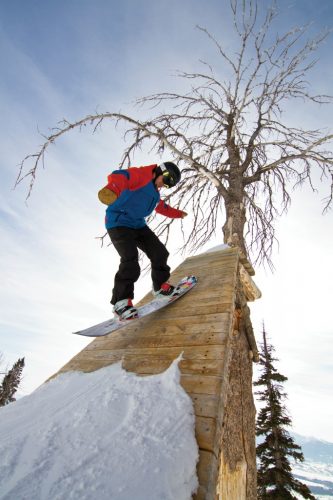 It's easy to get into the routine of getting up in the morning and heading to the slopes, stopping for a bit of lunch, then treating yourself to a healthy dose of aprés ski in the evening. But there are all sorts of winter activities that often get overlooked. Whether your group wants to see some of the local wildlife or fancies even more of an adrenaline rush than the usual activities afford, there's something out there for you.
So, put those skis aside for a while and try something new on your next winter holiday. These activities also may appeal to non-skiers in your group.
Snowmobile Tours
There's no denying that snow-capped mountains are one of the most beautiful sights in the natural world, but when you're skiing, you're just not seeing as much of the landscape as you might if you went off the beaten path.
There are a number of ways your group can enjoy trails that aren't accessible to skiers and boarders. The first is to rent snowmobiles for the day to explore at your leisure. You'll need to take into account the weather and the usual safety concerns, but this is one of the best ways to discover what's beyond the resort. Handling a snowmobile isn't something for beginners, though, so if you're not experienced with one of these machines, you should consider booking a tour. A guide will show you the best places for powder riding as well as big, open meadows where you'll really get the chance to rev your engines.
If you don't fancy a tour and just want to mess around in the snow, keep an eye out for dedicated snowmobile courses. They provide a chance to try your hand at tight cornering, little jumps and fast straights.
Hiking and Snowshoe Tours
If you're hitting the slopes in an area of outstanding natural beauty – let's face it, you probably are – you should take some time out to appreciate the scenery at a slower pace. Lower down the mountain, or when there's not too much snow, you'll need good winter walking boots and plenty of warm clothing. And don't forget the camera.
This is the perfect way to see the mountains in their unspoiled state. You'll be able to take a step away from the view of your colorfully dressed fellow skiers and lines of chairlifts to take in the mountain landscape. Whether you're above or below the tree line, the views are going to be spectacular.
When there's heavier snow, you and your group could go on a ranger-led snowshoe tour around the area. Over a few hours you'll explore a wide range of trails, look out for signs of wildlife and enjoy the solitude of winter.
Tubing
This has often been an activity for the kids, but throwing yourself down a slope while sitting on a rubber ring is fun for all ages. Most resorts offer tubing, especially the more family-friendly destinations, so gather your group and do something you all can enjoy.
Most resorts also offer sledging runs – you simply hire a sled and are able to play on these slopes at your leisure. These little sleds pick up huge amounts of speed and remind us of those snow days when school was canceled and all you had to do was find the nearest snowy hill to have hours of fun.
Blading
Swap those skis and boards for blades. These are shorter skis that you use without poles. If you want to hit the slopes but fancy trying something new, learn to blade. You'll have more control over turning and movement but your straight-line speed will be reduced; this makes blades great for cutting through tree-lined runs.
Blades can be more difficult to ride than skis because the blades themselves are shorter. You have to get low and maintain your balance to stop from losing it on a corner. A new challenge perhaps?
Freestyle Park
We've all seen the people busting out the cool moves on the freestyle park and it can be daunting to go in there and try your hand at some jumps and rails. Even if you're relatively new to boarding, skiing or blading, grab your group and head to the nearest park. Even if you're not confident enough to give the half pipe a go, you'll learn a lot about balance, speed control and the sheer rush of adrenaline that comes with landing a jump – even a small one.
Bobsled, Skeleton and Luge
If you're vacationing somewhere with an Olympic park – be it for training or the real thing – you should look into that bobsled track. There are plenty of resorts that give you the chance to try the bobsled, skeleton or luge – great for anyone who needs an extra dose of adrenaline before dinner time.
These experiences need to be booked in advance, especially if you're part of a large group. If you see one of these tracks, stop to find out what you need to do to have a go yourself.
Even if you've booked your vacation solely to ski or snowboard, don't ignore the other activities your resort has to offer. You'll be surprised just how much more there is to do in the snow.