For group leaders who have relegated the Smoky Mountain communities of Pigeon Forge,  Sevierville and Gatlinburg to their "been there, done that, got the T-shirt" list, or for those folks scrambling at the last minute to alter vacation plans this summer, below are a baker's dozen new reasons to revisit one of the Southeast's most popular tourist destinations.
New restaurants, hotels, shows, attractions and events abound amidst perennial favorites like Dollywood, The Dixie Stampede and the outlet malls.
Earlier this summer, the Tennessee Department of Tourist Development unveiled two of its tourist trails that encompass the Smokies. The Sunnyside Trail begins in Sevierville and winds its way through Northeast Tennessee, while the White Lightning Trail extends from Knoxville into the Smokies. For detailed maps and itineraries, go to
www.tntrailsandbyways.com
.
So, ready to put a fresh twist on the "same-old, same-old" itinerary? Take a look at what's new:
ATTRACTIONS
Ole Smoky Moonshine.On July 3, Tennessee's first legal moonshine distillery opened smack in the heart of Gatlinburg's Parkway.Ole Smoky Moonshine amassed more than 2,000 "friends" on Facebook before the grand opening ribbon was ever cut. Its opening day crowd waited in line an average of three hours to enjoy free tours, complimentary tastings (for visitors 21 and over), and to snap up the variety of moonshine-themed merchandise for sale.
Ole Smoky offers a variety of moonshine products: original unaged corn whiskey moonshine, apple pie moonshine, sweet tea moonshine and peach moonshine. Moonshine cherries will be available for purchase during the holiday season. The recipes are from local families who have made moonshine in the mountains for more than a century. Dave Pickerell, formerly the master distiller for Maker's Mark, assisted with the refinement of the recipes.
A highlight of the facility is the authentic working moonshine still where visitors learn the science of the distilling process as well as the history and lore of moonshining in East Tennessee. Ole Smoky is the only distillery in the state dedicated to moonshine products. Proprietors Joe Baker, Tony Breeden and Cory Cottongim place a particular emphasis on celebrating their mountain heritage as well as the historical significance of the moonshine craft in sustaining families during hard economic times of the early 20th century. (www.olesmokymoonshine.com)
The Titanic Museum.Your heart definitely will go on when you tour the "world's largest Titanic museum," a $25-million, 30,000-square-foot, half-scale, three-deck reproduction of the ill-fated ship that has docked in Pigeon Forge. Since its April 8 christening, more than 200,000 visitors have taken the two-hour, self-guided walking tour of artifacts and exhibits. This marks the second installment of the jaw-dropping attraction. The first one – at 17,000-square-feet – opened in 2006 in Branson and has hosted more than 2.5 million visitors.
Authentically costumed staff greet visitors, who are given a card bearing the name of a passenger or crew member, along with information about their life and their role on the ocean liner. As the journey concludes, the card-bearer learns if his or her assigned person survives or not.
The 20 galleries feature everything from a collection of photographs taken by Father Francis Browne as the Titanic journeyed from England to Ireland (Fr. Browne disembarked before Titanic set sail on her voyage toward New York, thus his photos are the only visual record of life onboard the fabled ship) to a high-tech screening of video footage depicting explorers retrieving artifacts from the sunken ship. None of the displayed artifacts was retrieved from the ship's wreckage, but instead were either carried off the ship by surviving passengers or retrieved during the rescue operation. A full-scale replica of the ship's grand staircase, which visitors are welcome to climb, transports guests into the era of early 20th century cruising. (www.titanicpigeonforge.com)
SHOPPING
Three Bears General Store. From the Pigeon Forge Parkway, this colorful shop resembles any other souvenir establishment. Step inside the Three Bears General Store, however, and discover 40,000 square feet of wonderment that makes up the second largest gift shop in the country.
While the sheer volume of merchandise is mind-boggling, a visit to Three Bears encompasses more than just shopping. Visitors can create their own stuffed animal, compete for prizes in a huge gaming arcade, climb into a vintage costume for an old-time photo, mine for gems, graze through a dizzying array of ice cream, fudge, candies, popcorn and even a deli, and, for a small fee, tour an impressive habitat that is home to five black bears: Katie, Smoky, Mandy, Honey and a new occupant, known simply as Mr. Bear.
Group visits range anywhere from 30 minutes to three hours. Co-owner Fran Delozier said, "We can package it any way they want, from simply a shopping stop to a more extensive visit that would include a box lunch, viewing the bears and some gem mining." Andrew Huff is the group sales director for Three Bears.
Fran and husband Bill operated successfully at this spot for almost 30 years, until Sept. 23, 2008, when a power surge sparked a disastrous blaze that leveled their business. Immediately, they began laying plans for reconstruction, but the 10,000-square-foot facility they were accustomed to quadrupled by the time the newly-rebuilt version was unveiled on July 11, 2009.
Although the bear habitat is the most popular draw to this mega-shop, clearly shopping reigns supreme as evidenced by the operating hours. "We're here as long as the tourists are," Fran said, "which can sometimes be from 8 a.m. until midnight." (www.threebearsgeneralstore.com)
ENTERTAINMENT
Soul of Shaolin. Direct from Broadway for a limited engagement, the Tony Award- and Drama Desk-nominated Soul of Shaolin is a Chinese martial arts spectacular. Open since April at the newly-rechristened Eastern Shanghai Theater on the Parkway in Sevierville, Soul of Shaolinlanded in Sevierville following a successful month-long run on Broadway in January 2009 before launching its national tour. The show features the original Broadway cast of more than 30 Chinese nationals. The show is enhanced by an incredible score, state-of-the-art sound and lighting, and a 198-square-foot LED backdrop.
Non-Stop Creativity Entertainment Co. President and CEO Lizhi Zhao, also executive producer of Sevierville's Cirque de Chine, describes the show as a fusion of movement, music, acrobatics and colorful costumes.
"Our current show, Cirque de Chine at the Smoky Mountain Palace, has been very well received by the community and by tourists to the area. The new show, which is very different from the acrobatic show at the Smoky Mountain Palace, offers Chinese martial arts, Chinese history and a touching story of an orphan boy and a mother's love," said Zhao. (www.easternshanghaitheater.com)
New Acts Abound. In Pigeon Forge, Joseph and the Amazing Technicolor Dreamcoatjoins The Miracle at Miracle Theater for the entire 2010 season.
Over at The Smith Family Theatre, country legend T.G. Shepherd performs periodically at the newly-expanded venue, which can now seat 500.
At Country Tonite, in addition to their award-winning show, a star-studded slate of musical acts will be presented in concert at the 1,500-seat venue, including George Jones, Chubby Checker, Leroy Van Dyke, Rex Allen, Jr., Moe Bandy, Jim Ed Brown, Helen Cornelius, Bill Anderson, Ronnie McDowell and Billy Joe Royal. (www.firstclassconcerts.com)
Meanwhile, Fee-Hedrick, the partnership behind the Miracle, Black Bear Jamboree, The Blackwoods, Comedy Barn and Magic Beyond Belief, has leased the Smoky Mountain Theatre in Pigeon Forge, where a new as-yet-unannounced show is scheduled to premiere this summer.
DINING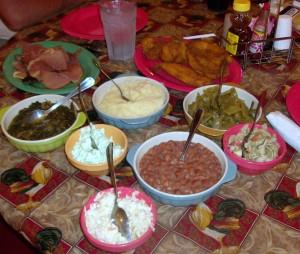 The Farmers Table. When the unexpected death of her husband led Sevier County native Kim Frazier on a mission to reinvent her life, she returned to her hometown roots after 17 years in Nashville. But she never expected the journey to include converting a giant, long-abandoned dance hall into a 500-seat family-style dining emporium.
The Farmers Table, with its cozy combination of homey-folksy ambience and some of the best food this side of grandma's kitchen, is packing in the crowds since it opened earlier this year in the former site of the Triple C Dance Barn on Newport Highway, minutes outside Sevierville. Currently serving lunch and dinner every Thursday-Sunday, the restaurant plans to expand its operating schedule as its clientele builds.
The restaurant's website is still under construction, but information is available at the Sevierville Chamber of Commerce, www.scoc.org.
Bush's Beans Cafe & Visitor Center. This new attractionopenedJuly 4just beyond the borders of Sevier County in the company town of Chestnut Hill (in Jefferson County), the home of Bush's Beans factory.
A fixture in East Tennessee since its founding by A.J. Bush and his sons, Bush's Beans gained new-found popularity in recent years with a spate of television commercials featuring A.J.'s great-grandson, Jay, and his trusty recipe-blabbing dog, Duke. Their unexpected stardom renewed public interest in the family business, and the community's close proximity to the Smoky Mountain tourist corridor (a 25-minute drive down Newport Highway from Sevierville) made the decision to expand the company's tourist offerings a natural one.
The newly-opened center consists of an extensive gift shop, a detailed replica of the general store that operated on the site from 1897 until its closing in the mid-1990s and the Bush's Family Cafe, which serves an array of down-home specialties, not to mention a variety of dishes containing beans. One of the most intriguing of these is Pinto Bean Pie, which tastes like a cross between chess and pecan pie. (Owners J.P. Miller and Sharon Hatcher serve lunch and dinner to hungry tourists Monday-Saturday. The cafe is closed on Sunday).
But the highlight of the entire experience may be an uber-fancy, high-tech museum aimed at folks who may not know beans about, well, beans. A recent walk-through tour revealed a theater featuring Jay Bush and his dog Duke on the big screen as they star in a fun-loving "History of Grilling" movie, a walk through a giant replica can of Bush's Baked Beans showing a bean's journey from beginning to end, interactive exhibits that allow visitors to learn their weight in beans and photo kiosks that let them create a picture with Duke and tools from Bush's original canning process in 1908. (www.bushbeans.com)
HOTELS
The 94-room Clarion Inn opened in Pigeon Forge in March (next to Walden's Landing shopping and restaurant development) and offers complimentary breakfast, a hospitality room, indoor and outdoor pools, and a lazy river attraction.
The 112-room SpringHill Suites Pigeon Forge also opened in the spring. The property, just off the Parkway at 120 Christmas Tree Lane, offers complimentary breakfast, a fitness room, meeting space, and indoor and outdoor pools.
In Gatlinburg, the 118-room Hilton Garden Inn on River Road is the first hotel in Tennessee to pursue LEED (Leadership in Energy and Environmental Design) Certification, with many "green" features, including a chemical-free saltwater pool and hot tub and in-room recycling. The hotel offers a heated indoor pool and whirlpool, fitness center, courtyard fire pit and hot tub, 24-hour business center and access to local trolley service.
–By Melinda Hughey