A railway or waterway excursion is a great way to enjoy the natural beauty, splendor and history of the West. From the mountains to the Pacific coast, opportunities abound for visitors to sit back, relax and enjoy the scenery. Be sure to have a camera in hand to capture the one-of-a-kind views that these trips provide.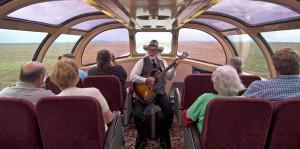 The Coast Starlight, traveling daily between Seattle and Los Angeles, offers one of Amtrak's most scenic rides. Views on the 1,377-mile route range from the snow-covered peaks of the Cascade Range and Mount Shasta to forests, valleys and Pacific Ocean shoreline. Amenities include multiple dining options, complimentary Internet access and an onboard theater.
Another popular Amtrak run is the California Zephyr, which negotiates Colorado's Rocky Mountains on its run between Chicago and San Francisco. West of Denver, the train crosses the Continental Divide, making numerous switchbacks as it gains altitude and goes through 29 tunnels. Then the train glides through the Gore and Glenwood canyons, sheer rock walls towering above the Colorado River, where rafters tackle the wild rapids. The Zephyr then heads across the Utah desert to Salt Lake City and on across the Nevada desert to the High Sierras and California's famed Donner Pass. (amtrak.com).