Every year, Americans troop into museums by the thousands. Whether your group is intent on understanding the intricacies of times past or looking for a quiet break between shopping trips, museums remain a popular and enduring draw.
A good museum should be a complete experience, with something for every member of your travel group. The best museums are more than just dusty collections of the old and the priceless; they offer a window into history – or even a way to become fully immersed in a particular time period, if only for a short time.
Mashantucket Pequot Museum
Mashantucket, Connecticut
The Pequot Museum is dedicated to Native American arts, culture and local natural history. Tribes from all over the U.S. and Canada are represented by dioramas, live performances, artifacts and exhibits. While the steely modern structure that houses the Pequot Museum may not be your idea of a traditional building, it's designed to be eco–friendly and to complement the local landscape. Stay for lunch, and you can sample various Native American cuisines at the restaurant.

Harry S. Truman Library & Museum
Independence, Missouri
The years between the end of World War II and the finish of the Korean War brought massive changes to America. At the Truman Library and Museum, your group can view the events from the perspective of a president. The historical objects in this Independence museum, plus dozens of interactive and hands-on exhibits, paint a picture of the life and times of Harry and Bess, from their family life to world events.

Lady Bird Johnson Wildflower Center
Austin, Texas
In 1982 the former First Lady joined with actress Helen Hayes to preserve the native flora and fauna of central, southern, and western Texas. This 279-acre botanical garden is the result. Part of the University of Texas at Austin, it includes cultivated gardens, wild meadows and verdant woodlands, as well as local examples of architecture and sculpture, an observation tower and a visitors center. The blooming season peaks March through May.
Milwaukee Art Museum
Milwaukee, Wisconsin
Milwaukee might be famous for its beer, but art shouldn't be far behind. The 30,000 works in this world-class museum run the gamut from 15th century European offerings to Haitian folk art to masters of American Modern. There's a special emphasis on decorative arts, German Expressionism and the works of Wisconsin native Georgia O'Keeffe. The building itself, with its iconic sunscreen resembling a ship's sail, has become a landmark on the Lake Michigan shoreline.

Rock and Rock Hall of Fame and Museum
Cleveland, Ohio
The Rock and Roll Hall of Fame is a perennial favorite for music lovers and one of Cleveland's premier tourist attractions. As you might expect from this shrine to popular music, there are famous artifacts aplenty, from Pete Townshend's Gibson guitar to John Lennon's jacket. There are also a few surprises, including an exhibit dedicated to Midwestern music. The glass-sheathed building, on the shore of Lake Erie, was designed by the great I.M. Pei.
Oshkosh Public Museum
Oshkosh, Wisconsin
Oshkosh's Public Museum can rightly be called a museum-within-a-museum: its home, a 1909 English Tudor Revival residence with interiors by Tiffany Studios of New York, is located in a National Historic District. Tiffany's window series "Angels Representing Seven Churches" is an exhibition that will be on display from Feb. 8 through May 11, 2014. The accompanying Living With Tiffany exhibit will showcase decorative objects created by Tiffany Studios for the home and everyday living.

National Quilt Museum
Paducah, Kentucky
Quilts as high art? That's the theme of the National Quilt Museum in historic downtown Paducah, Kentucky. And the 160,000 visitors who stop by each year experience how quilts can indeed be art, with styles ranging from folksy to ornate to sleekly modern. Items come from places as far away as Japan; there are over 320 quilts in the museum's collection. Continuous rotation in the main gallery ensures you'll find something new on every visit.
Country Music Hall of Fame
Nashville, Tennessee
Since 1967, Nashville's Country Music HOF has celebrated the 200-year-old roots of country music and greats from Hank Williams and Elvis Presley to Brenda Lee and Carrie Underwood. The core exhibit, Sing Me Back Home: A Journey Through Country Music, features costumes, instruments, and film and audio clips. Find your favorite artist's album on the Gold Record Wall. Reba: All the Women I Am, opening Aug. 9 and running through June 8, 2014, spotlights Reba McEntire.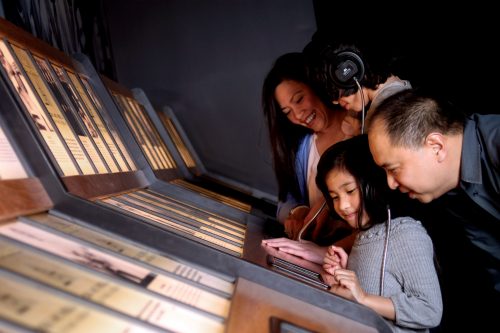 Charles Hosmer Morse Museum of American Art
Winter Park, Florida
Louis Comfort Tiffany was arguably America's greatest artistic talent at the turn of the 20th century; Charles Hosmer Morse was unarguably his biggest fan. This museum houses the world's most comprehensive overview of Tiffany's works, including more than 200 objects from Laurelton Hall, his idyllic home in Long Island. There are other American arts represented in the Morse collection as well, including jewelry, pottery, art glass and an entire chapel interior.

COSI
Columbus, Ohio
Formally the Center of Science and Industry, this Columbus museum is not your average look-at-things-in-display-cases type of place. It's particularly geared towards kids (both the young and grown-up kind), so there are more than 300 interactive exhibits – all of which are science-based. Live shows are presented throughout the exhibition areas. Interested in history, laboratory science, outer space, the ocean or the workings of your average farm? It's all at COSI.

National Czech & Slovak Museum & Library
Cedar Rapids, Iowa
Every wave of immigrants has a story, and at this Cedar Rapids museum the unique story of the area's Slovak and Czech heritage is on display. Exhibits include a typical 19th century immigrant home, Czech art and handicrafts, and a replica of a steamer ship steerage section – the main mode of travel for the poorer passenger. An exhibit dedicated to World War II through the eyes of the Czechs and Slovaks rounds out the offerings.

Newseum
Washington, D.C.
Over 250,000 square feet of history, as told through the news media, are the focus of this Washington D.C. museum. From its handy location on Pennsylvania Avenue, visitors can tour exhibits ranging from 9/11 news to bits of the Berlin Wall. Other attractions include the front pages of Civil War-era newspapers, Pulitzer Prize-winning photos, and even a section dedicated to presidential pets. The Interactive Newsroom gives visitors a chance to play the role of a reporter or photographer. 
Clinton Presidential Center
Little Rock, Arkansas
Bill Clinton's presidency, as filled with drama and debate as any, is the focus of Little Rock's Clinton Presidential Center. Not only does it offer an insider's glimpse of the Clinton era via photos and artifacts, it's also home to the Clinton Foundation. There's a full-scale replica of the Oval Office, plus a White House Cabinet room reconstruction. Other exhibits show the splendor of state events, holiday celebrations and how the Clintons made the White House their home.

Cincinnati Museum Center at Union Terminal
Cincinnati, Ohio
Step aboard a side-wheel steamboat, view vintage cars, experience Cincinnati during World War II in the Home Front exhibition and engage with costumed interpreters at the Cincinnati History Museum. The Museum of Natural History and Science and hands-on Duke Energy Children's Museum also make their home in Union Terminal, a former railroad station turned landmark. In addition, the 1930s-era Art Deco building has an Omnimax theater that shows movies on a five-story dome screen.

WheatonArts
Millville, New Jersey
This complex, located less than an hour from Philadelphia, Atlantic City and Cape May, shares the art and history of American glass and traditional New Jersey crafts. It includes the Museum of American Glass, which showcases objects dating as far back as the early 1700s to contemporary works by artists such as Dale Chihuly. While there, don't miss the demonstrations of world-class glass being made first hand. Also see woodcarving and ceramics studios.

Kent State University Museum
Kent, Ohio
Interested in fashion and design? Then don't miss the Kent State University Museum, which holds one of the nation's largest collections of 18th through 21stcentury gowns and decorative arts. It offers eight galleries that feature a permanent collection of nearly 40,000 pieces along with changing exhibitions of work by the world's best designers. An extensive collection of American glass, furniture, textiles and other decorative arts also give context to the study of design.

Grout Museum
Waterloo, Iowa
The Grout Museum District focuses on different aspects of Iowa's history through its five distinct museums. The Grout Museum of History and Science shares the area's natural and cultural history while the Rensselaer Russell House Museum and the Snowden House focus on life in the Victorian age. The Bluedorn Science Imaginarium's hands-on exhibits make learning science exciting, and the Sullivan Brothers Iowa Veterans Museum honors the sacrifice of Iowa veterans from the Civil War to today.

Sixth Floor Museum
Dallas, Texas
Better known by its old name, the Texas School Book Depository, this museum is located in the exact building from which President John F. Kennedy was shot in 1963. Explore JFK's presidency, death and the timeline of events following the assassination through videos, artifacts and forensic evidence. The sixth floor holds permanent exhibits dedicated to the former president, while the seventh floor has temporary exhibits regarding the social culture of the '60s and the Kennedys' impact on America.
−By Stephanie Bailey