Whether it is grand sightseeing or thrilling cultural experiences these two regions provide worlds unto themselves. Join us as we explore the most spectacular parts of Europe and Asia.
Ireland's Secret
Of all the beauty and allure of Ireland, nothing matches the whimsical charm of its people. They literally and figuratively breathe life into this magic land on the edge of Europe. From the boisterous character at the local pub to the vibrant citizens of Dublin, they are a gracious and generous lot.
These Joycean figures seem to make each tour highlight all the more memorable. Pull up a chair and tell them about your visit to the Cliffs of Moher. They just might share a tale from Ireland's rich folklore. Listen to a story as only the Irish can tell it. Ask them to point the way to the famous Blarney Stone. They'll offer up a bit of eloquent speech of their own. Show a bit of enthusiasm for a traditional song and the musician might grab your hand and ask you to dance.
It's often that chance encounter or rare moment that makes an Irish journey special. So, as the natives will tell you, "go where Ireland takes you."No matter if you have always dreamt of strolling the streets of a picturesque village or exploring a stately castle, Ireland and its people eagerly await your arrival. Rest assured – nothing beats a true Irish welcome.
What Makes Italy special?
Of course, the answer is different for everyone, but it almost always has to do with its old-world traditions and wonderful culture; food and history; fashion and natural beauty. Even if you already have been lucky enough to visit, there are always reasons to return. Bella Italia, as many refer to it, is so diverse. You can simply do so much.
Revel in the magic of Rome and stand in the heart of the city at the Piazza Venezia. Pause for a moment and marvel at the ancient Colosseum. Cruise the romantic canals Venice. See Michelangelo's David at the Academy Museum in Florence.  Few other countries boast so many legendary cities.
There are also many charming hill towns and coastal villages that showcase Italy's amazing natural beauty.  Travel the Tuscan and Umbrian countryside, exploring medieval villages. Discover Siena's narrow Gothic streets, magnificent palaces, and historic Piazza del Campo. Visit Assisi, birthplace of St. Francis.
One cannot talk about any region of Italy without highlighting its mouth-watering cuisine. People come here from all over the world to indulge in the local flavors. Try a Tuscan antipasto – a platter of "crostini e salumi misti," small toasted bread with a variety of delicious toppings.
Italian vino, or wine, cannot be overlooked.  Italy is the biggest wine producer and exporter in the world. You will find wineries almost everywhere, and families growing grapes and producing wines. Plus, Collette includes regional wine with every dinner.
From the big cities to the small towns, there is always something exciting to see in Italy. With plenty of reasons to visit, the rest is up to you.
Exotic Thailand and Laos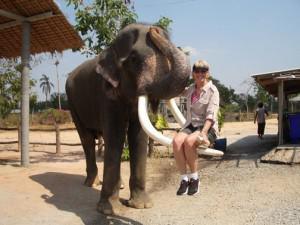 One of Collette's most striking destinations, here you can truly explore another way of life. Travel to three remote Hill Tribe villages in northern Thailand and Laos. Immerse yourself in the local culture hidden deep in the lush mountains. These proud people live at the intersection of the modern and ancient worlds. See first-hand the traditions the Hill Tribes work to keep alive as you take a once-in-a-lifetime walk through the villages. Get to know the children who will carry on the customs of those who came before. Lose yourself in thriving cultures with so much to offer.
Adventures in this part of the world usually begin in bustling Bangkok where you can bask in the peaceful glow of the temples of The Golden Buddha and The Reclining Buddha. Dive into history with a trip to the Bridge over the River Kwai. See the one-of-a-kind "Tiger Temple," where monks and great cats live side by side. Visit the Hilltribe Museum in Chiang Mai and see craftsmen at work in a jade factory. Participate in a Laotian Baci ceremony. Cruise the Mekong River and discover the Maesa Elephant Camp. There are a dizzying amount of highlights. And with good reason, this type of tour is all about reinvention. You'll come away from Southeast Asia with a different viewpoint.
China, the World's Most Enduring Culture
Since the time of Marco Polo, the west has been fascinated with China. You can join an exclusive list of cultural explorers as you travel to a nation where the past lives side by side with a limitless future. From the legendary Great Wall and mysterious Forbidden City to the booming modern side of Beijing, China pulses with a timeless energy.
There are many ways to experience this ancient civilization. A Beijing City Stay for example, features a leisurely pace and best of all a single hotel stay. From this home base, explore the beauty of China's capital and the surrounding countryside.
Perhaps what makes China most special is that blend of old and new. Over the last few decades China has truly become a world leader. Yet its future will always be shaped by firm ties to what has come before. As you explore Chinese culture and literally touch the past, remember to keep an eye on the boundless horizon. Experience how more than 5000 years of history mingles with a thriving contemporary society. Participate in enduring traditions and marvel at towering new skyscrapers. Indulge in local delicacies and interact with a dynamic people. It's all waiting for you.
Travel to Tiananmen Square, the largest public square in the world. Explore the Forbidden City, a vast network of palaces which have been home to 24 Chinese Emperors over 491 years. Discover the Temple of Heaven where the emperor came twice each year to pray.  One amazing highlight builds upon another.
As we talk highlights, let's not forget the Great Wall. You certainly aren't going to travel all the way to China and not see this legendary man-made structure. Created to protect the vast northern border, the Great Wall stretches for more than 3,700-miles east to west. Seize a rare chance to walk along this iconic national symbol.
Once isolated, China is now a major global power. Travelers today have the exceptional opportunity to visit during a key point in history. This is a journey that goes beyond sightseeing.
Why an Escorted Tour and Why Collette?
On an escorted tour all of the details are taken care of for you. Collette makes travel easy and effortless without sacrificing quality or value. Especially when you are traveling to distant countries, it's nice to know someone has already been there scouting out the destination, comparing hotels and organizing a comprehensive itinerary. You won't miss a thing.
From the on-tour transportation and meals featuring local cuisine to enriching cultural experiences, it has been planned in advance. Combine this with some built in time to independently explore and you have the best of both worlds.
No matter how extravagant their imagination, travelers always return home with a wider appreciation of the world.
The benefits of group travel with Collette:
Free hometown to airport transportation for groups of ten or more.
No upfront deposits to hold space.
Stability – highest rating from Dun & Bradstreet, zero debt, family-owned and operated.
Free $50 million dollar professional liability insurance coverage that protects your organization.
Unpublished itineraries designed exclusively for group travel programs.
Free marketing support and dedicated District Sales Managers.
A full cash refund travel waiver for cancellation right up to the day prior to departure.
United Airlines is Collette's preferred leisure group travel carrier. Travel to Italy with United and fly
from hundreds of U.S. cities conveniently connecting to United's non-stop flight from Washington-
Dulles to Rome and several other European destinations. Plus United has the most flights to Asia of
any U.S. carrier and allows you to conveniently fly from hundreds of U.S. cities connecting to their nonstop service to Beijing, Shanghai, Hong Kong and several other cities throughout the region. Experience the comfort of United Business Class and the additional amenities it offers –such as 180-degree lie flat beds, priority boarding, on-demand entertainment, and complimentary access to United's Red Carpet Club lounges. Ask about United Business Class upgrades to experience the comfort and amenities of 180-degree lie flat beds, priority boarding, and complimentary access to United's Red Carpet Club® airport lounges. Ask about United Business Class upgrades to experience the comfort and amenities of 180-degree lie flat beds, priority boarding, and complimentary access to United's Red Carpet Club® airport lounges.
Reflections of Italy
10 Days ● 14 Meals
Highlights
Rome ● Colosseum ● Assisi ● Perugia ● Siena ● Florence ● Chianti Winery ● Venice ● Murano Island ● Lugano, Switzerland ● Como
Shades of Ireland
10 Days ● 13 Meals
Highlights
Dublin ● Irish Evening ● Kilkenny ● Waterford Crystal ● Blarney Castle ● Jaunting Car Ride ● Ring of Kerry ● Killarney ● Farm Visit ● Limerick ● Cliffs of Moher ● Galway ● Castle Stay
Thailand & Laos
14 Days ● 27 Meals
Highlights
Bangkok ● Tiger Temple ● Chiang Rai ● Hill Tribes ● Doi Tung ● Chiang Mai ● Elephant Camp ● Night Market ● Luang Prabang ● Minority Villages
Best of China
12 Days ● 23 Meals
Highlights
Beijing ● The Great Wall ● Peking Opera ● Rickshaw Tour ● Xi`an ● Terra-Cotta Warriors ● Shanghai ● Acrobatic Show   Zhujiajiao ● Shanghai Museum
Beijing City Stay
9 Days ● 15 Meals
Highlights
Beijing Zoo ● Peking Duck Dinner & Opera ● The Great Wall ● Temple of Heaven ● Rickshaw Tour