Travel to the heart of the country to experience unique art and culture in Effingham, Illinois. Located at the intersection of many major highways, Effingham has dubbed itself "the crossroads of opportunity." Once you stop here, you'll get it.
Millions of people converge on Effingham, Illinois on a daily basis. Six major roadways and two main railroad lines intersect at the heart of the city, making Effingham a popular destination for many travelers. The city has embraced its role along the highways, offering guests a broad range of lodging, restaurants and attractions. For groups that love arts and culture, it doesn't disappoint. There are a number of wonderful cultural attractions groups can enjoy in Effingham.
Effingham Art Guild
A community of artists and art enthusiasts, the Effingham Art Guild showcases work from award-winning artists throughout the city. Your group can view traveling exhibits at several locations, and exhibits change every four months, so there's always something new and exciting to enjoy.
Stang ARTs Studio and Gallery
If your group not only appreciates looking at art, but also likes to take part in creating it, then this the place to go. The gallery features art classes for children and adults. You can also enjoy a paint part, which features food, drinks, music and art, all in a comfortable atmosphere. Feel free to check out artist Jamie Stang's gallery while you're there.
F.A.C.E. Players
For groups that are interested in live performances, the Fine Arts County of Effingham (F.A.C.E.) is a not-for-profit organization that puts on a variety of performances throughout the year. Founded in 1974, the organization is composed of volunteers who devote their time and resources to ensure Effingham's art and culture scene continues to flourish through unique productions and visual arts.
Effingham Performance Center
For even more theater, your group can head over to the Effingham Performance Center. This is a performing arts venue operated by the Arts Connection of Central Illinois, created for the citizens of Effingham County to showcase arts and entertainment. Groups can snag tickets for musical performances from country stars to alternative rock bands, enjoy some laughs with comedy tours or watch hit off-Broadway productions.
Another option at the Effingham Performance Center is Three Chicks and a Stage, where your group can see original works and popular comedies. This non-profit community theater provides a creative outlet for area actors, and its annual Memorial Day tribute to the military has become a local favorite. The theater also holds a Christmas performance and many other holiday events.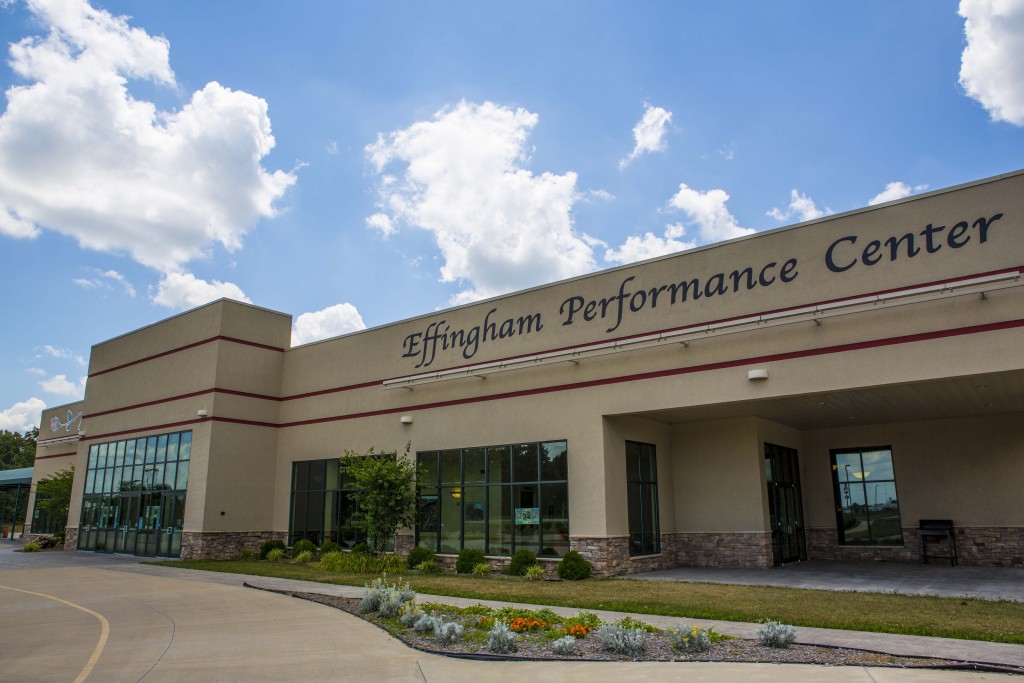 Frye Pottery
Sculpture and pottery lovers will enjoy a visit to Frye Pottery. Operated by Tim and Pam Frye, the gallery features their award-winning ceramic art and functional stoneware pottery. There is also a sculpture garden for guests to wander through, and if you want to try your hand at some pottery, your group can take a class or workshop.
Sculpture on the Avenues
Take a stroll down the city streets of Effingham and explore the many sculptures that have shaped the region. Over 30 sculptures created by well-known and yet-to-be-discovered artists line the streets of Effingham during the annual Sculptures of the Avenue outdoor exhibition. Your group can take a self-guided walking tour starting at Effingham City Hall and wind through downtown to see a variety of imaginative abstracts. Locals and guests love the event, and many sculptures have found permanent homes in Effingham and surrounding areas.
Artisan Depot
Looking for a gift for someone—or yourself? Peruse the collection of works at the Artisan Depot, filled with modern and vintage items from local artists. Your group can sip coffee or tea while finding some one-of-a-kind art and handmade pieces. If your group would like to try their hand at making some art, you can set up a DIY Make and Take party. The Artisan Depot provides the supplies, drinks and snacks, and your group can create original works of art and bring home the finished product.
Brush Hill Studio and Gallery
Head over to Brush Hill Studio and Gallery and enjoy the art from artist in residence John Gabb. Gabb specializes in portraits and captures life in the Midwest in his whimsical pieces.
Effingham is at the heart of the country and has become a hub for travelers making their way through the Midwest. But it's not just a quick stop off the highway, as Effingham is a destination filled with delicious restaurants, comfortable accommodations and more than a week's worth of attractions. Art and culture can be found sprinkled throughout the city, and groups will truly enjoy the time they spend in this quaint, artistically rich city.